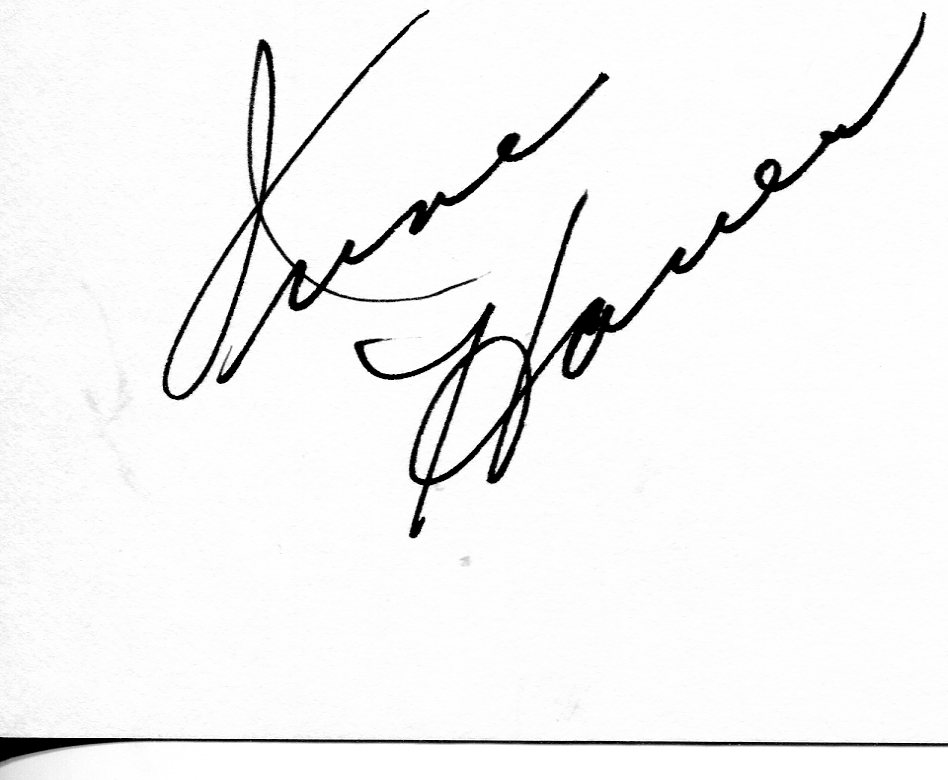 June Haver was born in 1926 in Rock Island, Illinois. She made her movie debut in the delightful "Home in Indiana" in 1944. Her other films included "When Irish Eyes are Smiling", "The Dolly Sisters" with Betty Grable and "Look for the Silver Lining". Disillusioned with Hollywood in 1953 she entered a convent intending to become a nun. However she left after some months. She did not return to acting but after a few years she married actor Fred MacMurray. She died in 2005.
"Guardian" obituary by Ronald Bergan:
Oh, You Beautiful Doll was the pre-feminist song and film title that best described the pretty, dimpled, petite (5ft 2in) blonde June Haver, who has died aged 79. Haver was in the long line of 20th Century Fox blondes: she had a pleasant singing voice and could keep up with the fancy steps of Gene Nelson, Dan Dailey and Ray Bolger. At one time, she was dubbed "Hollywood's sweetest star", and was known to be of such a sunny disposition that her friends asked her to "cheer down" on occasions.
She was also perfectly in tune with the rather bland, escapist, Technicolor 1940s Fox musicals. There was much more drama in her life than in any of her films.
Born Beverly Jean Stovenour in Rock Island, Illinois, she took "Haver" from her stepfather. Her typical stage mother had her performing at six. Five years later she had her own radio show, at 13 she was singing with big bands.
After moving to California with her mother, Haver debuted in four musical shorts at Universal, one of which, Trumpet Serenade (1942) was with the Tommy Dorsey orchestra. Then Fox offered her a contract. Her first feature appearance was as a hat-check girl in Busby Berkeley's kitschy Alice Faye musical The Gang's All Here (1943). She was then cast with two other newcomers, Jeanne Crain and Lon McCallister (obituary, July 9) in Home In Indiana (1944), losing out to Jeanne for Lon's affections, though he seemed more interested in horses than girls.
Unable to coax Alice Faye out of retirement, Fox gave Haver, only 19, the role of Betty Grable's younger sister in The Dolly Sisters (1945), a fictionalised account of the turn-of-the-century vaudeville siblings. Although the original duo were brunettes, Fox offered the public two blondes for the price of one. Less brassy than Grable, who uncharacteristically clashed offscreen with her younger rival, Haver went on to replay the Grable roles of a few years earlier such as The Daughter Of Rosie O'Grady (1950), a semi-sequel to Sweet Rosie O'Grady (1943).
Haver also starred in several fanciful biopics, including Irish Eyes Are Smiling (1944), I Wonder Who's Kissing Her Now (1946) and Oh, You Beautiful Doll (1949), and as Broadway star Marilyn Miller in Look For The Silver Lining (1949), at Warner Bros. In all of them, she was as enchanting as the material allowed.
In 1947 Haver married trumpeter Jimmy Zito, whom she had met when he was in Ted Fio Rio's band seven years earlier. She later called the marriage "the biggest mistake of my life", and they separated after three months, getting divorced the following year. It was particularly traumatic as she had recently converted to Catholicism. But she picked up her film career, continuing into the 1950s with I'll Get By (1950) and The Girl Next Door (1953), two other apt Haver titles.
After her divorce, Haver planned to marry a dentist, John Duzik, but he died of haemophilia. A few years later, she announced she was retiring – to become a nun. This decision coincided with the more explicit scripts coming into Hollywood, as well as her poor romantic luck. She was a novice at Sisters of Charity convent in Kansas for just seven months, citing "health reasons" as she quit, to take up interior decoration.
In 1954, she met the recently widowed Fred MacMurray, with whom she had appeared in Where Do We Go From Here? 10 years earlier. They married and adopted twin girls, who survive her. The marriage lasted until MacMurray's death in 1991.
· June Haver (Beverly Jean Stovenour), actor, born June 10 1926; died July 4 2005
The above "Guardian" obituary can be accessed also here.