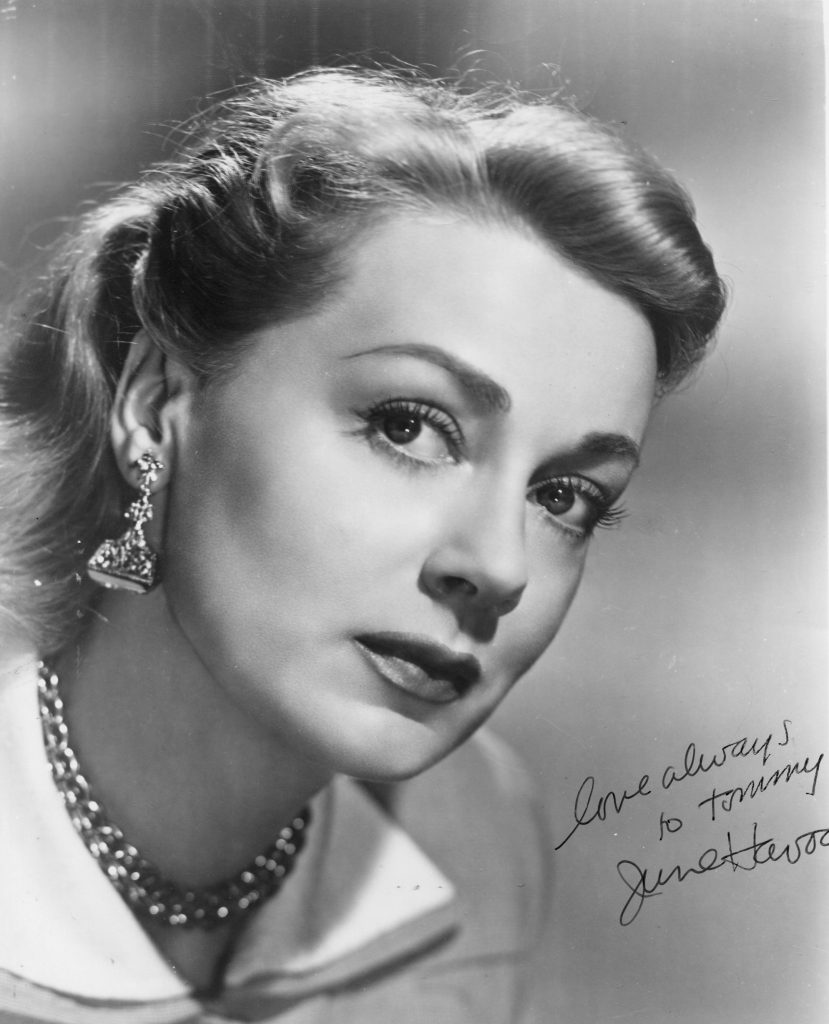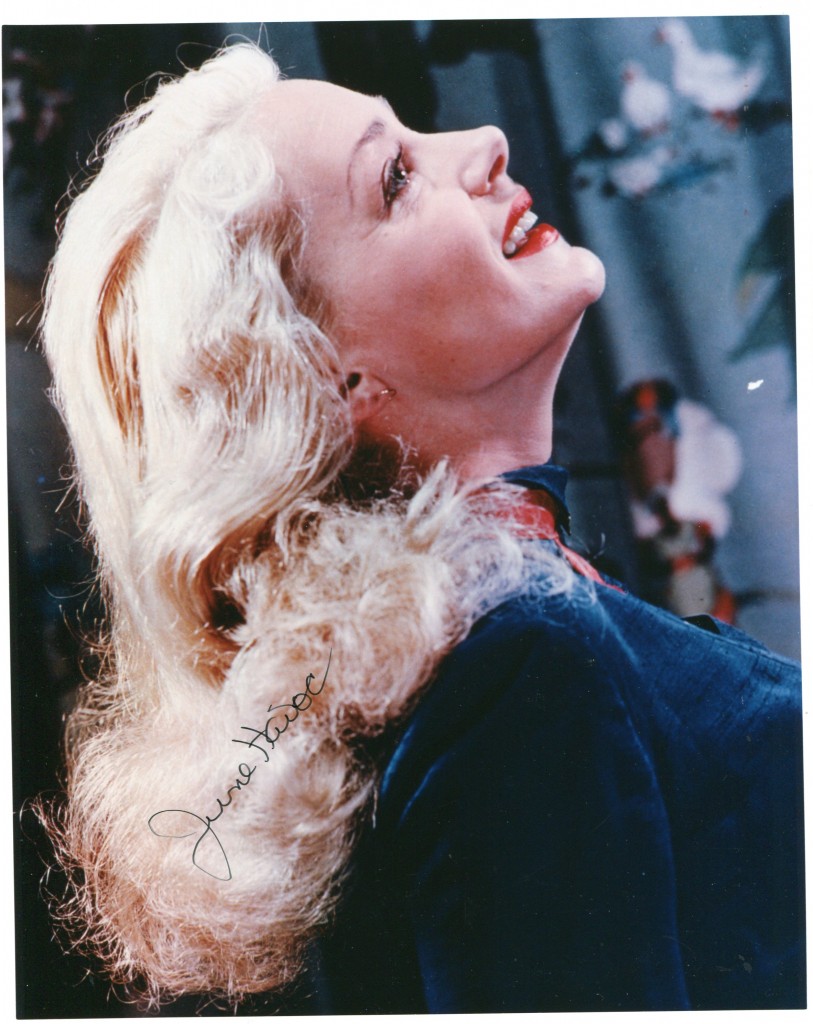 June Havoc was born in Vancouver in 1910. She was the sister of Gypsy Rose Lee. Her films include "Four Jacks and a Jill" in 1942, "Gentleman's Agreement" in 1947 and "Can't Stop the Music" in 1980 which starred Village People. She died at the age of 97 in Connecticut.
Gary Brumburgh's entry:
Musical theater devotees will undoubtedly know that the song "Let Me Entertain You" was from the classic musical "Gypsy", the born-in-a-trunk story of resilient kid troopers Gypsy Rose Lee and June Havoc who were mercilessly pushed into vaudeville careers by an unbearably headstrong mother. While the lesser-talented Gypsy, of course, became the legendary ecdysiast who turned stripping into an art form, sister June survived her "Baby June" vaudeville child days of old and the tougher road of Depression-era dance marathons to become a reputable actress of stage, screen and TV, among other things. While June may have immortalized in "Gypsy," based on her older sister's memoirs, it was a bittersweet notoriety as she felt it was a very unjust, hurtful and highly inaccurate portrait of her. It also caused a deep rift between the sisters that lasted for well over a decade.
The Canadian-born actress (she was born in Vancouver, not Seattle) entered the world in 1912 (some sources insist 1913 or 1916, but Havoc confirmed her true birth date in 2006), the younger daughter of audacious "stage mother" Rose Thompson Hovick and her husband, John Olaf Hovick, a cub reporter for a Seattle newspaper. Baby June was primed for stardom by Rose by age 2 and was soon dancing with the great ballerina Anna Pavlova and appearing in Hal Roach film shorts (1918-1924) with Harold Lloyd. A flexible, high-kicking vaudeville sensation at 5, she was featured front-and-center in an act completely built around her ("Dainty June and Her Newsboys"). Earning around $1,500 a week at her peak, the delightful child star had audiences eating out of the palm of her little hand while sharing the stage with the likes of "Red-Hot Mama" Sophie Tucker and "Baby Snooks" Fanny Brice. The unrelenting pressures and suffocating dominance of her mother, however, led to a capricious elopement at age 13 with a young boy from the act (Bobby Reed, who inspired the dancing character of Tulsa in "Gypsy"). They married in North Platte, Nebraska with each lying about their age. By the time the Depression hit, however, vaudeville, the nation's economy and her marriage had all collapsed.
Now a mother of a young daughter, April (born out of wedlock in 1930, April Kent acted briefly in the 1950s and died of a heart attack in 1998), June made ends meet by modeling, posing and toiling in dance marathons. The blonde, blue-eyed stunner also found work in stock musicals and on the Borscht Belt circuit. She made her Broadway debut in the musical "Forbidden Melody in 1936". Years passed before she earned her big break as Gladys in Rodgers and Hart's classic musical "Pal Joey" opposite Van Johnsonand Gene Kelly in 1940. As a result of their scene-stealing work, the trio earned movie contracts – the two men heading off to the MGM studio and June to RKO.
Unlike her male counterparts, June found herself inextricably caught up in "B" level material. Her film debut in the war-era Four Jacks and a Jill (1942) was followed by the equally ho-hum Powder Town (1942) and Sing Your Worries Away (1942), neither requiring much in the line of acting. Her personality was big for the screen due to her broad vaudeville background, but she nevertheless could show some true grit and talent on occasion, particularly with her support role in My Sister Eileen (1942).
For the next few years she experienced both highs and lows. Her Broadway shows were either hits, such as the musical "Mexican Hayride" (1944) (for which she won the Donaldson Award), and the dramatic "The Ryan Girl" (1945), or complete misses, which included a musical version of the Sadie Thompson saga Rain. June's film acting continued to be a stumbling block, scoring best when asked to play brassy, cynical dames. While she fared well as the femme fatale in Intrigue (1947), the racist secretary in Gentleman's Agreement (1947), and the gun moll The Story of Molly X (1949), more often than not, she was handed second-rate fodder to flounder in such as The Iron Curtain (1948), Once a Thief (1950) and Follow the Sun (1951). She appeared on TV in the early 50s, and she received her own short-lived vehicles as a lawyer in Willy (1954) and as host of her own show The June Havoc Show (1964).
After completing her last film Three for Jamie Dawn (1956), June refocused on stage and TV – particularly the former. She earned some of her best reviews both here and abroad in later years: Titania in "A Midsummer Night's Dream," Mistress Sullen in "The Beaux' Stratagem," Sabina in "The Skin of Our Teeth," Millicent in "Dinner at Eight," Jenny in "The Threepenny Opera," Mrs. Swabb in "Habeas Corpus," and Mrs. Lovett in "Sweeney Todd". In 1982 she pulled out all the stops on Broadway and gave a real Rose's Turn as a Miss Hannigan replacement in "Annie".
June expanded her talents to include both playwriting and directing. In addition to "I Said the Fly," she wrote "Marathon '33" (based on her Depression-era struggles) and received a 1964 Tony nomination for directing the play. June became the artistic director of the New Orleans Repertory Theatre in 1970, and later went on tour with her own one-woman show "An Evening with June Havoc". On stage and broaching age 80, the never-say-die actress appeared 8in a production of "Love Letters" and "An Old Lady's Guide to Survival".
June's mid-career biography "Early Havoc" was published in 1959. Married three times (her last husband, producer/director/writer William Spier died in 1973), June was long estranged from her sister, none too happy with Gypsy's portrayal of her in the best-selling memoir, "Gypsy" and equally dismayed of her Baby June character in the smash musical hit. The girls, noted for their trademark elongated faces and shapely gams, were estranged as children as well, but eventually patched things up for a time as adults. The sisters didn't truly grow close until Gypsy told June that she was dying of lung cancer in 1970. June elaborated more about her relationship with her sister in her second autobiography, "More Havoc" in 1980.
Ms. Havoc died peacefully on March 28, 2010, at her home in Stamford, Connecticut of natural causes. She was 97 years young.
– IMDb Mini Biography By: Gary Brumburgh / gr-home@pacbell.net