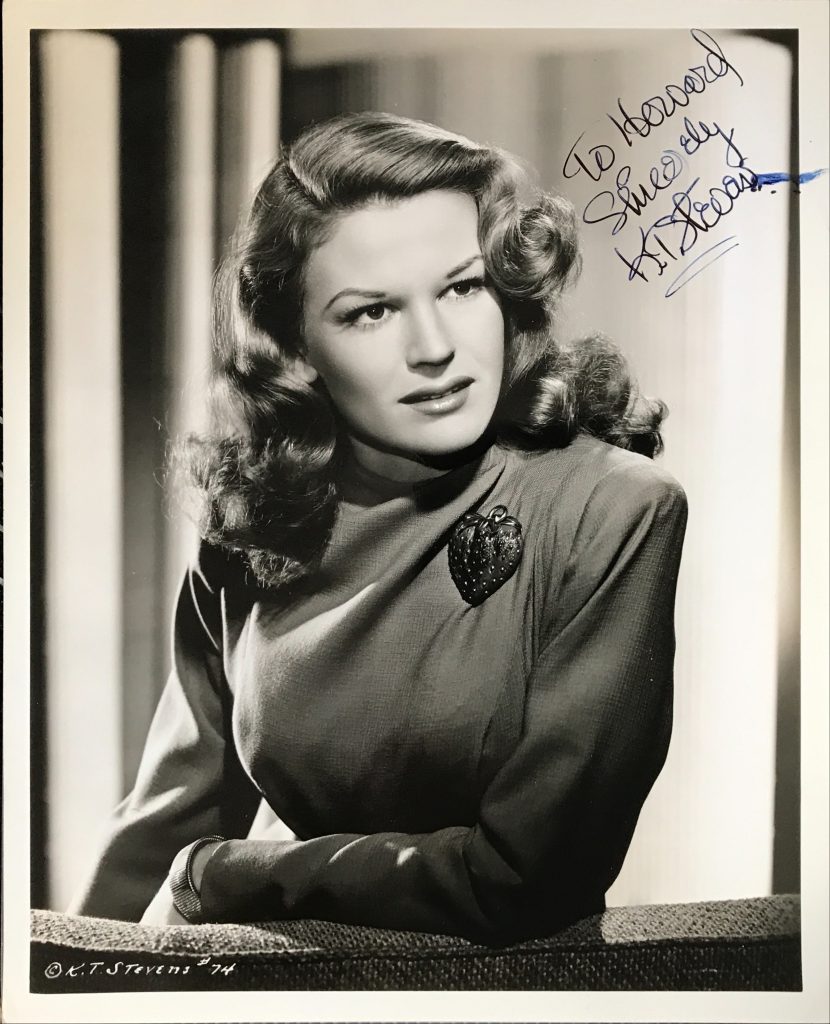 K.T. Stevens was born in 1919 in Los Angeles. She was the daughter of director Sam Wood. Her films include "The Great Man's Lady" with Barbara Stanwyck in 1942, "Port of New York" in 1949 with Yul Brynner and in 1950, "Harriet Craig" with Joan Crawford. She died in 1994.
Gary Brumburgh's entry:
She certainly had the requisite genes for an acting career as her father was the legendary director Sam Wood and her mother was a stage performer. K.T. Stevens wasted no time either. By the time she was 2 years old, she had made her film debut in her father's silent classic Peck's Bad Boy (1921), which starred Jackie Coogan. Christened Gloria Wood, she was billed "Baby Gloria Wood" as a toddler. Following high school, she decided to pursue acting full-time, taking drama lessons and apprenticing in summer stock. In 1938, she toured in two productions: "You Can't Take It with You" and "My Sister Eileen". The following year, she made her Broadway debut in a walk-on role in "Summer Light", which was directed by Lee Strasberg. At this point, she was calling herself "Katharine Stevens" (after her favorite actress, Katharine Hepburn), as she did not want to ride on her famous father's coattails. Eventually, she settled on the initials "K.T." which she felt added mystery and flair. Although her film career subsided, she flourished on radio ("Junior Miss") and on the Broadway stage where "The Man Who Came to Dinner" (1940), "Yankee Point" (1942) and "Nine Girls" 1943) helped boost her reputation. K.T. met actor Hugh Marlowe after they appeared together on Broadway in "The Land Is Bright" (1941). Co-starring in a 1944 Chicago production of "The Voice of the Turtle", they married in 1946. The couple went on to grace more than 20 stage shows together, including a Broadway production of the classic film Laura (1944), in which she played the mysterious title role and he played the obsessed detective. In the 1950s, K.T. moved to TV episodics with Perry Mason (1957), Alfred Hitchcock Presents (1955) andThe Big Valley (1965), just a few of her guest appearances. She possessed an open-faced prettiness and seemed ideal for film noir, but her chance to breakthrough never materialized despite decent roles in Kitty Foyle (1940), which was directed by her father,The Great Man's Lady (1942) starring Barbara Stanwyck, Port of New York (1949) with Yul Brynner, Vice Squad (1953) featuring Paulette Goddard and the sci-fi film Missile to the Moon (1958). Following her 1967 divorce from Marlowe, K.T. abandoned acting for a time in favor of teaching nursery school. She eventually returned to TV and made some strides in daytime soaps, most notably The Young and the Restless (1973). She also served three terms as President of the L.A. local branch of AFTRA. K.T. had two sons, Jeffrey Marlowe, born in 1948 and Christian, born in 1951, the latter best known these days as sportscaster Chris Marlowe. She died of lung cancer in 1994.
– IMDb Mini Biography By: Gary Brumburgh / gr-home@pacbell.net