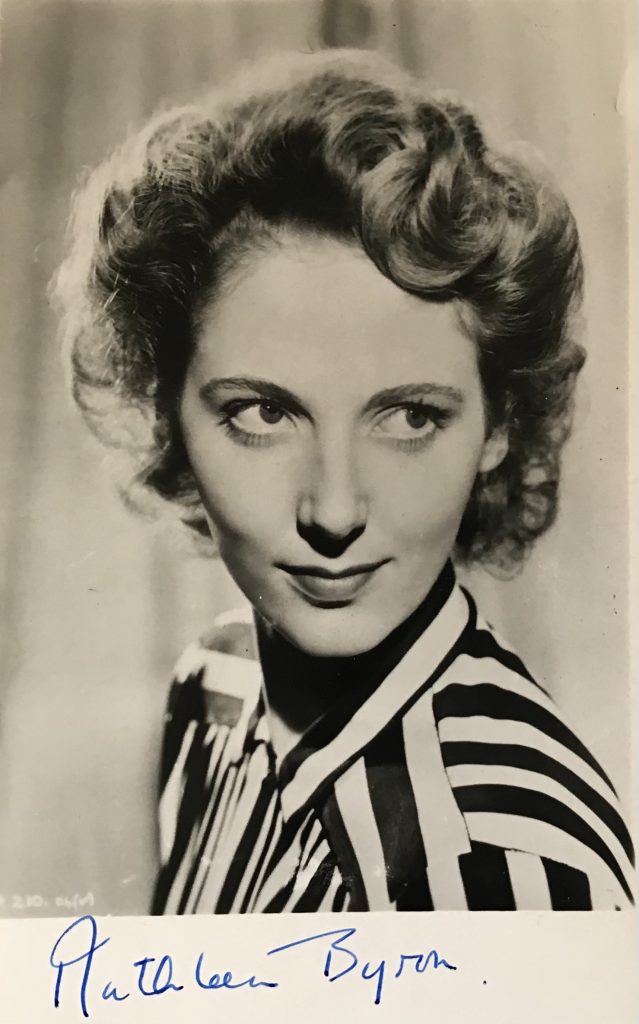 Kathleen Byron was born in West Ham, London in 1921.   Her film debut was in 1942 in "Young Mr Pitt".   She gave spellbinding performances in "Black Narcissus" as the demonic Sister Ruth and in "Madness of the Heart" with Margaret Lockwood.   Other films include "Young Bess" which she made in Hollywood in 1953 with her "Black Narcissus" co-stars, Deborah Kerr and Jean Simmons.   In 1998 she was featured in "Saving Sgt Ryan".   She died in 2009 at the age of 88.
Brian Baxter's "Guardian" obituary:
The startling sequence of a lust-crazed nun changing the habit of a lifetime for a provocative dress and garish lipstick, before attempting murder, remains one of the most erotically charged episodes in all cinema. The film was Black Narcissus (1947), and the hysterically jealous Sister Ruth was played by the luminously beautiful Kathleen Byron, who has died aged 88. In the climax to the scene, she plunges to her death from the convent bell tower as her intended victim (Deborah Kerr) manages to save herself. ­Understandably Ruth remained the favourite among Byron's numerous roles, since such fiery characters were a rarity in a British cinema dominated by war movies, broad comedies and insipid costume dramas. Although not her debut (that was an uncredited role in 1942's lavishly populated The Young Mr Pitt), it launched her career, which continued for over 50 years in ­cinema, on stage and – increasingly – on television.
Byron was born in London into a staunchly working-class family: her parents later became Labour mayors of East Ham. To her father's initial ­disappointment, she turned down a place to read languages at London ­University when she won an acting scholarship to the Old Vic theatre school. She trained there briefly before getting the two-line encounter with Robert Donat as Pitt.
Aged 20, she found her acting ­ambitions curtailed by war work in the censor's office. She did, however, manage time off to play the small role of a schoolmistress in the patriotic The Silver Fleet (1943). The film was significant in being produced by Michael Powell and Emeric Pressburger, for whom she was to make her next three – and indisputably best – movies.
Immediately after the war, she was cast as an angel in the duo's lavish romantic fantasy, A Matter of Life and Death (1946). This led to her being cast as one of the nuns stifled in a ­Himalayan retreat (courtesy of ­Pinewood studio's wizardry, spectacular colour and superb designs). Her success was rewarded with a co-starring role opposite David Farrar who, in the earlier film, had played the handsome Englishman who ­unwittingly upsets convent life. In the superb thriller The Small Back Room (1949), Farrar was the one battling his demons. Byron played Susan, whose love is rejected by the self-destructive scientist.
This fairly conventional character might have led to similar mainstream parts but, instead, further hysteria was called for in Madness of the Heart (1949) where her powerful co-star Margaret Lockwood – proving less ­supportive than Kerr had been – insisted that Byron's close-ups be ­confined to those that showed her angular features distorted by ­frustration and anger. Such unladylike sabotage mattered little, and Byron followed the melodrama with Prelude to Fame (1950), then playedMrs Brown in a sturdy version of Tom Brown's Schooldays (1951). During that busy year, she notched up several more films, starting with top billing in the thriller The Scarlet Thread, where an ambitious Laurence Harvey proved as disconcerting as Lockwood.
A romp based on a Georgette Heyer novel, The Reluctant Widow, was ­followed by My Death Is a Mockery, then an excellent docudrama, Life in Her Hands, directed by Philip Leacock. She played a duchess (a hint of things to come) in The House in the Square, before rounding off the year with Hell Is Sold Out. The following year proved less frantic, with Four Days and the first of her films for Hammer, when she starred in The Gambler and the Lady.
When Hollywood decided on a lavish version of the early years of Elizabeth I, played by Jean Simmons, a bevy of British actors was imported to fill assorted historical roles, and Byron found herself in California opposite her friend Kerr and many others in Young Bess (1953). She was, however, several months pregnant and forced to turn down an expansion of her role as Ann Seymour.
Despite further movies including Profile (1954) and Handcuffs, London (1955) TV offered steadier work including Fabian of the Yard and the hospital soap Emergency-Ward 10 (1957), plus popular series including Callan, The Avengers, The Professionals and Blake's 7.
In 1960 she was reunited with the estimable Leacock on the gentle Hand in Hand, but found useful character parts in horror movies. These included the eerie Night of the Eagle (1962), Hammer's Twins of Evil (1971) plus Nothing But the Night (1972) and Craze (1974). When Hammer branched out with Wolfshead: THe Legebnd of Robin Hood (1969), she was cast as Katherine of Locksley.
A sub-Bond movie, Hammerhead (1968), presented her with another titled character, but TV offered more prestigious work including The Moonstone, The Golden Bowl and The Edwardians (as Agnes Baden-Powell) all in 1972, alongside lesser material such as General Hospital.
Although she played in the theatre, she worked steadily in TV on The Bill, Casualty and a 1997 episode of Midsomer Murders. She also enjoyed a small but telling role in the feature films The Abdication (1974), playing the Queen Mother to Liv Ullman's Queen Christina and as Lady Waddington in The Elephant Man (1980). When Steven Spielberg cast her in the cameo role of Old Mrs Ryan in Saving Private Ryan (1998), because of his affection for the Powell-Pressburger films.
This plebeian role was in contrast to the many upper-crust characters she portrayed, such as Countess Gemini in the 1968 TV version of Portrait of a Lady, Edith Cunard in Nancy Astor (1982), Lady Carnock in Portrait of a Marriage (1990) and a dignified Mother Superior in Bille August's 1998 film of Les Misérables.
Such characters were possibly at odds with her down-to-earth approach to acting, since she had long settled for a blend of family life and that of a working actor. After a brief early marriage to Daniel Bowen, she married the writer Alaric Jacob in 1953; she became step-mother to his daughter, and together they had a son and a daughter.
In later years she enjoyed moments of glory and press attention with reissues of Black Narcissus and other movies, or a couple of days' work for Spielberg. But her abiding strength was to add stylish professionalism to even the most mundane of productions.
Her husband died in 1995; she is survived by her children and five grandchildren.
Kathleen Elizabeth Byron, actor, born 11 January 1921; died 18 January 2009
 The above "Guardian" obituary can also be accessed online
here.