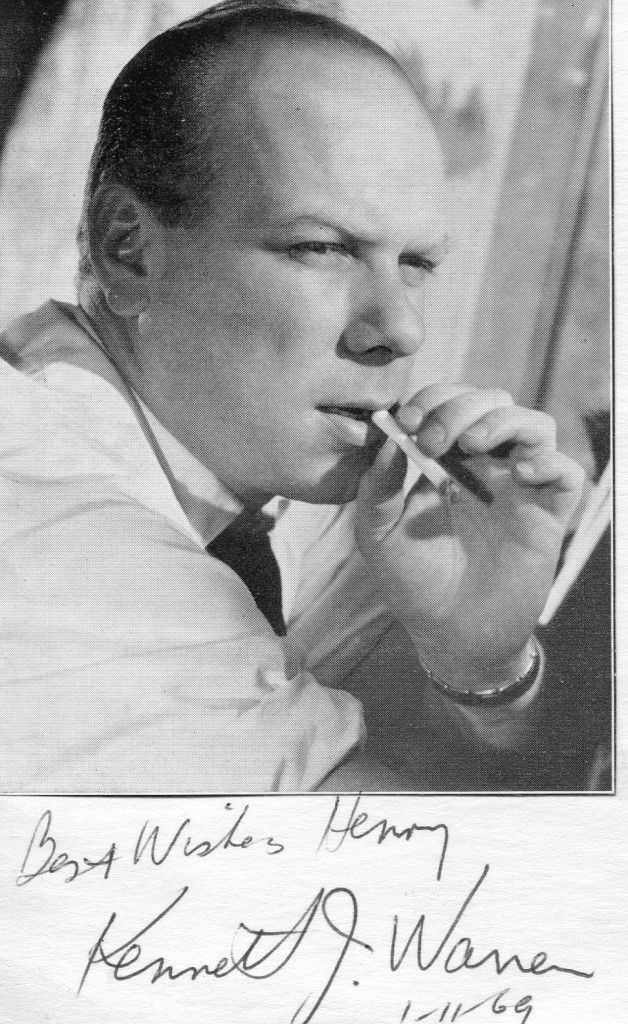 Kenneth J. Warren was born in 1929 in New South Wales, Australia.   Most of his acting career was based in the U.K.   His film debut was in 1954 in "Long John Silver".   His other films include "I Was Monty's Double" in 1958, "The Navy Lark" and "Doctor Blood's Coffin".   He died in 1973.
Gary Brumburgh's entry:
Balding (later shaven-headed) Australian character actor Kenneth J. Warren (the "J" stands for John) was a reliable performer on both stage and films, his imposing, beefy frame and darting, sliver-eyed presence almost a tell-tale sign of peril yet to come. Born in New South Wales in 1929 (some sources indicate 1926), he was best known for his sinister heavies yet was quite comfortable playing moral-minded men. He began his theatrical career in his native Australia during the early 1950s and also found an obscure film part to play in the Robert Newton classic of – Treasure Island (1950). Catching fire after appearing on the London stage with a superb performance in an Australian touring production of "Summer of the Seventeenth Doll," he made a major career move by settling in England. A wise choice in the end for his film career started up almost immediately with able supports in Hell, Heaven or Hoboken (1958) starring John Mills,Concrete Jungle (1960) with Stanley Baker, _Informers, The (1964)_ with Nigel Patrick, and A High Wind in Jamaica (1965) opposite Anthony Quinn and James Coburn.
Billed early in the game as Kenneth Warren (without the middle initial), the actor returned to the stage from time to time in such plays as "Luther" (1963) and "Canterbury Tales" (1968). On TV he was a worthy antagonist in a number of popular spy series such as "The Avengers," "Secret Agent" and "The Saint." An emphatic presence in horror films, his gallery of films in this genre included _Dr. Blood's Coffin (1961)_, I, Monster (1971),Demons of the Mind (1972) and The Creeping Flesh (1973). One of Warren's final roles came in another typical form, that of a military hi-ranker, in the comedy Digby, the Biggest Dog in the World (1973). His untimely death in 1973 robbed the acting community of a vital character support. His film S*P*Y*S (1974), which reunited M*A*S*H cohorts Elliott Gould and Donald Sutherland, was released posthumously. In his private life, Warren belied his on-camera tough-guy image as he was a talented artist and gourmet cook. His son Damian Warren is also an actor.
– IMDb Mini Biography By: Gary Brumburgh / gr-home@pacbell.ne