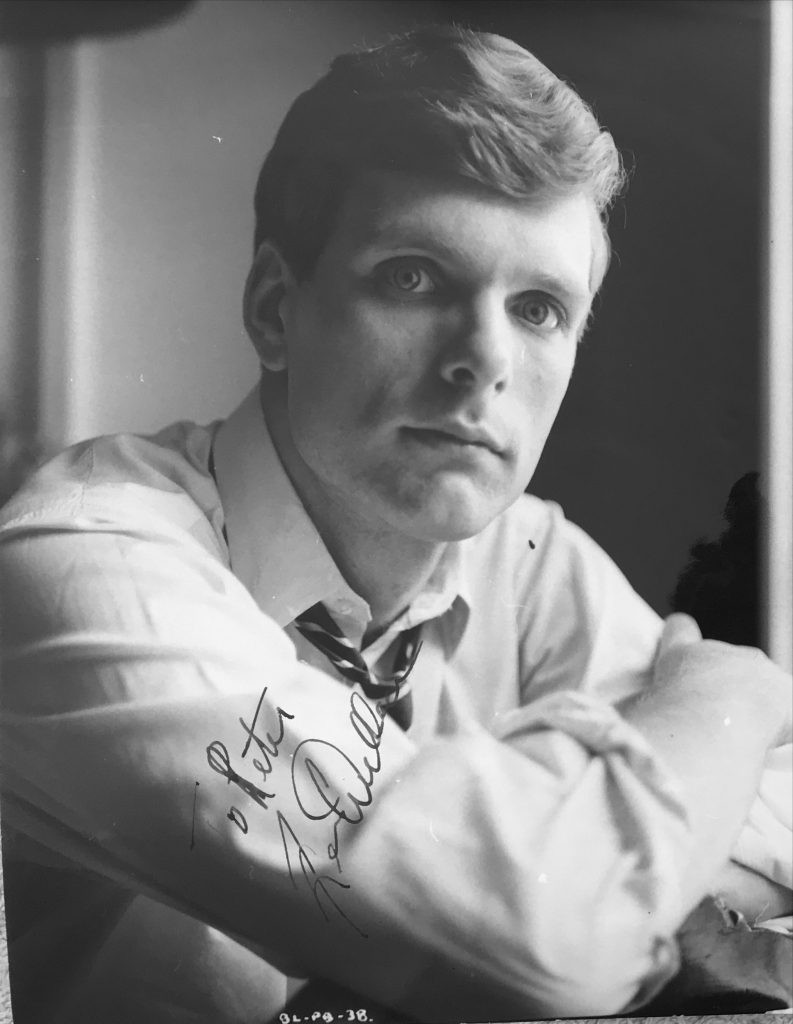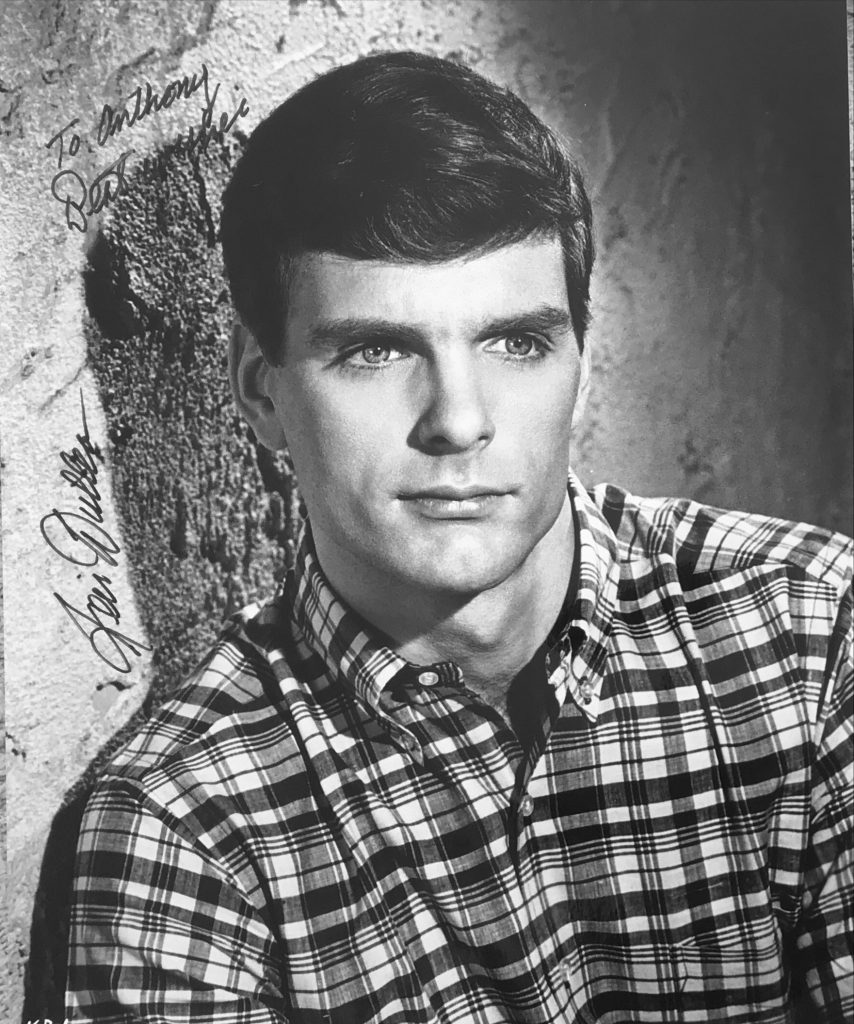 Kier Dullea. IMDB.
Kier Dullea was born in Cleveland, Ohio in 1936. He is best known for his lead performance in the Stanley Kubrick classic "2001: A Space Oddity" in 1968. His other movies include "The Hoodlum Priest", "Male Order Bride", "Bunny Lake is Missing" and "The Fox" with Sandy Dennis and Anne Heywood.
Gary Brumburgh's entry:
Tall, slim, remote and boyishly handsome, one of Keir Dullea's most arresting features are his pale blue eyes and, at one time, they were featured all over the screen in a number of watershed films of the 1960s. A major, up-and-coming film star from the "Camelot" years straight through the turbulent era of the U.S.-Viet Nam War, he never quite reached international fame. His shining star may have suffered a power outage into the next decade, but he persevered quite well on T.V. and (especially) the stage in a career now surpassing five decades.
Dullea, who was born in Cleveland, Ohio, is the son of two book-store owners, and he was raised in New York's Greenwich Village section. He graduated from George School in Pennsylvania and attended both Rutgers and San Francisco State before deciding to pursue summer stock and regional theatre. Attending the Neighborhood Playhouse, he made his New York City acting debut in a production of "Sticks and Bones" in 1956. His first big break came with the pilot program of the Route 66 (1960) series, and he proceeded to find other TV roles in Naked City (1958), Checkmate (1960) and various dramatic programs.
Following stage work in "Season of Choice" (1959) and "A Short Happy Life" (1961), Dullea made an auspicious film debut in a leading role with The Hoodlum Priest (1961), playing a troubled street gang member who crosses paths with Don Murray's determined minister. The young actor's characters from then on seemed to walk a dangerous tight-rope of emotions, and his apparent versatility at such a young age led him to a number of other psychologically scarred portrayals. Tending to play men younger than he really was, none were more disturbed than his haphephobic adolescent David (Dullea was twenty-six at the time) in the deeply felt love story David and Lisa (1962). Paired beautifully with Janet Margolin's schizophrenic Lisa, Dullea won the Golden Globe Award for "Most Promising Male Newcomer."
In the World War II military drama The Thin Red Line (1964)he played an edgy, nervous-eyed private who is pushed to his murderous brink by a brutal sergeant on Guadacanal. In Bunny Lake Is Missing (1965) Dullea portrayed the incestuous brother of Carol Lynley, who may or may not figure into the disappearance of Lynley's child. Keir also costarred as the mysterious intruder who inserts an emotional wedge between gay lovers Anne Heywood and Sandy Dennis in the ground-breaking film about homosexuals, The Fox(1967).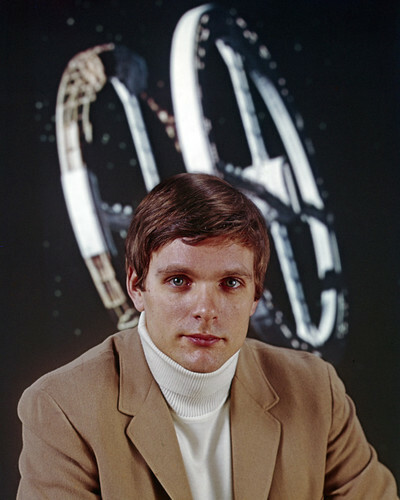 Topping that off, Dullea played the salacious Marquis De Sade himself in a relatively tame, internationally flavored production of De Sade (1969). The apex of his film career, however, came with his lead role in Stanley Kubrick's epic science-fiction film, 2001: A Space Odyssey (1968), as the astronaut Dr. David Bowman.
In the realm of stage acting, Keir made his debut on Broadway in 1967 with "Dr. Cook's Garden" costarring Burl Ives, and Dullea won some "flower power" stardom two years later as a sensitive young blind man who attempted to wriggle free of his protective, overbearing mother. His character also pursues love with a free-spirited girl, played byBlythe Danner, in the play "Butterflies Are Free." By the time the movie of this story was released in 1972 both stars had been replaced by Goldie Hawn and Edward Albert.
Dullea next went abroad to seek film work in England and in Canada, but with lukewarm results. He continued to show his odd-man-out appeal on the Broadway stage as "Brick" in 1970, and in the Broadway revival of "Cat on a Hot Tin Roof" in 1974, acting along with Elizabeth Ashley as "Maggie," and in the black comedy "P.S. Your Cat Is Dead!" one year later.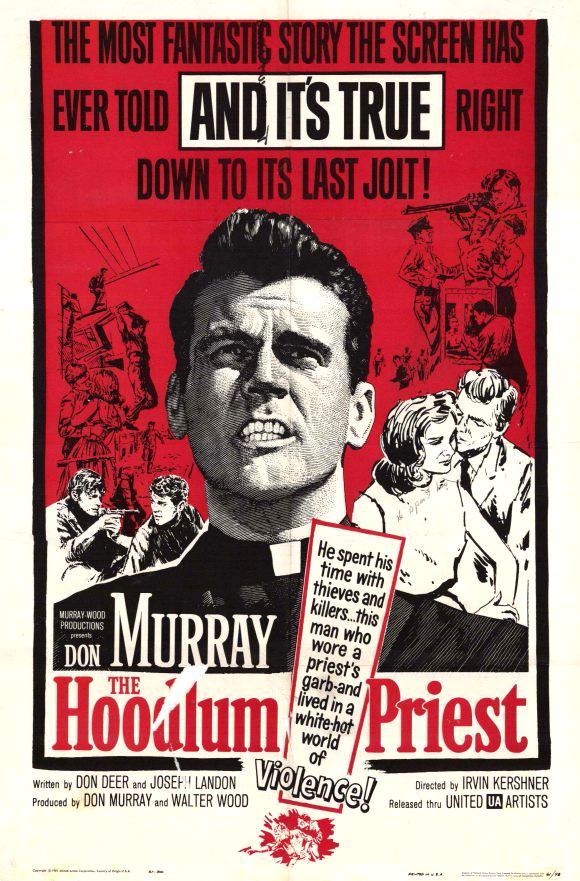 In the years since then, Dullea has acted steadily on the stage in New York City, and in U.S. regional theatres, in productions of "Sweet Prince," "The Seagull" and "The Little Foxes,"among others. His cinematic roles since 1970 have included another "mysterious stranger" in The Next One (1984), and he also reprised his "David Bowman" role in 2010(1984), the sequel to "2001: A Space Odyssey." Dullea has had four wives: his first was actress Margot Bennett, and he and his third wife, Susie Fuller (whom he met during the British performances of "Butterflies are Free" in London), cofounded the Theater Artists Workshop of Westport in 1983. Dullea, Fuller and her two children resided in London for quite a while. After Fuller's death in 1998, Dullea married for the fourth time in 1999 to actress Mia Dillon, who is best known for portraying the character "Babe" in in the play, "Crimes of the Heart" in New York City. Just a few weeks later they appeared together in the play "Deathtrap."
Dullea has worked infrequently in television roles. Among his more recent work in movies has been the role of a senator in The Good Shepherd (2006), along with Matt Damon andAngelina Jolie, which was directed by Robert De Niro.
– IMDb Mini Biography By: Gary Brumburgh / gr-home@pacbell.net
TCM Overview:
Raised in NYC's Greenwich Village where his parents ran a bookstore, clean-cut, sensitive-looking leading man Keir Dullea acted in stock and with various repertory companies before finally appearing Off-Broadway in "Season of Choice" (1959). He gained immediate attention for his first two film roles, as the doomed juvenile delinquent in "The Hoodlum Priest" (1961) and as the young emotionally disturbed protagonist of Frank Perry's "David and Lisa" (1962). Looking younger than his years, he continued to play intense, neurotic youths in movies like "The Thin Red Line" (1964), "Bunny Lake Is Missing" (1965) and "Madame X" (1966), finally breaking the typecasting as the man who intrudes upon a lesbian relationship in the film of D H Lawrence's novella, "The Fox" (1967). After his memorable turn as astronaut David Bowman in Stanley Kubrick's "2001: A Space Odyssey" (1968), his career seemed ready to blast into a new dimension, but his misses outnumbered his hits in the 1970s and 80s, due as much to his apathy as anything.