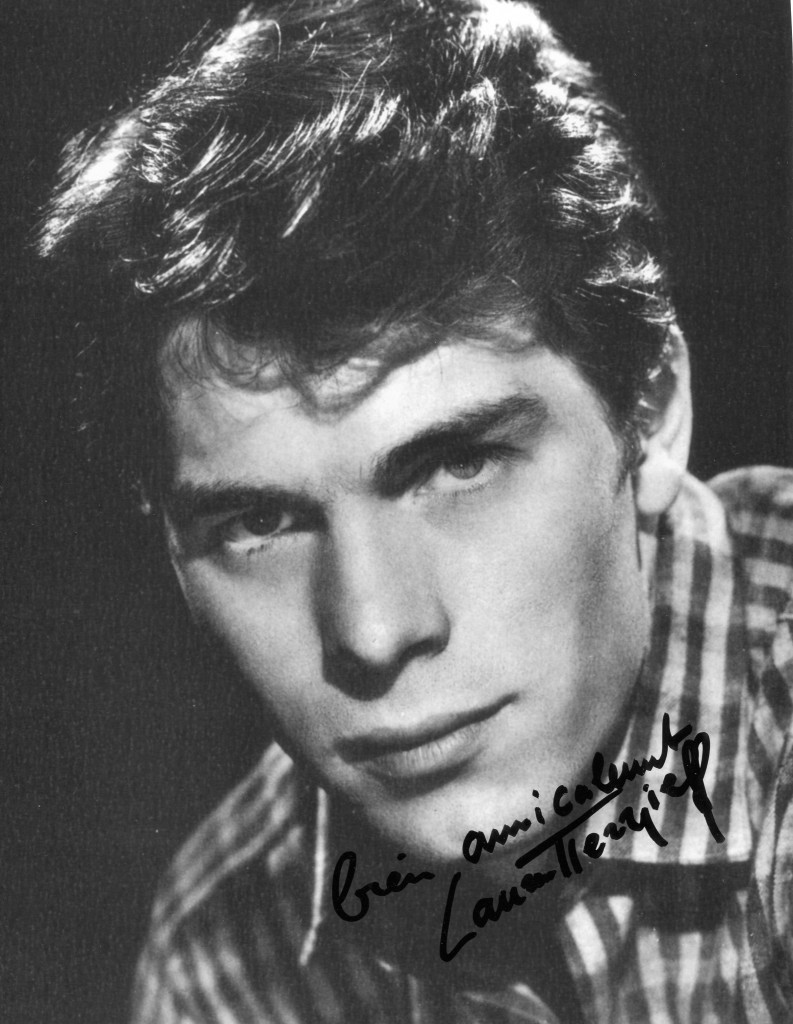 Laurent Tierzieff was born in 1935 in Toulouse, France. He made his stage debut in 1953 in the Theatre of Babylon's "Tous contre tous". On film he appeared opposite Brigitte Bardot in "A couer joie". He died in 2010 in Paris.
"Guardian" obituary:
With his emaciated but hypnotically handsome face and lithe body, the French actor Laurent Terzieff, who has died of respiratory infection aged 75, graced the stage and films for more than half a century. There was always an aura of tormented youth about Terzieff which he carried into the classic roles of his maturity such as Luigi Pirandello's Henry IV (1989) and Shakespeare's Richard II (1991). His perfect diction and rhythmic precision made his rendering of Jean Cocteau's narration of Stravinsky's Oedipus Rex in Bob Wilson's production at the Théâtre du Châtelet in 1996 particularly exciting.
Terzieff's special talents were used by many of the great theatre producers of the day: Jean-Louis Barrault, Peter Brook, Roger Planchon, Maurice Garrel, Roger Blin and André Barsacq. He also directed dozens of plays, many at the Théâtre du Lucernaire in Montparnasse. Paradoxically, given his tormented persona as an actor, he had a taste for the comedies of the American playwright Murray Schisgal, all of whose rather wacky works Terzieff staged in Paris.
"I have the image of a Dostoevskian actor, but I'm mad about Jerry Lewis," he once remarked. He was also fond of the absurdist plays of the Briton James Saunders and the Pole Sławomir Mrozek. However, for those whose experiences of Terzieff's acting is confined to films – he appeared in more than 70 – there is still plenty to enthuse about.
Born in Toulouse as Laurent Tchemerzine, he was the son of a Russian sculptor who emigrated to France at the end of the first world war, and a French mother, who worked in ceramics. As a youth, he was fascinated by poetry and philosophy until, at 14, he was taken to see a production of August Strindberg's The Ghost Sonata, directed by Blin, who became his spiritual father. Subsequently, he learned his metier as assistant stage manager, prompt and spear carrier before gaining his first stage role in 1953 in Arthur Adamov's Tous Contre Tous (All Against All), which helped develop his taste for the theatre of the absurd.
Terzieff was given his first chance in films in Les Tricheurs (The Cheats, 1958), Marcel Carné's bid to keep up with the youth movement. Terzieff, in a cast that included young actors such as Jacques Charrier, Pascale Petit and Jean-Paul Belmondo, stands out as a cynical existentialist. Le Monde felt that it was his "remarkable performance that brought a sense of tragedy to the film and, at moments, its grandeur".
The following year, Terzieff appeared in two Italian films, Gillo Pontecorvo's Kapò, in which he played a Russian prisoner of war with whom a hardened prison guard, Susan Strasberg, falls in love; and Mauro Bolognini's La Notte Brava (Night Heat). In the latter, he played a disillusioned young man who, with Jean-Claude Brialy and Franco Interlenghi, is on the make for money and girls.
While Terzieff was recognised as part of a new wave of actors in the early 1960s, he made three films in a row for the veteran Claude Autant-Lara, the best being Tu Ne Tueras Point (Thou Shalt Not Kill, 1961), in which he played a conscientious objector during the second world war. In contrast, he was dashing as a revolutionary in Vanina Vanini (1961), Roberto Rossellini's high romance of the Risorgimento. He also established his avant-garde credentials in four experimental films by Garrel's son Philippe (Terzieff had staged the Schisgal plays with his father).
He contributed his disturbing presence to Henri-Georges Clouzot's La Prisonnière (Woman in Chains, 1968) as a morose loner who photographs women in poses of masochistic submission, and played Brigitte Bardot's lover in Serge Bourguignon's A Coeur Joie (Two Weeks in September, 1967).
Still in demand by leading European directors, Terzieff played a roguish tramp on a pilgrimage to the Spanish shrine of Santiago de Compostela in A Via Láctea (The Milky Way, 1968), Luis Buñuel's episodic anti-clerical stance on Catholic dogma; he was a centaur in Pier Paolo Pasolini's Medea (1969); he took the childlike title role in Susan Sontag's Brother Carl (1971); and was William Prospero, reading from The Tempest and trying to solve a hotel murder in Jean-Luc Godard's cheeky Détective (1985). His last notable film role was as a cadaverous-looking Souvarine, the Russian anarchist preaching violent action by the miners in Claude Berri's Zola adaptation, Germinal (1993).
Terzieff continued a parallel career in the theatre, his last performance being a magnificent Philoctetes by Sophocles in Paris in 2009. Despite his image as a melancholic loner, he was often seen in the company of friends at the Café de Flore in Saint-Germain-des-Prés, also frequented by one of his idols, Jean-Paul Sartre.
"The only woman in my life", the actress Pascale de Boysson, his companion for 40 years with whom he formed a theatre company, died in 2002.
• Laurent Terzieff (Laurent Tchemerzine), actor, born 27 June 1935; died 2 July 2010
His "Guardian" obituary by Ronald Bergan can be found here.