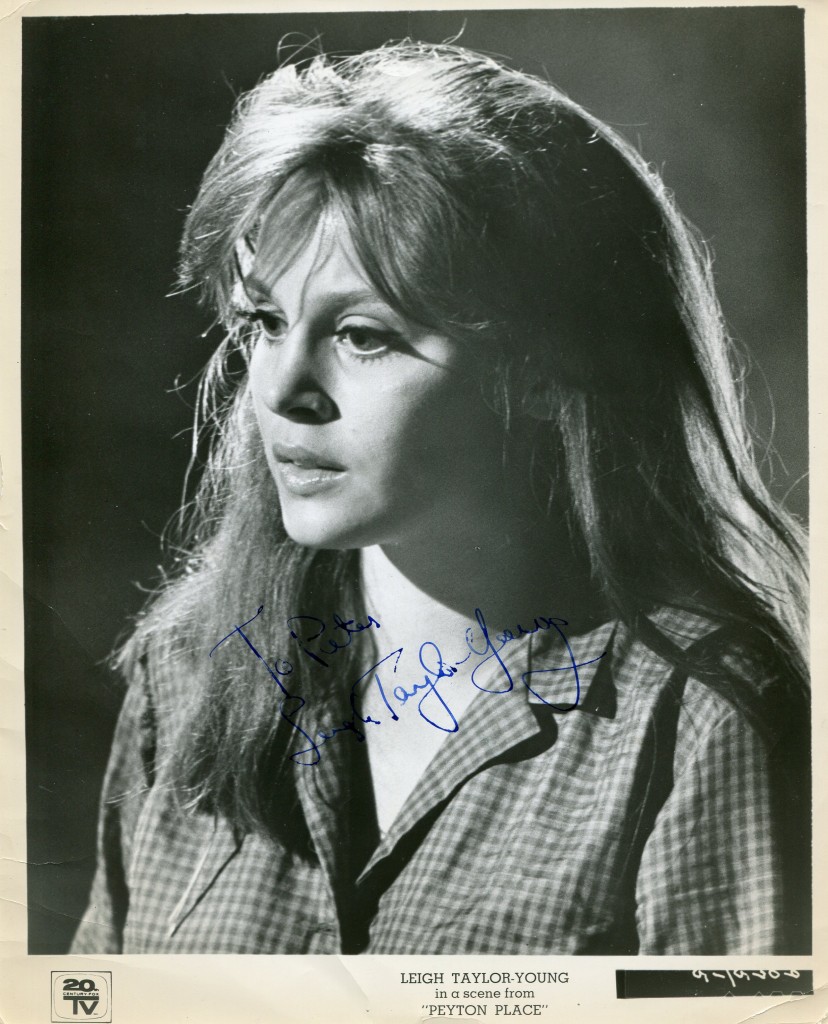 Leigh Taylor-Young was born in 1945 in Washington D.C. She came to fame as part of the cast of the very popular television series "Peyton Place". Film roles include "The Adverturers" in 1970, "The Horsemen" and "Solyent Greet".
Gary Brumburgh's:
Leigh Taylor-Young was born in Washington, DC, to a diplomat father and raised in Bloomfield Hills, Michigan, the older sister of future actress Dey Young and writer/director Lance Young. She studied classical ballet and, following high school, attended Northwestern University where she initially majored in economics. She switched gears after developing an interest in theater and apprenticed as the youngest member of the distinguished Eaglesmere Summer Repertory Theatre. Leigh eventually moved to New York with designs on a professional career and studied under acting guru Sanford Meisnerat the Neighborhood Playhouse. Her major break came when she was cast in the already popular prime-time soap Peyton Place (1964). She played the mysterious Rachael Welles, whose character was brought in to provide clues to the disappearance of Allison MacKenzie's (Mia Farrow, who had shocked ardent viewers by abruptly leaving the series). A mysterious girl herself, Leigh had a fetching figure, slightly offbeat beauty and a tendency to be cast as unsympathetic characters. She developed a bit of bad publicity when she walked off the weekly series after only one season and into the arms of the very popular–and very married–series' star 'Ryan O'Neal (I)'. The couple married in 1967 following his divorce from actress Joanna Moore and had one child, Patrick O'Neal, who later became an actor and married actress Rebecca De Mornay.
Leigh started off in films auspiciously as a "flower child" of the psychedelic 1960s. She earned a Golden Globe nomination for "Best Newcomer" when she played opposite Peter Sellers in the eccentric comedy I Love You, Alice B. Toklas! (1968), but then appeared opposite her husband in The Big Bounce (1969), a kinky flop that landed with a big thud. She went on to appear in a cameo in her husband's British-made movie The Games(1970), then her career sputtered again with a series of misguided features including the star-heavy but critically lambasted epic The Adventurers (1970); the kinky British filmThe Buttercup Chain (1970), which dealt with kissing cousins who don't quite stop at kissing; the beautifully photographed but rather hollow action-adventure The Horsemen(1971) co-starring Omar Sharif; and the so-so romp The Gang That Couldn't Shoot Straight (1971), which is best remembered for starting Robert De Niro off and running in films. Leigh's best known role came alongside Charlton Heston in the controversialSoylent Green (1973), although she was a bit overshadowed by the grisly topic material and the showy performances of co-stars Heston and Edward G. Robinson.
Following her divorce from O'Neal in 1973, Leigh made herself somewhat scarce while raising her young son. In 1978 she married agent/director Guy McElwaine, but that marriage would also end in divorce. In the 1980s she made a comeback of sorts as a mature–but still spicy–and taunting character actress. Although she took a back seat toAlbert Finney in the thriller Looker (1981) and to Glenn Close and Jeff Bridges in the whodunit Jagged Edge (1985), she found her best results back on TV again. She nabbed an Emmy award in 1994 for her vixenish supporting role on the acclaimed series dramaPicket Fences (1992). In addition, she performed in several plays, in the US, England and Scotland, including "The Beckett Plays," "Knives" and "Sleeping Dogs." More recently she appeared in her writer/director brother's film Bliss (1997). These days Leigh plays a regular role on the daytime soap Passions (1999).
Leigh also found a fulfilling life off-camera. She became an ordained minister in the Movement of Spiritual Inner Awareness, and her voice can be heard in the Search of Serenity series of audio meditations from The Course in Miracles trainings. She is also the grandmother of two granddaughters by her son Patrick O'Neal.
– IMDb Mini Biography By: Gary Brumburgh / gr-home@pacbell.net