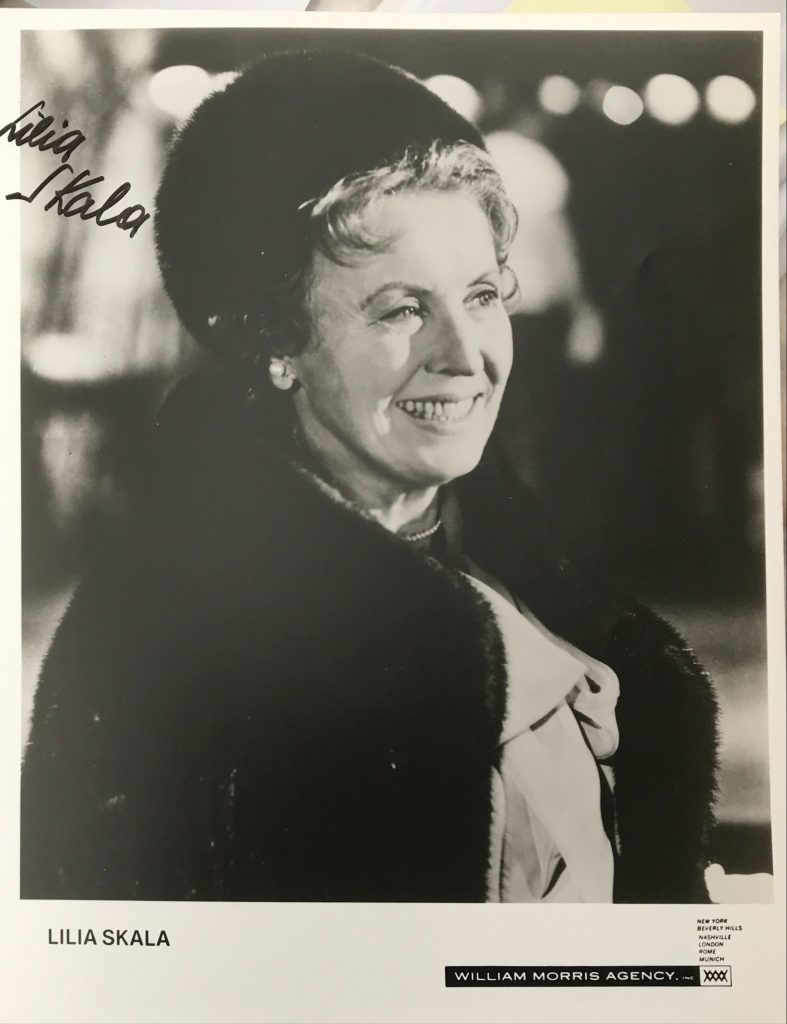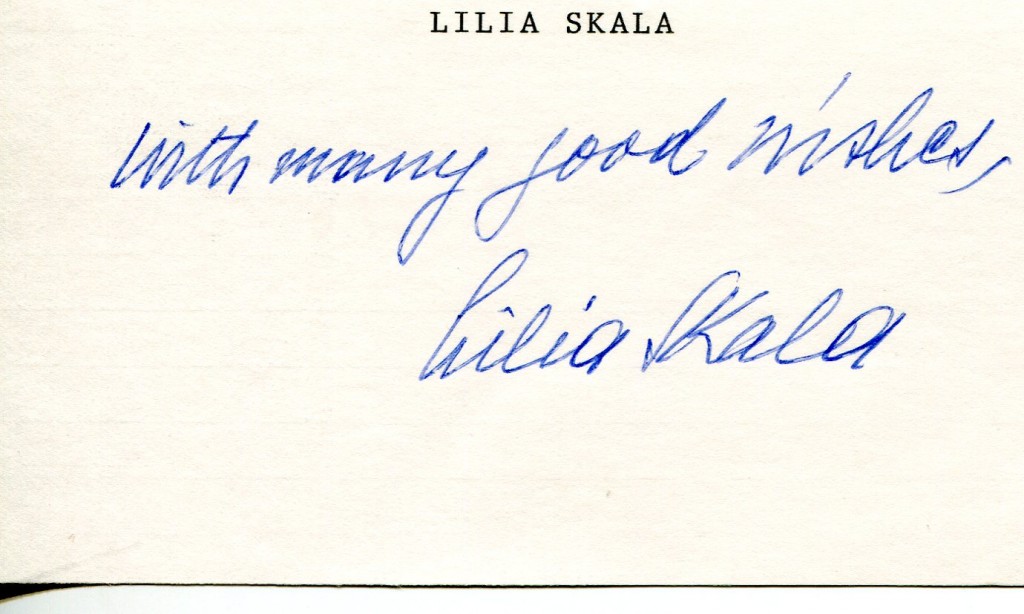 Lilia Skala was born in 1896 in Vienna, Austria. With World War Two looming in Europe, she and her husband and two children fled to the U.S. She made many appearances on television and made her film debut with "Call Me Madam" in 1953. Other films include "Lilies of the Field" with Sidney Poitier in 1963, "Ship of Fools" with Vivien Leigh and "Caprice" with Doris Day and Richard Harris. Lilia Skala died in 1994 at the age of 98.
Gary Brumburgh's entry:
Born and raised in Vienna, Austria, Lilia Skala would become a star on two continents. In pre-World War II Austria she starred in famed Max Reinhardt's stage troupe, and in post-war America she would become a notable matronly, award-worthy character star on Broadway and in films. Forced to flee her Nazi-occupied homeland with her Jewish husband and two young sons in the late 1930s, Lilia and her family managed to escape (at different times) to England. In 1939, practically penniless, they immigrated to the US, where she sought menial labor in New York's garment district.
Lilia quickly learned English and worked her way back to an acting career, this time as a sweet, delightful, thick-accented Academy Award, Golden Globe and Emmy nominee. She broke through the Broadway barrier in 1941 with "Letters to Lucerne", followed by a featured role in the musical "Call Me Madam" with Ethel Merman. In the 1950s she did an extensive tour in "The Diary of Anne Frank" as Mrs. Frank, and performed in a German-language production of Kurt Weill's "The Threepenny Opera." Lilia became a familiar benevolent face on TV in several early soap operas, including Claudia: The Story of a Marriage (1952).
She won her widest claim to fame, however, as the elderly chapel-building Mother Superior opposite Sidney Poitier in Lilies of the Field (1963), for which she won both Academy Award and Golden Globe nominations. That led to more character actress work in films, most notably as the dog-carrying Jewish lady in the star-studded Ship of Fools(1965) and as Jennifer Beals' elderly German friend in Flashdance (1983). On TV she played Eva Gabor's Hungarian mother in Green Acres (1965) and earned an Emmy nomination for her work in the popular miniseries Eleanor and Franklin (1976)). Lilia died at the ripe old age of 98.
– IMDb Mini Biography By: Gary Brumburgh / gr-home@pacbell.net
David Shipman's "Independent" obituary:
Lilia Skala was a remarkable woman, best known in Britain for a handful of movie appearances. Acting was not her original career, because her parents did not consider it respectable: she chose architecture, and as there were no facilities then fo r a woman to study the subject in her native Vienna, Lilia von Skalla (as she was born) trained at the University of Dresden – she subsequently became the first woman member of the Austrian Association of Engineers and Architects. When she married Erik S kala, however, he encouraged her to pursue an acting career; she joined the Max Reinhardt Repertory Theatre, playing throughout Germany and Austria with, among others, the great Albert Basserman.
Erik Skala was Jewish, and they left for the United States at the time of the Anschluss, in 1938. Partly because of her strong accent she was not able to resume her career till cast as the housekeeper in Letters to Lucerne, on Broadway in 1941. After th a t she worked steadily, but without great eclat, till she played the Grand Duchess of Lichtenburg in Irving Berlin's Call Me Madam (1950), in which he spoofed President Truman's decision to send the Washington hostess Perle Mesta as ambassador to as small European duchy. The Mesta role was played by Ethel Merman, who was joined by Skala for the movie version in 1953.
Skala did not make a mark in films till 1963, when she plays the headstrong German Mother Superior who encourages the handyman Sidney Poitier to build a chapel for her flock in Lilies of the Field. Ralph Nelson directed the picture, in which few Hollywood people had any faith: for that reason, Poitier worked for a percentage, and netted himself a fortune – and an Oscar. Skala won a Golden Globe and was Oscar-nominated, but earned only $1,000, the Actors Guild minimum fee, for her participation – because, as her son Peter explained, she was anxious not to appear greedy.
Thereafter she was much in demand, usually playing feisty elderly ladies of European origin – as, for instance, in the New York City Opera's 1965 production of The Threepenny Opera, as Mrs Peachum, and as the old lady in Jewish Repertory Theatre's 1986
m usical version of the Czech film The Shop on the High Street. She also played the landlady, Frau Schneider, in several productions of Cabaret; other appearances in stock include the role of Zsa Zsa Gabor's mother in Forty Carats.
She appeared frequently on television, again playing a nun in Ironside (1967) with Raymond Burr, and its telefilm sequel, Split Second to an Epitaph. In movies, she played a bourgeois hausfrau in Stanley Kramer's Ship of Fools (1965), from Katherine Ann Porter's novel, and was directed by Ralph Nelson again in Charly (1968), in which she was a psychiatrist helping to rehabilitate the retarded protagonist, Cliff Robertson. She was a psychiatrist again, colleague of the heroine, Lindsay Crouse, in the first film both written and directed by David Mamet (who was then married to Ms Crouse), House of Games (1987).
Movie-goers may also remember her as the former dancer who trained Jennifer Beals in Adrian Lyne's Flashdance (1983); and they are unlikely to forget her in one of the better Merchant-Ivory productions (before they were Merchant-Ivory), Roseland (1968). This was an episode film about the New York dance-hall, with Skala wonderfully propping up the last section, as an immigrant desperate to win the Peabody Contest while aware that her partner and would-be husband, David Thomas, is unlikely to help her to do so.
But her best screen work is in an unlikely screen venture,Richard Pearce's Heartlands (1980), which was based on papers left by a widow who in 1910 advertised for a position as a housekeeper in Wyoming. Rip Torn played the dour, taciturn Scot who responds to the ad; Conchata Ferrell was the widow, strong and understanding but afraid that she had bitten off more than she could chew. Skala was her hardbitten neighbour, always ready with support and succour; and for learning to ride a horse in her mid-eighties she was entered into the Western Hall of Fame.
David Shipman Reute Lilia von Skalla, actress and architect: born Vienna 28 November 1896; married 1922 Erik Skala (deceased; two sons; marriage dissolved); died Bay Shore, Long Island 18 December 1994.