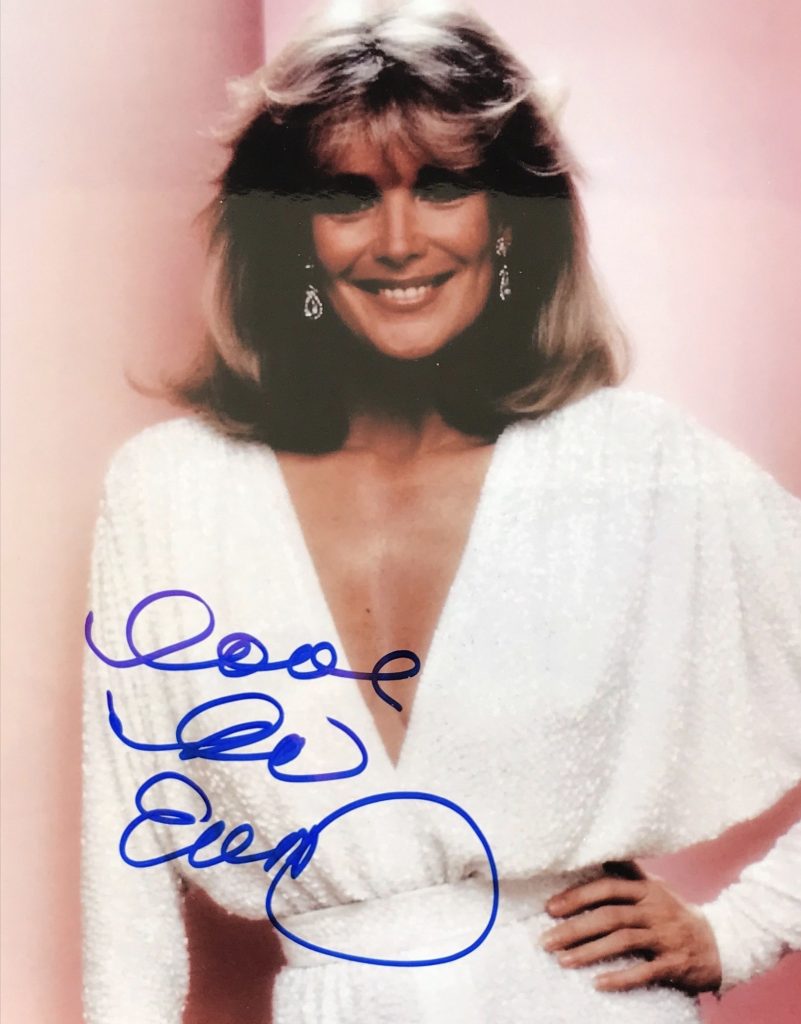 Linda Evans has had two major television shows in her credits.   "The Big Valley" with Barbara Stanwyck was hughely popular in the 1960's and then in the 80's, "Dynasty" with John Forsythe and Joan Collins was even more popular.   Linda Evans was born in 1942 in Hartford, Connecticut.   She began her acting career on television in 1960.   Her film appearances include "The Klansman" with Richard Burton in 1974, "Avalanche Express" with Robert Shaw and Lee Marvin and in 1980, "Tom Horn" opposite Steve McQueen.
TCM Overview:
Considered one of the most beautiful women on television for more than 20 years, actress Linda Evans personified elegance, style and grace. Getting her start in commercials, Evans quickly segued into television work, landing an early guest appearance on the sitcom "Bachelor Father" (CBS/NBC/ABC, 1959-1962). She instantly became one of TV's most desirable actresses when she was cast opposite film legend Barbara Stanwyck on the Western melodrama, "The Big Valley" (ABC, 1965-69). Her marriage to actor-director John Derek – a notorious collector of stunning actresses – confirmed her sex-symbol status, although Derek's eventual desertion of Evans for the much younger ingénue, Bo Derek, was a bitter lesson in the nebulous value of physical beauty. After a decade of infrequent work on television and in films like the action-thriller "Avalanche Express" (1979), she returned in grand style on the opulent primetime soap "Dynasty" (ABC, 1981-89). As Krystle Carrington, the gorgeous wife of fabulously wealthy oil magnate, she lent an air of class to the garish proceedings, even when embroiled in vicious catfights with the conniving Alexis (Joan Collins). In the post-"Dynasty" years, Evans gradually entered into semi-retirement as an actress, although occasional reunion specials and a memoir kept her in the hearts and minds of her loyal fans. Known for her personal virtues as well as her alluring visage, Evans lent credence to the idea the character and beauty need not be mutually exclusive.
The only child of two professional dancers, Evans was born Linda Evanstad in Hartford, CT on Nov. 18, 1942. The family relocated to North Hollywood when she was six months old. Evans enjoyed a childhood among future stars, including fellow Hollywood High School classmate, Stephanie Powers. However, she suffered from extreme shyness during her teen years – so much so that her principal suggested that she take acting classes to develop self-confidence. Ironically, she actually broke into show business shortly thereafter when, while accompanying a nervous classmate on an audition for a TV commercial, she was noticed by an ad agency director and invited to read for the spot. Evans landed the commercial and several others, which lead to acting roles on television and in film, beginning with a guest appearance on the comedy "Bachelor Father" (CBS/NBC/ABC, 1959-1962), as a teen friend of cast member Noreen Corcoran, who develops a crush on her uncle, played by John Forsythe, who would famously become her onscreen husband 20 years later.
More television jobs followed, including repeat appearances on "The Adventure of Ozzie and Harriet" (ABC, 1952-66) and "The Untouchables" (ABC, 1959-63), before she made her film debut in the 1963 courtroom drama "Twilight of Honor" (1963), starring Richard Chamberlain. That same year, she signed a contract with MGM, but appeared mainly in features for other studios, including Disney's "Those Calloways" (1965) and American International Pictures' "Beach Blanket Bingo" (1965), in which she crooned two songs as a kidnapped pop singer. That same year, she auditioned for, but failed to land an upcoming Western feature, but the film's producers offered her a role on a new Western series, "The Big Valley," which starred Hollywood legend Barbara Stanwyck. The young actress took the role, and at the same time, decided to drop the last syllable of her Scandinavian name in favor of something more Americanized.
Thanks to the popular TV program, the newly christened Linda Evans became a star. Her new fame helped hasten an introduction to an actor-turned-director-producer and photographer named John Derek, who had a major weakness for blondes. He took Evans under his wing and essentially managed her career, directing her in a 1969 feature called "Childish Things" and photographing her for Playboy in 1971. The couple married in 1968, but divorced in 1974 when it was discovered that Derek had fallen for his latest discovery, a teenaged actress named Mary Catherine Collins who Derek had nicknamed Bo. Despite the circumstances, Evans and Derek and his new wife remained friendly for many years. For nearly the next decade, Evans worked steadily in episodic television and TV features; she made a stab at returning to series work with the 1977 series "Hunter" (CBS) as a spy opposite James Franciscus, but the show lasted only three months. Film work proved consistent but equally unrewarding. Her features during that period include the Western "Standing Tall," co-starring Robert Forster, with whom she had previously co-starred in the pilot for his series "Nakia," (ABC, 1974); the espionage adventure "Avalanche Express" (1979); and one of Steve McQueen's final films, "Tom Horn" (1980). Evans had also married again, this time to real estate tycoon Stan Herman in 1976, but the couple was divorced in 1981.
The year before, Evans had received a script for a pilot from legendary producer Aaron Spelling called simply, "Oil." The series, which was later retitled "Dynasty," ushered in the second and most successful phase of her acting career. As Krystle Carrington, wife to powerful oil magnate Blake Carrington (John Forsythe), Evans was at the center of the show's high-camp machinations, which frequently had her battling her devious family – especially Blake's ex-wife, Alexis (played to the hilt by Joan Collins) and all manner of guest stars. Her strong character, coupled with her famous blonde – almost silvery – hair and fabulous Bob Mackie dresses, proved to many television viewers and critics that a forty-something actress could be sexy – an unheard of idea at that time. For her efforts, Evans won a Golden Globe in 1982 and a People's Choice Award in 1985, as well as earning a nomination for an Emmy in 1983. Taking advantage of her high-profile status, she also became a popular spokesperson for the sugar-free beverage Crystal Light, beginning in 1984. After the iconic Aaron Spelling series wrapped in 1989, Evans returned to play Krystle once again in a 1991 TV movie "Dynasty: The Reunion," which wrapped up many loose storylines.
Post-"Dynasty," Evans made infrequent returns to television, appearing in two "Gambler" TV movie sequels with Kenny Rogers, "The Adventure Continues" (1983) and "The Gambler Returns: The Luck of the Draw" (1991), and was part of the massive cast for the 1986 miniseries "North and South: Book II." In the last decade, she indulged her "Dynasty" fans by participating in sudsier projects like "Dazzle" (1995), a Judith Krantz adaptation which cast her as the matriarch of a wealthy family. "The Stepsister" (1997) mined the same vein, but added a thriller wrinkle with a psychotic stepsister intruding on Evans' marriage. In 2005, Evans reunited once again with her "Dynasty" nemesis Joan Collins for the stage production, "Legends," about two combative former movie stars. Evans kept the nostalgia alive when she joined her former castmates for the "Dynasty Reunion: Catfights & Caviar" (CBC, 2006), a retrospective of the long-running primetime soap. Though now retired from acting, she entered as a contestant for the final season of the U.K. version of the cooking competition "Hell's Kitchen" (ITV, 2004-09). Under the tutelage of moderator-instructor Marco Pierre White and buoyed by the popular vote of the viewing audience, Evans went on to win the competition. Evans later became a published author with the 2011 release of Recipes for Life: My Memories, a combination of candid memoir and inspirational cookbook.
 The above TCM overview can also be accessed online
here.