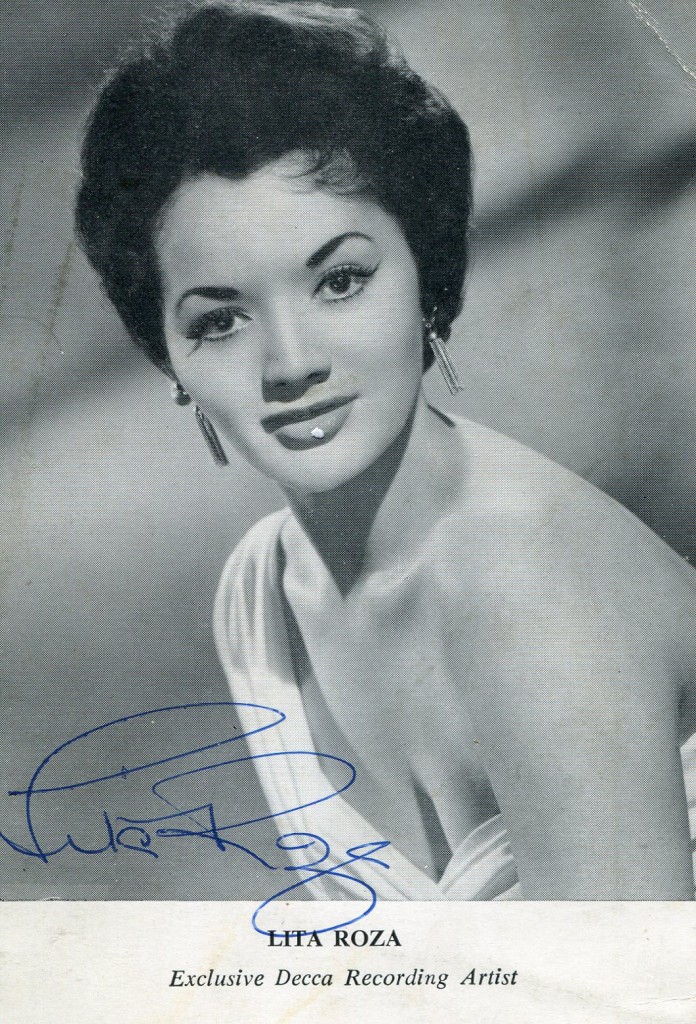 Lita Roza was born in Liv erpool in 1926. She was a very popular recording artist in Britain before the advent of rock'n'roll in the mid 1950's. Her most famous song was "How Much Is that Doggy in the Window". She made just the one film "Cast A Dark Shadow" a very good thriller with Margaret Lockwood and Dirk Bogarde. Lita Roza died in 2008 aged 82.
Lita Roza's "Guardian" obituary by David Laing:
Lita Roza, who has died aged 82, was one of Britain's most versatile, accomplished and glamorous popular singers in the 1950s. In March 1953 she was also the first Liverpool-born musician to have a No 1 hit, albeit with Bob Merrill's novelty ballad the much-derided (How Much Is) That Doggie in the Window. It was a hit despite competition from the US version by Patti Page and one by Carole Carr, with children's choir and Rustler the Dog. Roza resolutely refused to include it in her live shows, observing that it should be on a Lita Roza Sings Rubbish album. When told it was Margaret Thatcher's favourite song, she retorted: "Well, I suppose she had to like something!"
She was born Lilian Patricia Roza in Liverpool, the second of seven children of a Spanish-born marine engineer and his English wife. At Granby Street school her classmates included Jean Alexander, later to play Hilda Ogden in Coronation Street. Her own showbusiness aspirations were inspired by her father, an accordionist who also played piano in night clubs and hotels.
Her early professional career was as a child and teenage dancer. At 12, having answered an advertisement for young dancers, she passed the audition and trained in London at the Ken Moore School of Dancing. This led to membership of the 52 Bright Eyes 26-child dance troupe, which played in pantomime in Norwich in 1938. In the early war years, she danced in pantomime at Chester and the Liverpool Empire, appearing in Aladdin and Cinderella (1941-42) before touring as one of the 16 Hippodrome Lovelies in the variety show Black Velvet.
There was a change of direction when, after a brief period cutting and packing butter at the Home & Colonial Stores, she found work as a singer in a Stockport club. There her first name was shortened to Lita. This led to a spell with the London-based dance band of clarinettist Harry Roy. In wartime London she met and married an American officer serving with the Royal Canadian Air Force and moved with him to the US. She was out of the music business for five years.
The marriage ended in divorce: Roza returned to England and resumed her career. She had taken the precaution of sending a demonstration disc of her singing and photographs to Ted Heath, who led Britain's leading dance band. Heath asked her to call him and then recruited her, beginning with one of his Sunday Swing nights at the London Palladium. He also gave her a five-year contract with his talent agency, intending her to make a career in cabaret.
Then, in July 1950, his own female singer fell ill and Roza became a regular soloist with the Heath orchestra, joining it for a BBC audition which was successful, although the head of light entertainment was lukewarm. "She has no special vocal talent," he said, "but will look good sitting on the bandstand."
Her appearances and broadcasts with Heath brought a Decca recording contract. Between 1951 and 1957, Decca issued more than 50 singles by Roza, many of them covers of American hits that competed with both the US version, or versions, and other British covers. She was required to sing in a range of styles including the folksy for her cover of Jo Stafford's Allentown Jail, a western theme for High Noon in 1952, which was a hit for Frankie Laine, and even rock'n' roll – she gamely attempted Bill Haley's Crazy Man Crazy in 1955. And then there was That Doggie in the Window. Roza's own favourite of her records from this era was Hey There (You With the Stars in Your Eyes) from Richard Adler and Jerry Ross's show The Pyjama Game and a 1955 top 20 hit.
That year Roza left the Heath agency and embarked on a solo career managed by Joe Collins, father of Joan and Jackie. As well as cabaret and nightclubs, there was television with the Lita Roza Show (1956) and appearances on Six-Five Special, the show that introduced skiffle and rock'n'roll to the BBC. She had a cameo in Lewis Gilbert's Cast a Dark Shadow (1955) and played Digby Wolfe's girlfriend in the sitcom Sheep's Clothing (1957). After Decca, Roza recorded for Pye, Ember and EMI's Columbia.
Then came the 1960s, guitar groups and that wave of female vocalists – Dusty Springfield, Marianne Faithfull, Sandy Shaw et al – which washed away torch-singers such as Roza, and indeed, as she lamented, saw intimate cabaret venues replaced by the Batley Variety and other giant clubs.
Yet she found appreciative audiences abroad, travelling to Australia, New Zealand, South Africa and Las Vegas. She also toured for Combined Services Entertainment to Singapore, Cyprus and the Middle East. Then, in 1982, she became a linchpin of the annual Ted Heath orchestra reunions, masterminded by trombonist and arranger Don Lusher – Heath had died in 1969. For almost two decades Roza and fellow vocalist Denis Lotis helped to recreate the sound of the Heath band in its 1950s heyday.
After those concerts ended in 2000, Roza made only one more appearance, in 2002, at a celebration of BBC Radio Merseyside's 30th anniversary. It showed that her home city had not forgotten her, as did the invitation the previous year to open the Wall of Hits in Matthew Street, home of the Cavern Club. The wall was studded with bronze discs of every No 1 to emanate from Liverpool, beginning with her own and ending with Atomic Kitten. And this year, Roza has been amply represented in the Beat Goes On, an exhibition devoted to the city's musical heritage which is part of the European City of Culture programme. And she has also been served well by the CD reissue industry.
Both her marriages ended in divorce. She is survived by a niece.
· Lita (Lilian Patricia) Roza, singer, born March 14 1926; died August 14 2008
The above "Guardian" obituary can also be accessed online here.