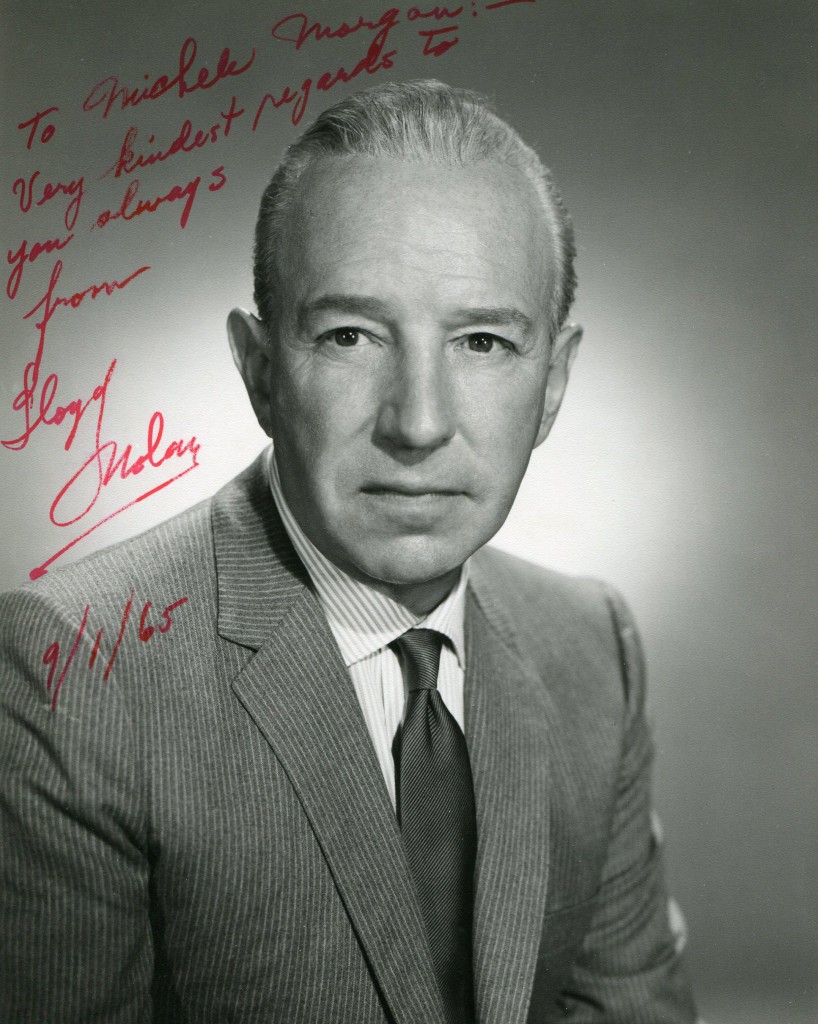 Lloyd Nolan was a very popular actor in U.S. films of the 1930's who became a wonderful character actor from the 1950's right through to the 1980's. He was born in 1902 in San Francisco. "G Men" in 1935 was his first movie.Other films of note include "House on 92nd Street", "Bataan", "Peyton Place", "Susan Slade" with Troy Donahue and Connie Stevens and "Woody Allen's "Hannah and her Sisters" with Maureen O'Sullivan. On television in 1968 he starred with Diahann Carroll in "Julia". Lloyd Nolan died in 1985.
IMDB entry:
It would no doubt be a real shock to most people to discover that the rich baritone Bronx-like accent of great veteran character actor Lloyd Nolan was a product of the San Francisco streets–not the urban jungle of New York City. Nolan was born in the City by the Bay, and his father, James Nolan, was a successful shoe manufacturer of hard-working Irish stock. Lloyd caught the acting bug while at Santa Clara College (at the time, a junior college). He gained as much theatre experience as he could, attaining his AA in the process. Though he continued on to Stanford, he was still focused on acting and soon flunked out of that school, preferring to focus his attention on acting opportunities rather than studies. Forsaking his father and the family shoe business, Nolan went to sea on a freighter, which soon burned, and then headed south to Hollywood.
He continued to hone his acting skills by first taking up residence at the Pasadena Playhouse (1927). With his father's passing he was able to sustain himself on a small inheritance. Continuing at PP and elsewhere in stock for two years, he headed east to Broadway, where he landed a role in a musical revue, "Cape Cod Follies", in late 1929. He continued with two other similar roles through 1932 before breaking out with an acclaimed performance as less-than-wholesome small-town dentist Biff Grimes in the original hit play "One Sunday Afternoon" (1933). He would stay on for two more plays until mid-1934, when he headed back to Hollywood with heightened expectations of success in the movies. His voice and that rock-solid but somehow sympathetic face made Nolan someone with whom audiences could immediately identify, and ahead were over 150 screen appearances. Nolan didn't waste any time; he signed with Paramount and had five roles in 1935, getting the lead role in two and working with up-and-coming James Cagney and George Raft. In the next five years Nolan settled into his niche as a solid and versatile player in whatever he did. His genre was more "B", and he could play good guys and heavies with equal skill. The production values on some B-level efforts were every bit as good as those of "A" pictures. Everybody starting out did at least a few "B" pictures, and Nolan was doing quality work, even in pictures that are little-known–if known at all–today, pictures like King of Gamblers (1937) with Claire Trevor and King of Alcatraz (1938). He was a mainstay at Paramount until 1940, competing with Warner Brothers in that studio's popular gangster films. Unlike better known Cagney andHumphrey Bogart across town, Nolan's bad and not-so-bad guys often had more depth, and again it was that face along with his verve and that distinctive voice that helped to bring it out.
The 1940s saw Nolan moving around within the studio system. He was taking on more familiar roles, such as private detective, government agent or police detective–tough and hardboiled but sympathetic and understanding at the same time–and World War II action heroes. He landed the role of "Mike Shayne" in the private-eye series from 20th Century-Fox–seven of them between 1940 and 1942. Nolan showed a surprising flair for comedy in this series, with a continuing stream of wisecracks along with the fisticuffs. The Shayne series was well received by both critics and audiences, but Nolan is best known during that period as one of the familiar faces of World War II action films. The first is, at least to this observer, the best, but probably least known–Manila Calling(1942). It was a part of Hollywood's concerted effort to boost civilian morale during the war, with the subject being the Japanese invasion of the Philippines, its conquest and liberation, as center stage in the War in the Pacific. Most films dealt with both retreat and return later in the war years; this 1942 film was perhaps the first to deal with the beginning and hope for the future. Nolan is his usual reliable, get-things-done professional here, an ace communications technician trying to keep the radio airways open amid the onslaught of Japanese invaders. Of all the flag-waving messages given in so many WWII films, none is as stirring as Nolan's, who by the way gets the girl, Carole Landis. It's she who stays behind with him while the rest of the radio team escapes with bombs falling. Microphone in hand and in his best hardboiled monotone, Nolan spits out: "Manila calling, Manila calling – and I ain't no Jap!" Significantly, Nolan appeared in several other films dealing with the struggle in the Pacific, turning in a particularly strong performance in Bataan (1943).
By 1950 Nolan was ready for television (nearly half of his career roles would tally on that side of the ledger). In addition to his series work, television in the 1950s also played a lot of Nolan's action films from the 1930s and 1940s, earning him a whole new generation of fans–kids who would sit for hours in front of the TV, watching not only current shows but "old" movies. Nolan appeared in many different genres on television, and he could be seen in everything from distinguished dramatic productions to variety and game shows, in addition to having his own series, including Martin Kane (1949) andSpecial Agent 7 (1958).
After having been away from Broadway for nearly 20 years, Nolan returned in early 1954 in the original production of the hit play "The Caine Mutiny Court Martial", in the pivotal role of the paranoid Captain Queeg. He spent a year in this production, to great critical acclaim. He repeated the role on television in a Ford Star Jubilee (1955) production in 1955. His TV roles kept him busy. It must have been fun for him when, at nearly 60 years of age, he played notorious Chicago gangster George Moran, aka "Bugs" Moran–who in real life was much younger than Nolan was at the time–on the popular The Untouchables(1959), as well as appearing in five continuing episodes of the extremely popular 77 Sunset Strip (1958) series, and he appeared in other crime dramas playing, in one form or another, the kinds of roles he played on the big screen in the 1930s and 1940s.
In the 1970s, when cameo roles by older stars were becoming a popular means of luring people back to the theaters, Nolan was happy to oblige in box-office hits like Ice Station Zebra (1968), Airport (1970) and Earthquake (1974). When the same circumstances spread to episodic TV, Nolan was only too happy to be on hand. Most older actors–even those with good reputations–have a tendency to be a bit difficult, but Nolan was such a professional. His joy at still being able to work at the craft he loved was profound, almost childlike in enthusiasm. He never complained or claimed special privilege.
That was the measure of the man–what had been and what would continue to be. Unconventional in a natural sort of way was the norm for Lloyd Nolan. Call it keeping to one's dignity. He kept no Hollywood secrets, as was the fashion. He was very open about his autistic son. Into the 1980s and entering his 80s, Nolan still deftly handled a few final TV and screen roles, though his noted memory for lines began to fade and cue cards became necessary. He was inspired in his final film role as a retired actor, husband of showy, boozy has-been Maureen O'Sullivan and three individualistic daughters in Hannah and Her Sisters (1986). It's a great role, and probably the most even and satisfying film effort of director Woody Allen.
Nolan's last role was a Murder, She Wrote (1984) TV episode with old friend Angela Lansbury. He still had not revealed his final secret–he was dying with lung cancer–which by then revealed itself just the same. Ravaged as he was by the disease, Lloyd Nolan–with the help of his friends and well-wishers–successfully wrapped his 156th professional acting performance before his passing. His was a life of quality commitment. Character and integrity–things increasingly rare in Hollywood–described Lloyd Nolan, plain and simple.
– IMDb Mini Biography By: William McPeak (qv's & corrections by A. Nonymous)
The above IMDB entry can also be accessed online here.
Spouse (2)