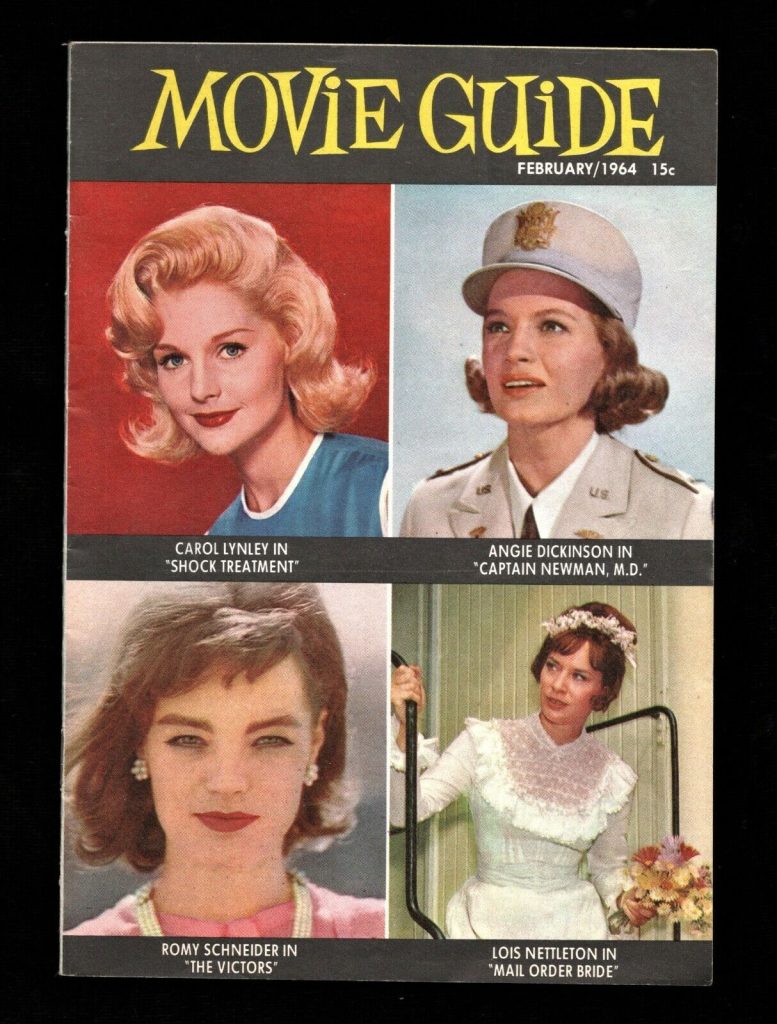 Lois Nettleton was born in 1927 in Illinois. Her career was maninly on television although she made some interesting films such as"Period of Adjustment" with Jane Fonda in 1962 "Mail Order Bride" in 1964 and "Come Fly With Me" with Dolores Hart & Karl Malden. Lois Nettleton died at the age of 80 in 2008.
TCM Overview:
An actress renowned within Hollywood circles, but who has never connected on successful TV series or become more of a "Don't I know you?", Lois Nettleton has appeared in regular roles in several series and been featured in movies. She may be best recalled for guest appearances on top TV series: such as when she played the station manager with the hots for Lou Grant on an episode of "The Mary Tyler Moore Show" (CBS), or Dorothy's lesbian friend who falls for Rose on an episode of "The Golden Girls" (NBC). Nettleton, whose appearance can come across as fraught, anxious, or strong, studied at the Goodman Theatre in her native Chicago and at the Actors Studio in New York. She made her Broadway debut in 1949 in "The Biggest Thief in Town" and understudied Barbara Bel Geddes as Maggie in Tennessee Williams' "Cat on a Hot Tin Roof" (1955). She made her TV debut while still a New York stage actor in anthology series produced there as well as on the soap opera "The Brighter Day" (1954). Nettleton won attention after starring on Broadway in "God and Kate Murphy" (1959), which led to her first feature film of significance, "Period of Adjustment" (1962), in which she was in a troubled marriage with Anthony Franciosa. Along with Delores Hart, she was a flight attendant who falls in love on a TransAtlantic flight in "Come Fly With Me" (1963). To satisfy his late father's wishes, Keir Dullea married a widowed Nettleton in "Mail Order Bride" (1964). Additionally, she played a schoolmarm with surprise sexuality in "Dirty Dingus McGee" (1970). Nevertheless in the last two decades, film roles became sporadic. Nettleton was in support of Maximilian Schell in "The Man in the Glass Booth" (1975) and oddly cast as the hard-working but under-loved Dulcie Mae in "The Best Little Whorehouse in Texas" (1982), proving she was incapable of giving a bad performance. By 1994, Nettleton's feature film canon included such lesser efforts as "Mirror Mirror 2: Raven Dancer," a low-budget effort in which she was the evil sister.
The small screen has provided more ongoing opportunities. Among Nettleton's early roles was that of Lucille (played by June Lockhart in the feature) in CBS' adaptation of "Meet Me In St. Louis" (1959). Her first primetime series was the forgotten "An Accidental Family" (NBC, 1967), in which she was neighbor to the widowed Jerry Van Dyke and Nettleton seemed to relish her role as the cheating executive married to mousy "housefrau" Chuck McCann in the gender-switching late-night comic serial "All That Glitters" (syndicated, 1977). She played the wife of an unscrupulous Anthony Zerbe in "Centennial" (NBC, 1978) and was a scatterbrained Penny Sycamore in the 1987 syndicated series version of the stage classic "You Can't Take It With You". She also spent a year (1988-89) opposite Carroll O'Connor on the CBS drama "In the Heat of the Night".
Nettleton's work in TV longforms began with "Any Second Now" (ABC, 1969), in which she was a photographer's rich wife who loses her memory–and along with it the knowledge that her husband has tried to kill her. Her subsequent TV movies and miniseries have included "Washington: Behind Closed Doors" (ABC, 1977), and a turn as a blacklisted actress (based on real-life Kim Hunter) in the 1975 CBS effort, "Fear on Trial". From 1996 to February 1998, she had the recurring role of Virginia Benson, the adoptive mother of troublemaker Carly (Emmy-winner Sarah Brown), on the ABC daytime drama "General Hospital".
The above TCM overview can also be accessed online here.