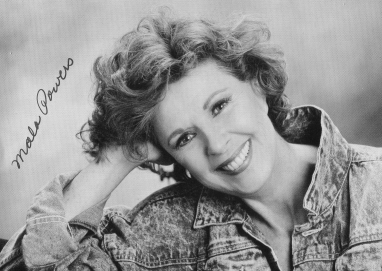 Mala Powers was born in 1931 in Burbank, California. The actress Ida Lupino was supportive of Mala Powers and cast her in some of her directorial work. Mala Powers was Roxanne opposite Jose Ferer in "Cyrano de Bergerac" in 1950. Her other films include "City Beneath the Sea" with Anthony Quinn and film noir "The City That Never Sleeps" with Gig Young. Her last major film was "Daddy's Gone-A-Hunting" with Carol White and Paul Burke. She died in 2007.
"Guardian" by Ronald Bergan:
The long-nosed poet-duellist Cyrano de Bergerac, addressing the object of his love as the proxy of the tongue-tied Christian, declaims: "Your name is like a golden bell hung in my heart; and when I think of you, I tremble, and the bell swings and rings – Roxanne!, Roxanne!"
The name of Mala Powers, who has died of leukaemia aged 75, usually rings a bell as a beautiful, dignified Roxanne in the 1950, Stanley Kramer-produced version of the Edmond Rostand verse drama, for which José Ferrer, in the title role, won the best actor Oscar. "I never loved but one man in my life, and I have lost him twice," Roxanne says when she realises it was Cyrano's words that wooed her, at the poignant end of Powers' most memorable performance.
Yet, despite this achievement, for which she won a Golden Globe nomination, and having studied with Michael Chekhov (nephew of the playwright), of whose acting methods she became a passionate advocate, Powers' film career was, on the whole, a curiously undistinguished one.
Born in San Francisco, to journalist parents who moved to Hollywood after losing their jobs, she began studying acting at Max Reinhardt's junior dramatic workshop and, at 11, got a small part as Billy Halop's kid sister in Tough As They Come (1942), part of Universal's Dead End Kids and Little Tough Guys series. She was advised by Reinhardt's wife, Helen Thimig, to continue her studies rather than become a child star, and it was not until five years later, by then 16, that she started working in radio, in such programmes as The Cisco Kid, Red Ryder and Screen Guild on the Air.
It was on the last of these that she met Ida Lupino, then casting the lead for her second feature as director. The Outrage (1950) was one of the few Hollywood films to take rape as a subject, although the act could not be shown or the word itself used. But Powers was excellent as the victim of a "criminal assault", who felt so "dirty" that she ran away to start a new life until a preacher helped her overcome her trauma. In that same year, aged 19, she made Cyrano de Bergerac and appeared touchingly in Mark Robson's Edge of Doom, a social-conscience film noir, in which she played disturbed youth Farley Granger's girlfriend.
Sadly, after these successes, Powers suffered a blood disease while on a forces entertainment tour of Korea in 1951, and almost died. She was treated with chloromycetin, but a severe allergic reaction resulted in the loss of much of her bone marrow. She began working again nine months later while still on medication, though it hardly seemed to affect her performances in City Beneath the Sea, opposite Robert Ryan and Anthony Quinn, or as a nightclub dancer in City That Never Sleeps (both 1953).
These were followed by a B-western, The Yellow Mountain (1954), in which she played Nevada Wray, one of the causes of rivalry between gold prospectors Howard Duff and Lex Barker. In 1955, she was again the love interest, this time in the mediocre Randolph Scott western Rage at Dawn, and in Bengazi, as the Irish daughter of Victor McLaglen.
Before leaving the big screen for television – as guest star in such series as Bonanza, Dr Kildare, Bewitched and Charlie's Angels – Powers starred in a couple of tawdry horror movies, The Unknown Terror (1957) and The Colossus of New York (1958), in which she played the widow of a man whose brain has been transplanted into an eyeless, 12-foot killer robot. She returned to the cinema in Doomsday Machine (shot in 1967; released in 1972), as Major Bronski, a Soviet cosmonaut who sees the Earth burned to a crisp by nuclear explosions.
In contrast, Powers wrote children's stories, and Michael Chekhov on Theatre and the Art of Acting: The Five-Hour Master Class, as well as teaching acting. From 1970 till his death in 1989, she was married to the publisher Hughes Miller. She is survived by a son from her first marriage.
· Mala (Mary Ellen) Powers, actor, born December 20 1931; died June 11 2007
The above "Guardian" obituary can also be accessed online here.