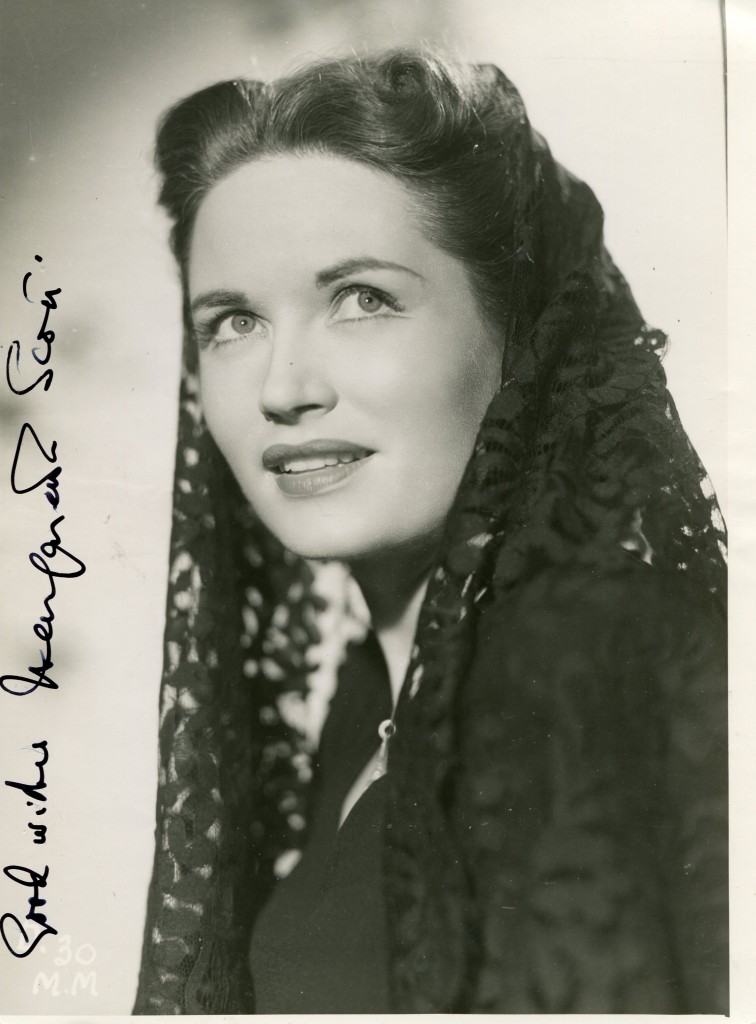 Margaretta Scott was born in 1912 in London. She made her film debut in 1934 in "The Private Life of Don Juan" which starred Douglas Fairbanks. Her other movies include "Peg of Old Drury", "Things to Come", "Fanny by Gaslight" in 1945, "A Woman Possessed" in 1958 and "Crescendo" in 1970. She was featured in the very popular television series "All Creatures Great and Small" as Mrs Pumphrey from 1978 until 1980. She died in 2005. Her daughter is the actress Susan Wooldridge.
Michael Coveney's "Guardian" obituary:
Margaretta Scott, who has died aged 93, was often in her later years recognised by the public as Mrs Pumphrey in the television series All Creatures Great And Small. But her distinguished career spanned 70 years of theatre and film and, as the last surviving signatory of the document that established Equity, the British actors' union, in 1934, she was highly regarded in her profession.She first appeared on stage at the age of 14 as Mercutio's page in Romeo And Juliet, at the Strand Theatre, starring Jean Forbes Robertson and Robert Lorraine; she was Ophelia in 1931 to the Hamlets of Henry Ainley and Godfrey Tearle. She worked with Tyrone Guthrie and Alec Guinness at the Old Vic, and with Bernard Shaw on the premiere of Androcles And The Lion in 1934. She was the first woman to appear in Shakespeare on television (as Portia) and was Gertrude to Peter O'Toole's first Hamlet at the Bristol Old Vic in 1958.
Renowned for her poise, beauty, dark auburn hair and rich golden voice, Scott was busy in films and television throughout her career and was tireless in her support of charity organisations, including the Actors Charitable Trust. She enjoyed motoring and chess, but her real hobbies were her life and her family, although she was a widow for almost 50 years.
Her last stage appearances revealed that the romantic lead had grown into a grand dame. In 1985, she returned to the Open Air Theatre, Regent's Park (where she had played Viola and Miranda in the 1930s) as Madame Desmortes in Jean Anouilh's Ring Round The Moon, "a selfish old aristocrat in a wheelchair," wrote BA Young in the Financial Times, "to whom Margaretta Scott gives all the breeding in France, and a little over". In Harold Brighouse's Hobson's Choice at the Chichester Festival Theatre in 1995, in a cast led by Leo McKern, Nichola McAuliffe and Graham Turner, her imperious, splendidly articulated Mrs Hepworth had an impeccable sense of middle-class authority in the Salford shoe shop.
She was the daughter of Bertha Eugene and the music critic Hugh Arthur Scott. She was born in London and educated at the Convent of the Holy Child in Cavendish Square and RADA, where she shared a scholarship with Celia Johnson and was awarded the Kendal prize. After a repertory season in Hull, her West End career began in The Lilies Of The Field at the Criterion in 1929.
She soon became known for Shakespeare, notably in Regent's Park and then as Rosaline in Love's Labour's Lost at the Old Vic in 1936, directed by Guthrie. The cast included Guinness, Rachel Kempson, Ernest Milton and Alec Clunes. During the war, she did two seasons at Stratford-on-Avon, as Juliet, Viola, Portia, Lady Macbeth and Rosalind, and she toured with Ensa, the services entertainment organisation, in North Africa and Italy.
She married the composer John Wooldridge, a pupil of Sibelius and contemporary and friend of William Walton; he spent the war in Bomber Command. His promising career ended in a fatal car accident at the age of 39 in 1958. By then, Scott's film work was almost complete and she concentrated on the stage and her busy London life, in an area bounded by Fitzroy Square, Molyneux Street (in the years of her marriage) and Marble Arch.
Her screen debut was an uncredited appearance in Alexander Korda's The Private Life Of Don Juan (1934) starring Douglas Fairbanks and Merle Oberon; but she came into her own in Korda's imaginative production of HG Wells's Things To Come (1936), with Raymond Massey and Ralph Richardson. Other screen roles followed: as Judith Bentley in Carol Reed's The Girl In The News (1940); Marcia Royd in Anthony Asquith's attractive comedy Quiet Wedding (1940); and Alicia in Asquith's stylish melodrama Fanny By Gaslight (1944). In this period, the British cinema was rich in acting talent – James Mason, Michael Redgrave and Peggy Ashcroft; Scott was part of this elite and continued in it to the 1960s.
Back in the West End, she appeared with Anthony Quayle in William Douglas Home's The Right Honourable Gentleman (1963), and with Celia Johnson and Ralph Richardson in Angela Huth's The Understanding (1982). She became a specialist in Oscar Wilde, appearing in London and on tour in the four major comedies. Her television work in the 1970s included leading roles in The Duchess Of Duke Street and Upstairs Downstairs.
She is survived by her daughter, the actor Susan Wooldridge, and her son, the director, Hugh Wooldridge.
· Margaretta Scott, actor, born February 13 1912; died April 15 2005
The above "Guardian" obituary can also be accessed online here.