Marie Windsor obituary in "The Guardian".
Her "Guardian" obituary by Ronald Bergan:
The actress Marie Windsor, who has died aged 80, played characters like the one summed up in Richard Fleischer's film noir The Narrow Margin (1952): "She's a dish. A 60-cent special: cheap, flashy, strictly poison under the gravy."
In the movie, she is a hard-boiled gangster's widow due to testify at a hearing. The detective assigned to escort her to the trial despises her. "You make me sick to my stomach," he tells her. "Oh well," she growls, "use your own sink." As it turns out, Windsor is really a police decoy, thus creating sympathy in retrospect.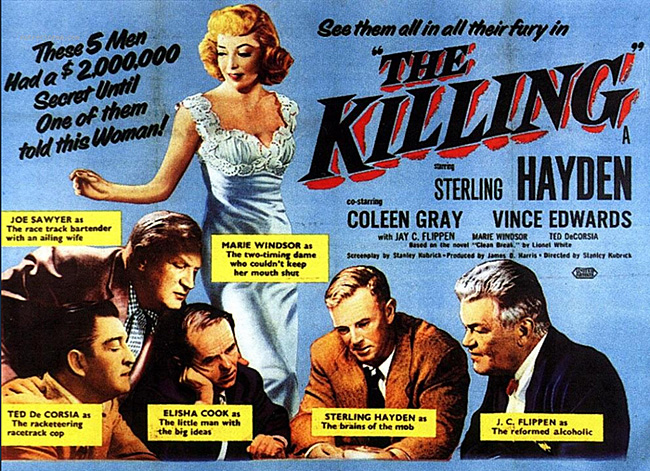 There could be little such sympathy for her character in Stanley Kubrick's The Killing (1956). "I know you like a book, you little tramp," says Sterling Hayden. "You'd sell out your own mother for a piece of fudge." Windsor played the wanton Sherry Peatty, whose husband George (Elisha Cook Jr) works as cashier at the racetrack, where Hayden's gang have prepared a heist. Everything goes like clockwork, until she spills the beans to her gangster lover. Mortally wounded, snivelling George declares his love for his sexy wife before shooting her.
The Narrow Margin and The Killing were two of the best of the scores of movies Windsor made from the early 1940s to the late 1970s, mostly in supporting roles, many as seductresses. "A lot of things hampered my career," she once said. "I never had a classic face. One of my casting directors at Paramount said, 'Her eyes are too big and she has a bad mouth.'
"At five foot nine, I was too tall for most leading men. There were only two stars who didn't mind that I was taller than them – George Raft and John Garfield. Raft told me how to walk with him in a scene: we'd start off in a long shot normal, and about the time we got together in a close-up, I'd be bending my knees so I'd be shorter. I had to do a tango with Raft and I learned to dance in ballet shoes with my knees bent." The film was Outpost In Morocco (1949), with Windsor incongruously cast as an Arab princess in love with her emir father's enemy, Legionnaire Raft.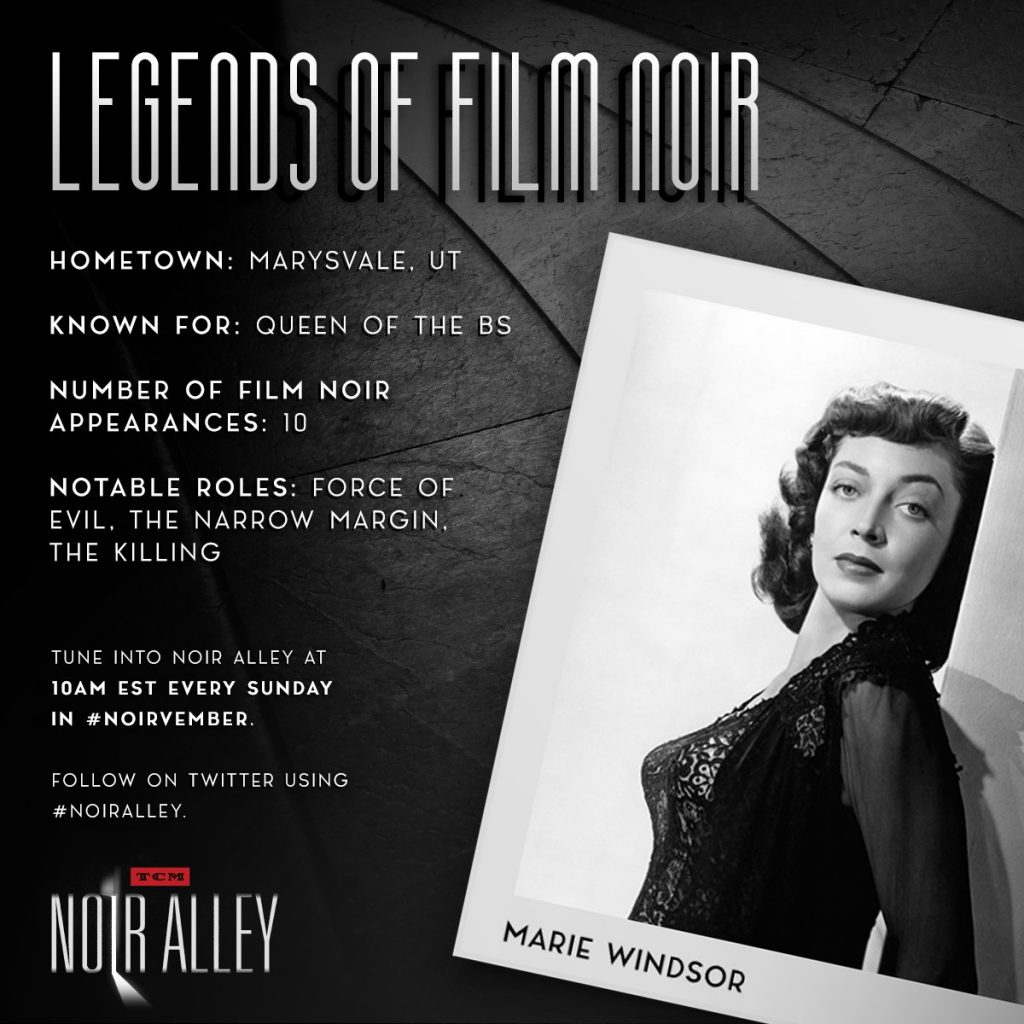 The year before, in Abraham Polonsky's Force Of Evil, Windsor was a racketeer's sultry wife who uses her brazen sexuality to lead the hero, John Garfield, astray. This dark and brooding film set Windsor on the femme fatale route. She had served a long apprenticeship. Force Of Evil was her 20th movie, but the first in which she got featured billing.
Born in Marysvale, Utah, Windsor took dancing and dramatic lessons at school, and at Brigham Young University appeared in "upper-class plays". Aged 20, she won a trip to Hollywood as Miss Utah. There, she contacted Maria Ouspenskaya, formerly of the Moscow Art Theatre, who accepted her as a student.
She made her movie debut in the Frances Langford musical featurette All-American Co-Ed (1941) and was seen briefly in a number of films – one of two girls on a double date with Victor McLaglen and Edmund Lowe in Call Out The Marines (1942), and as a nurse in Smart Alecks (1942).
In New York, she did more than 400 radio shows, and appeared on stage as a villainess in Follow The Girls, where she was spotted and signed by an MGM talent scout. Among her brief MGM parts were "a rich bitch" in a nightclub in Song Of The Thin Man (1947), and as the conniving lady-in-waiting to Queen Anne (Angela Lansbury) in The Three Musketeers (1948).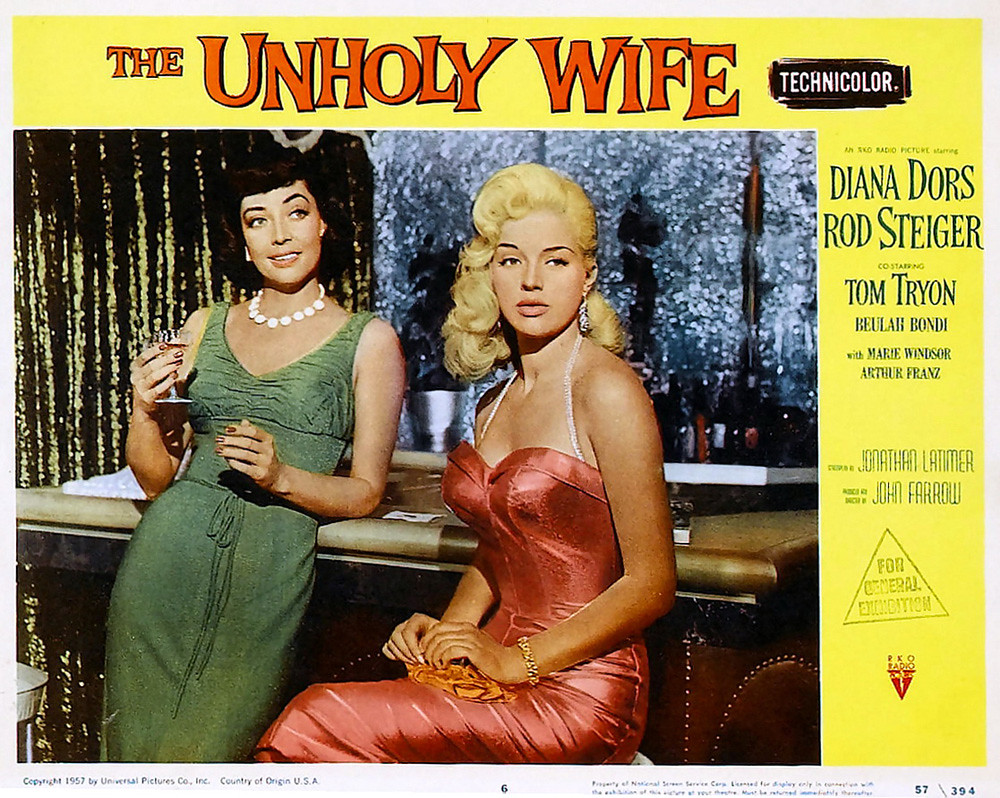 After Force Of Evil, Windsor was more visible, especially in westerns. In Dakota Lil (1950), she was, by turns, hard-boiled and sympathetic, as a cabaret singer whose sideline is counterfeiting; in Frenchie (1950), she lusts after Joel McCrea. In Little Big Horn (1951), she is cavalry commander Lloyd Bridges's lonely wife, in love with cavalryman John Ireland, and in the Randolph Scott western, Bounty Hunter (1954), she is an engagingly crooked saloon keeper.
But there were also tacky movies: Cat Women Of The Moon (1953), in which she led telepathic lunar women in black tights; Abbott And Costello Meet The Mummy (1955), as a campy crook called Madame Rontru; Swamp Women (1956), about female convicts in Louisiana, and as Josephine to Dennis Hopper's Napoleon in The Story Of Mankind (1957).
In the 1960s, and 1970s, she guested on more than 200 TV shows, as well as continuing in movies, as an ageing vamp. Despite being crippled with arthritis in her later years, Windsor, politically on the right, was active in the Screen Actors Guild and the Motion Picture and Television Fund.
She divorced bandleader Ted Steele, and is survived by her second husband, estate agent Jack Hupp, whom she married in 1954, and their son.
• Marie Windsor (Emily Marie Bertelsen), actress, born December 11 1919; died December 10 2000. Her "Guardian" obituary can be accessed online here.