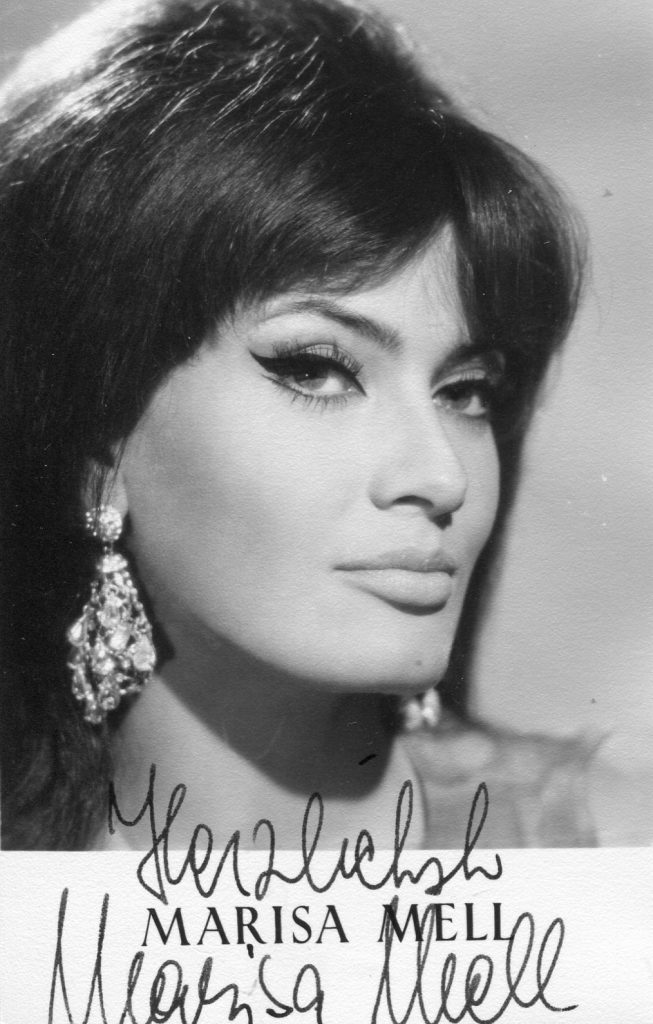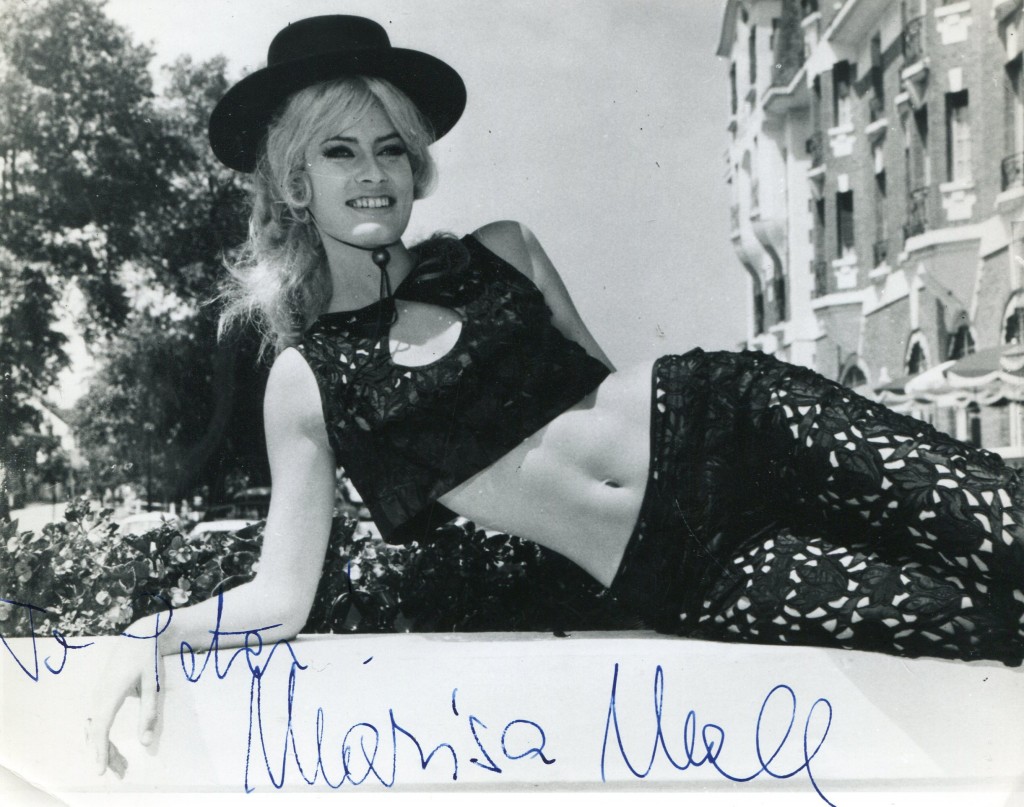 Marisa Mell was born in 1939 in Graz, Austria.   Her film debut was in 1954 in "Das licht der Liebe".   She went on to make "Dr", "City of Fear", "French Dressing", "Masqurade" and "Danger Diabolik".   In 1967 she was on Broadway as "Mata Hari" a musical with Pernell Roberts.   It was not a success.   Marisa Mell died in 1992 in Vienna.
Article on Marisa Mell in "Tina Aumont's Eyes" website|:
Beautiful and exiting, the stunning Marisa Mell appeared in an array of cult classics and exploitation favourites, from both Italy and abroad. Never shy with nudity, she is also remembered for her glamorous pictorials that featured in many glossy publications during her long and varied career.
Born in Austria on February 24th 1939, Marisa Mell's life was nearly over before her career even took off. In 1963, after having appeared in only a handful of European movies, Marisa was involved in a serious traffic accident while in France. She nearly lost her right eye and would spend the next two years having plastic surgery, which resulted in a slight curl to her upper lip. During this time though, she continued to make films both home and abroad. In 1964 Marisa played a French movie star in Ken Russell's film debut 'French Dressing', a fun comedy with James Booth and Roy Kinnear. Staying in the UK, she was a femme fatale in Basil Deardon's spy spoof 'Masquerade' ('65), with Cliff Robertson. Back in Italy, Marisa was one of Marcello Mastroianni's conquests, along with Michèle Mercier and Virna Lisi, in the entertaining romp 'Casanova '70' ('65).
Marisa is perhaps best known for Mario Bava's stylish 1968 caper 'Danger: Diabolik', as the sexy girlfriend of John Phillip Law's slick criminal; Diabolik. A big hit in Europe, it's a fun if dated tongue-in-cheek romp that's developed quite a cult over the years. Also in 1968, Marisa co-starred in the corny sex farce 'Anyone Can Play', alongside Virna Lisi and former Bond Girls Ursula Andress and Claudine Auger. The following year she gave a good performance in Lucio Fulci's first giallo 'One on Top of the Other' ('69), looking sexy and dangerous in dual roles. Marisa would again have a double role in the Spanish thriller 'Marta', co-starring Stephen Boyd. An interesting though sometimes frustrating movie, it had Marisa play a murderess who resembles the estranged wife of a wealthy man (Boyd), who has murdered his own mother. More of a character study with added intrigue, than the usual giallo, both Boyd and Mell are very good and there are a few surprises along the way.
The following year Marisa would yet again play two roles, this time as twins, in exploitation king Umberto Lenzi's pretty good giallo 'Seven Blood-Stained Orchids' ('72). Marisa looked stunning as a honeymooning bride who's attacked on a train by a mysterious figure dressed in black. A rare Hollywood film came in 1975 when she had a small role in the Diana Ross fashion drama 'Mahogany', as the owner of an Italian modelling agency. It did little to help her career, but at least she got to work with her early crush; Anthony Perkins. Back in Europe Marisa was brutalized by a psychotic Helmut Berger in the sleaze-filled exploitation flick 'Mad Dog Killer' ('77), a typically grimy revenge picture from Italy, filled with rape, murder and car chases. In 1979 Mell appeared in 'Ring of Darkness', an Italian late entry in the whole 'Exorcist' rip-off cycle. A bit of a mess and hard to follow, it at least had a respectable cast including Frank Finlay, Ian Bannen and Anne Heywood. A silly but fun actioner followed with the terrorist-themed 'Hostages!' ('80), an international co-production with Stuart Whitman and Mexican favourite; Hugo Stiglitz.
Like many cult stars of the sixties and seventies, Marisa's career had waned considerably by the 80's, with only small roles in a few TV shows and Z-grade movies (including a guest spot in the 1983 porn flick 'Nude Strike'), coming her way. After the dire Joe D'Amato fantasy 'The Hobgoblin' ('90), Mell's final appearance was in the obscure 1991 comedy 'I Love Vienna'. Married briefly to director Henri Tucci ('59-63) Marisa Mell sadly died in Vienna from throat cancer, on May 16th, 1992, aged just 53. A very good actress and a B-movie favourite, Marisa added charm and sex appeal to many European movies, and her legacy continues to be rediscovered by cult movie fans worldwide.
Favourite Movie: Seven Blood-Stained Orchids
Favourite Performance: One on Top of the Other
The above article can also be accessed online here.