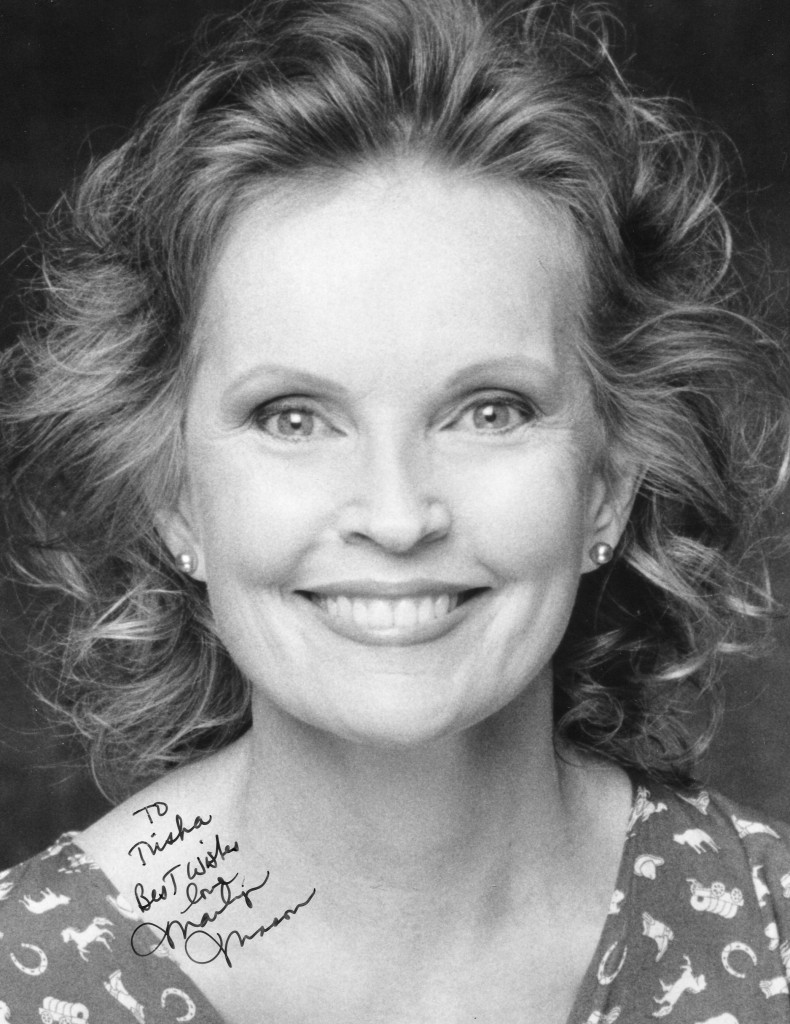 Marlyn Mason was born in 1940 in San Fernando, California. She made her film debut in 1960 in "Because They're Young". Her other films include "Making It" and in 1969, "The Trouble With Girls" starring Elvis Presley. She has guest starred in nearly all the major television shows of the 1960's and 70s.
Gary Brumburgh's entry:
Bright, vivacious leading lady Marlyn Mason was born on August 7, 1940, in San Fernando, California, and began performing at the age of 5. Encouraged and inspired by her parents, she was given singing and piano lessons while young and appeared on the local "Doye O'Dell Show" at age 9. As a young teenager, she was cast in several stage shows with the Players' Ring Theatre troupe in Hollywood, including musical versions of "Tom Sawyer" and "Heidi," as well as the legit plays as "Pick Up Girl" and "The Crucible".
In 1956, the 16-year-old Marlyn moved into TV work with multiple episodes of "Matinee Theatre". Throughout the 1960s, she would establish herself firmly into in the medium with guest parts on all the popular shows at the time. Blessed with an inviting, effervescent smile, she added spark and sparkle to such lightweight sitcoms as "My Three Sons," "Father Knows Best," "Gomer Pyle," "Hey Landlord" and "Occasional Wife," while showing off her dramatic mettle on "Burke's Law," "Ben Casey" (a seven part story), "Dr. Kildare," "Laredo," "Bonanza," "Run for Your Life," "The Invaders" and "Perry Mason" (the original series' final episode). Seldom pigeon-holed, Marlyn offered a palatable range of "good girl" and "bad girl" interps during this productive time — from the sensual and alluring to the offbeat and freewheeling. One of her more notable "bad girl" roles came in the form of a faithless wife who schemes to murder her lover's wife and set up David Janssen's Richard Kimble character in the process.
Marlyn's early singing lessons paid off later when she was signed to co-star with Robert Goulet, Sally Ann Howes and Peter Falk in a special TV-musical version of Brigadoon(1966), following that with the role of Carrie in Carousel (1967) again with Goulet. This, in turn, led to her casting in the George Abbott Broadway musical production of "How Now, Dow Jones," which starred Tony Roberts and Brenda Vaccaro. Though it was only moderately received when it opened in December of 1967 (it lasted 220 performances), Marlyn herself walked away with enthusiastic reviews.
Although the actress made her film debut at the beginning of the 1960s with an unbilled role in Because They're Young (1960) starring Dick Clark and Victoria Shaw, Marlyn would not perk up the large screen again until the very end of the decade when she nabbed her best known cinematic part as Elvis Presley's girl in one of his final films. While shootingThe Trouble with Girls (1969), she was given the opportunity to share a duet with the legend on the novelty song "Sign of the Zodiac".
The early 1970s brought Marlyn a regular role in the short-lived (one season) but critically acclaimed series _"Longstreet" (1972), as a love interest to James Franciscus. It also presented her with a highly revealing change-of-pace movie role in Making It (1971) as a cougar-type housewife who seduces one of her teacher/husband's students (Kristoffer Tabori), and the second femme lead in the Barbara Parkins mystery Christina(1974). An abundance of guest star parts continued pouring in with roles on "Love, American Style," "The Odd Couple," "Vegas" and "Wonder Woman" and others. TV mini-movies became quite the rage as well and Marlyn graced a number of them — A Storm in Summer (1970), Harpy (1971), Escape (1971), the Emmy Award-winning That Certain Summer (1972), Outrage (1973), Attack on Terror: The FBI vs. the Ku Klux Klan (1975),Last of the Good Guys (1978), and The New Adventures of Heidi (1978).
Since the 1980s, Marlyn has continued her career with appearances in film and TV, albeit at a slimmer pace. She earned her first grandmother role on the TV movie Fifteen and Pregnant (1998), and, most recently, has been seen in a few short films in which she worked in front and behind the camera: Model Rules (2008) (also writer/producer), Big(2009) and The Bag (2010) (also writer/producer).
– IMDb Mini Biography By: Gary Brumburgh / gr-home@pacbell.net