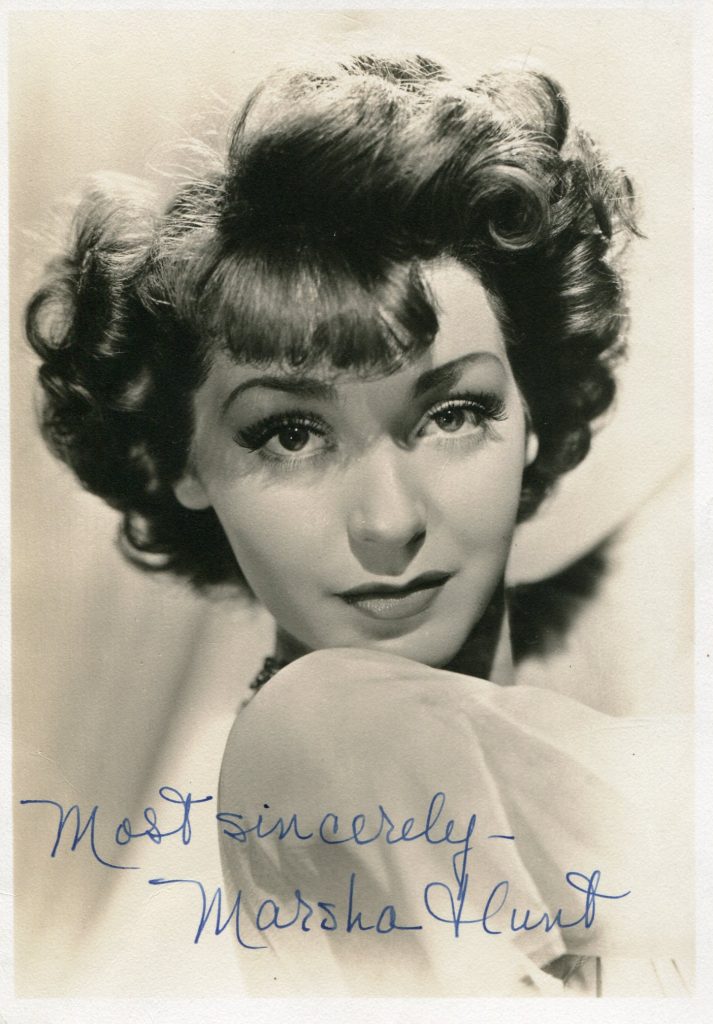 Marsha Hunt was born in 1917 in Chicago.   She has had a very long career and her films include "Irene", "Pride and Prejudice" in 1940, "The Human Comedy", "Carnegie Hall", "Diplomatic Passport" and "Blue Denim".
IMDB entry:
Stardom somehow eluded this vastly gifted actress. Had it not perhaps been for her low-level profile compounded by her McCarthy-era blacklisting in the early 1950s, there is no telling what higher tier of stardom Marsha Hunt might have reached. Perhaps her work was not flashy enough, too subdued, or perhaps her intelligence too often disguised a genuine sex appeal to stand out among the other lovelies. Two studios, Paramount in the late 30s and MGM in the early 40s, failed to complete her star. Nevertheless, her talent and versatility cannot be denied. This glamorous, slimly handsome leading lady offered herself to well over 50 pictures during the 1930s and 1940s alone.
Christened Marcia Virginia Hunt, the Chicago-born actress was the younger of two girls born to an attorney and voice teacher/accompanist. The family relocated to New York when she was quite young and she attended such schools as P.S. No. 9 and Horace Mann School for Girls. She developed an exciting interest in acting at an early age (3), performing around and about in school plays and at church functions. Following her high school graduation, the young beauty found work as a John Powers model and also as a singer on radio, a gift obviously inherited from her mother. Marcia (she later changed the spelling of her first name to Marsha) studied drama at the Theodora Irvine Drama School (one of her fellow students was Cornel Wilde).
Encouraged to try Hollywood by various New York people in the business, the young photogenic hopeful moved there in 1934. She was still only 17 but was accompanied by her older sister. It didn't take long for the studios to take interest in her and she was signed up by Paramount not long after. Marsha's very first first movie was in a featured role opposite Robert Cummings and Johnny Downs in the old-fashioned The Virginia Judge (1935). Displaying an innate, fresh-faced sensitivity, she moved directly into her second film playing the title role in Gentle Julia (1936), this time with Tom Brown as her romantic interest.
Marsha continued to show promise but these well-acted roles were, more often than not, overlooked in mild "B" level offerings. Appearing in co-starring roles in everything from westerns (Desert Gold (1936) and Thunder Trail (1937)) to folksy or flyweight comedyEasy to Take (1936) and Murder Goes to College (1937), she could not find decent enough scripts at Paramount. Though she was once deemed one of Paramount's promising starlets, one her last films for the studio was another prairie flower role —Born to the West (1937) — with cowboys John Wayne and Johnny Mack Brown vying for her attention. At about this time (1938) she married Jerry Hopper, a Paramount film editor who turned to directing in the 1950s. This marriage lasted but a few years.
Freelancing for a time for many studios, Marsha's more noticeable war-era work in sentimental comedy and staunch war dramas came from MGM, and she finally signed with them in 1939. The roles offered, which included a featured part as one of the sisters inPride and Prejudice (1940) starring Greer Garson, and again as a sister to Garson inBlossoms in the Dust (1941), showed much more promise. Some of her better war-era roles came in the films Cheers for Miss Bishop (1941), Kid Glove Killer (1942) and The Affairs of Martha (1942). During this time she also sang on extended USO tours and found busy work on radio. Her best known film is arguably The Human Comedy (1943) but she wasn't the star. Other film roles served in support to others, such as Margaret Sullavan in Cry 'Havoc' (1943), little Margaret O'Brien in Lost Angel (1943), and Greer Garson again in The Valley of Decision (1945). Leading roles did not come in "A" pictures.
Her MGM contract was allowed to lapse in 1945 and a second marriage in 1946 to screenwriter Robert Presnell Jr. became a higher priority. The marriage was long and happy (exactly 40 years), and lasted until his passing in June of 1986. The few pictures she made were, again, uneventful or in support of the star, although she did have a catchy, unsympathetic role in the Susan Hayward starrer Smash-Up: The Story of a Woman (1947) as a plotting secretary. In Raw Deal (1948) starring Dennis O'Keefe, she got the "raw deal" being overshadowed as a "good girl" by the "bad girl" posturings ofClaire Trevor. At this point of her career, she decided to try the stage and made her Broadway debut in "Joy to the World" (1948). Other plays down the road would include "The Devil's Disciple" with Maurice Evans, "The Lady's Not for Burning" with Vincent Priceand "The Little Hut" with Leon Ames. She even had a chance to return to her beloved singing as Anna in a production of "The King and I" and (much later) in productions of "State Fair" and "Meet Me in St. Louis". TV also yielded some new work opportunities, including a presentation of "Twelfth Night" in which she portrayed Viola.
The seams of her film career fell apart in the early 1950s. During the late 1930s and into the 1940s she signed a number of petitions promoting liberal ideals, and was a member of the Committee for the First Amendment. A strong supporter for freedom of speech, these associations led to her name appearing in the pamphlet Red Channels. Although she and her writer husband, Robert Presnell Jr., were never called before the House Un-American Activities Commission, their names were nevertheless smeared in Hollywood. While she still found film work on occasion, it was rare. Working busily from 1935 until 1949, in over 50 films, she made only three films in the next eight years. Her screenwriter husband would be credited for only one film from 1948 to 1955.
Semi-retired by the early 1960s, stage and TV became Marsha's focal points. She also devoted herself to civil rights causes and such humanitarian efforts as UNICEF, The March of Dimes and The Red Cross. She became actively involved with the United Nations. On the acting front she semi-retired in the 1960s, appearing only in smaller roles in five films but in numerous TV programs and mini-movies playing everything from judges to grandmas. She became the Honorary Mayor of Sherman Oaks, California in 1983, and published a book on fashion entitled "The Way We Wore" in 1993. Widowed by her second husband in 1986, the ever-vibrant Marsha, in her 90s, continues to serve on the Advisory Board of Directors for the San Fernando Valley Community Mental Health Center, a large non-profit in the San Fernando Valley that advocates for adults and children affected by homelessness and mental illness. As recently as 2006, she appeared to good advantage in the movie Chloe's Prayer (2006).
– IMDb Mini Biography By: Gary Brumburgh / gr-home@pacbell.net
The above IMDB entry can also be accessed online here.
TCM Overview:
Marsha Hunt (born Marcia Virginia Hunt October 17, 1917 in Chicago, Illinois) is an American film, theater, and television actress. With big, bright eyes, standing five-foot-six, and always very slender, Hunt was considered very attractive in her early career. She was also a very good singer, and was a model, before Paramount Pictures signed her to a contract in 1934. During the late 1930s and into the 1940s she signed a number of petitions promoting liberal ideals. She was also a member of the Committee for the First Amendment. On October 27, 1947 she flew with a group of about 30 actors, directors, writers, and filmmakers, to Washington D.C. to protest the actions of Congress. She had worked steadily from 1935 until 1949, appearing in 52 films. After being blacklisted, she appeared in only three films in the next eight years. Some of her best outing were: Pride and Prejudice (1940), The Human Comedy (1943)and The Valley of Decision (1945). Since 1980 she has been the honorary mayor of Sherman Oaks, California. As of 2007, Marsha Hunt has served for many years and continues to serve on the Advisory Board of Directors for the San Fernando Valley Community Mental Health Center, a large non-profit in the San Fernando Valley.
The above TCM overview can also be accessed online here.
The Times obituary in 2022:
Actress who appeared with Laurence Olivier in Pride and Prejudice but found her career torpedoed by anti-communist paranoia
Monday September 12 2022, 12.01am BST, The Times
Marsha Hunt looked back fondly on her role as the plain and bookish Mary, the third of the Bennet sisters in MGM's 1940 adaptation of Jane Austen's Pride and Prejudice, starring Laurence Olivier and Greer Garson. "[It was] a delicious character for me to play — squinting through glasses, singing off-key, wearing sausage curls," she recalled, adding self-deprecatingly: "I wouldn't cause one male heart in a thousand to miss a beat."
There was, however, a problem with her singing. She was so naturally musical that she struggled to perform sufficiently out of tune to justify Mr Bennet's immortal line, "That will do extremely well, child. You have delighted us long enough", and had to be coached for several weeks in the art of singing badly.
She was offered the role without an audition, having been seen by an MGM producer at previous try-outs. "I didn't want it at first," she said at the time of the film's release. "But when I found I was going to be a near-sighted, squinting, priggish wallflower who sang flat and busted up romances — oh boy."
Later she spoke of the remarkable costumes and the affect they had on the cast. "Before daylight we'd report for work. It was chilly, and we wore sweaters, sneakers . . . it didn't matter what we came to work in," she told Persuasions, the journal of the Jane Austen Society of North America. "But once in those costumes, everything changed — the way we stood, sat, even spoke to each other. We became different people. Not that each wasn't enacting her own character that she was assigned in the film. But it really does transpose you, in a curious way."
Previously Hunt, who was tall and willowy with sparkling blue eyes, had deservedly been described as "Hollywood's youngest character actress". Before being snapped up by MGM she had been signed by Paramount, playing her first featured role at the age of 18 opposite Robert Cummings and Johnny Downs in The Virginia Judge (1935), lisping "I love you" in a southern accent.
Despite obviously being a New Yorker, she was cast in four westerns. When she complained that she should be in easterns instead, she was told that she was best suited to westerns because her height meant she would look tall in the saddle against the skyline.
Despite making more than 50 films between 1935 and 1950, the "red scare" meant that Hunt never managed to fulfil her early promise. In October 1947 she joined the Committee for the First Amendment, a group of prominent Hollywood actors founded by the directors William Wyler and John Huston. They were flown to Washington to witness congressional hearings at which the so-called Hollywood Nineteen, a group of screenwriters, were questioned about their alleged communist affiliations.
Members of the committee were subjected to a concerted campaign of smear, misquotation and misrepresentation. "In my own case, I was quoted as saying things I would never say, at a function I never attended," Hunt explained. When the committee returned to Hollywood, Humphrey Bogart and his wife Lauren Bacall, who had been the most prominent actors on the trip, came under pressure from Warner Brothers and announced that the trip had been "ill-advised".
Before long Hunt was being attacked by Red Channels, an anti-communist gossip sheet. In summer 1950, after a successful Broadway performance in The Devil's Disciple, she was on holiday in Paris when Red Channels branded her a "patriotically suspect citizen". The publication falsely listed several affiliations under her name and listed others that were innocent. Suddenly, the offers of film roles all but dried up.