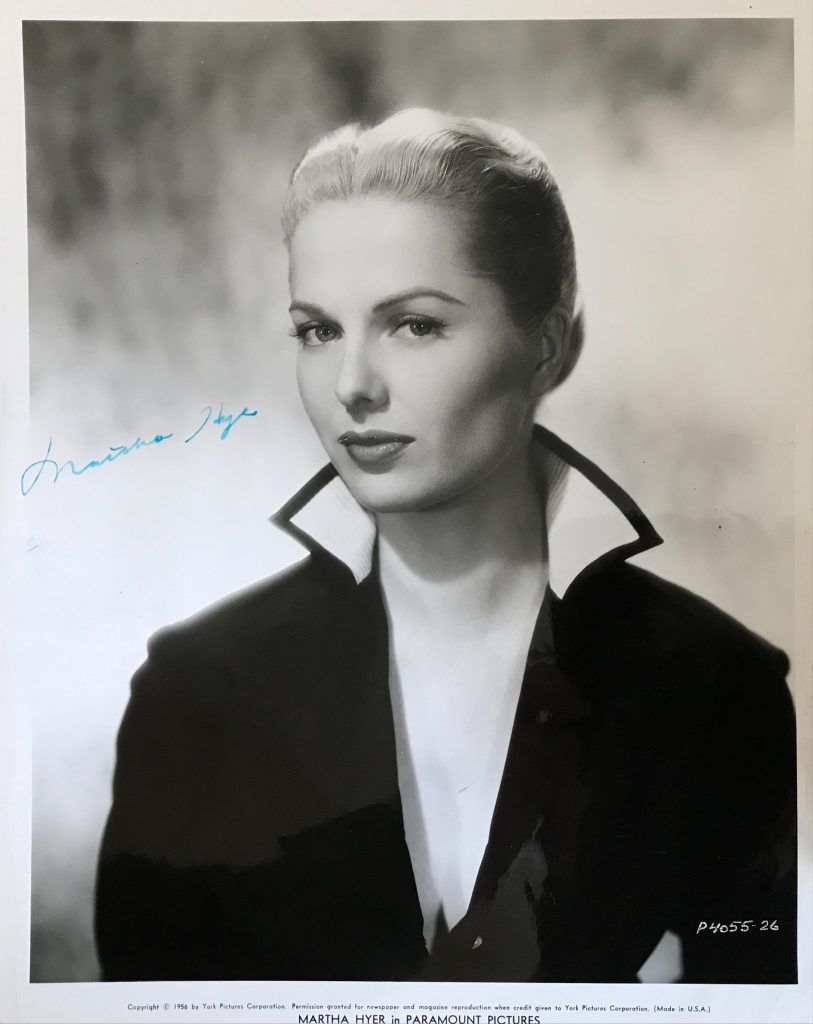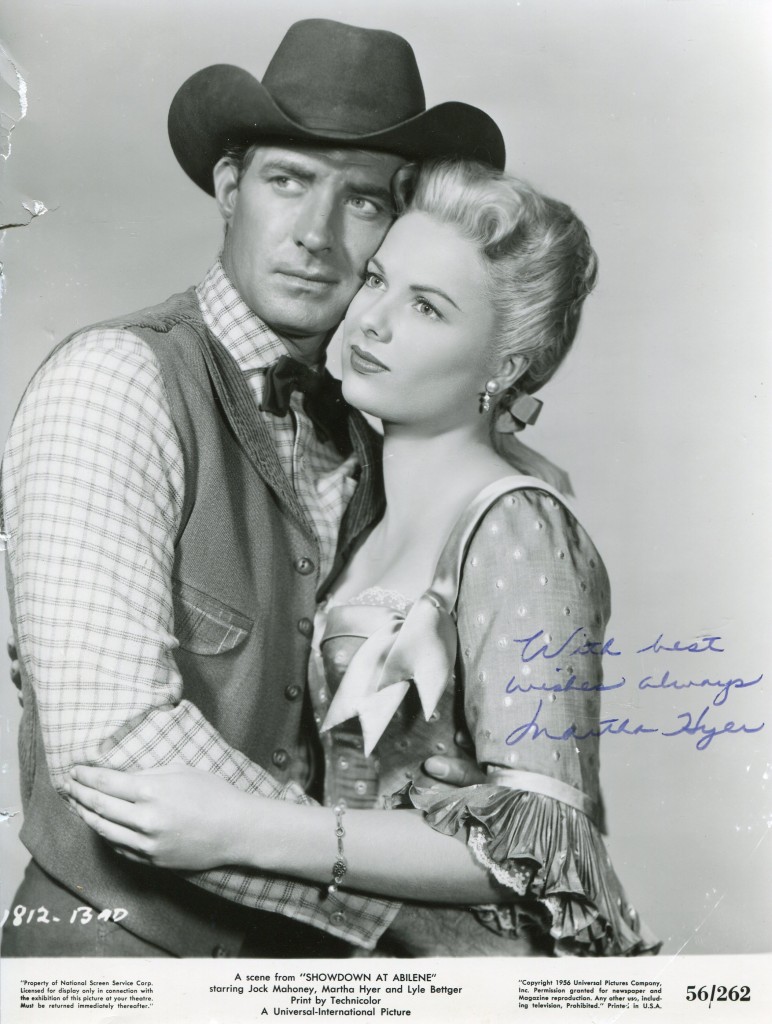 Martha Hyer obituary in "The Guardian" in 2014.
Martha Hyer was born in 1924 in Fort Worth, Texas. She made her debut in "The Locket" in 1946. She spent years in minor roles and then in the late 1950's she stunned audiences with her strong performances in such films as "Some Came Running" in 1957 with Frank Sinatra, "Ice Palace" with Richard Burton and Carolyn Jones and "The Carpetbaggers" with Alan Ladd and Carroll Baker in 1964. Her final fim was "Crossplot" in 1969. Her husband was the producer Hal Wallis. She died in Santa Fe in May 2014.
Ronald Bergan's "Guardian" obituary:
There was a time in the 1950s and 60s when film buffs would have known what was meant by a "Martha Hyer role". It evoked a classy, beautiful but cold woman, usually the one the hero aspires to, but realises, by the end, would not be good for him. This was typified by Hyer's portrayal of the frosty schoolteacher in Vincente Minnelli's Some Came Running (1958), for whom a would-be writer (Frank Sinatra) hopelessly falls. "Your hands on me aren't the least persuasive," she tells him, unpersuasively. Later, in the film's most subtle sequence, she is seduced, sobbing in silhouette while Sinatra picks the pins out of her hair. Hyer, who has died aged 89, deservedly earned a best supporting actress Oscar nomination for her performance.
Hyer was born in Fort Worth, Texas, one of three daughters of Agnes (nee Barnhart) and Julien Hyer. Her father was a judge who later took part in the trials at Nuremberg after the second world war. She studied speech and drama at Northwestern University in Illinois, before going to the Pasadena Playhouse in California. After being rejected by both Paramount and 20th Century Fox, she was finally given a contract with RKO in 1946.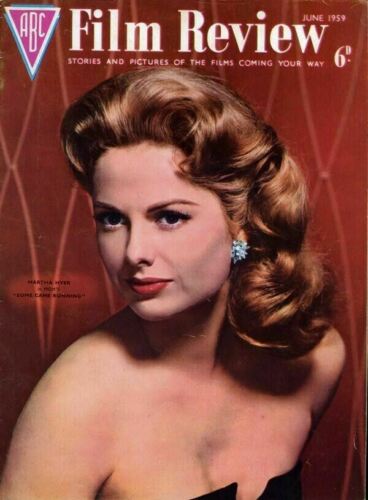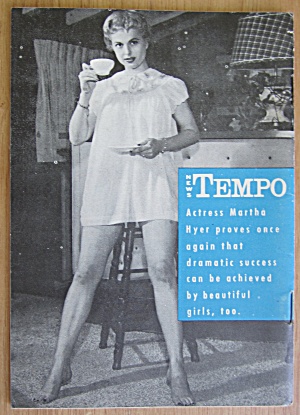 After a few bit parts, she played pretty and bland female leads in several routine westerns. After her RKO contract ended, she starred in the low-budget fantasy thriller Oriental Evil (1951), as an American woman in Tokyo looking for the dastardly opium runner responsible for the death of her brother. The producer was Ray Stahl. Hyer and Stahl soon married and spent a year in Japan where Stahl co-produced and co-directed Geisha Girl (1952), in which Hyer played a detective disguised as a flight attendant on the track of Japanese gangsters.
Although she was seen in many cheesecake poses in film fan magazines, her screen career failed to catch fire, mainly because of her association with the schlock produced by her husband. In 1953, after finishing her scenes for the lame colonial adventure The Scarlet Spear in Kenya, Hyer left Stahl in Africa and, realising that she would always come second to his mother in his affections, divorced him.
From the mid-50s, aside from playing straight woman to Abbott and Costello and Francis the Talking Mule, Hyer started to establish her snooty screen persona in better parts in better movies: in 1954 the heiress engaged to a playboy (William Holden) in Billy Wilder's Sabrina, the antithesis of Sabrina (Audrey Hepburn), who steals Holden's heart; and, in Lucky Me, an oilman's snobbish daughter standing in the way of Doris Day and Robert Cummings. In a similar vein, Hyer was the socialite who employs a hobo (David Niven) as her butler in the remake of My Man Godfrey (1957) and attempts to prevent a widower (Cary Grant) from falling in love with his children's nanny (Sophia Loren) in Houseboat (1958).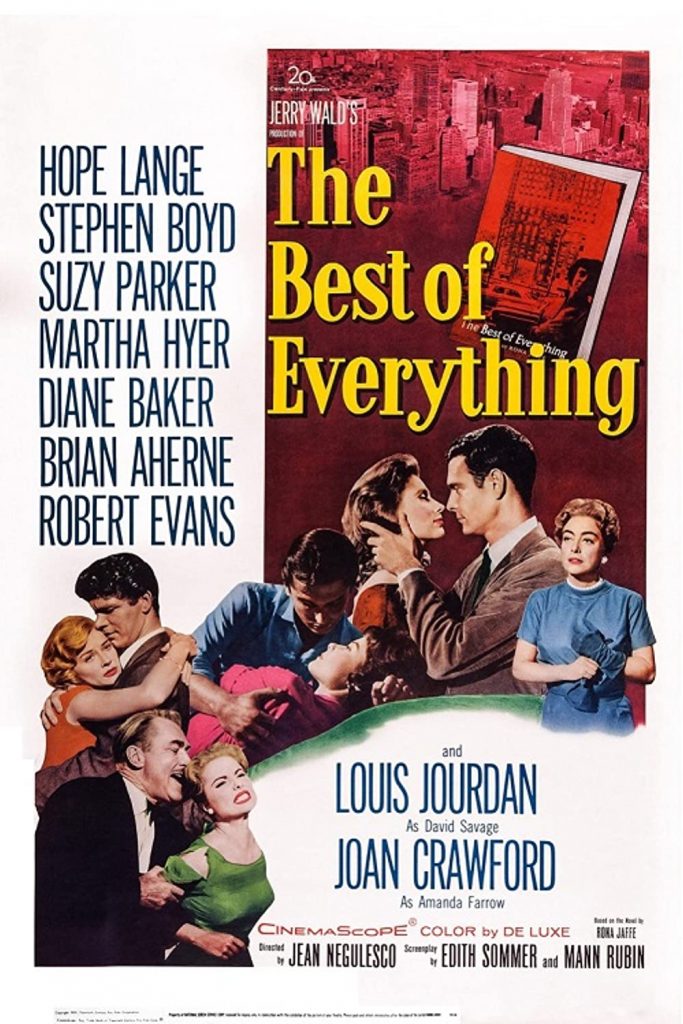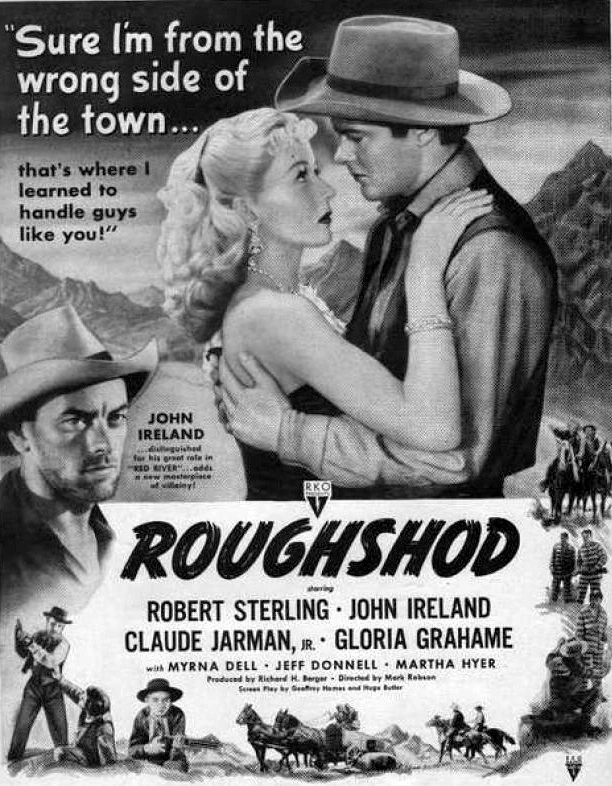 In the following years, the elegant Hyer was seen in a number of soapy sagas such as The Best of Everything (1959), Ice Palace (1960) and The Carpetbaggers (1964), hardly ever loosening her hairpins. She was the epitome of Alfred Hitchcock's "cool blonde" who just lost out to Janet Leigh for the role of Marion Crane in Psycho (1960). If only she had got the part, she might have avoided Bikini Beach (1964), Pyro (1964), in which she is a jealous mistress who starts a fire that kills her lover's wife, and Picture Mommy Dead (1966), in which she is a wicked stepmother. She had a chance to play a goodie in First Men in the Moon (1964), loosely based on HG Wells, in which Hyer and two male companions soar to the moon from Victorian England in a spherical capsule propelled by an anti-gravity element cooked up in the professor's country lab.
In 1966, after being linked romantically to a number of handsome stars, including George Nader, who happened to be also seeing Rock Hudson at the time, Hyer married Hal Wallis, one of the biggest Hollywood producers. After the marriage, she cut down on acting, preferring to travel with Wallis and leading a ritzy social life. In fact, to finance her extravagant lifestyle, unbeknown to her husband she got into debt with loan sharks. But, in the early 1980s, Hyer was finally forced to confess. Wallis called in the FBI and the problems were solved with lawyers at great expense.
At the same time, Hyer found God among the glitz, a revelation she detailed in Finding My Way: A Hollywood Memoir (1990).
Wallis died in 1986.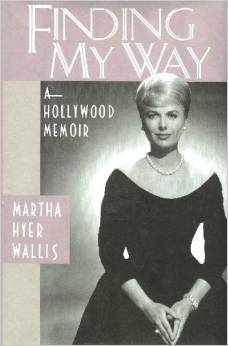 The above "Guardian" obituary can also be accessed online here.
"MailOnline" obituary:
Martha Hyer, who was nominated for an Academy Award for her role as a schoolteacher in1958's Some Came Running, has died at the age of 89.
A star of Hollywood's Golden Age: Martha Hyer, Oscar nominee and Sabrina actress (pictured in 1956) has died at the age of 89
Hyer passed away at her home in Santa Fe, where she has lived since the mid 1980s, a representative from Rivera Funeral Home confirmed to the New Mexican newspaper, adding that no funeral service or memorial had been planned.Despite her Oscar nomination, the blonde beauty was most famous for her role as the stunning society fiancee of playboy David Larrabee (William Holden) in Audrey Hepburn's 1954 romance Sabrina. The actress – who was born in Texas in 1924 – never capitalised on her Oscar nod, after losing out to Wendy Hiller for her role in Separate Tables.
A number of unsuccessful movies followed, Bikini Beach, House of 1,000 Dolls and Picture Mommy Dead , 'all ones I'd rather forget,' she wrote in her 1990 autobiography Finding My Way: A Hollywood Memoir.
However, during her career she worked with many of the Hollywood greats including Frank Sinatra, Dean Martin, Shirley MacLaine, Humphrey Bogart and Rock Hudson.
She also turned down the young Senator John F. Kennedy when he once asked her out.
She married The Scarlet Spear director C. Ray Stahl in 1951 but the marriage ended in divorce three years later.
Martha then tied the knot with her The Sons of Katie Elderdirector Hal B. Wallis in 1966 and was with him until his death in 1986.
However, the spendthrift actress did complain in her memoir about his tightfistedness with money.
Her own spending got her in trouble and she admitted in her memoir that in the 1980s she owed millions to loan sharks.
The New Mexican reports that Wallis called in the FBI to help her clear her financial problems.
Hyer – who found God in the 1980s – moved to Santa Fe following her husband's death in 1986 where she lived a quiet life painting and hiking with friends.
Speaking about her desire to remove herself from the spotlight, she said: 'When you live with fame as a day-to-day reality, the allure of privacy and anonymity is as strong as the desire for fame for those who never had it.'
The "MailOnline" obituary can also be accessed online here.
IMDB Entry:
Martha Hyer was born on August 10, 1924 in Fort Worth, Texas. Once she finished her formal schooling, Martha played a bit role in 1946's The Locket (1946). Slowly, Martha began picking up roles with more and more substance. The best years for the beautiful actress began in 1954 when she played in films such as Down Three Dark Streets (1954),Showdown at Abilene (1956) and Battle Hymn (1957). Perhaps the best role of her long career was as "Gwen French" in 1958's Some Came Running (1958) in which she starred opposite Frank Sinatra, Dean Martin and Shirley MacLaine. As a result of her stellar role, Martha received an Academy Award nomination as Best Supporting Actress, but she lost out to Wendy Hiller in Separate Tables (1958). Afterwards, Martha's stint on the US silver screen's trailed off some. She did make a handful of foreign films, returning to appear in the US from time to time, but nothing compared to the pace she had in the fifties. Her last film was in 1973 in the film The Day of the Wolves (1971). In 1966, she married producer Hal B. Wallis and remained with him until his death in 1986.
– IMDb Mini Biography By: Denny JacksonThis placid blonde was once in the running for the role of Marion Crane in Hitchcock'sPsycho (1960), but lost out to Janet Leigh.Was once labeled "Universal's answer to Grace Kelly".Her classmates at Northwestern University included Cloris Leachman, Paul Lynde,Charlotte Rae, Charlton Heston, Patricia Neal and Agnes Nixon.In Italy, most of her films were dubbed by Rosetta Calavetta. At the beginning of her career she was occasionally dubbed by Miranda Bonansea and Giuliana Maroni. Towards the late fifties, Renata Marini and Anna Miserocchi also lent their voice to Hyer.Was discovered by an RKO talent agent while acting with the Pasadena Playhouse.Majored in drama and speech at Northwestern University.She is a staunch Republican and conservative.Member of Pi Beta Phi SororitThe above IMDB entry can also be accessed online here.