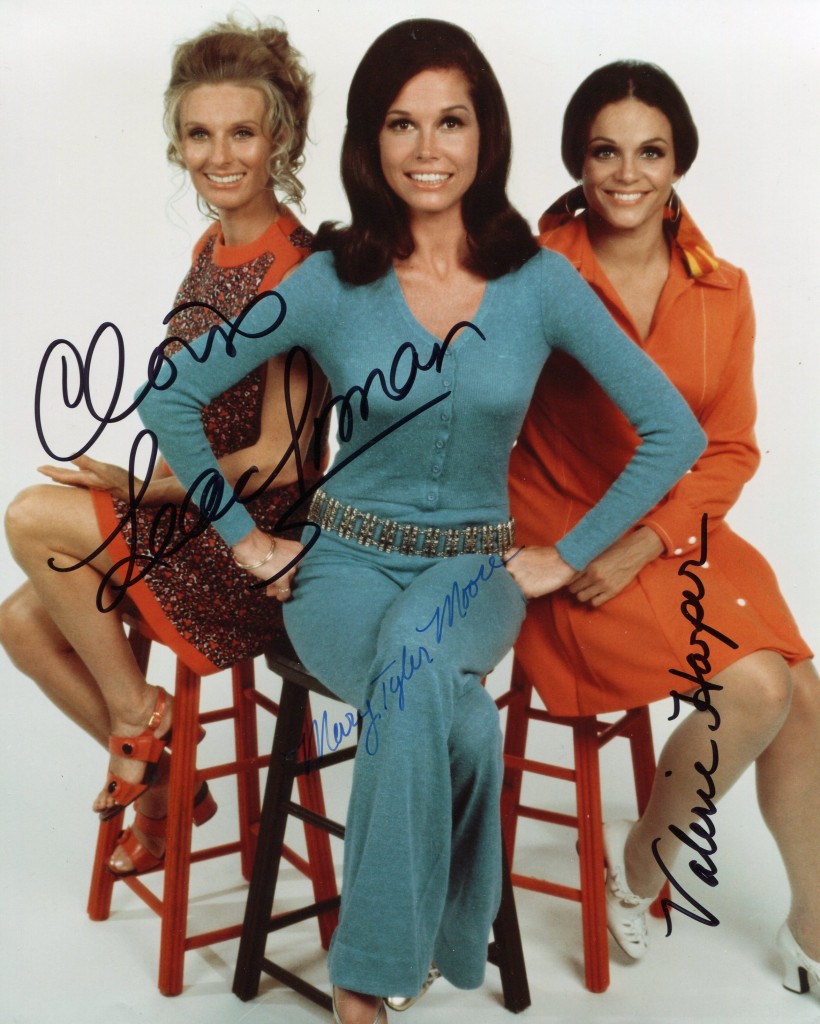 Mary Tyler Moore TCM Overview:
An iconic modern woman who starred in two very different, but very successful sitcoms, actress Mary Tyler Moore also made an enormous contribution to television history as the producer of numerous acclaimed comedies and dramas of the 1970s and 1980s. Audiences first fell in love with Moore as a believable symbol of the smart, young, pants-wearing mom on "The Dick Van Dyke Show" (CBS, 1961-66) before she came to signify a new breed of independent, liberated professional woman on the Emmy-winning sitcom, "The Mary Tyler Moore Show" (CBS, 1970-77). In addition to her longstanding reputation for comedy, Moore delivered a powerful, Oscar-nominated performance in the 1980 feature "Ordinary People," in addition to starring in over a dozen television movies. As co-founder of MTM Productions, Moore was integral to the success of top rated "Mary Tyler Moore" spin-offs "Rhoda" (CBS, 1974-78) and "Lou Grant" (CBS, 1977-82), as well as "The Bob Newhart Show" (CBS, 1972-78) and the police drama "Hill Street Blues" (NBC, 1981-87). Though her career slowed down in later years, Moore remained active in numerous charities and causes, particularly Type 1 diabetes, which she was diagnosed with early in her career. Because of her contributions to television, Moore remained a timeless icon whose influence with subsequent generations of female performers remained incalculable.
Born on Dec. 29, 1936, in Brooklyn, NY, Moore was raised in nearby Queens until the age of eight when the family moved to Los Angeles, Moore attended strict Catholic schools, but studied ballet with dreams of someday becoming a dancer. Fresh out of Immaculate Heart High School, she landed her first show business job as a singing and dancing elf named Happy Hotpoint, promoting kitchen appliances in television commercials. She married salesman Richard Meeker and hung up her elf costume when she became pregnant with her only child, Richard Jr., who was born only months after Moore's own mother, Marjorie, gave birth to daughter Elizabeth. Moore resumed her career in 1959 when her legs and voice were featured in the role of a switchboard operator on the mystery series "Richard Diamond, Private Eye" (CBS-NBC, 1957-1960).
Following a dozen guest appearances on shows like "77 Sunset Strip" (ABC, 1958-1964) and "Hawaiian Eye" (ABC, 1959-1963), Moore was cast as the young wife of a television comedy writer (Dick Van Dyke) on "The Dick Van Dyke Show," a semi-autobiographical sitcom created by Carl Reiner. While she was in the midst of divorcing her first husband off-screen, Moore brought a down-to-earth believability and maturity to her onscreen role and was crucial to the success of its often daring subject matter. With her standard wardrobe of Capri pants signaling an end to the era of the dress-and-apron clad June Cleaver, Moore became a symbol of the new era of modern mom, resonating strongly with audiences and earning Emmy Awards for her work in 1964 and 1965. The beloved star also won the heart of television executive Grant Tinker, whom she married in 1962. "The Dick Van Dyke Show" was still popular when producers decided to bow out gracefully after five seasons, at which time Moore returned to the stage opposite Richard Chamberlain in an ill-fated stage musical adaptation of "Breakfast at Tiffany's" (1966).
Moore stuck close to her first love of song and dance for the next few years, co-starring alongside Julie Andrews, Carol Channing and Beatrice Lillie in the lavish 1920s musical "Thoroughly Modern Millie" (1967), which she followed by playing a nun with a wandering eye for a handsome young doctor (Elvis Presley) in "Change of Habit" (1969). Later that year, she made her first television movie with "Run a Crooked Mile" (1969), which allowed viewers to see the serious dramatic side of her talent. Several years had passed before she was approached by CBS, and offered a deal to develop and star in her own sitcom. Moore and her husband wisely formed a production company, MTM, and inked a deal that would give ultimate creative control of the series to MTM productions.
Her company's first project, "The Mary Tyler Moore Show," chronicled the life of an independent thirty-ish professional female navigating a career, friendships and dating life. The show was the first to feature such an unprecedented "liberated" woman as the lead. Once again, Moore found herself at the forefront of the changing image of women on television with her role as an evening news producer and single woman who alluded to sex and birth control. As producer, Moore was key in assembling an outstanding writing staff and a supporting cast including Edward Asner as her gruff boss, Valerie Harper as her brash New Yorker best friend and Ted Knight as news station WJM's dimwitted anchor. Moore was nominated for a Lead Actress Emmy every year during the show's seven-year run, taking home wins in 1973, 1974 and 1976, while the show itself amassed over 29 awards.
In 1972, Moore and MTM productions launched their second series, "The Bob Newhart Show," which carried MTM's hallmark quality writing and acting and became another of television's most respected programs. Meanwhile, Moore produced the first "Mary Tyler Moore" spin-off "Rhoda," an Emmy- and Golden Globe-winning success based around the character's best friend returning to New York. Another spinoff series, "Phyllis" (CBS, 1975-177), which was centered on Moore's unlikable landlord (Cloris Leachman), was cancelled after its second season. Likewise, "The Tony Randall Show" (ABC/CBS, 1976-78), suffered the same fate and was axed after two seasons. Like Dick Van Dyke before her, Moore chose to end "Mary Tyler Moore" while on a high note. By the time the final episode aired in 1977, Moore was a beloved figure and winner of the People's Choice Award for Favorite Female Television performer. Moore and MTM productions launched the spin-off "Lou Grant" the same year and enjoyed more critical success for the straight-ahead drama whose format allowed Grant (Edward Asner), a staffer of a Los Angeles newspaper, to explore social issues and current events.
As an actress known for comedy, Moore was anxious to explore her dramatic side, which she did with the TV-movie, "First You Cry" (CBS, 1978), earning an Emmy nomination for her portrayal of a reporter battling breast cancer. Meanwhile, Moore's off-screen life took a tragic turn when she divorced from Tinker, while suffering the pain of losing her sister, Elizabeth, to a drug overdose, and her only son, Richard, to a self-inflicted gunshot wound. She continued to helm MTM ventures, which included the wildly popular "WKRP in Cincinnati" (CBS, 1978-1982), while exploring painful territory onstage in the hit Broadway play "Whose Life Is It, Anyway?" which earned her a Tony Award for playing a quadriplegic sculptor fighting to determine her own destiny. Further proving her range and distancing herself from her television persona was a riveting portrayal of a strained mother coping with the suicide of one son and the resulting suicide attempt of the other (Timothy Hutton) in Robert Redford's "Ordinary People" (1980). She received an Oscar nomination and Golden Globe win for the heavy-hitting family drama. In 1981, MTM rolled out another successful dramatic series, "Hill Street Blues."
Whether or not the combination of real-life and onscreen tragedy was to blame, Moore entered a rehabilitation program for alcohol addiction in 1982. She returned to the big screen in "Six Weeks" (1982), which again found her exploring the modern professional matriarch, but in a less successful melodrama. She delivered award-nominated performances in middle-aged television movie dramas "Heartsounds" (ABC, 1984) and "Finnegan Begin Again" (HBO, 1985), then attempted to revisit sitcom glory with "Mary" (CBS, 1985-86), a newspaper-set comedy that failed to score with audiences and was cancelled after 13 episodes. Moore had better success with a long run Broadway comedy, "Sweet Sue," before offering an astonishing portrait of the first lady opposite Sam Waterston in "Gore Vidal's Lincoln" (NBC, 1988). Another stab at Moore-centric sitcom, "Annie McGuire" (1988), lasted less than one season, which was followed in 1990 by Moore and ex-husband Tinker selling MTM Productions.
Following a string of TV films including "Stolen Babies" (Lifetime, 1993), where she earned an Emmy for playing a spinster trafficking in illegal adoptions, Moore returned to series television in a supporting role as a hard-driving newspaper editor in the short-lived drama, "New York News" (CBS, 1995). She had a delightfully funny supporting role as an adoptive parent of a grown child (Ben Stiller) searching for his birth parents in "Flirting with Disaster" (1996), then enjoyed a recurring role as Tea Leoni's mother on Leoni's sitcom "The Naked Truth" (NBC, 1995-98). In 2000, Moore reunited with Valerie Harper in the TV movie "Mary and Rhoda" (ABC), which depicted both actresses revisiting their classic characters Mary Richards and Rhoda Morgenstern – one a widow, the other a divorceé – as they rekindle their friendship in New York. The Moore-produced movie was a means to test the waters for an anticipated sitcom sequel, but a lack of humor and an overdose of maudlin sentiment failed to excite audiences.
Moore produced and starred in the true crime biopic "Like Mother, Like Son: The Strange Story of Sante and Kenny Kimes" (CBS, 2001), playing a con artist, thief and murder. Her chilling performance earned her a fresh round of critical accolades. She maintained her position as a sturdy television movie mainstay with films including "Miss Lettie and Me" (TNT, 2002), where she played a cantankerous elderly Southern woman, and "Blessings" (CBS, 2003), based on the Anna Quindlan novel about an abandoned baby found on an aged woman's estate. She reunited with Dick Van Dyke and a large number of her former cast mates in the nostalgic "The Dick Van Dyke Show Revisited" (TV Land, 2004), then faced off with Van Dyke in a PBS version of D.L. Coburn's stage play "The Gin Game," where the old co-stars showcased their old spark playing two residents of a nursing home whose gin rummy games bring out the best and worst in them.
Still happily working at the age of 70, Moore continued to appear annually in made-for-television movies, finding herself to be an increasingly popular sitcom guest star. In 2006, she enjoyed a hilarious recurring run as a high-strung TV host on "That 70's Show" (Fox, 1998-2006). Two years later, she revisited the world of the working woman with a multi-episode arc on the fashion-set comedy, "Lipstick Jungle" (NBC, 2008-09 ). While focusing on her charity work, Moore found time to take the occasional acting job. In 2011, she reunited with old friend Betty White to make a guest appearance on the sitcom "Hot in Cleveland" (TV Land, 2010- ). That same year, Moore had surgery to remove a benign tumor from the lining tissue of her skull, a routine procedure from which she recovered quickly.
 The above TCM overview can be also accessed online
here.
Cloris Leachman TCM Overview:
With a career that spanned a staggering six decades on stage and screen, actress Cloris Leachman was one of primetime's funniest comediennes and a favorite player in the classic film satires of Mel Brooks. A former beauty pageant winner who began her career on the Broadway stage, Leachman's first high profile achievement was her Academy Award-winning performance in Peter Bogdanovich's stark drama "The Last Picture Show" (1971). From there, the over-40 actress' career kicked into high gear, with award-winning roles as the hilariously self-important Phyllis Lindstrom on the "Mary Tyler Moore Show" (CBS, 1970-77) and the subsequent spin-off, "Phyllis" (CBS, 1975-77). She forever held a place in film comedy history for her tightly wound, strangely accented characters in Brooks' "Young Frankenstein" (1974) and "History of the World, Part 1" (1981) – a strength she introduced to a new generation of fans in the role of grandma Ida on Fox's quirky "Malcolm in the Middle" (Fox, 2000-06). The octogenarian became the reality competition's oldest contestant when she joined the cast of "Dancing with the Stars" (ABC, 2005- ) in 2008, then trotted on to the sitcom "Raising Hope" (Fox, 2010- ), as the semi-lucid grandmother "Maw Maw" Chance. With more than 40 years of film and television work under her belt, Leachman made it clear she was far from ready to retire, and had plenty more laughs to impart to appreciative fans of all ages.
Cloris Leachman was born on April 30, 1926, in Des Moines, IA where her father owned a lumber company. A self-admitted perfectionist as a child, Leachman made great strides towards her goal of acting with countless stage roles with the Des Moines Playhouse and appearances on local radio by the time she was a teenager. Her impressive achievements earned her a scholarship to the drama department at Northwestern University, where her classmates included future stars Charlton Heston, Patricia Neal and Charlotte Rae. While a student, Leachman entered the Miss Chicago beauty pageant and went on to place as a finalist in the 1946 Miss America competition. She bid college goodbye and used her $1,000 prize money to move to New York City, where she was invited by Elia Kazan to join the Actors Studio. Under their auspices, she made her TV debut as a recurring player on the drama series "Actors Studio" (ABC, 1948-49) and went on to appear in numerous live television dramas during the 'Golden Age of Television' in the late 1940s and early 1950s. Leachman also worked continuously on Broadway, playing Nellie Forbush in the original production of Rogers and Hammerstein's "South Pacific," sharing the stage with Katherine Hepburn in "As You Like It," and earning a Drama Desk nomination for "A Story for a Sunday Evening" in 1951.
While her acting career barreled ahead, Leachman married actor George Englund and together the young family headed to Hollywood. Englund launched a career as a film producer and director and Leachman made her film debut as the desperate woman found by the roadside in the opening sequence of Robert Aldrich's landmark film noir "Kiss Me Deadly" (1955). Despite her beauty queen past, the actress was not considered a conventional Tinseltown leading lady, and her sharp features, Midwestern accent and incisive acting skills marked her for offbeat character parts. During the late 1950s, Leachman had a regular TV role playing Timmy's wholesome, Midwestern mom on the series "Lassie" (CBS, 1954-1973) and was seen in countless guest spots on Westerns and live dramas while occasionally returning to Broadway. After nearly a decade of steady work on all the dramas and comedies of the day, including recurring characters on "Dr. Kildare" (NBC, 1961-66) and "77 Sunset Strip" (ABC, 1958-1964), Leachman made a memorable impression as a jittery lady of the evening in the Best Picture Oscar nominee "Butch Cassidy and the Sundance Kid" (1969).
She followed up with big screen performances in a pair of scathing middle-America commentaries, "WUSA" (1970) and "The People Next Door" (1970), before a recurring role on the groundbreaking sitcom "Mary Tyler Moore" turned Leachman into a household name. The character-driven show, which starred Mary Tyler Moore as a thirty-something single professional and uniquely independent woman, featured Leachman as Mary's on-site landlady – a self-absorbed busybody who fancied herself an intellectual and progressive woman. As Phyllis Lindstrom, Leachman unleashed a sparkling, multiple Emmy-nominated comedic talent. The following year, she affirmed her versatility with a heartbreaking turn as a lonely, neglected housewife who begins an affair with a high school senior in Peter Bogdanovich's near-perfect adaptation of Larry McMurtry's "The Last Picture Show." The flinchingly honest portrayal earned the 45-year-old actress an Academy Award for Best Supporting Actress. She went on to offer a string of award-winning performances on the small screen, beginning with "A Brand New Life" (ABC, 1973), where she played a middle-aged woman facing an unwanted pregnancy, and "The Migrants" (CBS, 1974), where she portrayed the matriarch of a family of fruit pickers.
Another Bogdanovich effort, "Daisy Miller" (1974) proved disappointing, but Leachman rebounded and became a member of Mel Brooks' unofficial stock company with "Young Frankenstein" (1975) and her classic supporting turn as housekeeper Frau Blucher, known for frightening all horses within earshot. She enlivened the early Jonathan Demme mob effort "Crazy Mama" (1975) and finally landed her own TV series, the spin-off "Phyllis" (CBS, 1975-77), which found her now-widowed character moving to San Francisco with her teenage daughter and re-entering the work force. The show was cancelled after two seasons (and one Lead Actress Golden Globe Award) and the same year that "Mary Tyler Moore" left the airwaves. But Leachman remained an in-demand comic player, reteaming with Brooks' to play skilled S&M dominatrix Nurse Diesel in the Hitchcock spoof "High Anxiety" (1977). She enjoyed character roles in madcap comedies like "The Muppet Movie" (1979) and "Herbie G s Bananas" (1980) and joined Brooks a third time to play an innkeeper in "History of the World, Part 1" (1981).
Following starring roles in several made-for-TV movies, Leachman returned to series television in "The Facts of Life" (NBC, 1979-1988) where she took over the "mentor" role vacated by former classmate Charlotte Rae for the show's final two seasons. Beginning in 1989, Leachman began a decade of touring in a one-woman play written for her in which she portrayed American primitive painter Grandma Moses. On the big screen, she reprised her "Last Picture Show" role in the disappointing Bogdanovich sequel "Texasville" (1990) and seemed to be having fun stepping into Irene Ryan's boots to play Granny Clampett in the feature version of "The Beverly Hillbillies" (1993). Not one to consider retirement, the 70-year-old actress spent nearly three years playing Parthy, the captain's wife, in a touring production of "Show Boat" before returning to series grind as a feisty, lusty oldster in the CBS summer sitcom "Thanks" (1999). The very busy Leachman provided a character voice for the acclaimed animated feature "The Iron Giant" and supported Meryl Streep in "Music of the Heart" (1999).
A whole new generation of sitcom viewers was introduced to Leachman when she was cast as Ellen DeGeneres' mother on the CBS sitcom "The Ellen Show" (2001-02) and began a recurring guest turn as the chain-smoking, tough-talking grandmother Ida on Fox's "Malcolm in the Middle." Her repeat performances throughout the series history earned Leachman annual Emmy nominations and delivered awards in 2002 and 2006, the same year she was also nominated for a supporting role in the HBO original drama movie, "Mrs. Harris" (HBO, 2005). Leachman continued to offer comedic big screen outings, taking on matronly roles in such films as "Alex & Emma" (2003) and "Bad Santa" (2003), where she played the half-dead grandmother of a portly misfit who rises only occasionally to make sandwiches. She received some of the best reviews of her career when she appeared as Tea Leoni's alcoholic mother in writer-director James L. Brooks' "Spanglish" (2004).
After a small role as a school nurse with X-ray vision in the family superhero comedy "Sky High" (2005), Leachman appeared in Peter Segal's weak remake of the classic 1974 Burt Reynolds film "The Longest Yard" (2005) and delivered a hilarious turn in the popular franchise "Scary Movie 4" (2006). In 2008, Leachman began a national tour of her one-woman autobiographical stage show "Cloris!" and appeared as part of the outstanding ensemble cast of the chick flick "The Women" (2008). She supported her latest efforts by joining the fall season of "Dancing with the Stars" (ABC, 2005- ) where at age 82, she became the oldest contestant in the show's history. She next landed a supporting role on the irreverent hit comedy "Raising Hope" (Fox, 2010- ), playing the Alzheimer's-afflicted great-grandmother of a 23-year-old new father (Lucas Neff) who is utterly clueless about raising his infant daughter. Leachman was one of several highlights on the show and earned herself an Emmy Award nomination for Outstanding Guest Actress in a Comedy Series.
 The above TCM overview can also be accessed online
here.
Valerie Harper TCM Overview:
Perhaps no other actress evoked the edgy, freewheeling spirit of 1970s television than Emmy-winning actress Valerie Harper, whose star-making turn as the brassy, bold Rhoda Morgenstern on "The Mary Tyler Moore Show" (CBS, 1970-77) and its spin-off "Rhoda" (CBS, 1974-78) remained one of the most adulated performances in TV history. Harper began her career as a Broadway showgirl, making a name for herself in such high-profile productions as "Destry Rides Again" (1959) and "Wildcat" (1960), but it was on the small screen where she rose to fame. Harper won over audiences as Moore's wisecracking, headscarf-sporting best friend on the acclaimed series "The Mary Tyler Moore Show," a scene-stealing role she later reprised on her own sitcom "Rhoda." In 1974, she broke into film, playing Alan Arkin's wife in the comedy "Freebie and the Bean." In 1987, TV would become the bane of Harper's existence when she was fired from her popular sitcom "Valerie" (NBC, 1986-87), sparking an ensuing legal battle that threatened to derail Harper's career. In 1988, the comedienne emerged victorious, winning the landmark lawsuit. Harper continued acting over the next several decades, entertaining audiences with her brash, irreverent wit. Beloved for playing strong characters, Harper was even more resilient when it came to her personal life. Within a short window of time, she bravely battled both lung and brain cancer, with the latter being diagnosed as fatal in 2013. The news devastated millions, while Harper remained as courageous and inspirational as ever in the face of adversity.
Valerie Harper was born on Aug. 22, 1939 in Suffern, Rockland County, NY, to Iva McConnell, a Canadian-born nurse, and Howard Donald Harper, a lighting salesman whose itinerant career often uprooted the family. By the time she entered high school, Harper had lived in New Jersey, Southern California, Michigan and Oregon. Inspired by the 1948 film "The Red Shoes," Harper dreamt of becoming a dancer from a very young age. When her family packed up their Jersey City digs and moved back to Oregon, Harper opted to stay behind in New York City where she began to train in ballet. While a student at Manhattan's Young Professionals School, 16-year-old Harper auditioned and earned a coveted spot as a chorus girl in the Radio City Corps de Ballet. Following graduation, she enrolled at Hunter College and the New School for Social Research, where she dabbled in the liberal arts, taking courses in French and philosophy. But Harper's main passion was performance and she gradually segued into acting, landing a plum bit part in the 1956 Broadway musical 'L'il Abner," choreographed by Michael Kidd. Impressed with her skills, he would go on to cast Harper in a string of hit shows on the Great White Way, including "Destry Rides Again" with Andy Griffith, "Wildcat" with Lucille Ball, and "Subways are for Sleeping" (1961), starring Orson Bean. Moving into screen work, Harper's first film role was in director Melvin Frank's 1959 feature adaptation of "L'il Abner."
In the early 1960s, Harper continued to hone her craft as an actress, studying drama under Viola Spolin, the legendary improvisational instructor whose son, Paul Sills, co-founded Chicago's The Second City. Impressed by Harper's raw comedic talent, Sills invited the budding thespian to join the theater company, where she met comic actor Richard Schaal, whom she married in 1964. In 1967, Harper returned to Broadway with roles in Carl Reiner's "Something Different" and Sills' production of Ovid's "Metamorphosis" (1970). That same year, with little television experience, save for a few uncredited extra appearances, Harper was cast as Rhoda Morgenstern, the charismatic, tough-talking Jewish neighbor from the Bronx on the hit sitcom "The Mary Tyler Moore Show," a role that would earn Harper three consecutive Emmy Awards (1971-73) for Outstanding Supporting Actress and catapult her to international stardom alongside the rest of the ensemble cast. In 1974, CBS gave their new headscarf-sporting golden girl her own spin-off series, the top-rated "Rhoda," for which she would win the 1975 Emmy and a Golden Globe for Best Actress in a Comedy Series, as well as Harvard's Hasty Pudding Woman of the Year award. An immediate hit, the spin-off followed Harper's beloved character as she moves back in with her overbearing, overprotective parents (Nancy Walker and Harold Gould) who live in the Bronx. "Rhoda" not only showcased Harper's character as more than TV sidekick, it also broke small-screen records. The hour-long wedding special between Rhoda and Joe Gerard (David Groh) was the highest-rated TV episode of the 1970s – a record broken by ABC miniseries "Roots" in 1977 – and featured guest appearances from Harper's former co-stars, including Moore and Ed Asner.
At the same time her own sitcom was taking off, Harper further charmed on the big screen with her on-point rendering of a Puerto Rican housewife in "Freebie and the Bean," a memorable action caper co-starring James Caan and Alan Arkin. For her work in the movie, Harper received a Golden Globe nomination for Most Promising Newcomer – Female – which was ironic, considering she had been stealing scenes from Moore for years. Around this same time, she became actively involved with The Hunger Project, a philanthropic organization committed to ending world hunger, an affiliation that would continue throughout Harper's life. When "Rhoda" went off the air in 1978, Harper divorced Schaal that same year, bring to an end two significant chapters in her life. She continued to act frequently, stacking up a list of credits both in television and film, including a supporting role in Neil Simons's 1979 comedy "Chapter Two," for which she received a Golden Globe nomination; "The Last Married Couple in America" (1980), opposite Natalie Wood and George Segal; the TV movie "The Shadow Box" (ABC, 1980), directed by Paul Newman and starring Joanne Woodward and Christopher Plummer; and the hit sex comedy "Blame it on Rio" (1984), with Michael Caine and Demi Moore.
In 1986, Harper returned to the small screen as the star of NBC's "Valerie," a family-friendly sitcom on which she plays a housewife whose husband's career as an airplane pilot often took him out of town, leaving Harper to raise their three sons – the eldest played by then-child star Jason Bateman – on her own. The following year, Harper married second husband Tony Cacciotti, her longtime manager and an executive producer on "Valerie." Two seasons into its critically well-received run, Harper was abruptly fired for alleged on-set misconduct in August 1987. Harper and Cacciotti had reportedly been feuding with the network and producers over a salary increase and failed to show up to set for three consecutive episodes. Harper was let go from her namesake show and her character was unceremoniously killed off in a car accident – a radical move that shocked fans and the industry. She was promptly replaced by Tony Award-nominated actress Sandy Duncan of "Peter Pan" fame, with the series also being renamed "Valerie's Family." Subsequently, Harper sued Lorimar Telepictures and NBC for breach of contract and for its continued use of her name in the show's title. Lorimar accused Harper of trying to wrestle control of "Valerie" and demanding more money. Producers deemed her difficult to work with, attributing her behavior to festering jealously over Bateman's burgeoning heartthrob status – rumors Harper consistently debunked.
In the months that followed, Harper and Cacciotti became entangled in one of the most acrimonious courtroom battles in the history of American television production. As the lawsuit raged on, Harper and Cacciotti tried to focus on their family life by adopting a daughter. In 1988, at the end of her namesake sitcom's successful third season, Harper won her case against Lorimar and was awarded $1.4 million in damages plus a percentage of the show's profits. Meanwhile, the series was renamed "The Hogan Family" and ran for six more seasons – due mainly to the appeal of the scene-stealing Bateman. Harper spent the next several years bouncing back from the maelstrom of negative press and attempting to revive her once illustrious TV career, efforts that never fully materialized in the way they had in the 1970s. While she starred in several TV movies, including "Drop-Out Mother" (1988) with Carol Kane, and "Stolen – One Husband" (1990), a comedy co-starring Elliot Gould and Brenda Vaccaro, Harper failed to attach herself to a star vehicle with any sort of network staying power. In 1990, she joined the cast of "City" (CBS), a poorly reviewed, short-lived series created by future Academy Award-winning filmmaker Paul Haggis. In 1995, she landed a leading role on CBS' "The Office" (not to be confused with the NBC sitcom of the same name that ran from 2005-2013), an insipid workplace comedy that was cancelled after just two months.
Fortunately, Harper's love affair with the stage never died, and she continued to act in off-Broadway and regional theater productions, including a 1995 run in "Death Defying Acts," a series of three short plays penned by Elaine May, Woody Allen and David Mamet. Throughout the 1990s and into the millennium, Harper made special guest appearances on "Melrose Place" (Fox, 1992-99), "That '70s Show" (Fox, 1998-2006) and "Sex and the City" (HBO, 1998-2004). In 2000, Harper and Mary Tyler Moore reunited in the ABC TV movie "Mary and Rhoda," where they reprised their iconic TV characters. In 2007, Harper continued to demonstrate her broad range as an actress, fielding rave reviews for her portrayal of Former Israeli Prime Minister Golda Meir in the national tour of the one-woman show "Golda's Balcony" and earned a Tony nomination in 2010 for her riveting turn as flamboyant film star Tallulah Bankhead in the Broadway play "Looped." The following year, Harper guest starred on the ABC series "Desperate Housewives" (ABC, 2004-2012) as the aunt of Teri Hatcher and filmed the TV movie "Fixing Pete" (Hallmark Channel). The vivacious actress' health declined after battling lung cancer in 2009 and she underwent surgery to remove a tumor on her top right lobe. Sadly, in March 2013, Harper announced through People magazine that she had been diagnosed with Leptomeningeal carcinomatosis, a rare and terminal form of brain cancer, and was told by doctors that she had only three months to live.
By Malina Saval
The above TCM overview can also be accessed online here.