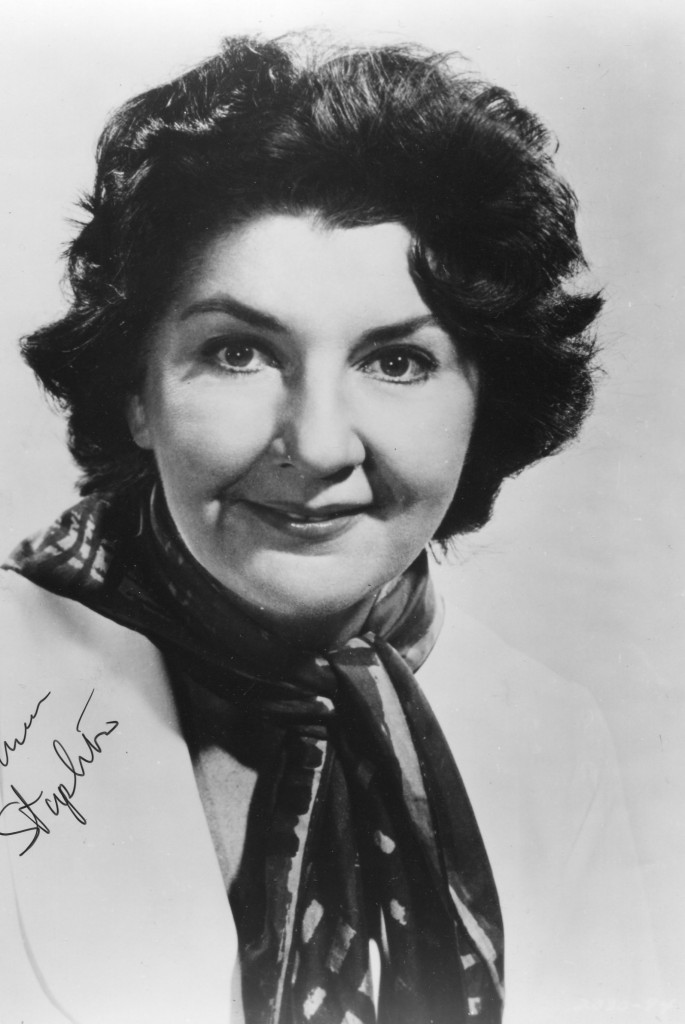 Maureen Stapleton was born in 1925 in Troy, New York.   She made her stage debut in 1946  with Burgess Meredith in "The Playboy of the Western World".   She established herself on stage in the works of Tennessee Williams and William Inge.   She made her film debut in 1958 in "Lonelyhearts" with Montgomery Clift and Dolores Hart.   She other films include ""Bye Bye Birdie", "Airport" and "Interiors".   She won the Oscar for her performance in "Reds" in 1981.   She died in 2003.
Tom Vallance's obituary in "The Independent":
The actress Maureen Stapleton was a versatile, much-feted actress and winner of all three major awards – the Tony, the Emmy and the Oscar. Her film appearances were infrequent, but brought her four Oscar nominations for Best Supporting Actress, the fourth, for her superb incarnation of the anarchist Emma Goldman in Reds (1981), winning her the award.
Equally convincing whether playing tough or vulnerable, straight or comic, she was particularly noted as an exponent of Tennessee Williams's characters. In the theatre she created the heroines of The Rose Tattoo and Orpheus Descending, and acted in works by Neil Simon and Lillian Hellman. Simon's play The Gingerbread Lady, in which she starred, is generally considered to be based on the tempestuous life of Stapleton herself.
Born to staunch Irish Catholics in 1925 in Troy, New York, Stapleton had an alcoholic father who left home when she was a child. She later said that a love of movies and film magazines helped her overcome poverty and low self-esteem. After graduating from high school in 1942, she worked as a clerk for a year before setting off for New York to pursue an acting career.
Following studies at the Herbert Berghof Acting School, she made her Broadway début after telephoning the producer Guthrie McLintock and asking him who was to play Pegeen Mike in his production of The Playboy of the Western World. McLintock cast her as a village girl and to understudy Pegeen, and she actually played the role for the last week of the run.
McLintock and his wife Katharine Cornell took her into their company, and she then became a charter member of the Actors' Studio. In 1948 she played Masha in a Studio performance of The Seagull and made her television début in the drama Night Club.
In 1951 Stapleton achieved stardom with her performance as the earthy Sicilian widow in The Rose Tattoo. Williams had written the role for Anna Magnani, who felt her English was not good enough to sustain such an intensive stage role. "It was I who found Maureen Stapleton for the part," the author wrote later. "She was a very young girl at the time but nevertheless I thought she was so brilliant in characterisation that the obstacle of her youth would be overcome." Stapleton won the Tony as Best Actress and was forever identified with the play, taking the role of Serafina again in revivals in 1966 and 1973.
She also played Flora, the simple-minded young wife in Williams's 27 Wagons Full of Cotton (1955), later filmed as Baby Doll with Carroll Baker as Flora, and she created the role of the passionate shopkeeper Lady Torrance in Orpheus Descending (1957). Magnani played the role on screen opposite Marlon Brando, though Stapleton appeared in the film version in another role. She also triumphed in a revival of Williams's The Glass Menagerie (1965).
In 1960 Stapleton appeared in a big hit, Lillian Hellman's Toys in the Attic, playing one of two sisters who devote their lives to their brother. Both Stapleton and Anne Revere, who played her sister, were nominated for Tony Awards, with Revere winning.
Neil Simon's hit comedy Plaza Suite (1968) consisted of three playlets set in the same hotel; it gave Stapleton and George C. Scott the opportunity to play three different couples and prompted the critic Martin Gottfried to comment, "It proved to me for the first time that an Actors Studio-trained actor can play comedy." Stapleton repeated one of the roles in the film version, which cast three separate actresses in the stories.
In 1971 she won another Tony Award starring in Simon's The Gingerbread Lady, playing Evy Meara, an alcoholic singer who returns from a drying-out session and attempts to rid herself of her abusive young lover. The character was largely considered to be an amalgam by Simon of Judy Garland and Stapleton herself, which the actress disputed in her autobiography, A Hell of a Life (1995). Stapleton frankly confessed, though, to a tumultuous love life which encompassed many impetuous, ill-fated affairs (including one with the stage director George Abbott that started when he was 81 and she was 43) and two failed marriages.
Stapleton's sporadic screen career began with her harrowing portrayal of an unscrupulous nymphomaniac in Miss Lonelyhearts (1958), her performance winning an Oscar nomination. She worked with the director Sidney Lumet on adaptations of Williams's The Fugitive Kind (1960) and Arthur Miller's A View from the Bridge (1962), then had her first screen comedy role in the musical Bye Bye Birdie (1963).
Her second Oscar nomination was for her long-suffering Inez Guerrero, whose mentally unstable husband (Van Heflin) takes a bomb on a flight to Rome so that his wife can get his travel insurance, in George Seaton's box-office hit Airport (1970). Woody Allen's first dramatic film, Interiors (1978) brought a third nomination, and she finally won the award for Warren Beatty's Reds, based on the life of the liberal activist and journalist John Reed.
Her other films included Cocoon (1985, as one of the elderly folk who discover a means of rejuvenation) and The Money Pit (1986, as a zany real-estate crook). On television, she won an Emmy Award for her performance in Truman Capote's Among the Paths to Eden (1967).
Celebrated by her colleagues not only for her talent, but her wit, loyalty and warmth, she was described by Tennessee Williams as "self-destructive" but "an absolute genius and one of the total innocents of the world".
Tom Vallance
The above "Independent" obituary can also be accessed online here.