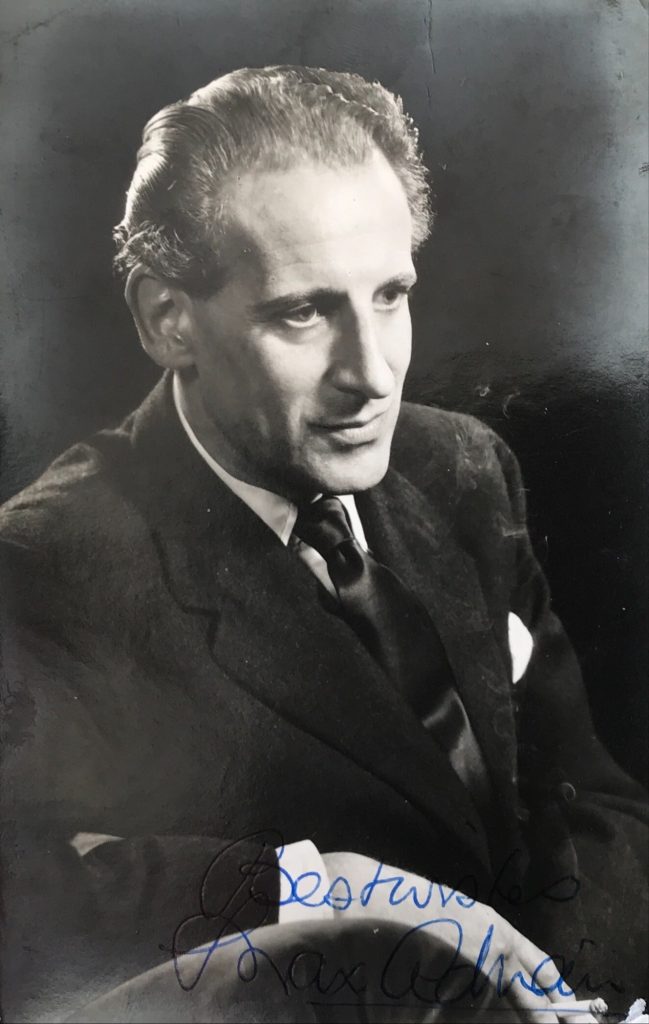 Max Adrian was born in 1902 in Enniskillen, Northern Ireland.   He made his film debut in 1934 in "The Primrose Path".   Although primarily a stage actor, he did make a number of memorable film appearances in such films as "Kipps" in 1941, "Pool of London", "The Deadly Affair", "The Music Lovers" and "The Boyfriend".   He died in 1973 in Wilford.
Gary Brumburgh's entry:
Grandiose Irish stage, film and television character player Max Adrian, a noted classical performer and musical comedy revue star with a highly distinctive voice and "old school" acting style, was born Max Bor on November 1, 1902, in Enniskillen, County Fermanagh, Ireland. The son of Edward Norman Cavendish Bor and wife Mabel Lloyd Thornton, Max studied at the Portora Royal School and showed early interest in the performing arts. An intermission singer/dancer at a silent film theatre, he made his stage debut in the chorus in 1925 and proceeded to gain experience on the West End.
Following extensive repertory experience, Adrian (who was occasionally billed as Max Cavendish) enjoyed his first transcontinental stage hit with "First Episode", which toured throughout England and later transferred to Broadway in 1934. He went on to find wide personal success with his roles in "Troilus and Cressida" and "The Doctor's Dilemma" toward the end of the decade. Joining the Old Vic company in 1939, he scored as "The Dauphin" in "Saint Joan", then continued supremely with John Gielgud's company at the Haymarket Theatre in the mid-1940s as "Puck" in "A Midsummer Night's Dream", "Osric" in "Hamlet" and "Tattle" in "Love for Love".
A founding member of both the Royal Shakespeare Company and, much later, Laurence Olivier's National Theatre, Adrian earned widespread admiration for his work on the lighter side as a singer/comedian on the post-WWII musical revue stage. Many were produced by his long-time companion Laurier Lister (1907-1986). He also later performed eloquently, if outrageously, in one-man shows about George Bernard Shaw and the lesser successful "Gilbert and Sullivan".
Following his revue success, the often-bespectacled actor traveled to America in 1956 to appear in Leonard Bernstein's operetta, "Candide", on Broadway. Adrian stayed and pursued a career working in such summer stock productions of "Pygmalion" as Alfred as Doolittle, "Le Bourgeois Gentilhomme" as "Jourdain", "The Merchant of Venice" as "Shylock", and "The School for Scandal" as "Sir Peter Teazle", but never established a strong footing. He returned to London in 1959 to appear in Noel Coward "Look After Lulu!", which later was taken to Broadway.
In the early 1960s, Adrian became a member of Peter Hall's nascent Royal Shakespeare Company (RSC) in Stratford-upon-Avon, wherein he appeared in "As You Like It", "Twelfth Night" and "Troilus and Cressida", as well as the non-Bard productions of "The Duchess of Malfi", "The Devils" and "The Hollow Crown". He also was a founding member of Olivier's National Theatre Company at the Old Vic from 1963, wherein he supported Peter O'Toole "Hamlet" as "Polonius". He also went on to appear in "Saint Joan", "Uncle Vanya", "The Recruiting Officer" and "The Master Builder".
Less renowned for his work on film, Adrian's made his debut in 1934 with two films: The Primrose Path (1934) and Eight Cylinder Love (1934). Film highlights during this earlier period came with his roles in the historical pieces The Remarkable Mr. Kipps (1941) andCourageous Mr. Penn (1942) and as "The Dauphin" in Olivier's classical masterpiece, The Chronicle History of King Henry the Fift with His Battell Fought at Agincourt in France(1944) (aka Henry V). Post-war films included lesser parts in The Taming of Dorothy(1950), Pool of London (1951) and The Pickwick Papers (1952). In later years, he showed some minor flash in Dr. Terror's House of Horrors (1965), Funeral in Berlin (1966) and The Deadly Affair (1966), and capped his cinematic career as a favorite actor of visionary director Ken Russell and his mesmerizingly bizarre films The Music Lovers (1970), The Boy Friend (1971) and The Devils (1971). He fared much better on TV with several Shakespearean and other classical roles, notably as a delightful "Fagin" in "Oliver Twist", impressive Benjamin Disraeli in "Victoria Regina", and as composer "Fredrick Delius" in "Song of Summer".
Dying of a heart attack in 1973, the prolific stage actor, survived by his partner, was paid tribute by such luminaries as Laurence Olivier, Alec Guinness and revue co-star Joyce Grenfell.
– IMDb Mini Biography By: Gary Brumburgh / gr-home@pacbell.n
Dictionary of Irish Biography:
Adrian (Bor), Max (1903–73), actor, was born 1 November 1903 in Ireland, the son of Edward Norman Cavendish Bor, a Bank of Ireland agent (or manager), and Mabel Lloyd (née Thornton). The family lived successively at Maryborough, Callan, and Waterford. Max was educated at Portora Royal School, Enniskillen (1918–21), and made his first stage appearance in the Gaiety theatre, Douglas, Isle of Man, as part of the chorus of 'Katja the dancer' in 1926. Having made his London debut in 1927 with a walk-on part in a production of 'The squall' at the Globe theatre, he continued working in London, and later appeared in New York (in 1934), and with various provincial repertory companies. It was not until his season at the Westminster theatre in 1938 that he came to prominence. Following a well received portrayal of Pandarus in a modern-dress production of 'Troilus and Cressida', he added several Shavian roles to his repertoire, most noticeably the Dauphin in 'Saint Joan' and Sir Ralph Bloomfield Bonnington in 'The doctor's dilemma'. He had continuing success on joining John Gielgud's company at the Haymarket, where from 1944 to 1945 he secured a variety of roles, including Tattle in 'Love for love', Puck in 'A midsummer night's dream', Arnold in 'The circle' and an acclaimed Osric in 'Hamlet'.
Noted for his versatility, Adrian interspersed his work in classical theatre with appearances in popular revues, notably 'Light and shade' (1942), 'Tuppence coloured' (1947), 'Oranges and lemons' (1948) and 'Airs on a shoestring' (1953), which ran for almost two years at the Royal Court. A founder member of the Shakespeare Memorial Theatre Company (later the RSC), he worked with the company in 1960 and 1963 and earned excellent notices for his performances as the Cardinal in 'The duchess of Malfi' and Feste in 'Twelfth night'. He subsequently joined the newly established National Theatre Company, playing, among other parts, the Inquisitor in 'Saint Joan', Serebryakov in 'Uncle Vanya' (both in 1963) and Brovik in 'The master builder' (1964). He had lengthy international tours with his one-man shows, 'An evening with G.B.S.' (1966) and 'Gilbert and Sullivan' (1969). With Laurier Lister he co-wrote Against our hearts (1937), and turned his hand to directing with 'We proudly present', which was staged at the Duke of York's theatre (1947), and co-directed and performed in 'Fresh airs' (1956).
His cinematic debut came in 1934 in The primrose path; thereafter he appeared in numerous films including The young Mr Pitt(1942), Henry V (1946), and The Pickwick papers (1952). In the 1950s and 1960s he made many television appearances, taking parts in Perry Mason (1959), Doctor Who (1965) and Up Pompeii!(1969), and also worked on radio. He made a belated, and interesting, return to cinema in two Ken Russell films, The music lovers (1970) and The devils (1971). As an actor, he was known for his stylistic accuracy and rather camp style. He died 19 January 1973 at his home in Shamley Green, Surrey. The National Portrait Gallery, London, holds several portraits, including one by Cecil Beaton from 1949