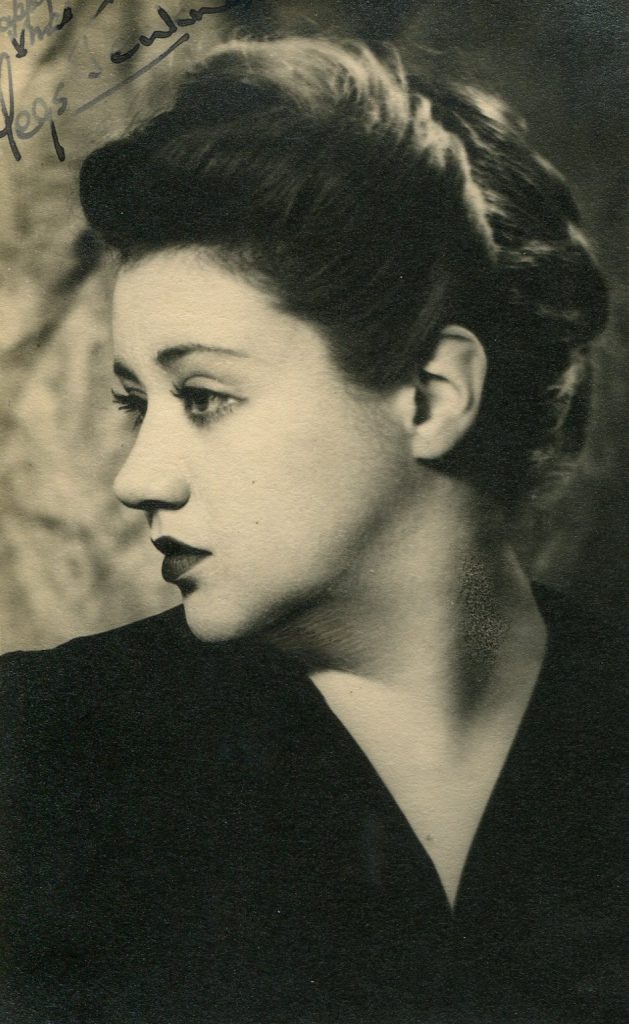 Megs Jenkins obituary in "The Independent".
Megs Jenkins was born in 1917 in Birkenhead near Liverpool. She came to prominence in Britain for her role with Patricia Roc in "Millions Like Us" in 1943. Other films include "Green for Danger", "The Brothers", "Tiger Bay", "The History of Mr Polly", "Conspiracy of Hearts" and "David Copperfield" in 1970 appropriately as Peggoty, David's nurse. Megs Jenkins died in 1998.
Tom Vallance's "Independent" obituary:The personification of plump cheer and kindliness, Megs Jenkins had a long career as an actress on stage, film and television and was one of the most popular of British character actresses. Though her versatility extended to tougher roles (she was an effectively vicious mother on stage in Tennessee Williams's Summer and Smoke) and she displayed complex levels of ambiguity in such films as Green for Danger and The Innocents, the round-faced actress will be best remembered for the many warm-hearted dependable housekeepers and cooks she portrayed, and was perfectly cast in this vein as the homely "Plump Woman" in John Mills's production of H.G. Wells's The History of Mr Polly.She was born Muguette Mary Jenkins in Birkenhead, Cheshire, in 1917, and studied for the stage at the School of Dancing and Dramatic Art in Liverpool. Her initial ambition was to be a ballet dancer, but in her early teens her figure began to grow plumper and she had to discard her early dream.
"It was sad, really," she commented 30 years later. "I was this same un-sylphlike shape when I was 17. I had fancied I might call myself my real name, Muguette, once I became a ballerina, but I had to face the fact that I was quite definitely a Megs."
As Megs Jenkins, she made her stage debut at the Liverpool Playhouse in 1933 playing the German Hausfrau in The Lift That Failed, and was a member of the Liverpool Repertory Company until 1937. She made her London stage debut in the first edition of Late Joys (1937) at the Players Theatre and the following year played Fanny Norman in the play Heaven and Charing Cross at the same theatre.
She entered films with a small role in Herbert Mason's exciting thriller set on the Orient Express, The Silent Battle (1939), the first of over 50 films in which she was featured. Next year she won acclaim on the London stage with her portrayal of Fan in Emlyn Williams's The Light of Heart. "A joint creation by author and actress which touches greatness," wrote the critic W.A. Darlington.
She became a favourite of filmgoers when cast by Launder and Gilliatt in their splendid tribute to wartime factory workers Millions Like Us (1942). She was a member of the nursing profession in The Lamp Still Burns (1943) and in 1945 recreated on screen the role of Shirley the unfortunate maid in the Gordon Harker vehicle 29 Acacia Avenue, a part she had played successfully during the play's long run on the London stage. The theatre was always her first love, and in 1945 she had another personal triumph in an Emlyn Williams play, portraying the humble mother of a supposed second Messiah in The Wind of Heaven.
Launder and Gilliatt's excellent thriller Green for Danger (1946) gave her one of her best film roles as an outwardly dedicated nurse who just might have a hidden secret in her past, and she followed this with roles in the grim drama The Brothers (1947) and a chilling B-movie based on W.W. Jacobs and L.N. Parker's The Monkey's Paw, in which Jenkins poignantly played a mother desperate to have her dead son restored to her.
John Mills then cast her as the Plump Woman in his own film production The History of Mr Polly (1948). "We took enormous trouble casting the picture," the actor later wrote, "and all the parts were beautifully played." As the placid innkeeper with whom the beleaguered Mr Polly eventually finds contentment as handyman and companion, the actress was the epitome of warmth and decency, and the final image, as she sits darning in the garden by the river with Polly ruminating on his happy fate before they go indoors for supper, was very touching.
Jenkins's own private life was not as cosy as the image she generally presented professionally. A wartime marriage (in 1943) was unsuccessful despite a fairy-tale start. When George Routledge, a commando, was on leave in London he saw Jenkins's name in a play review, remembered her as a girl he had attended kindergarten with in Cheshire, and looked her up. A few months later they married, but in 1959 Jenkins won a divorce on grounds of desertion. She also lost her only child shortly after its birth. But she declared that she would not allow herself to feel bitter. "The past is finished." She said, "I like to look forward."
When her father died in 1956, she asked her mother to move in with her, and together they bought a 23-room hotel in Felixstowe, in Suffolk, but when the business, which she called "my sideline", began to affect her acting availability, she sold it.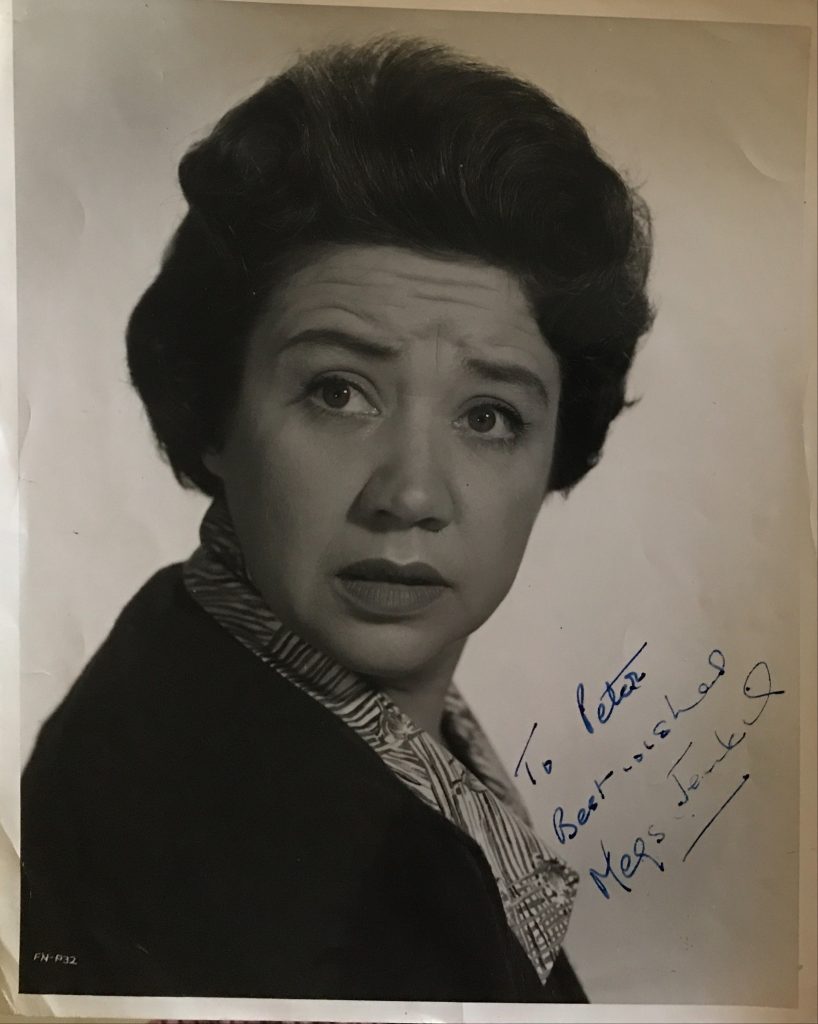 The Fifties were a particularly successful and rewarding decade for the actress. In 1950 she played opposite Alastair Sim in Mr Gillie (Jenkins was Mrs Gillie), and the following year played her villainous role in Summer and Smoke. In N.C. Hunter's hit Chekhovian drama the starrily cast A Day by the Sea (1953) she was the kindly Scots governess Mr Mathieson trying to help a doctor (Ralph Richardson) overcome alcoholism, and in 1955 she made her Broadway debut in the same role.
Her performance as the Longshoreman's wife desperately trying not to acknowledge her husband's incestuous feelings for his niece in the London production of Arthur Miller's A View From the Bridge (1956) was immensely moving and deservedly won the Clarence Derwent Award for the Best Supporting Performance of the year. The following year she was the wife of a murderer (Paul Scofield) in Rodney Ackland's Dead Secret.
Jenkins's films during this decade included such box-office hits as No Place for Jennifer (1950), Ivanhoe (1952), Trouble in Store (1953), The Cruel Sea (1953), Indiscreet (1958), in which Jenkins and David Kossoff added to the fun as housekeeper and butler to Ingrid Bergman, and Tiger Bay (1959), which reunited her with John Mills.
She had another fine housekeeper role in Jack Clayton's The Innocents (1961), a masterly version of The Turn of the Screw in which she subtly conveyed the woman's growing concern about the safety of her employers' children and the anxieties of their governess. In Carol Reed's Oliver! (1968), she was the quintessence of comfortable cosiness as the housekeeper in the home of Oliver's grandfather. On stage, she appeared with Ralph Richardson again in a revival of Pirandello's Six Characters in Search of the Author (1963), and starred with Michael Hordern in Tom Stoppard's Enter a Free Man (1968).
In 1966, Jenkins starred in a twice-weekly television series, Weavers Green, about a pair of country vets, and concurrently she found a long- running niche as star of a tea-bag commercial. She also appeared on such series as All Creatures Great and Small and Worzel Gummidge, the mini- series A Woman of Substance (1984), about the work of the Samaritans, and a 1974 adaptation of The Turn of the Screw. In 1980 Jenkins again acted with John Mills, the couple portraying two pensioners in the series Young at Heart.
Jenkins once described herself as "very lucky" to have always been in work, but she had a unique ability to play sincere, kindly and guileless women with total conviction and without sentimentality. "Of course, one can never be sure," she said some years ago, "but it is possible that I have done better as an all-round straight actress than I would have done had I been equipped to compete in the glamour stakes."
Muguette Mary Jenkins, actress: born Birkenhead, Cheshire 21 April 1917; married 1943 George Routledge (one child deceased; marriage dissolved 1959); died 5 October 1998.
For "The Independent" obituary of Megs Jenkin's long career, please also click here: