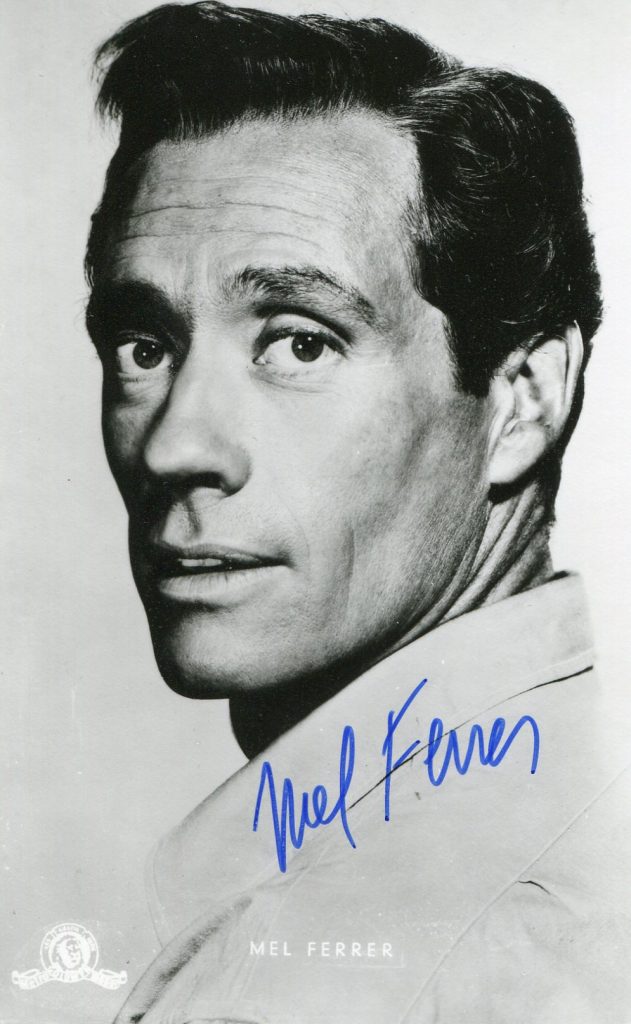 Mel Ferrer obituary in "The Guardian" in 2008.
Mel Ferrer was born in New Jersey in 1917. He made his New York stage debut in 1940.His film debut came in 1949 in "Lost Boundaries" opposite Beatrice Pearson. His films include "Lili" in 1953, "War and Peace" opposite his then wife Audrey Hepburn and "The Vintage". He had an extensive career also on the stage and in television. He died in 2008 in Santa Barbara.
Ronald Bergan's obituary of Mel Ferrer in "The Guardian":
After conquering his infirmity, Ferrer resumed his varied career. Besides acting, he directed a film for Columbia, The Girl of the Limberlost (1945), a 60-minute melodrama starring Ruth Nelson as a vengeful mother who persecutes her daughter, and assisted John Ford on The Fugitive (1947), in which he also had a bit part. In addition, he helped found the Community Theater at La Jolla, California, with Joseph Cotten, Gregory Peck, Jennifer Jones and Dorothy McGuire.
In the meantime, he had gone through three marriages to two women. He had divorced Frances Pilchard, the mother of his first child and married Barbara Tripp. They had two children, but then he remarried Frances, and had two more children with her.
The 1950s was Ferrer's most productive period, as well as the time when he was most in the public eye. The latter was due mainly to his marriage to Audrey Hepburn in September 1954. Shortly after being introduced to Hepburn by Peck, he read Jean Giraudoux's play Ondine. He immediately recognised the play as a perfect vehicle for Hepburn's other-worldly qualities, and saw himself as Hans the Knight, who falls for the water sprite. Directed by Alfred Lunt, with whom Ferrer argued constantly during rehearsals, the play opened on Broadway in February 1954. On the first night, Lunt was asked: "Did you learn anything about working with a movie star like Mel Ferrer?" He replied: "Yes, I learned that you can't make a knight-errant out of a horse's ass." Hepburn got glowing reviews, while the New York Post wrote of Ferrer: "To my mind, his playing is curiously uninteresting."
His acting was often wooden and soporific, but he could be soulful, intelligent and even witty. As Mexico's leading matador in Robert Rossen's The Brave Bulls (1951), Ferrer's melancholy face is in constant close-up, while he mumbles about doom and "the fear that is in my heart" after being gored by bulls. Among his best roles was the swashbuckling villain in Scaramouche (1952), the climax of which is a swordfight between Ferrer and Stewart Granger, one of the most outstanding in movie history.
In the same year, he was quietly effective as the rival cowboy for Marlene Dietrich's affections in Fritz Lang's western Rancho Notorious (1952), and made a sensitive Prince Andrei to Hepburn's Natasha in King Vidor's War and Peace (1956). As the languid, aristocratic dilettante, one of the three beaux from whom Ingrid Bergman has to choose in Jean Renoir's Elena et les Hommes (1956), he expresses one of the French director's themes: "My ideal is to achieve perfect idleness… universal idleness for rich and poor." During his marriage to Hepburn, he controlled most of what she did and, in 1959, he directed her and Anthony Perkins in Green Mansions, a total dud, the only asset of which was the alluring fresh faces of the two young stars – a colt and a filly romping through the artificial undergrowth.
Following the birth of their son Sean in 1960, Hepburn travelled almost everywhere with her husband to locations such as Italy, where Ferrer took the title role in the risible El Greco (1966). But he found it difficult to cope with her fame, wealth and success as his career moved into the doldrums. In 1968, soon after he had produced Wait Until Dark, starring Hepburn, they were divorced.
In 1973, Ferrer was reunited with Renoir and Caron for a TV production of the director's play Carola, set in Paris under the German occupation during the second world war. Ferrer played General von Clodius, "the last gentleman in the German army", in his most nonchalant manner. He then continued to appear in a weird mixture of Spanish, French, Italian and German productions, including Rainer Werner Fassbinder's Lili Marleen in 1981, the year he acquired the film rights to Peter Pan, which he had always wanted to make with Hepburn in the title role. Ferrer – who was living in Lausanne, Switzerland, with his Belgian wife Elizabeth, whom he married in 1971 – then had Mia Farrow in mind, before turning to golden-haired moppet Ricky Schroeder, but Peter Pan remained another unrealised dream.
In all, Ferrer appeared in more than 100 films and made-for-television movies, directed nine films and produced nine more. He is survived by Elizabeth, and the four sons and two daughters of his previous marriages.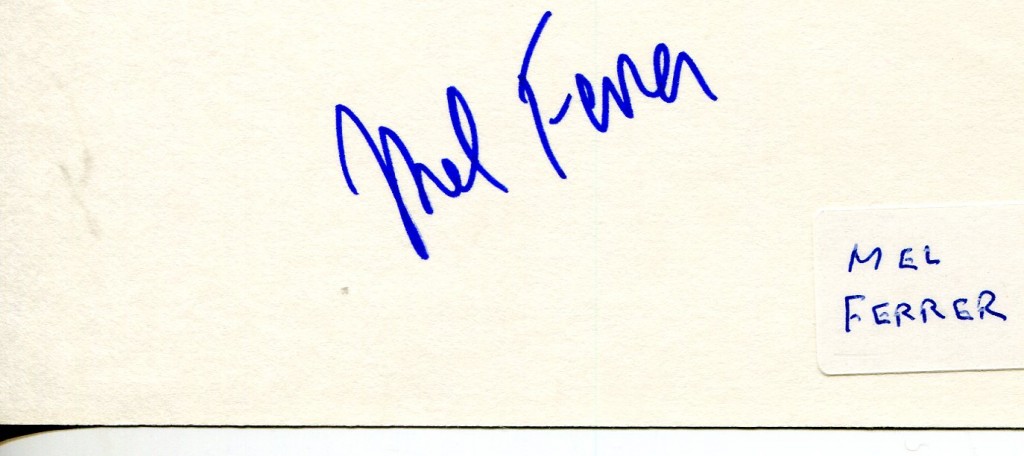 · Melchior Gaston Ferrer, actor, born August 25 1917; died June 2 2008.
The above Ronald Bergan "Guardian" obituary can also be accessed online here.