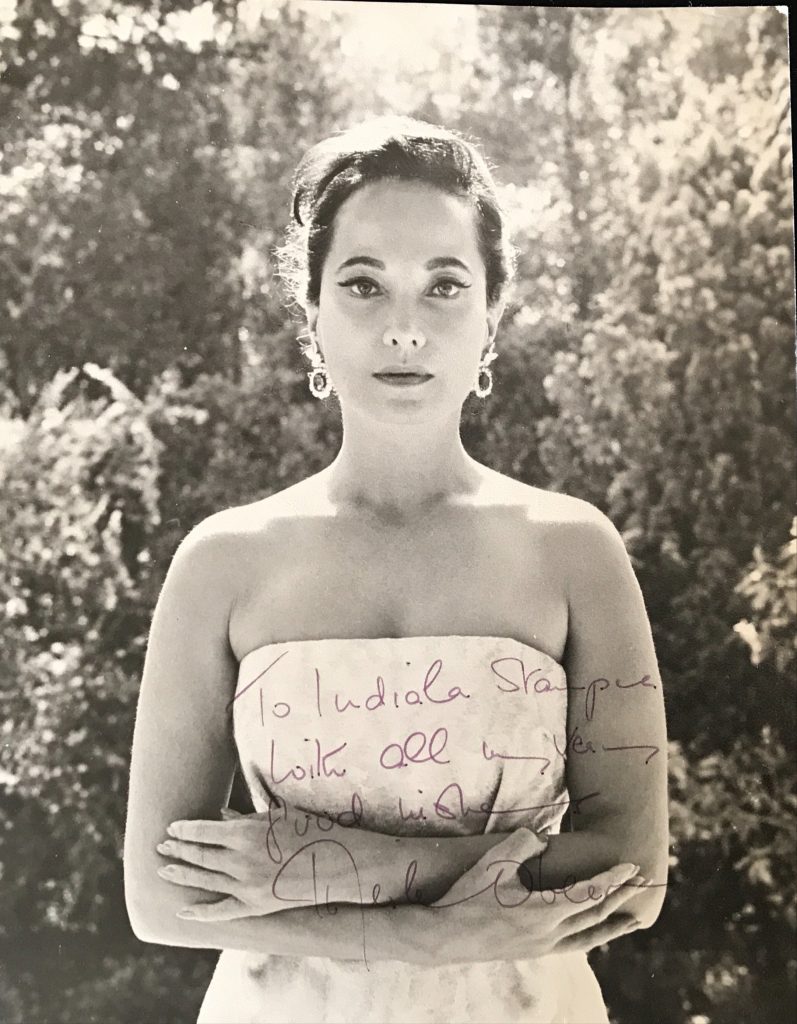 Exotic Merle Oberon was born in 1911 in Bombay, India. In 1928 she travelled to England and began her film career there in the early 1930's. She starred as Anne Boylen oppositie Charles Laughton in 1933 in "The Private Life of Henry the Eight". By 1937 she was in Hollywood where she made "Wuthering Heights", "These Three" with Joel McCrea, "Lydia" with Joseph Cotten", "A Song to Remember", "Berlin Express" and as Empress Josephine in "Desiree" with Marlon Brando and Jean Simmons. She died in 1979 in Malibu, California. Her husband was Dutch actor Robert Wolders
TCM Overview:
The exotic and glamorous Merle Oberon ranked among the most striking performers during the early years of sound cinema in Britain. Beginning with her first notable turn in "The Private Life of Henry VIII" (1933), Oberon's popularity grew via additional hits like "The Scarlet Pimpernel" (1934), and her Academy Award-nominated performance in "The Dark Angel" (1936) established her as a star in America as well. Well cast as sophisticated, upper-class women, her look and deportment worked nicely in both period costume outings and contemporary drama. However, in what could have been a career-ending disaster, Oberon's face was damaged in a car accident during the making of "I, Claudius" (1937). Careful lighting and make-up helped to hide the imperfections and it was not long before she appeared in her most famous role as heroine Cathy in "Wuthering Heights" (1939). American films made up the lion's share of the actress' schedule during the 1940s, but aside from occasional artistic triumphs like "The Lodger" (1944), they were fairly unremarkable and caused Oberon's popularity to diminish. Her career proceeded by fits and starts from the late '40s onward and never entirely recovered, despite laudable work from her in quality productions like "Berlin Express" (1948) and Désirée (1954). Oberon did not have the range of the finest actresses from that period, but she could be very effective in the right part and consistently dazzled the eye as one of Golden Age Hollywood's great beauties.
Merle Oberon was born Estelle Marie Thompson on Feb. 19, 1911, but the story of her origins ranked among the most convoluted and uncertain for a Golden Age performer of her stature. When Oberon's star was on the rise, she claimed be a native of Tasmania, who just grew up in India. However, she was actually born in Mumbai to Constance Selby, a Eurasian girl who was only 15 years old at the time, and British engineer Arthur Thompson. Selby's mother, Charlotte, raised Oberon and pretended to be her birth mother in later years, when in actuality, she was the child's grandmother. As a result of this deception, facts about Oberon's childhood were difficult to ascertain, though it was known that those early years were marked by poverty and racial prejudice stemming from her mixed heritage. At some point, Oberon was known under the name Queenie Thompson and began to act on stage as part of a Calcutta drama society. An actor who had a romantic interest in her suggested that she move to France, where he promised to recommend Oberon to director Rex Ingram, who ended up giving the teenager a small part in his film, "The Three Passions" (1929). Oberon – accompanied by her grandmother, whom she passed off as a maid – then travelled to England and was featured in several other movies over the next few years, but her roles were mostly unremarkable and uncredited.
That anonymity finally changed when she caught the eye of producer-director Alexander Korda, who put Oberon under contract with his new company and cast her in his historical biopic "The Private Life of Henry VIII" (1933). In the picture, she played the murderous monarch's second wife, Ann Boleyn, and while the part was secondary in nature (understandably, given Boleyn's fate), her unique and highly photogenic beauty left an impression. A comparatively modest venture in terms of its production, "The Private Life of Henry VIII" was nonetheless a very important undertaking in the early days of British sound films and its success prompted Korda to launch a series of similar historical dramas. "The Private Life of Don Juan" (1934) placed Oberon opposite Douglas Fairbanks as an aging version of the famous libertine, while in "The Scarlet Pimpernel" (1934), Oberon displayed fine chemistry with Leslie Howard and made the most of a somewhat limiting role as heroine Lady Blakeney. Their connection extended off-screen and prompted Howard to have an affair with Oberon, cheating on his wife of almost 20 years.
On the basis of these successes, Oberon was invited overseas to make her first American movie, the musical comedy "Folies Bergère" (1935) and her strong performance as the romantic interest of Fredric March and Herbert Marshall in "The Dark Angel" (1936) earned Oberon a Best Actress Academy Award nomination. However, her follow-up project was a far less happy experience. During the shooting of "I, Claudius" (1937), Oberon was involved in a car accident from which she sustained some facial scars. Not enough footage had been shot for the film to be completed, so a decision had to be made about whether to continue. Star Charles Laughton, who felt that he had been unable to do justice to the title character, was reportedly the primary factor in the decision to close the production down and leave it unfinished. Surgeons were unable to correct the damage Oberon sustained, but careful lighting and make-up application sufficiently masked the flaws and she soon returned to the screen in her first Technicolor production, "The Divorce of Lady X" (1938).
Oberon returned to England for her most famous screen assignment as Cathy Earnshaw in William Wyler's lush adaptation of Emily Brontë's "Wuthering Heights" (1939) – the most beloved film adaptation of the tragic novel. But while the finished film went over very well with critics and the public, the production was a less than happy experience. Co-star Laurence Olivier's relationship with the actress on-set was soured by his disappointment over Oberon being chosen for the part instead of his off-screen paramour, Vivien Leigh. The pettiness and pointless bad behavior that ensued from Olivier, fortunately, did not come across in the leads' performances and they display wonderful romantic chemistry, making "Wuthering Heights" the penultimate romantic tragedy.
Oberon married Korda in 1939 and she soon concentrated her efforts on the American market in solid but somewhat unremarkable features like "'Til We Meet Again" (1940), "That Uncertain Feeling" (1941), and "Affectionately Yours" (1941). She was one of more than 80 stars to make up the once-in-a-lifetime cast of "Forever and a Day" (1943), a historical drama created to raise money for the British war effort, and Oberon's distinctive beauty was showcased to excellent effect as an actress menaced by a Jack the Ripper-style killer in "The Lodger" (1944), a stylish and thrilling remake of Alfred Hitchcock's 1927 silent thriller. Although cameramen had effectively compensated for Oberon's scars in previous films, cinematographer Lucien Ballard and his expert lighting placement – which included a light actually attached to the camera, later known as an "Obie" – made her face look especially luminous. The pair fell in love during production and married the next year, following Oberon's divorce from mentor Korda.
However, Oberon's new relationship coincided with a gradual fading in her popularity, which was not helped by middling fare like the melodramatic Chopin biopic "A Song to Remember" (1945) and the soapy misfire "Night Song" (1947), though the well-realized film noir thriller "Berlin Express" (1948) ranked among the best movies she made in the U.S. Her marriage to Ballard ended in 1949 and Oberon tried to revitalize her career by heading to France for the little seen farce "Pardon My French" (1951). She remained there for the comedy "Dans la vie tout s'arrange" ("In Life Everything Works") (1952) before heading to England for "Affair in Monte Carlo" (1952) and Spain for the light-hearted fantasy "Todo es posible en Granada" ("Everything is Possible in Granada") (1954). None of those pictures did much to raise her profile, but Oberon managed a notable return to Hollywood with a moving supporting turn as Empress Josephine in Désirée (1954).
"Deep in My Heart" (1954), Stanley Donen's colorful MGM musical about the life of composer Sigmund Romberg, cast her as his lovelorn collaborator, Dorothy Donnelly, and Oberon received top billing in the film noir outing "The Price of Fear" (1956), where she played a hit-and-run killer seeking to avoid the law by framing unsuspecting dupe Lex Barker. However, offers again became scarce and she accepted an unusual outing as host of "Assignment Foreign Legion" (CBS, 1956-57), a British dramatic television series featuring guest players like Christopher Lee, Lionel Jeffries, and Anton Diffring. During that time, she wed her third husband, Bruno Pagliai, and the couple had two children. Pagliai was her first mate to not be associated with the motion picture business and it ended up being the actress' longest-lasting relationship.
In 1960, Oberon received a star on the Hollywood Walk of Fame for her film work, but she remained away from movie screens until "Of Love and Desire" (1963), a mediocre drama shot in various locations in Mexico, including Oberon's own extravagant home. Her next credit was something of a surprise to fans. "The Epic That Never Was" (BBC, 1965) covered the making of "I, Claudius" and the factors that caused it to be shut down. Some of the surviving footage was showcased (with the general consensus that Laughton's interpretation of the role was actually more than sufficient), along with new interviews featuring Oberon, director Josef Von Sternberg and other personnel involved with the picture. She was also part of the all-star cast that checked into "Hotel" (1967), an unexceptional adaptation of Arthur Hailey's best seller.
After an absence of six years, Oberon had her final film appearance in the drama "Interval" (1973), an American/Mexican co-production that she also produced. The story of an aging, but still lovely woman who falls for a young artist (Robert Wolders), the thoroughly minor, little-seen production turned out to be somewhat prophetic as Oberon proceeded to divorce Pagliai and wed Wolders, then almost 25 years her junior. Oberon settled into retirement thereafter and in 1978, she and Wolders journeyed to Tasmania for what was described as a welcome home reception. However, while attending a function held in her honor, Oberon denied having been born in the country. A year later, she died of a stroke on Nov. 23, 1979. In 1985, Oberon's nephew, author Michael Korda, published Queenie, a novel based loosely on the actress' life, which was followed by a like-named ABC miniseries in 1987. With Mia Sara in the title role, and veterans like Kirk Douglas (as a character based on Alexander Korda) and Martin Balsam in support, the production benefitted from location shooting in India, England and Sri Lanka and was generally deemed to be trashy, but sufficiently diverting. It certainly made clear the lengths to which Oberon was forced to hide her biracial ethnicity in order to become a Hollywood movie star.
By John Charles
The above TCM overview can also be accessed here.