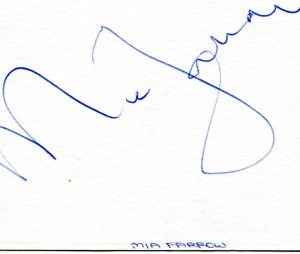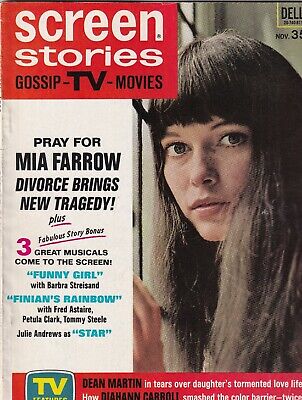 Mia Farrow was born in Los Angeles in 1945.   She is the daughter of famed Irish actress Maureen O'Sullivan and Australian film director John Farrow.   She had her first major film role in "Guns at Batas" in 1964.   She achieved international recognition for her role as Alison McKenzie on the very popular tv series "Peyton Place".   She mas many important films in her credits including "Rosemary's Baby" in 1969, "The Great Gatsby", "Aedding", "Broadway Danny Rose", "Hannah and her Sisters" and "Alice".   She is a very committed human rights activist and is a Goodwill Ambassador for UNICEF.
TCM Overview:
Known for her intense performances onscreen, no script could ever match the real life drama that followed actress Mia Farrow throughout her tumultuous life and career. Born to Hollywood royalty, she first burst into public view as the star of the hugely popular primetime soap "Peyton Place" (ABC, 1964-69) and as the teen bride of superstar Frank Sinatra, followed by a career-making turn in Roman Polanski's horror classic "Rosemary's Baby" (1968). More notable roles followed in high-profile films such as "The Great Gatsby" (1974), in addition to another celebrity marriage to renowned composer-conductor, André Previn. It was, however, Farrow's extended relationship with revered filmmaker Woody Allen that would produce not only some of the actress' finest work – "Broadway Danny Rose" (1984), "Hannah and Her Sisters" (1986) and "Alice" (1990), among others – but her greatest heartache, as well. The shocking revelation that Allen had been in a sexual relationship with their 21-year-old adoptive daughter, Soon-Yi Previn, in 1992 shook Farrow's world to its foundation, simultaneously ending both her longest-running romantic relationship and most fruitful artistic collaboration. In the years that followed the scandal, Farrow continued to act, although her humanitarian work in the East African region of Darfur and her own growing family clearly took precedence. Seemingly meek and emotionally fragile – traits skillfully exploited in her acting – Farrow ultimately emerged as a survivor, as well as a voice for children around the world.
Born Maria de Lourdes Villiers Farrow on Feb. 9, 1945 in Los Angeles, "Mia" was the daughter of Irish actress Maureen O'Sullivan – famous for her portrayal of Jane in the Johnny Weissmuller "Tarzan" films – and Australian-born writer-director John Farrow. One of seven children, the waifish blonde's idyllic childhood in Beverly Hills was interrupted by an early hardship she was temporarily afflicted with polio at age nine. The effects of the traumatic, lonely experience would stay with Farrow throughout the remainder of her life, most notably in the authentically fragile nature she exhibited in many of her later film performances. Recovered from her illness, a preteen Farrow expressed an interest in pursuing an acting career and was promptly rewarded by being sent to a convent school in Europe by her disapproving father. Ironically, it was he who gave his daughter – along with several of her siblings – her acting debut with an uncredited cameo in a nautical adventure film he was writing and directing at the time, "John Paul Jones" (1959). The experience only strengthened the girl's resolve; in a sad twist of fate, it was only after her father's sudden death from a heart attack in 1963, that she would begin to achieve her career goal.
At the age of 18, Farrow made her professional stage debut as Cicely in an off-Broadway production of Oscar Wilde's comedy of manners "The Importance of Being Earnest" in 1963. Farrow gained substantial positive publicity for her early stage work, thanks in large part to her mother's best friend, actress Vivien Leigh, who encouraged casting agents and journalists to attend. One person in attendance was television producer Paul Monash, who promptly sought out the young actress and offered her a role on his upcoming series. Although she had envisioned remaining in New York City, Farrow accepted the role of Alison MacKenzie, the naïve waif in the pioneering primetime soap opera "Peyton Place" (ABC, 1964-69). Things began happening very quickly for Farrow, who lucked into another small part in the feature film "Guns at Batasi" (1964) prior to accepting her role on the experimental TV show. Convinced that no one would tune in to "Peyton Place," Farrow began looking for other work, even auditioning for the role of Liesl von Trapp in the "The Sound of Music" (1965). The 20-year-old actress was caught off guard when "Peyton Place" turned out to be an instant success, consequently turning her into a media sensation seemingly overnight. Now a full-fledged star, her personal life soon reflected her new celebrity status – in no way more so than with her whirlwind romance and marriage to Frank Sinatra in 1966.
Nearly 30 years Farrow's senior, the legendary entertainer was soon pressuring her to leave the hit series, and shortly after their wedding she did just that, exiting "Peyton Place" at the end of the second season. Hungry for more diverse roles, she quickly went to work in other projects, such as the small screen remake of the drama "Johnny Belinda" (ABC, 1967), followed by the British spy thriller "A Dandy in Aspic" (1968), starring Laurence Harvey. The Roman Polanski-directed classic occult thriller "Rosemary's Baby" (1968) marked a major turning point in both Farrow's budding career and her personal life. Sinatra had intended to have his young wife co-star opposite him in his upcoming crime drama, "The Detective" (1968) and was less than pleased with Farrow when she accepted the lead in the horror movie. Tensions came to a boiling point when the "Rosemary's Baby" schedule prevented her from working on his movie and the famously short-tempered Sinatra retaliated by serving her divorce papers on the set of her film in front of the entire cast and crew. Distraught and ready to quit the production, Farrow was eventually convinced to stay on the picture by producer Robert Evans, who wooed the young actress with promises of an Oscar nomination for her role. While that prediction did not come to pass, Farrow's performance as a pregnant young wife whose husband (John Cassavettes) is in league with a coven of Satan worshippers, did garner a Golden Globe nomination, in addition to rave reviews by the likes of influential film critic Pauline Kael.
Farrow followed with another performance as an emotionally fragile young woman alongside Elizabeth Taylor in the psycho-melodrama "Secret Ceremony" (1968), although her success at portraying these delicate child-women quickly threatened to typecast her. In the wake of her split from Sinatra, Farrow travelled to India in 1968, where she sought out the teachings of noted spiritualist Maharishi Mahesh Yogi. Much to her surprise, she was soon joined by The Beatles, who had also come to study at the ashram. A rumor about the Maharishi's inappropriate sexual advances toward Farrow persisted for decades, although it was eventually dispelled over the years by several people who had first-hand knowledge of the visit. Another rumor, more readily acknowledged, was that John Lennon's classic song "Dear Prudence" was written about Farrow's sister of the same name, who also accompanied the eclectic group on their Eastern quest for enlightenment. Professionally, Farrow continued to seek more challenging roles, as was the case with "John and Mary" (1969), a romantic drama in which she played a young woman retroactively getting to know a man (Dustin Hoffman) the morning after their impromptu one-night-stand. Not all of her career choices were as well-calculated, however, such as when she turned down the role of Mattie Ross opposite screen legend John Wayne in the Western classic "True Grit" (1969), a decision she openly regretted years later.
Farrow took on new challenges in her personal life, as well, including a marriage to noted composer André Previn in 1970, followed by the birth of twins Matthew and Sascha, a third child, Fletcher, and the adoption of Vietnamese infants Lark and Summer Song over a six year period. She impressed audiences once again with another "girl in peril" role, this time as a blind woman stalked by a psychotic killer in the chilling "See No Evil" (1971). On TV that same year, she played a suicidal actress being consoled by a veteran Hollywood screenwriter (Hal Holbrook) in "Goodbye, Raggedy Ann" (CBS, 1971). She was next seen in theaters as an emotionally unsatisfied wife being tailed by a private detective (Topol) in "The Public Eye" (1972), followed by a turn opposite French New Wave icon Jean-Paul Belmondo in director Claude Chabrol's sex comedy "High Heels" (1972). Amidst great fanfare, Farrow was next cast as narcissistic jazz-era socialite Daisy Buchanan in the lavish remake of "The Great Gatsby" (1974), starring opposite screen idol Robert Redford in the title role. While the interpretation of F. Scott Fitzgerald's indictment of America's upper-class managed to follow the book's details, critics, by and large, felt that it missed the emotional core of the characters, focusing instead upon gorgeous set designs and the ephemeral beauty of its cast. As for her involvement, it was not so much Farrow's performance that was found lacking, as much as the widely-held opinion that she was simply miscast.
On the other hand, Farrow was delightful as "Peter Pan" (NBC, 1976) in a "Hallmark Hall of Fame" production that drew favorable comparisons to Mary Martin's iconic portrayal. She revisited the horror genre in the British ghost story "The Haunting of Julia" (1977), as a wealthy woman victimized by a vengeful spirit. The following year, Farrow offered a trio of performances in a series of vastly dissimilar films. Intriguing as a mute bridesmaid in Robert Altman's romantic drama "A Wedding" (1978) and devilishly nasty as a jilted lover in the all-star Agatha Christie adaptation "Death on the Nile" (1978), Farrow was completely wasted opposite Rock Hudson in the subpar mountain disaster movie "Avalanche" (1978). After her amicable divorce from Previn – the conductor had spent much of their marriage away on tour – Farrow made her Broadway debut in 1979 opposite Anthony Perkins in "Romantic Comedy," followed by a turn in the Dino De Laurentiis-produced misfire, "Hurricane" (1979). Eager to pair the actress with her "Rosemary's Baby" director again, Polanski had been originally slated to helm the big-budget feature. However, his arrest on charges of having sex with a 13-year-old girl delayed his involvement, and ultimately led to his being replaced as the film's director at the last minute, a sudden change of plan reflected in the poorly executed final production.
Introduced to filmmaker Woody Allen by Michael Caine in 1982, the actress was immediately smitten by the neurotic New York intellectual, and soon assumed the role of his artistic muse. Beginning with the lightweight "A Midsummer Night's Sex Comedy" Farrow's collaborations with the prolific director created a truly astonishing array of characters. Her best work under Allen's guidance included the 1920s psychiatrist in "Zelig" (1983), the brassy gangster's moll in "Broadway Danny Rose" (1984), the downtrodden wife in "The Purple Rose of Cairo" (1985) and the luminous sibling center of "Hannah and Her Sisters" (1986), with the latter filmed in large part at Farrow's Central Park West apartment. Other notable work with Allen included turns in "Radio Days" (1987) and "Crimes and Misdemeanors" (1989), as well as her underappreciated characterization of "Alice" (1990), a unique Allen-esque spin on Lewis Carroll's tale. Her final two films with Woody Allen – "Shadows and Fog" (1991) and "Husbands and Wives" (1992) – arrived in theaters just as the life she had created with the venerated director – which included a son and two more adopted children – began to unravel. Upon discovering several pornographic photographs in his home, a stunned Farrow realized that Allen had begun a romantic relationship with one of the adopted daughters from her earlier marriage, 21-year-old Soon-Yi Previn, who had posed for his camera. Instantly, the sordid affair became fodder for an insatiable tabloid media, driven to a near frenzy when Farrow later accused Allen of molesting another of their younger adoptive children.
The disturbing, vindictive and messy battle played itself out in the press and the courtroom for more than a year, concluding with molestation charges against Allen being dropped, full custody of the children being awarded to Farrow, and Soon-Yi marrying the unrepentant director. Meanwhile, the emotionally battered actress sought comfort in the two usual places – family and work. Adopting six more children between 1992 and 1995, she embarked on the next phase of her career, sans Allen. She employed her seemingly fragile persona to good effect in the dark comedy "Widow's Peak" (1994). Farrow then joined the ensemble cast of the poorly-received romantic comedy "Miami Rhapsody" (1995), before taking part in another misfire, the dark comedy "Reckless" (1995), adapted from the stage play of the same name by Craig Lucas. As the 1990s wound down, the actress returned to the small screen to play a Danish woman aiding Jews during WWII in "Miracle at Midnight" (ABC, 1998), and essayed a victim of Alzheimer's disease in "Forget Me Never" (CBS, 1999). Farrow also made a rare appearance in episodic television – something she had not done since her days on "Peyton Place" – with a recurring role as Mona Mitchell on the drama "Third Watch" (NBC, 1999-2005). One of the few high points in the film, Farrow was perfectly cast as the satanic nanny, Mrs. Baylock, in the otherwise disappointing remake of "The Omen" (2006). Also that year, she voiced the character of Granny for "Arthur and the Invisibles" (2006), the first of three entries in the animated fantasy series, produced by French filmmaker, Luc Besson.
Other roles included a turn as Amanda Peet's mother in the lackluster comedy "The Ex" (2006) and a supporting role in eclectic director Michael Gondry's oddball comedy-drama "Be Kind Rewind" (2008). As it had so many times before, tragedy struck her family once again when her daughter, Lark, died on Christmas day 2008, after a prolonged illness. Although the cause of death was not officially divulged, years earlier, Lark's then-husband had claimed that she was infected by the AIDS virus after being tattooed with a dirty needle. Farrow's already shaken world was rocked further when her brother Patrick, a noted artist and sculptor, committed suicide in his Vermont gallery in 2009. Moving forward, she narrated the documentary short "The Darfur Archives" (2010), a project close to her heart that reflected Farrow's deep and abiding commitment to activism which began more than a decade earlier with frequent visits to the impoverished, war-torn region of Northeast Africa's Sudan. In the mid-2000s she began writing extensively about the humanitarian crisis in various national publications and on her personal website, miafarrow.org. Farrow was named one of the world's 100 most influential people by TIME magazine after her public chastising of director Steven Spielberg prompted the filmmaker to withdraw his involvement in the opening ceremonies of the 2008 Summer Olympics being held in China, a strong supporter of the Sudanese government.
 The above TCM overview can also be accessed online
here.