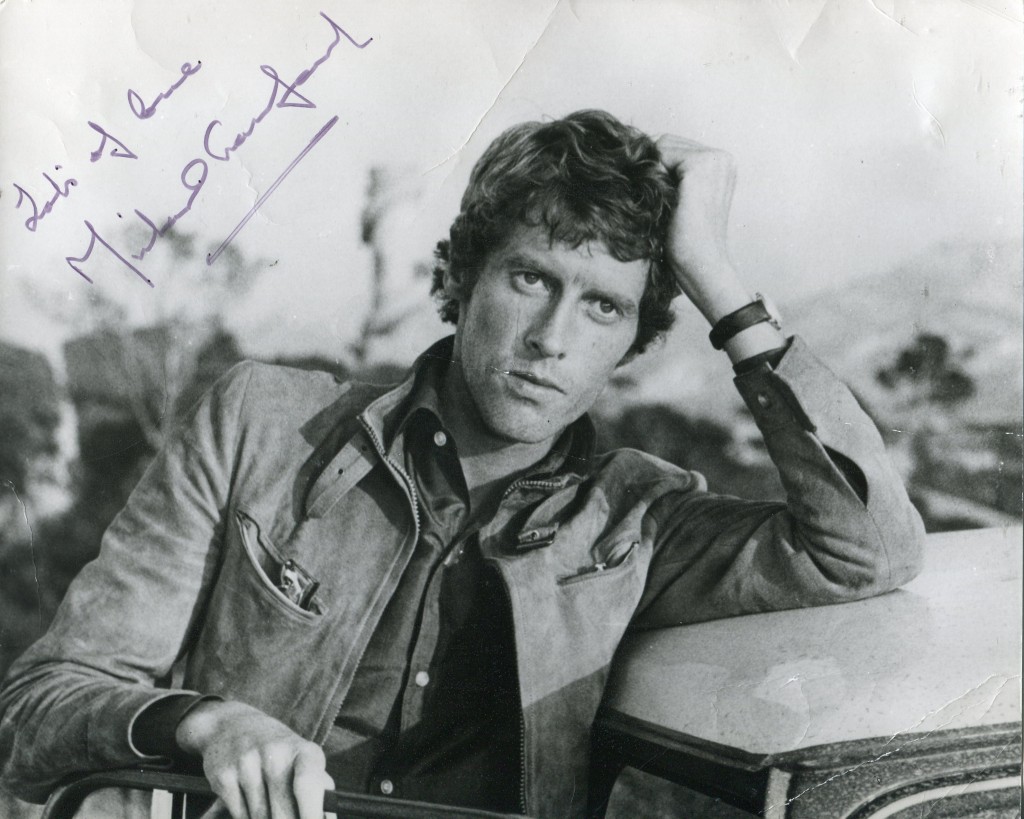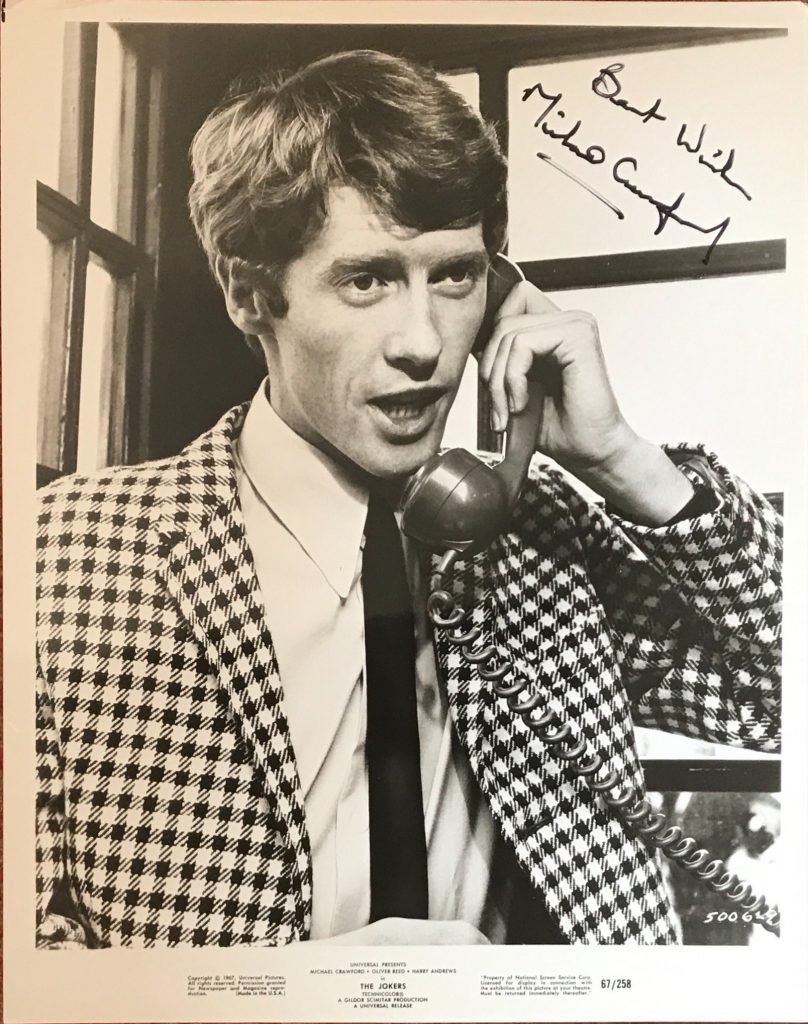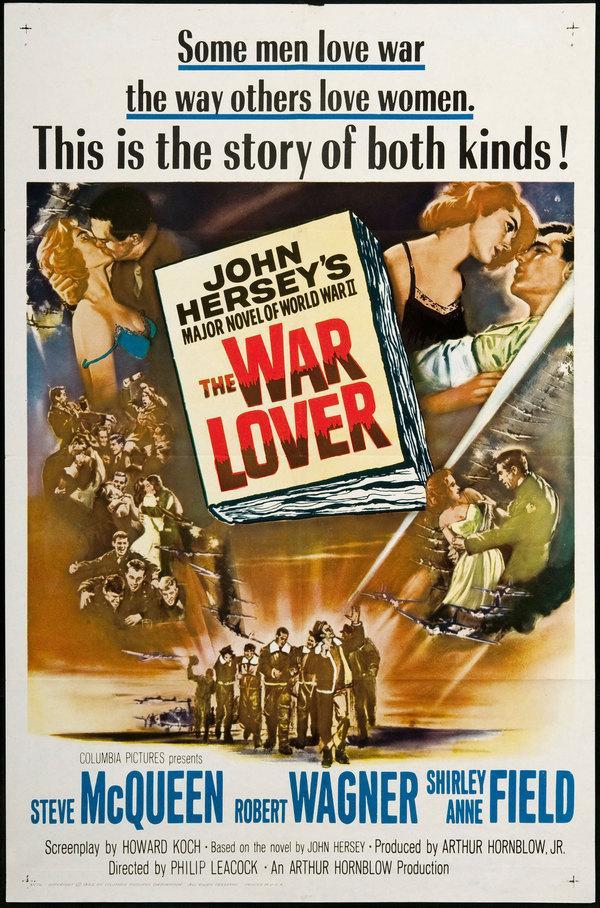 Michael Crawford was born in 1942 in Salisbury, England.  He is fondly remembered for his role of Frank Spencer in "Some Mothers Do Have Them" which began its run on British television in 1973.   Already Crawford had been on film, ""The War Lover" in 1963 with Steve McQueen and Shirley Anne Field and in Hollywood, "Hello Dolly" with Barbra Streisand in 1969.   He played the title role in Andrew Lloyd Webber's "The Phantom of the Opera" to enormous acclaim.
TCM Overview:
An enormously gifted singer-actor, Michael Crawford became a child star of radio, stage and screen thanks to his soprano voice and innate acting talent. Maturing into a gifted adult performer, he charmed in such films as "The Knack and How to Get It" (1965), "A Funny Thing Happened on the Way to the Forum" (1966) and "Hello, Dolly!" (1969). Crawford became a sitcom star and household name as the accident-prone Frank Spencer on "Some Mothers Do 'Ave 'Em" (BBC1, 1973-78), but found even more success as a musical theater actor, winning an Olivier Award in "Barnum" and becoming a worldwide icon as the titular star of Andrew Lloyd Webber's "The Phantom of the Opera." An unprecedented global phenomenon, "Phantom" defined an era, earning Crawford another Olivier Award, a Tony and the status of Officer of the British Empire. Buoyed by all the adulation, Crawford launched a Grammy-nominated solo recording career, headlined the Las Vegas musical spectacular "EFX," and filmed his own Emmy-nominated special, "Michael Crawford in Concert" (PBS, 1998). A born performer who only became more likable and charismatic with age, Michael Crawford continued to build upon his status as a beloved international icon and as one of the most respected English entertainers of all time.
Born Jan. 19, 1942 in Salisbury, Wiltshire, England, Michael Patrick Dumbell-Smith experienced a childhood of extreme highs and lows against the backdrop of wartime England. After his mother died young, he left his abusive stepfather and dedicated himself to the theater, going from performing in school plays to professional productions, due in part to his beautiful soprano singing voice. Adopting the stage name of Michael Crawford, he built an impressive career as a child star on the stage, television and radio before essaying his first teenage lead in the comedy "Two Left Feet" (1963), as an awkward young man who attempts to seduce a waitress. After an impressive stint on the satiric sketch show "Not So Much a Programme, More a Way of Life" (BBC1, 1964-65), he followed with a series of charming performances as clumsy, callow young men learning about love in the Richard Lester comedies "The Knack and How to Get It" (1965) and "A Funny Thing Happened on the Way to the Forum" (1966), winning the Variety Club of Great Britain's award for Most Promising Newcomer.
As the high-spirited Cornelius Hackl, he took lessons in love from matchmaker Dolly Levi (Barbra Streisand) in the Oscar-winning musical "Hello, Dolly!" (1969) and reteamed with director Richard Lester to star as an inept British Army officer who inadvertently kills off all of his men, including John Lennon, in "How I Won the War" (1967). That same year, he made his Broadway debut in "Black Comedy" opposite Lynn Redgrave and Geraldine Page and he went on to make a name for himself on the London stage as well in the sex farce "No Sex Please, We're British" (1971) and the short-lived musicals "Billy" and "Flowers for Algernon." After playing the White Rabbit in "Alice's Adventures in Wonderland" (1972), the actor achieved U.K. pop culture immortality as the hilariously unlucky, lovable loser Frank Spencer on "Some Mothers Do 'Ave 'Em" (BBC1, 1973-78), which proved not just a popular series, but an enduring U.K. cultural institution. For his wonderful work on the series, Crawford earned two BAFTA TV Award nominations, as well as the respect of cast and crew for doing his own stunts and pratfalls on the physical comedy-heavy series.
Back onstage, Crawford's exuberant, Olivier Award-winning performance in the boisterous Cy Coleman musical "Barnum" helped him shed the trappings of his sitcom superstardom, transforming the actor into a popular musical theater star. Working tirelessly to train himself in circus arts like tightrope walking and juggling, Crawford so completely embodied the famed showman P.T. Barnum that he became synonymous with the show's monstrous success and was even tapped by British ice dancing legends Jayne Torvill and Christopher Dean to help them perfect a routine to music from the show. Still very much associated with his charming sitcom character, however, Crawford completed the transition to serious actor and saw his star flash supernova with his sensitive, captivating portrayal of the tormented, masked antihero of Andrew Lloyd Webber's musical "The Phantom of the Opera." Although he was not Webber's first choice for the role, Crawford's opera-trained voice won the producer over when he and star Sarah Brightman overheard the actor in a music lesson, and it soon became obvious that this part of a lifetime was destined for Crawford.
Now a household name, the enormously influential "Phantom" proved to be a smash in both the West End and on Broadway, with its soundtrack becoming a worldwide sensation and "Phantom Mania" sweeping the media. Fans fell deeply in love with the swooningly romantic story of the titular disfigured musical genius (Crawford) who went to murderous lengths to win the heart of the angelic Christine (Brightman), and the lush, dramatic production captured the imagination of millions. Gifted with dreamy numbers that showcased his soaring voice, Crawford was the heart of Phantom mania for millions, becoming a global sex symbol and icon. For giving unforgettable life to the "Phantom," Crawford won a slew of awards from both sides of the pond, including an Olivier, a Tony, a New York Drama Desk Award, a Los Angeles Drama Critics Circle Award and the Variety Club of Great Britain's Personality of the Year. So popular and acclaimed was Crawford's performance that Queen Elizabeth II named him an Officer of the British Empire, and he launched a successful solo recording career, including 1991's multiplatinum Michael Crawford Performs Andrew Lloyd Webber and 1993's A Touch of Music in the Night, which included a Grammy-nominated duet with Barbra Streisand.
He went on to star in the enormously ambitious, special effects-laden musical spectacular "EFX" in Las Vegas, which cast Crawford in five starring roles: the EFX Master, Merlin the wizard, famed showman P.T. Barnum, magician Harry Houdini and science fiction author H.G. Wells. The show proved so demanding, however, that Crawford, who still insisted on doing his own stunts, had to leave early in the run due to injuries sustained while performing. When he left the intense "EFX," the actor went on to star in his own Emmy-nominated special, "Michael Crawford in Concert" (PBS, 1998) and to pen his autobiography, 1999's Parcel Arrived Safely: Tied with String. Continuing his lucrative recording and touring careers, Crawford scored further stage success in the musicals "Dance of the Vampires" and Webber's "The Woman in White," earning an Olivier Award nomination for his work. Crawford and Webber reteamed yet again for another hit when the actor played the titular role in Webber's 2011-12 production of "The Wizard of Oz."
By Jonathan Riggs
The above TCM overview can also be accessed online here.