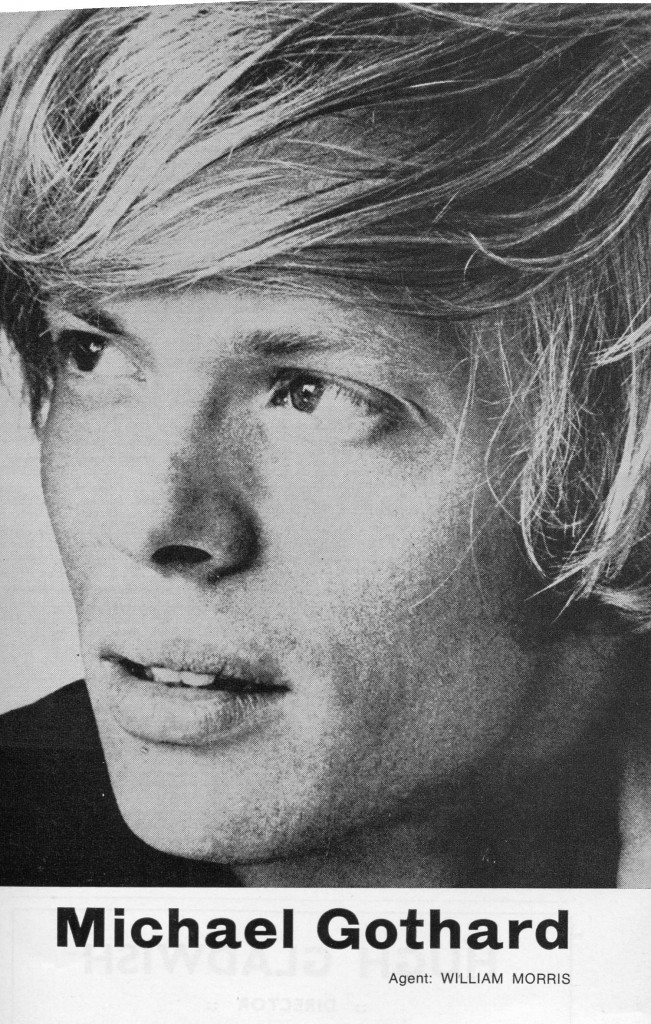 Michael Gothard was born in 1939 in London. He was a powerful actor who gave good performances in "The Devils" with Oliver Reed in 1971, 1973's "The Three Musketeers" with Michael York and the James Bond movie "For Your Eyes Only" with Roger Moore in 1981. He died in 1992.
IMDB entry:
Michael Gothard was born in London on June 24, 1939. He left school at 17 with little idea of what he wanted to do. He traveled around Europe, washing dishes in restaurants, as a house cleaner and building laborer. He spent a year in Paris, living in the Latin Quarter. He dabbled in modeling, but never felt comfortable doing so. Michael claimed he was a clothes horse, not a person. He decided to become an actor at 21. Upon his return to England, he found a job as a scenery mover at the New Arts Theatre in London. He landed a part in an amateur movie a friend was making. He felt, as a joke, he could do better and read a part in the audition. To his surprise, he landed the lead role. He joined an actor's workshop to gain experience, attending evenings and weekends while holding down a day job. Michael's first television appearance was in an episode of Out of the Unknown (1965), a British science fiction series featuring stories by Isaac Asimov, 'J.G Ballard' and others. He featured in the episode The Machine Stops written by E.M. Forster. He then landed the lead in the Don Levy 's film Herostratus (1967), as Max, a young poet who has decided to commit suicide in public. The film brought him critical acclaim, but no major work. He spent time on the dole, starting a lunchtime theatre in pubs, but it still brought no money. The taste of unemployment gave him a more determined attitude towards his profession. Michael later found roles in Up the Junction(1968), Michael Kohlhaas – Der Rebell (1969), The Last Valley (1971) and Scream and Scream Again (1970). He played Keith, a cyborg vampire killer created by Vincent Price, and notably leaving his hand behind and jumping into a vat of acid after being hand-cuffed to a police car. With this film, he started his reputation of playing odd characters. Michael next appeared in Curtis Harrington 's Whoever Slew Auntie Roo? (1972) as Albie, the menacing butler. He was not held in high regard by the director, who was later quoted saying "He was the most neurotic actor I have ever worked with. I didn't like him at all". He gave a stunning performance in Ken Russell 's _Devil's, The (1971)_ as the insane exorcist/inquisitor Reverend Barre, responsible for burning 'Oliver Reed' at the stake. These roles brought him fame and popularity. He played Olivier in The Valley (Obscured by Clouds) (1972), a free-spirited mechanic who goes in search of the valley of the gods with a group of fellow misfits. He was cast in the TV series Arthur of the Britons(1972), which brought him more public attention, and was noticed by Richard Lester, who cast him as John Felton in The Four Musketeers: Milady's Revenge (1974), the manipulated lover of Madame de Winter (Faye Dunaway), who persuades him to kill the Duke of Buckingham. He would next be seen in King Arthur, the Young Warlord (1975), a feature-length film based on the television series, followed by Warrior Queen (1978), another medieval drama. Appearing in _Warlords of Atlantis (1978)_ alongside Doug McClure, he was Atmir, one of the elders of the Martian Atlantean race. The film had flimsy effects and garish costumes, but Michael was, at least, an interesting character. After an appearance in the The Professionals (1977) and Shoestring (1979), Michael landed a role in For Your Eyes Only (1981), where he played the silent henchman Locque. It was one of the last major films roles he had. After Ivanhoe (1982), he appeared in various TV series into the mid 80s and then a starring role in Tobe Hooper's under-ratedLifeforce (1985), an adaptation of Colin Wilson's book Space Vampires. He appeared withFrank Finlay, Peter Firth and Steve Railsback. The film was a box office flop, losing over $14 million. Less regular work followed, appearing in Minder (1979) and Hammer House of Mystery and Suspense (1984). He appeared in Going Undercover (1988) and Destroying Angel (1990), but neither were particularly memorable films. Playing George Lusk inDavid Wickes Jack the Ripper (1988) with Michael Caine, was one of his last appearances on British television. He landed a lead role in The Serpent of Death (1990) with Jeff Fahey. He re-united with For Your Eyes Only (1981) director John Glen in Christopher Columbus: The Discovery (1992), briefly taking over the role slated for Marlon Brandowho had not shown up for filming. In fact he had been cast as a possible replacement for Brando who had a habit of being unreliable, but Tom Selleck walked off the set in protest when Brando did not show up for filming on the first day, and Gothard reverted to his original role when Brando finally appeared. He worked again with David Wickes inFrankenstein (1992). This proved to be his last film. He committed suicide, alone at his home in Hampstead, on December 2, 1992. We can only wonder what more he could have accomplished later, had he been able to over come the depression that over-powered him.
– IMDb Mini Biography By: Corrections by MO840
The above IMDB entry can also be accessed online here.