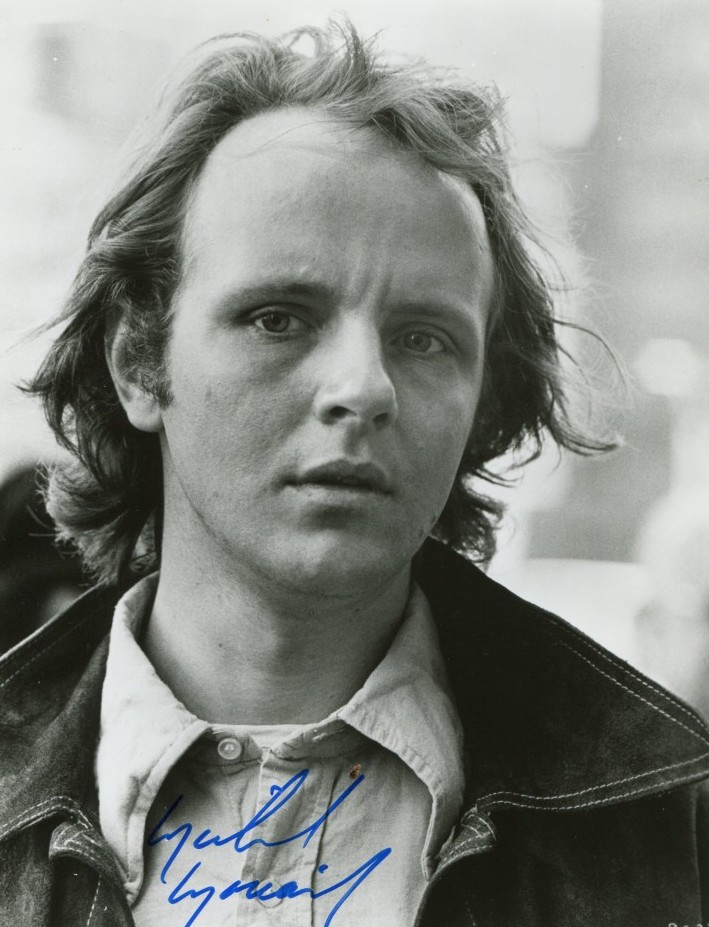 Michael Moriarty. TCM Overview.
Michael Moriarty was born in 1941 in Detroit. His film appearances include "Bang the Drum Slowly"in 1972 with Robert De Niro and "Report to the Commissioner","The Stuff" and "Pale Rider". He starred also in "Law & Order"
TCM Overview:
A stage, screen and TV actor, Michael Moriarty came to prominence with his sensitive performance as baseball pitcher Henry Wiggen in the acclaimed 1973 drama, "Bang the Drum Slowly". Not all of Moriarty's subsequent work has lived up to that early promise, nor has he proven to be "box office", yet he has remained in demand for stage and TV roles. Additionally, he has branched out as a composer and jazz pianist.
Moriarty has worked extensively on the stage, beginning soon after his graduation from Dartmouth in 1963. He was Octavius Caesar in the New York Shakespeare Festival production of "Antony and Cleopatra", then went to London to study acting on a Fulbright Scholarship at LAMDA. On his return, Moriarty did additional Shakespearean roles, and won a Tony for originating the role of the homosexual Julian Weston in "Find Your Way" (1974). By that time, he had established himself in films on TV, earning an Emmy Award as Jim, the gentleman caller, in Tennessee Williams' "The Glass Menagerie" (ABC, 1973), starring Katharine Hepburn. While most of his other feature film roles have generally been in forgettable films, save "Report to the Commissioner" (1975), Moriarty has excelled on TV. He is remembered as Erik Dorf, the unemployed German who becomes a Nazi to feed his family and evolves into the administrator of the extermination policies in "Holocaust" (NBC, 1978). He was Wilbur Wright in "The Winds of Kitty Hawk" (NBC, 1978), Major Daniels in "Tailspin: Behind the Korean Airliner Tragedy" (HBO, 1989) and won kudos opposite Blythe Danner in "Too Far to Go" (NBC, 1979), based on the John Updike stories that traced the dissolution of a marriage over twenty years.
In 1990, Moriarty became a series regular for the first time as Ben Stone, deputy district attorney of "Law & Order" (NBC), but was fired from the series in 1994, a year before the end of his contract. Moriarty claimed his outspoken attack on US Attorney General Janet Reno's attempts to curb violence and, in Moriarty's view, "censor" Hollywood contributed to his departure from the series. He immediately bounced back replacing Richard Chamberlain as Henry Higgins in the ill-fated Broadway revival of "My Fair Lady" and starring in the Civil Rights miniseries "Children of the Dust" (CBS, 1995). He also returned to features after a six year absence in "Courage Under Fire" (1996), as Denzel Washington's superior officer.
Moriarty is also a playwright; his "Flight to the Fatherland" was produced in Rochester, NY, in 1982, the same year The New York Shakespeare Festival offered a production of his "The Ballad of Dexter Creed". He has pursued a music career more diligently. A jazz pianist with his own group that has performed in New York City, he has also contributed a songs to the films "Q" (1982) and "The Secret of the Ice Caves" (1990) and his "Symphony for String Orchestra" has been performed publicly. Moriarty also released jazz albums in 1990 and 1991.
n 2001, Moriarty returned to acting with two back-to-back father roles. In "Along Came a Spider," he portrayed a US Senator desperately searching for his abducted daughter and in the TNT biopic "James Dean," he was cast as James Dean's father, Winton — a role which earned him a 2002 Emmy nomination.