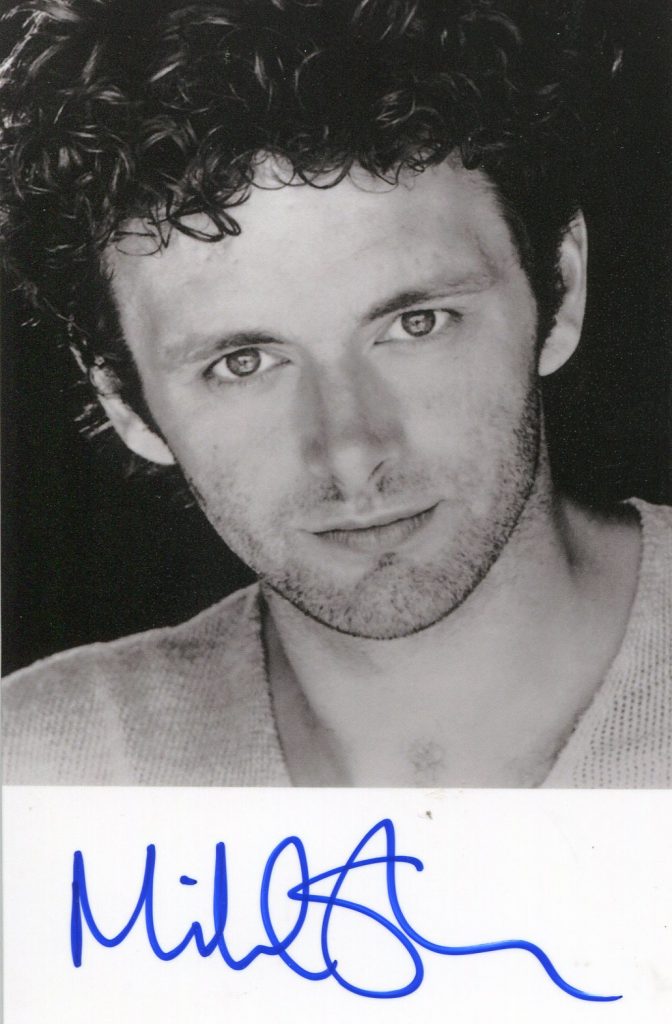 Michael Sheen was born in 1969 in Newport, Wales. He gave a brilliant performance as Tony Blair opposite Helen Mirren as Queen Elizabeth in "The Queen". He has also starred in a repeat of his Broadway performance as David Forst in "Frost/Nixon" with Frank Langella as Richard Nixon.
TCM Overview:
1999) unleashed one of the U.K.'s best kept secrets on international audiences. The West End continued to be his anchor, with acclaimed roles in "Look Back in Anger" and "Caligula," but Sheen grew increasingly more familiar to filmg rs with supporting roles in the gothic horror film series "Underworld" (2003) and the romantic comedy "Laws of Attraction" (2004). His collaborations with writer Peter Morgan were among his best-known, including his memorable portrayal of British Prime Minister Tony Blair in Morgan's "The Queen" (2006), and as political interviewer David Frost in "Frost/Nixon." The resounding success of the latter Morgan work led to a run on Broadway and a Hollywood film adaptation by Ron Howard (2008), both of which co-starred Sheen and Frank Langella. From there his career skyrocketed, as he starred in "Underworld: Rise of the Lycans" (2009), "Twilight: New Moon" (2009) and "Alice in Wonderland" (2010). For the third time in his career, he played Tony Blair, this time in "The Special Relationship" (HBO, 2010), before co-starring with Jeff Bridges in "Tron: Legacy" (2010) and opposite Rachel McAdams in Woody Allen's "Midnight in Paris" (2011). Whether he was appearing in historical dramas, big budget fantasies or small indies, Michael Sheen was an intense and passionate performer who was one of the few Welsh exports to make it big in America.
Sheen was born Feb. 5, 1969, and grew up a middle-class boy in the working class town of Port Talbot, Wales. Although his parents worked in personnel, they shared with their two children a deep appreciation for acting, with his father enjoying some success later in life as a Jack Nicholson impersonator. As a young man, Sheen turned down the opportunity to pursue a possible professional football career, opting to follow in the footsteps of fellow Port Talbot natives Richard Burton and Anthony Hopkins by attending the Royal Academy of Dramatic Art in London. During his second year, he won the coveted Laurence Olivier Bursary for consistently outstanding performances. While Sheen was still studying, he landed a pivotal role opposite stage legend Vanessa Redgrave in Martin Sherman's "When She Danced" (1991). In 1993, Sheen joined the theater troupe Cheek By Jowl and was critically acclaimed for his performance in "Don't Fool with Love." That same year, he played opposite Ian Holm onstage in Harold Pinter's "Moonlight" and excelled in his role as a mentally unstable man who becomes enmeshed in a kidnapping plot in "Gallowglass," a three-part BBC serial.
In Yukio Ninagawa's 1994 international tour of "Peer Gynt," a critic from The London Times panned the multimedia production, but singled out Sheen for his ability to express "astonishing vitality despite lifeless direction." The actor nabbed his first feature film role in 1994, playing Dr. Jekyll's footman in "Mary Reilly" opposite John Malkovich and Julia Roberts. The film did not make it into theaters until 1996, a year after Sheen's second movie, "Othello" (1995), starring Kenneth Branagh, was filmed and released. Sheen appeared onstage twice in 1995, opposite Kate Beckinsale in a staging of "The Seagull" and as star and director of "The Dresser." In the first of his major big screen roles, he was memorable as Robert Ross, Oscar Wilde's erstwhile lover, in the 1997 biopic "Wilde." Sheen also managed to set critics' tongues wagging with a deft stage performance in the role of "Henry V;" not a part traditionally given to a slight, boyish-looking actor. One writer raved "Sheen, volatile and responsive in an excellent performance, showed us the exhilaration of power and conquest."
Sheen next tackled one of history's more colorful artists, composer Wolfgang Amadeus Mozart, in the West End production of "Amadeus" and followed the production's success to Broadway the following year. His reputation soared, with the addition of his role as Jimmy Porter in a London revival of "Look Back in Anger." For his performance, Susannah Clapp of The Observer hailed his "luminous quality" and ability to be goaded, fiery and defensive all at the same time. Hot off the success of "Amadeus," Sheen began racking up more film credits, including in the British road film "Heartlands" (2002) opposite Mark Addy and in the 19th century military drama "The Four Feathers" (2002), starring Heath Ledger, Wes Bentley and Kate Hudson. Sheen enjoyed a supporting role in Stephen Fry's directorial debut, "Bright Young Things" (2003), and from that satirical British production, landed a major role opposite Beckinsale again in the gothic horror actioner, "Underworld" (2003). His film career barreled ahead in 2003 with a supporting role in Richard Donner's tanker "Timeline" (2003) and an impressive portrayal of British Prime Minister Tony Blair in director Stephen Frears' telepic, "The Deal" (2003).
Next, he grabbed positive notices for playing a divorce-embattled rock star, stealing scenes from Pierce Brosnan and Julianne Moore, in the romantic comedy "Laws of Attraction" (2004). Back on the London stage, Sheen earned raves for his performance in "Caligula," winning the Evening Standard Award and Critics Circle Award for Best Actor, along with a nomination for the prestigious Olivier Award. More critical recognition was forthcoming for Sheen's supporting role in "The Queen" (2006) where his tested and true take on Tony Blair practically guaranteed a BAFTA supporting actor nomination. Sheen reprised his "Underworld" role in the sequel "Underworld: Evolution" (2006) before essaying Roman emperor Nero in the BBC miniseries "Ancient Rome: The Rise and Fall of an Empire" (2006). He followed up with another heady TV offering, "H.G. Wells: War With the World" (2006), in which he starred as the iconic science fiction author. Sheen set the West End buzzing again in the summer of 2006 in Peter Morgan's "Frost/Nixon," based on a series of televised interviews that British television presenter David Frost conducted with impeached American president Richard Nixon in 1976. Sheen played Frost and fellow stage vet Frank Langella essayed Nixon. The pair's glowing reviews led to a six-month run on Broadway, as well as a nomination for Distinguished Performance from the Drama League Awards for Sheen.
Sheen appeared onscreen twice during his stage runs: in a supporting role in the acclaimed drama "Blood Diamonds" (2006) and a co-starring role as a wheelchair-bound genius in the solid indie character study "The Music Within" (2006). In 2008, he and Langella re-teamed to reprise their stunning portrayals in Ron Howard's screen adaptation of "Frost/Nixon," which overwhelmingly impressed film critics. The following year, Sheen starred in the "Underworld" prequel, "Rise of the Lycans," and headed up the cast of the fact-based British football drama, "The Damned United" (2009), appearing in the role of Leeds team manager, Brian Clough. He received the vast majority of attention that year, however, for his portrayal of the vampire Aro in the second installment of the "Twilight" film series, "New Moon" (2009). Many Twi-hard teens obsessed with the film and novels were discovering Sheen's brilliance for the first time, so with this extremely lucrative film – it made over $200 million in a matter of days – he reached an audience he might not have otherwise. Sheen also joined the cast of Tim Burton's fantastical "Alice in Wonderland" (2010) in the role of the Cheshire Cat, alongside Johnny Depp's Mad Hatter. Meanwhile, Sheen maintained his lock on playing Tony Blair with "The Special Relationship" (HBO, 2010), a look at the British prime minister's intimate relationship with President Bill Clinton (Randy Quaid), for which he was nominated for an Emmy for Outstanding Lead Actor in a Miniseries or a Movie. After reprising Aro for "The Twilight Saga: Breaking Dawn – Part 1" (2011), he was a boorish pseudo-intellectual friend who is friends with the fiancé (Rachel McAdams) of a successful, but dissatisfied Hollywood screenwriter (Owen Wilson) in Woody Allen's successful surrealist romantic comedy "Midnight in Paris" (2011). During the production, Sheen began an off-camera romance with McAdams in July 2010.
The above TCM overview can also be accessed online here.