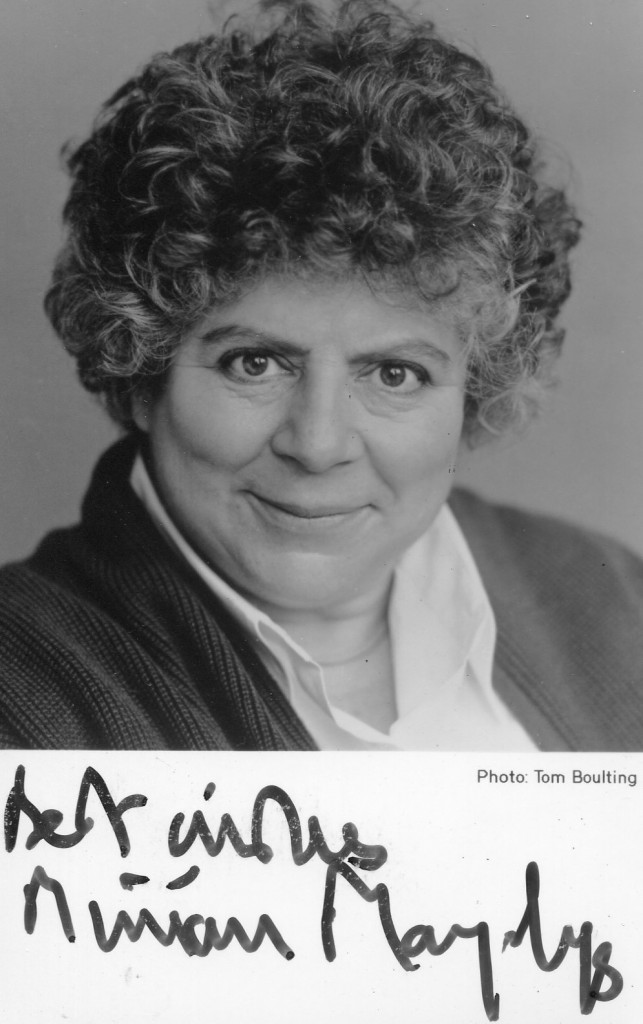 Miriam Margoyles was born in 1941 in Oxford. She is a scene stealing character actress who shines in every role she plays. Her movies include "The Awakeing" with Charlton Heston in 1980, "The Apple", "Yebtl" with Barbra Streisand and "Age of Innocence" with Daniel Day-Lewis which she filmed in the U.S.
IMDB entry:
A veteran of stage and screen, award-winning actress Miriam Margolyes has achieved success on both sides of the Atlantic. Winner of the BAFTA Best Supporting Actress award in 1993 for The Age of Innocence (1993) she also received Best Supporting Actress at the 1989 LA Critics Circle Awards for her role in Little Dorrit (1988) and a Sony Radio Award for Best Actress on "Radio" in 1993. She was the voice of Fly the dog in Babe(1995).
Major credits during her long and celebrated career include Yentl (1983), Little Shop of Horrors (1986), I Love You to Death (1990), End of Days (1999), Sunshine (1999), Cold Comfort Farm (1995), Cats & Dogs (2001), Magnolia (1999) and she was Prof. Sprout inHarry Potter and the Chamber of Secrets (2002).
Most recently Margolyes appeared in Stephen Hopkins' The Life and Death of Peter Sellers (2004), Modigliani (2004), István Szabó's Being Julia (2004) and Ladies in Lavender (2004) (with Dames Maggie Smith and Judi Dench), which is opening at the NY Tribeca Festival on April 23rd.
Most memorable TV credits include Screen Two: Old Flames (1990), Freud (1984), The Life and Loves of a She-Devil (1986), The Black Adder (1983), The Girls of Slender Means(1975), _Oliver Twist (1982) (TV)_, The History Man (1981), Vanity Fair (2004) , Supply & Demand (1997). She was Franny in the CBS sitcom Frannie's Turn (1992) and starred recently in the Miss Marple episode, "Murder at the Vicarage".
Stage credits include "The Vagina Monologues", Sir Peter Hall's Los Angeles production of "Romeo & Juliet", "She Stoops to Conquer" and "Orpheus Descending" (all for Sir Peter Hall), "The Killing of Sister George", "The Threepenny Opera" (Tony Richardson), Michael Lindsay-Hogg's "The White Devil" at The Old Vic, the Bristol Old Vic production of "The Canterbury Tales" and her own award-winning, one-woman show, "Dickens' Woman". In the 2002 Queen's New Years Honours List, Her Majesty Queen Elizabeth II awarded her the OBE (Officer of the Order of the British) Empire for her services to Drama.
– IMDb Mini Biography By: Paul Coates
The above IMDB entry can also be accessed online here.