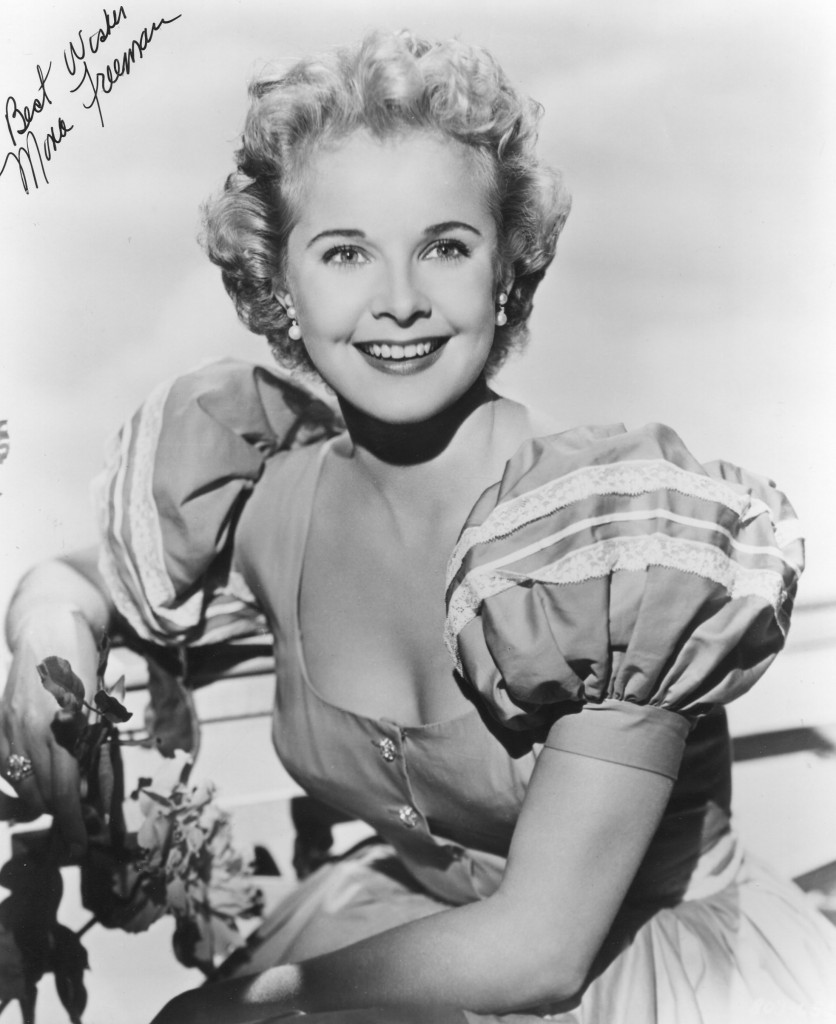 Pert and pretty Mona Freeman was born in 1926 in Baltimore.   Her first major film role was in "Junior Miss" in 1945.   Other roles include "Dear Ruth", "Mother Wore Tights", "The Heiress" and "Battle Cry".   She died in 2014.
Her "Independent" obituary by Tom Vallance:
Freeman was popular for her convincing portrayal of teenagers in films of the 1940s, notably in the hit comedy Dear Ruth (1947) and its two sequels, Dear Wife (1949) and Dear Brat (1951). She played Betty Grable's daughter in Mother Wore Tights (1947) and was still playing such roles well into her twenties, but though she later played leading lady to such stars as William Holden and Alan Ladd, she never became a top star as an adult, though she made telling impact in Otto Preminger's disturbing film noir, Angel Face (1952The daughter of a contractor, she was born Monica Elizabeth Freeman in Baltimore, Maryland, in 1926, and she was only 14 years old and still at high school when she started modelling for the famed Powers agency. In May 1941, she became the first winner of the title of the newly conceived "Miss Subways", an honour bestowed monthly on a subway traveller (parodied by Betty Comden and Adolph Green as "Miss Turnstiles" in their show and film, On the Town). Freeman's photograph on a magazine cover caught the eye of Howard Hughes, who signed her to a personal contract, which he later sold to Paramount.
Her first screen role was to be as Barbara Stanwyck's stepdaughter in Billy Wilder's classic, Double Indemnity (1944), but she photographed too young so was replaced by Jean Heather. Her screen debut was in an uncredited role in National Velvet (1944), then she played a 15-year-old in wartime France in Till We Meet Again (1944), but her first major role was in Robert Florey's compelling Danger Signal (1945), in which she is deceived by the charms of fortune hunting Zachary Scott and refuses to heed the warning of her older sister (Faye Emerson).
In the 1940s the escapades of teenage heroines were a popular staple of Broadway plays, and Freeman was cast in two delightful screen adaptations, Junior Miss (1945) and Dear Ruth. Peggy Ann Garner had the star role in Junior Miss, but Freeman was amusingly effective as her older sister, embarrassed at Garner's over-dramatising, and constantly being called on by young suitors. In Dear Ruth she had a central role as a teenager who corresponds with a soldier using the name and photograph of her glamorous older sister (Joan Caulfield), sparking a chain of misunderstandings when the soldier (William Holden) comes to call when on leave.
The film's success spawned two sequels, Dear Wife and Dear Brat , with Freeman getting top billing in the last and still looking the part, though actually 25 years old. In 1945 she married a millionaire car dealer, Pat Nerney, and while she was filming Mother Wore Tights she discovered that she was pregnant with her only child, Mona Jr, known as "Monie".
In the Grable musical she had a good role as the oldest daughter of vaudeville performers who misguidedly becomes ashamed of her parents. The film was a big hit, and Grable's favourite of her films.
One of Freeman's favourite roles was that of Olivia DeHavilland's cousin Marion in William Wyler's masterly The Heiress (1949). Though she was leading lady to William Holden in Streets of Laredo (1949) and Alan Ladd in Branded (1950), Freeman was not happy that her teenage image persisted. "Just like driving the same road day after day, they've become a bore to me," she said, and stated that she wanted to play "wildcats, brazen women, the menacing side of the triangle."
After she divorced Nerney in 1952 her name was linked with Vic Damone, Frank Sinatra and Bing Crosby. She and Crosby were expected to wed after his wife, Dixie Lee, died, but they were Catholics and Freeman had been divorced. She married businessman H Jack Ellis in 1961. He adopted Monie, and the marriage lasted until his death in 1992 (Mona and her daughter can be glimpsed as part of the circus audience in The Greatest Show on Earth, 1952).
Her last notable screen role was that of the sweetheart of an ambulance driver (Robert Mitchum) who has become fatally seduced by a pathological beauty (Jean Simmons) in Angel Face. One of the best scenes is the first meeting between the two women, Simmons having suggested they have lunch. The cat-and-mouse sparring that follows is superbly played by both actresses.
Freeman made her last film, Dragoon Wells Massacre, in 1957, and the following year she toured opposite Edward G Robinson in Paddy Chayevsky's play Middle of the Night. She was a regular guest star in television series until the mid-1960s – she played in three episodes of Perry Mason as three separate clients. She then concentrated on her successful career as a portrait painter, owning an art gallery and having an art studio in her home. "I didn't dislike acting," she said, "but when I no longer needed the money I lost all interest."
The above "Independent" obituary can also be accessed online here.
IMDB entry:
A professional model while still in high school, Mona Freeman was signed to a movie contract by Howard Hughes, who then proceeded to sell her contract to Paramount. Starting out in typical juvenile parts, she developed into a very competent actress. As she worked her way out of the teenage ingénue role, however, she found that she had less success in adult roles, and instead of landing parts in "A" pictures she found herself relegated to "B" westerns and somewhat tawdry crime dramas (e.g., Flesh and Fury(1952), Shadow of Fear (1954)). She basically retired from film work in the late 1950s, but worked steadily in television for quite some time after that.
Perenially young bobbysoxer of post-war Paramount, she played teens long after she outgrew the roles, and it later stifled her adult career.
Of English, Irish and French heritage. Her father, Stuart Freeman, was a contractor.
To help her brother enter Yale, Mona took it upon herself to find modeling work and became a successful teenage cover girl for 
John Robert Powers
. She also became one of the "Miss Subway" girls in New York.
Howard Hughes
 discovered her and gave her a two-year contract after seeing one of her photographs on a magazine cover. Frustrated that she was not cast in anything, Paramount wound up buying out her contract from Hughes, having never done a bit of work for the eccentric mogul.She was cast in 
Angel Face
 (1952), an RKO/Howard Hughes production.
First husband was Pat Nerney, a wealthy Hollywood auto dealer. They had a daughter, Mona, Jr., called Monie, in 1947.
Her hobbies include portrait and landscape painting.
Her second husband (since June of 1961), 
Jack Ellis
, is a Los Angeles businessman. He officially adopted Mona's daughter from an earlier marriage who entered show business as 
Monie Ellis
.
I'm not the type to play roles which win Academy Awards. I can't see myself in a big historical picture or in a difficult emotional role.
You have to forget all that silly nonsense you were taught in pictures. I mean about the importance of the star, the glamour stuff and all that. On a live TV show, everybody works together on the same level. You can learn more about acting in five minutes of television than you can during an entire picture.
The above IMDB entry can also be accessed online
here.