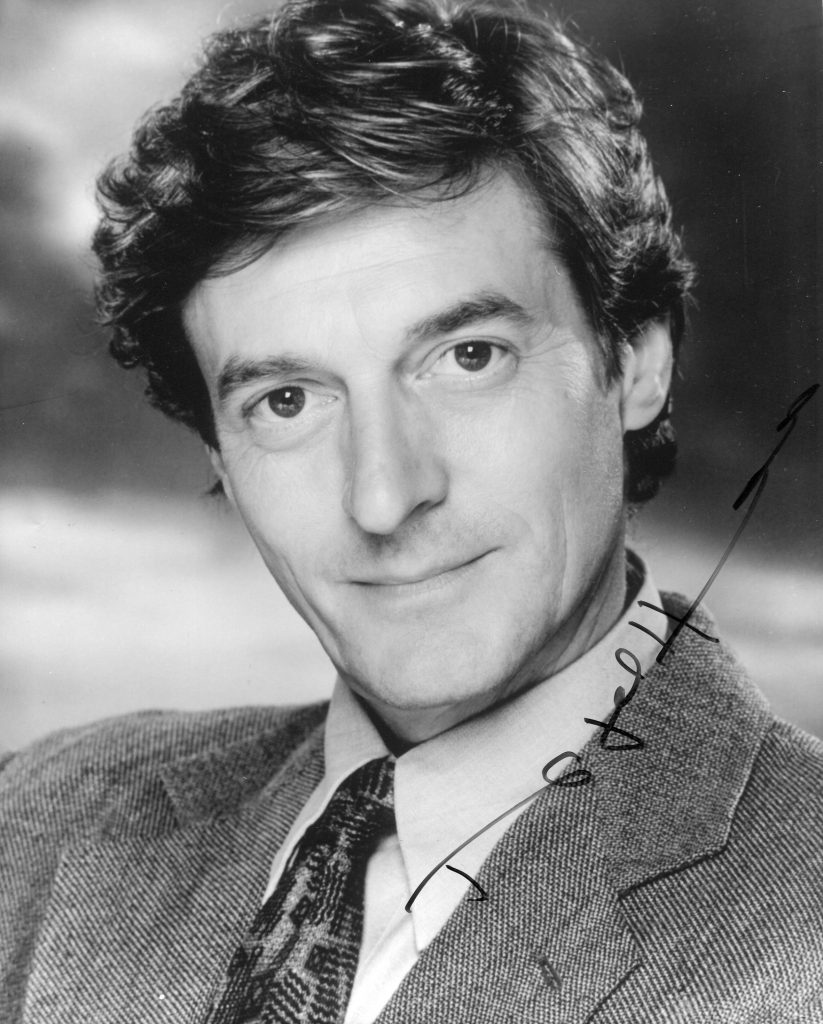 Nigel Havers was born in 1951 in London. He is best known for his role in "Chariots of Fire" in 1981 and in the television series "The Charmer". He has just recently finished a stint in "Coronation Street".
TCM Overview:
This handsome, aristocratic British actor, with sandy hair and aquiline nose, has advanced from stage roles and film and TV bits in the 1970s to leads in films and –increasingly–TV in the 1980s and 90s. The son of a Lord Chancellor (from 1979-87), Havers acted in a radio show as a child and worked as a researcher before appearing in London stage productions of "Conduct Unbecoming" (1969), "Richard II" (1970), "Man and Superman" (1977) and "Family Voices" (1980).
Havers made his film debut as an unnamed monk in the British drama "Pope Joan" (1972), and appeared as another anonymous character in "Full Circle" (1977). After playing a "counterman" in "Who Is Killing the Great Chefs of Europe?" (1978), Havers finally got a name–record producer George Martin's–in "The Birth of the Beatles" (1979). He was Lord Andrew, one of the Olympic hopefuls, in Hugh Hudson's "Chariots of Fire" (1981). In David Lean's "A Passage to India" (1984), he was the son of Mrs. Moore (Peggy Ashcroft), a city magistrate who expected to marry Adela Quested (Judy Davis) before she becomes enmeshed in scandal. Havers traveled to Australia to play an 1860s explorer in the biopic "Burke & Wills" (1985), then marked time before being cast in Steven Spielberg's "Empire of the Sun" (1987). Havers turned in a sterling performance as the doctor who (with Miranda Richardson) plays parental figure to the lost child Christian Bale in WWII Japan. Havers' big-screen career petered out, though, with good roles in the largely ignored period dramas "Farewell to the King" (1989) and "Quiet Days in Clichy" (1990).
TV, however, has kept Havers quite busy. After small roles in "Upstairs, Downstairs" and "Look Back in Darkness", Havers began playing good character parts with the title role in "Nicholas Nickleby" (BBC, 1977), in the superb musical fantasy "Pennies from Heaven" (BBC, 1977) and the popular mystery series "Rumpole of the Bailey" (PBS, 1981). Another lead came in an adaptation of R.F. Delderfield's "A Horseman Riding By" (BBC, 1978), as a Devon estate owner in financial difficulties. He headlined the BBC sitcom "Don't Wait Up" as a doctor whose father moves in with him when his parents separate. Havers had smaller roles in the biopic "Nancy Astor" (BBC, 1982) and "Hold that Dream" (London Weekend Television, 1986), co-starred with Judy Parfitt in the ocean-going romance "Bon Voyage" (1987) and had another large supporting role in the 1987 LWT production of "The Little Princess".
Another starring role was given Havers in the 1987 docudrama "Lord Elgin and Some Stones of No Value", as the controversial 19th-century archeologist. His TV work continued to pick up with some excellent leading roles, many shown on PBS' "Masterpiece Theatre" in the US. Havers played a sexual adventurer, the title role in "The Charmer" (a miniseries shown on PBS in 1989), a spy in the comedy thriller "Sleepers" (shown on PBS in 1991), and a disfigured, disillusioned "A Perfect Hero" in a WWII drama (PBS, 1992). He appeared in support of Raul Julia and Sonia Braga in the biopic of Chico Mendes, "The Burning Season" (HBO, 1994), and played Husband Number 2, Michael Wilding, in the NBC biopic "Liz: The Elizabeth Taylor Story" (1995).
The above TCM overviewcan also be accessed online here.