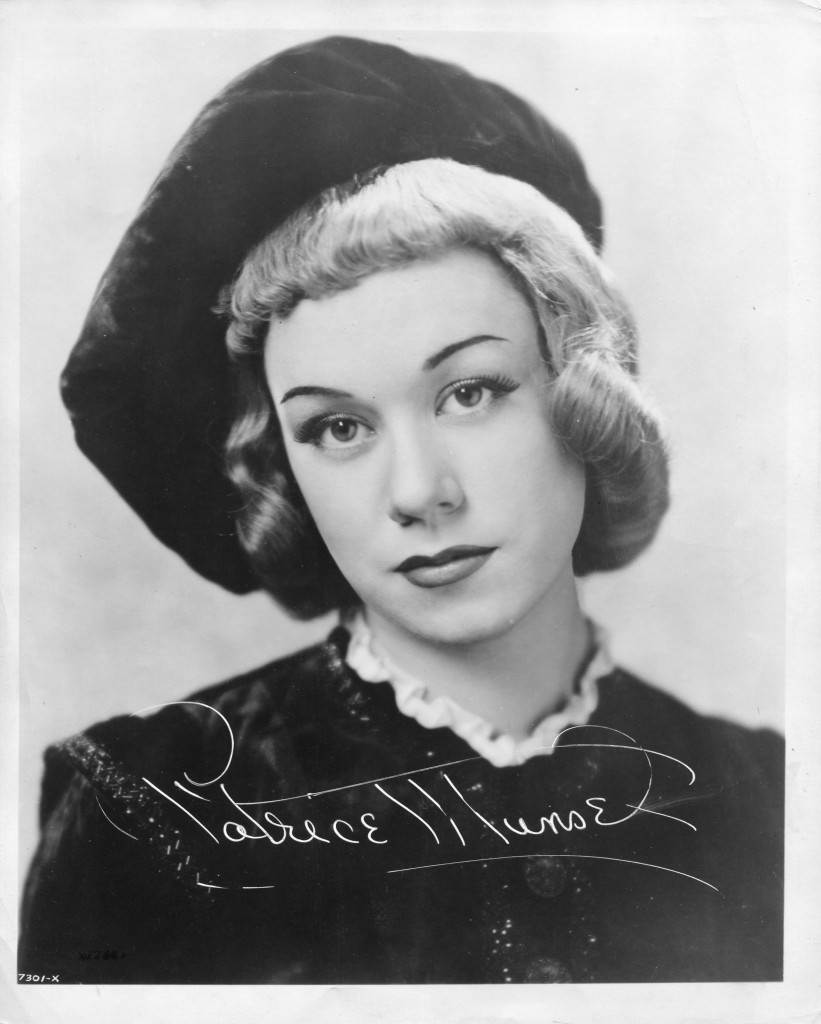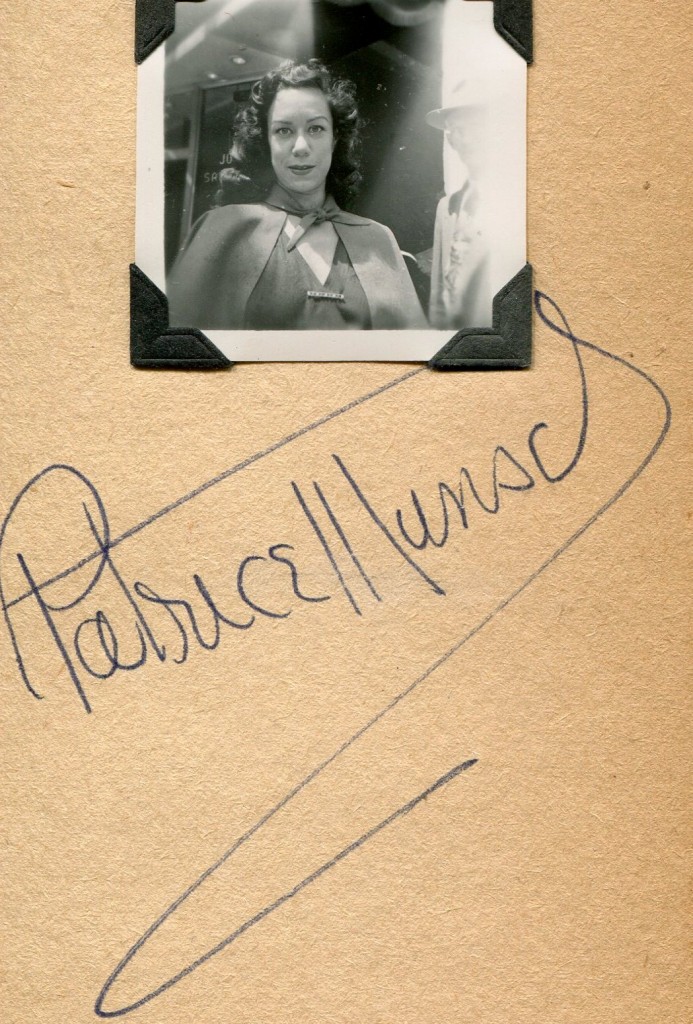 Patrice Munsel was born in 1925 in Spokane, Washington. She had a brilliant career in opera with just the occasional film e.g. "Melba" in 1953. She died in 2016.
Her IMDB entry:
Mother of Rhett Schuler, Heidi Schuler, Scott Schuler and Nicole Schuler.
American coloratura soprano, the youngest singer/soubrette who ever starred at the Metropolitan Opera. Following along the path of
Lily Pons
, she made her official Met debut on December 4, 1943, singing Philine in "Mignon". Perhaps best known for the saucy role of Adele in "Die Fledermaus", she performed at the Metropolitan well over 200 times.
Trained by legendary voice coach Giacomo Spadoni.
Made only one film. She played the title role of Dame Nellie Melba in the film
Melba
(1953). She also had her own television series,
The Patrice Munsel Show
(1956), which ran a season.
In 1958 she ended her career as an opera singer and began to perform in musical comedies and operettas, including such vehicles as "Rose Marie", "The Merry Widow", "Song of Norway" and "Kiss Me, Kate".
Widow of candy heir
Robert Schuler
, who turned TV producer and produced her own 1950s TV variety series.
Only child of a dentist and an accomplished pianist, her last name was originally spelled "Munsil".
Studied whistling for seven years with a Spokane whistling teacher, Mrs. Marjorie Clark Kennedy. Her teacher claimed she could have had a real career in whistling and she stuck with it because she did beautiful bird work.
Her first professional job was in her early teens with a small touring opera company that came to Spokane wherein she was given a part in the chorus for the performances of Cavalleria Rusticana, Pagliacci and Carmen.
During the 1950s and '60s, she was the TV spokesperson for the Camp Fire Girls (now Campfire USA), a non-sectarian youth organization styled along the lines of the Boy and Girl Scouts of America.
The above IMDB entry can also be accessed online
here.
"New York Times" obituary:
Patrice Munsel, a coloratura soprano who as a teenager became one of the Metropolitan Opera's youngest stars and later crossed over into television and musical theater, died on Aug. 4 at her home in Schroon Lake, N.Y. She was 91. Her death was confirmed on Wednesday by her daughter Heidi Schuler Bright. Ms. Munsel was 17 when, in March 1943, she won a Met contract and $1,000 after tying for first place in the eighth annual Metropolitan Auditions of the Air, a precursor to the Met's National Council Auditions, a program to discover promising young opera singers and nurture their careers. (The other first-place winner was Christine Johnson, who originated the role of Nettie Fowler in the Rodgers and Hammerstein musical "Carousel" when it opened on Broadway in 1945.) By November Ms. Munsel had signed a three-year contract with the impresario Sol Hurok for a guaranteed $120,000. On Dec. 4, at 18, she made her Met debut as the temptress Philine in Ambroise Thomas's "Mignon," wearing a good-luck ring and a crown lent to her by the soprano Lily Pons.
The audience gave Ms. Munsel a standing ovation of several minutes. The critics were generally less kind. "For this part her voice is neither sufficiently big, or developed, or brilliant enough," the critic Olin Downes wrote in The New York Times. "In plain words," he said, "she was cruelly miscast, in this, one of the most exacting roles in the coloratura soprano's repertory." More than 40 years later, in a Los Angeles Times interview, Ms. Munsel said simply, "I didn't have a clue as to what the part was about." She performed a total of 225 times at the Met, excelling as the maid Adele in Strauss's "Die Fledermaus" and earning praise from Downes for her "virtuoso singing" and "very amusing acting." He declared her born for the role "by personality, wit, temperament." Rudolf Bing, the company's general manager during Ms. Munsel's tenure, is said to have called her "a superb soubrette."
But Ms. Munsel had given up touring the moment she became engaged to Robert C. Schuler, an adman turned television producer, whom she married in 1952. Not long after returning from their summer-long European honeymoon, she did a star turn on movie screens as Dame Nellie Melba, the 19th-century Australian soprano, in the 1953 biopic "Melba," produced by the Hollywood legend Sam Spiegel. From there, she strutted her way into the Las Vegas nightclub scene, peeling off a voluminous silk skirt mid-aria at the New Frontier in 1955 to reveal a halter and bejeweled pink capris. Two years later, Ms. Munsel embarked on a television career with "The Patrice Munsel Show," a variety series on ABC, joining guests like Eddie Albert, Andy Williams, Tony Bennett and John Raitt in a mix of light opera and pop, though she admitted to hating "double-entendre lyrics." It was canceled after one season.
Ms. Munsel last performed at the Met in 1958 as Mimi in "La Bohème," a role she had long coveted. She then focused on motherhood, traveling and musical comedies, performing splits in the 1965 Lincoln Center Theater presentation of "The Merry Widow" and occasionally turning productions of "The Sound of Music" and "The King and I" into family affairs with her four children. Besides her daughter Heidi, two other children survive: another daughter, Nicole Schuler, and a son, Scott Schuler, as well as two grandsons and two great-granddaughters. Her husband, who in 2005 chronicled his 50-year marriage to Ms. Munsel in the book "The Diva & I: My Life with Metropolitan Opera Star Patrice Munsel," died in 2007. Their son Rhett Carroll Schuler died in 2005.
Patrice Beverly Munsil was born on May 14, 1925, in Spokane, Wash. (She later changed the spelling of her surname to Munsel at the Metropolitan Opera's request.) Her father, Dr. Audley J. Munsil, was a dental surgeon; her mother, Eunice Munsil, was a homemaker and an accomplished piano player.
Ms. Munsel had a lifelong comedic streak. "I'm sure when I emerged from my mother's womb, the doctor slapped me, I hit a high C and slapped him back," she wrote in a biographical sketch on her website.
She began studying ballet and tap at 6 and soon, inspired by Walt Disney, decided that she wanted to be a professional whistler. "There were always birds whistling in the background" of films like "Cinderella" and "Snow White," she explained, "so I decided to whistle my way to Hollywood."
Her parents, eager to encourage any and all of her artistic aspirations, managed to find her a whistling teacher.