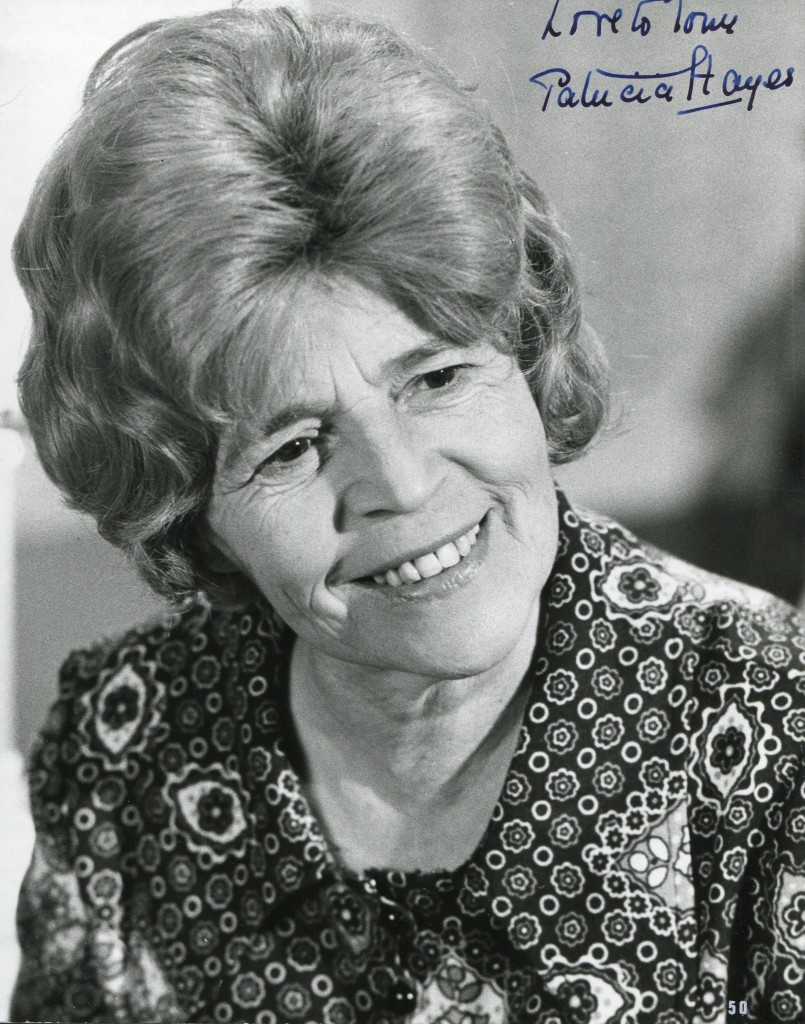 Patricia Hayes was born in 1909 in Streatham, London. She had a notable role in 1942 in "Went the Day Well". She was also featured in "Candles at Nine" with Jessie Matthews in 1944 and "Carry On Again Doctor" in 1979. She garnered rave reviews for her performance in the television play "Enda, the Inebriate Woman" in 1971. Patricia Hayes died in 1998. Richard O'Callaghan, the actor, is her son.
Denis Gifford's obituary in "The Independent":
"LADIES AND Gentlemen," announced that Victorian master of ceremonies of the Players' Theatre, Mr Leonard Sachs, "Please welcome that Minor Miracle of Melliflousness – Master Pat Hayes!" Enter a four-foot-something urchin dressed in a white sailor suit and floppy hat to match, to sing in a penetratingly shrill voice "Kiss Me Mother 'Ere I Die".
the audience, a certain Mr J.B. Priestley, went round the back to see him and say so. To his great surprise Master Pat Hayes turned out to be Miss Patricia Hayes, 20 years old and something of a "short-house", to use the polite show-business term of that pre-war period. Impressed, the great playwright promptly cast her in his latest play, When We Are Married (1938). It was the young actress's first West End appearance, and she played the role of the scurrying little servant Ruby Birtle. It was the beginning of a career in comedy unique in that it would span stage, screen, radio and television for half a century.
Patricia Hayes was born in Camberwell, London, in 1909 of Irish parents. Her father was a civil servant, and somewhat surprisingly encouraged his daughter in a show-business career by enrolling her in a local dancing and elocution class in Streatham at the age of five. She was 12 when she made her first stage appearance in an entertainment entitled The Great Big World (1921) at the Court Theatre in London. Five years later she and her brother Brian Hayes were both featured in a Grand Matinee Concert at the Imperial Theatre, Canning Town.
More than just a talented child, she studied at the Royal Academy of Dramatic Art, where she won the Bancroft Gold Medal in 1928. Her judges were Sir Gerald Du Maurier, Frank Cellier and Dame Edith Evans. Now a professional, and seemingly un-handicapped by her small stature, she entered repertory at Oxford and followed with a two-year contract with Jevan Brandon- Thomas's touring company, taking her to such far-apart venues as Edinburgh and Stratford-upon-Avon.
She made her first radio broadcast as a child during the early years of the BBC, but it was not for some time before she became a regular at the microphone. This was with Children's Hour, the popular pre-war nightly series which ran between five and six o'clock throughout the week. She first came to fame as one of the Bones brothers, two schoolboy detectives in the series Norman and Henry Bones (1943).
The young sons of the Reverend George Bones, created by a former schoolmaster called Anthony Wilson, neither Norman nor Henry was played by a boy. Charles Hawtrey, not yet the "Carry On" cad, played Norman and Patricia Hayes, her name shortened to the more masculine Pat, played Henry. Thus did the producer "Uncle Mac" avoid confusing his young listeners.
She made her main career radio for some years, popping up, usually as Pat, in everything from Shakespeare to experimental dramas on the Third Programme. On radio of course, her height was no problem. One day the staff Light Entertainment producer Pat Dixon telephoned her to suggest she might do well in radio comedy. Always ready to have a go, she provided the raucous voice of a switchback show-woman shouting "Hup and Dahn! Hup and Dahn!" at the opening of Hoop-la (1944), a series set in a fairground staring Robb Wilton, the "Day War Broke Out" comedian, Max Wall who made a national catchphrase of "Lashings of toast simply oooo-zing with butter!", and the ITMA star Jack Train as "Cheapjack Train from Petticoat Lane".
Much the same continued in Our Shed (1946), which was billed as staring "Max Wall and his trained troupe of performing zombies". It was from 1949 that her big break-through began when she was cast as a comedy character support in Ted Ray's series Ray's a Laugh. In a six-year run her roles included Ray's secretary Gertrude Dobbs and his cleaning lady Mrs Chatsworth. "At the time my marriage had broken down and I had three children to bring up," she recalled later. "During the years I worked with Ted I was never out of the house for more than half a day a week." The several repeat fees helped, of course.
Her special talent for impersonating young boys continued through the Fifties. She played Ginger, the schoolboy side-kick in Richmal Crompton's Just William (1952), her radio connection continuing. (Bad boy William Brown was played by Ted Ray's young son Andrew.) Then she crossed over to Radio Luxembourg and starred as "Master O.K. the Saucy Boy" in What Sauce, a sponsored series produced by Philip Jones, not yet the head of entertainment at Thames Television.
Her relationship with perhaps the greatest comedian British radio ever produced, Tony Hancock, began in 1958. She had a small part in "The Prize Money", in which Hancock won a television quiz and Sid James plotted to win the money from Hancock. She was so good it led to a regular character's being devised for her. This was the awful Mrs Cravatte, a sort of home help-cum-charlady who would pop up in the plots from time to time and who duly transferred to television in even more awfulness. She is the harridan who attempts to "draw off" Hancock's infection in the episode called "The Cold" (1960). She truly came into her own, almost eclipsing the "lad himself", in a series of a dozen one-minute commercials made by the Egg Marketing Board – slogan "Go to work on an egg!". Also plugged was the then famous "Little Lion" (1965).
She became something of a regular on television, popping up in The Arthur Haynes Show (1956), The Arthur Askey Show (1961) and The World of Beachcomber (1968), a visual version of J.B. Morton's column in the Daily Express. It was in 1975 that she was cast as a regular member of Johnny Speight's Till Death Us Do Part. With Dandy Nichols absent through illness, Hayes and Alfie Bass played the dreadful neighbours who were supposed to look after the even more dreadful Alf Garnett (Warren Mitchell). And when ATV took the series over in 1981, moving the venue from the East End to Eastbourne, she played the part of Min, another neighbour.
In 1983 Speight created a new series especially for her in partnership with Pat Coombs. Side by side they looked like a tatty reincarnation of the famous variety act "The Long and Short of It", Ethel Revnell and Gracie West, as they played two poverty-stricken bag ladies.
But the highest point of Hayes's long career was not in fact for comedy. She starred in a BBC television "Play for Today" written by Jeremy Sandford and produced by the great Ted Kotcheff. This was Edna the Inebriate Woman, and for her brilliant performance as the old boozer Patricia Hayes won both the Society of Film and Television Arts Award and the Sun Newspaper Award for Best Actress of the Year, 1971.
Patricia Hayes's family are all in show-business. Her son, Richard O'Callaghan, is a popular actor on television, her daughter Teresa Jennings is an opera singer, and her second daughter Gemma Brooks is an actress.
Patricia Hayes, actress: born London 22 December 1909; OBE 1987; married 1939 Valentine Rook (one son, two daughters); died London 19 September 1998.
The above "Independent" obituary can also be accessed online here.