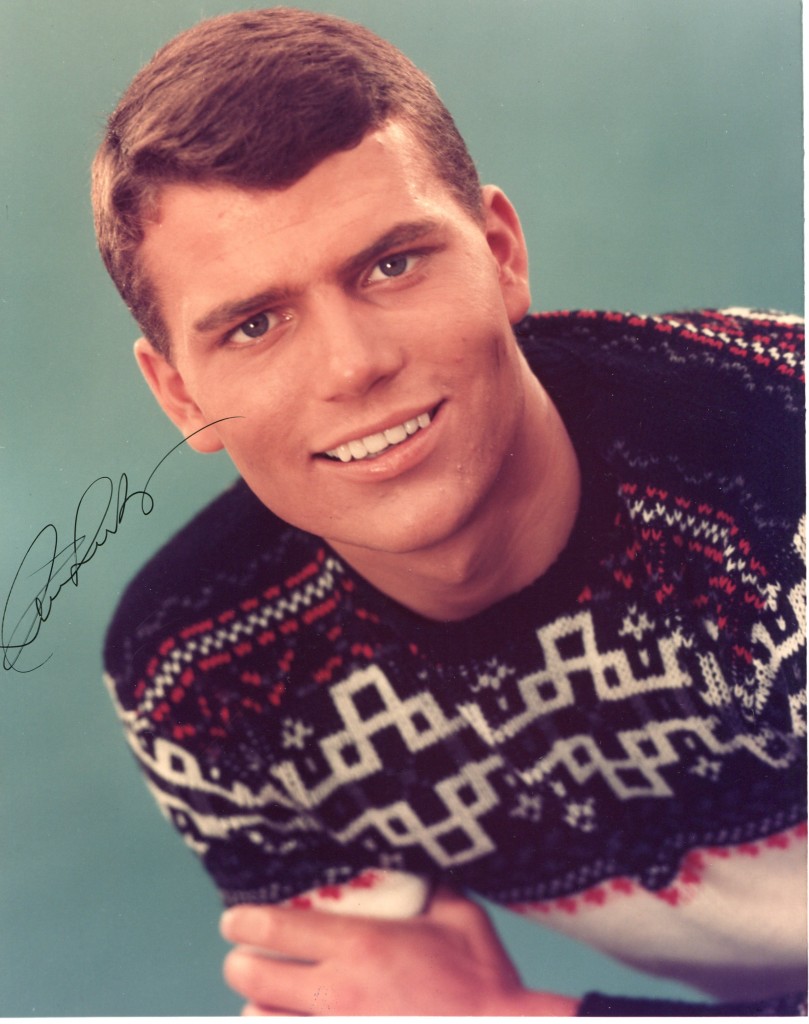 Patrick Wayne was born in 1939 in Los Angeles and is the son of John Wayne.   He played small partsin his father's films and can be seen in the racing scene in "The Quiet Man" in 1951.   He was also in "The Searchers", "Donovan's Reef" and "The Commancheros".   In the 1970's he made "Sinbad and the Eye of the Tiger" and "The People that Time Gorgot" both in 1977.
Gary Brumburgh's entry:
Possessing his father's durable good looks, vigor and charm, this tall, strapping, exceedingly handsome second son of John Wayne had huge boots to fill in trying to escape his legendary father's shadow and corral Hollywood fame on his own terms. But attempt he did and, looking back, he may not have achieved the outright stardom of his father but certainly did quite admirably, making over 40 films in his career — nine of them with his dad.
One of four children born to Duke's first wife, Patrick John Wayne carried his father's name, so it seems natural that a similar destiny would be in the making. Patrick made his debut film bit at age 11 in his father classic western Rio Grande (1950) and proceeded to apprentice in The Quiet Man (1952), The Sun Shines Bright (1953), The Long Gray Line (1955), Mister Roberts (1955), and The Searchers (1956), some with and some without his father's name above the title credits. All the above-mentioned films, however, were helmed by family friend and iconic director John Ford. Following high school, Patrick attended Loyola University and graduated in 1961 (older brother Michael Wayne graduated five years earlier). During this time, he went out on his own to star in his own film, the second-string oater The Young Land (1959). Realizing he was not quite ready to carry his own film, he returned to the family fold and gained more on-camera confidence throughout the 1960s supporting his father in The Alamo (1960), Donovan's Reef (1963), McLintock! (1963), and The Green Berets (1968). A few exceptions included a role in Ford's sprawling epic Cheyenne Autumn (1964), his turn as James Stewart's son in the frontier adventure Shenandoah (1965) and in An Eye for an Eye (1966) in which he and Robert Lansing played bounty hunters. He also co-starred in the short-lived comedy western series The Rounders (1966).
Following work on his dad's Big Jake (1971), Patrick broke away again and sought success on his own. Interestingly, he earned more recognition away from the dusty boots and saddle scene and into the sci-fi genre. His career peaked in the late 1970s as the titular hero braving Ray Harryhausen monsters and saving Tyrone Power's daughter Taryn in the popular matinée fantasy Sinbad and the Eye of the Tiger (1977), then battled more special effects creatures in the Edgar Rice Burroughs film adaptation of The People That Time Forgot (1977).
Patrick was a smoother, more gentlemanly version of the Wayne package with a completely captivating smile and accessible personality. He co-starred as a romantic love interest to Shirley Jones in another brief TV series Shirley (1979), and occasionally forsook acting chores to emcee game shows and syndicated variety series. Although the scope of his talent was seldom tested over the years, he was a thoroughly enjoyable presence on all the popular TV shows of the 1970s and '80s, including Fantasy Island(1977), Murder, She Wrote (1984), Charlie's Angels (1976), and The Love Boat (1977). And he certainly wasn't hard on the eyes.
Following the death of older brother Michael in 2003, Patrick became Chairman of the John Wayne Cancer Institute. Divorced in 1978 from Peggy Hunt, he is married (since 1999) to Misha Anderson.
– IMDb Mini Biography By: Gary Brumburgh / gr-home@pacbell.net
To view article on Patrick Wayne, please click here.