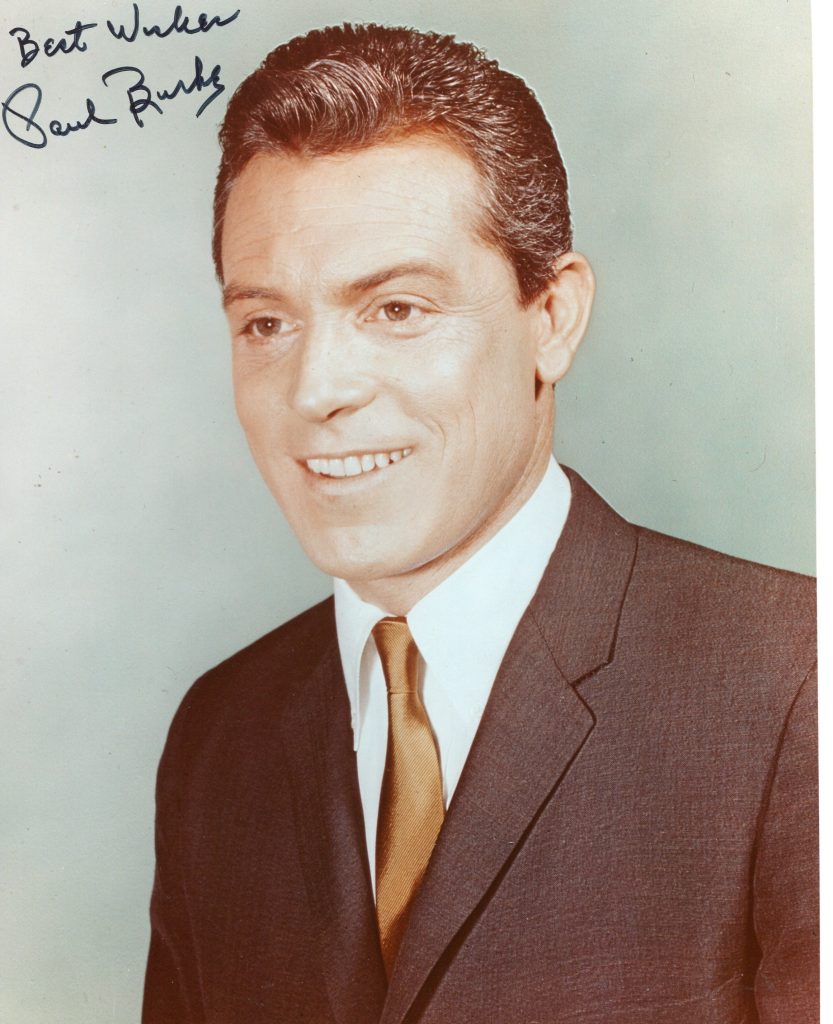 Paul Burke was born in New Orleans in 1926. He has acted in three very popular television series, "Harbourmaster" in 1957, "Naked City" fron 1960 until 1963 and "12 O'Clock High" from 1964 until 1967. His film roles include "The Valley of the Dolls'" with Barbara Parkins in 1969 and then two years later "Daddy's Gone A Hunting" with Carol White.
Gayr Brumburgh's entry:
Tall, dark, and handsome is how Hollywood liked their leading men back in the 1950s and 1960s, and actor Paul Burke certainly fit the bill. While his career fell short of outright stardom, he managed to stand out in a couple of acclaimed TV cop series series in the 1960s and "enjoyed" semi-cult notice by co-starring in one of the screen's most celebrated turkeys of all time.
The New Orleans-born actor was born on July 21, 1926, the son of Martin Burke, a prizefighter who later became a well-known promoter and French Quarter nightclub owner ("Marty Burke's"). Educated at prep schools, he was drawn to acting and moved to Hollywood in the late 1940s, studying at the Pasadena Playhouse for a couple of years. Screen director Lloyd Bacon, a friend of his father Marty, helped the fledgling actor along by giving him an unbilled part in the Betty Grable musical Call Me Mister (1951). From there, he managed to scrounge up bit/uncredited parts in such 1950s films as Fearless Fagan (1952); Francis Goes to West Point (1952), Three Sailors and a Girl (1953), South Sea Woman (1953), and Spy Chasers (1955). He moved up the ladder a bit to featured status in another Francis the talking mule picture, Francis in the Navy (1955), and inScreaming Eagles (1956), then earned a starring role in the voodoo/jungle horror flick The Disembodied (1957), opposite the "50-Foot Woman," herself, Allison Hayes.
Better yet, Paul found steady work on the small tube with grim-faced roles in a number of crime series such as Highway Patrol (1955),
The Lineup (1954), M Squad (1957), and Dragnet (1951). He also appeared in Adventures of Superman (1952). Via an association with "Dragnet" producer/director Jack Webb, he received his own TV series, albeit short lived, in the form of Noah's Ark (1956), portraying veterinarian "Dr. Noah McCann." He followed that by co-starring with Barry Sullivan in another one-season series, Harbormaster (1957), a New England coast adventure yarn, and then in Five Fingers (1959), a spy drama headlining David Hedison. Another hit series came with 12 O'Clock High (1964), based on the hit film drama of the same name.
Paul's best-known TV role, however, was as "Detective Adam Flint" in the highly praised police series Naked City (1958), replacing James Franciscus. He joined the program in the second season as the young partner of "Lt. Mike Parker" (portrayed by Horace McMahon), just as the half-hour show format was being extended to an hour. Based on the gritty, groundbreaking cop movie The Naked City (1948), the series did the film more than justice with excellent story lines, and Burke walked away with two Emmy nominations out of the three seasons he appeared.
His only movie role in the early 1960s was the Joan Crawford starrer Della (1964) (aka Fatal Confinement), which was actually a failed pilot to a prospective TV series. Winning the co-lead role of fledgling writer "Lyon Burke" in the highly anticipated film adaptation of Jacqueline Susann's monstrous best seller, Valley of the Dolls (1967). It could have been the break to turn things around on film. It did not-far from it. The Susann book was, if anything, a guilty pleasure as readers were reeled in by the trashy Hollywood themes of drugs, fame, and sex. The movie was a laughable misfire-riddled with bad acting, bad dialogue and inept directing. It earned instant cult infamy, making many "top 10" lists for worst movie ever. It also damaged the screen careers of many of the talent involved. In reality, Paul and Barbara Parkins, who played his paramour in the movie, actually came off better and more grounded than most. Unfortunately, good or bad, they were identified with a huge turkey, and it stuck.
Despite Paul's co-star cop role, opposite Steve McQueen and Faye Dunaway, in the stylish thriller The Thomas Crown Affair (1968), the very next year, it was not able to right the wrong of "Dolls." Thereafter, Paul tended to be overlooked in his later film, which included standard starring roles both here and abroad in such fare as Daddy's Gone A-Hunting (1969), Once You Kiss a Stranger… (1969), and Maharlika (1970). TV crime, however, proved again to be a reliable paycheck for Paul with guest roles in such popular 70s series as The Rookies (1972), The New Perry Mason (1973), Police Woman (1974),Harry O (1973), Mannix (1967), Ironside (1967), and the acclaimed Police Story (1973) series. TV movies also came his way, as well, with the starring role of tycoon "C.C. Capwell" (replacing Peter Mark Richman), in the daytime soap opera Santa Barbara(1984). Paul himself was replaced after a relatively brief time.
He played assured roles in the series Hot Shots (1986) and Dynasty (1981), the latter as scheming "Congressman Neal McVane," who frames Joan Collins' character for murder. Paul's last film, (The Fool (1990), which was shot in England) and last TV guest role (in an episode of "Columbo") both came out in 1990.
Divorced from Peggy Pryor, the mother of his three children, Paul married actress Lyn Peters in 1979. They met while she was appearing in the 12 O'Clock High (1964) episode12 O'Clock High: Siren Voices (1966). The couple eventually retired to Palm Springs, where the actor died at age 83 of leukemia and non-Hodgkin's lymphoma in September of 2009.
– IMDb Mini Biography By: Gary Brumburgh / gr-home@pacbell.net
His "Independent" obituary:
Paul Burke will best be remembered for the three years he spent as the star of the highly regarded television series, The Naked City, which was filmed on the streets and in the buildings of Manhattan.
Inspired by the 1948 film of the same name, it was innovative in its use of location shooting all over the metropolis, from the Staten Island Ferry to Times Square, which gave it a semi-documentary feel, and though Burke was not the most animated of actors, he was handsome and had a tight-lipped doggedness that suited his portrayal of the tough police detective who manages to maintain his integrity and idealism despite confronting the worst aspects of Manhattan life. (The show could never be accused of glamorising New York City.)
"There are eight million stories in the naked city… this has been one of them," intoned the narrator-producer Mark Hellinger at the end of the movie, and the same words were uttered at the climax of every episode of the television series (shown in the UK by ITV). Although Burke starred in other television shows and had a recurring role in Dynasty, his film career was chequered, despite his playing the leading male role in the colossal hit Valley of the Dolls (1967) and giving arguably his finest performance as the police detective determined to outwit bank robber Steve McQueen in The Thomas Crown Affair (1968).
Born in New Orleans in 1926, Burke was the son of the prize fighter Martin Burke (who once fought the world heavyweight champion Gene Tunney). After retiring from the ring, he opened a restaurant and night club, Marty Burke's, in the city's French Quarter. Paul used to help out in the club, and later stated that seeing some of the customers affected his outlook: "I stayed up late watching the barflies, the brawlers. I watched the effect of wasted lives. It gave me a strong feeling of urgency about my own life."
In his early 20s he moved to Hollywood and studied acting at the Pasadena Playhouse. The director Lloyd Bacon, one of his father's friends, got him his first screen roles, uncredited parts in the musicals Golden Girl and Call Me Mister (both 1951), the latter a Betty Grable vehicle in which he played a soldier. He was a soldier also in Sam Fuller's Fixed Bayonets (1951), and he had small roles in two films featuring Francis, the talking mule – Francis Goes to West Point (1952) and Francis in the Navy (1955), plus South Sea Woman (1953), with Burt Lancaster and Virginia Mayo.
He graduated to guest-star roles in such television series as Highway Patrol, Dragnet and M Squad, and in 1964 he co-starred with Joan Crawford and Diane Baker in a TV movie, Della, a fanciful tale in which he was Crawford's lawyer who falls in love with her daughter, unaware that she has a skin disease that will be fatal if she is exposed to sunlight. His first recurring role on television was that of a veterinarian in a short-lived television series, Noah's Ark (1956-57), followed by Harbourmaster (1957-58) with Barry Sullivan, and an unsuccessful spy series, Five Fingers (1959), which was loosely based on the Joseph L. Mankiewiez film of 1952.
The Naked City began its television life as a weekly 30-minute show in 1958, with John McIntire and James Franciscus playing the roles originated in the movie by Barry Fitzgerald and Don Taylor. Despite good reviews, its ratings were poor. McIntire's character was killed off halfway through the season, and the show itself was cancelled at the end of the year, but the production staff and one of the sponsors successfully lobbied the network, ABC, to revive it as an hour-long series, which first aired in 1960, starring Burke as Detective Adam Flint with Nancy Malone playing his loyal, if sometimes stressed, girlfriend. Harry Bellaver was Burke's older partner and Horace McMahon his crusty superior.
Burke received two Emmy nominations for his performance, and was admired for doing several of his own stunts. "Once I had to jump from one roof to another," he told the columnist Hedda Hopper, "when the stuntman refused because it was too windy to take a chance." To prepare for the role, he accompanied police detectives on raids, commenting, "I know areas of the city that are truly jungles. I wouldn't be a detective there for $1,000 a day." Before an episode in which his character was to witness an execution, he spent a night in Sing Sing prison. "The area of the condemned has barred windows that look down over the Hudson," he said. "You can see trains going by, as if to emphasise the life outside that is to be taken away. I was not against capital punishment before we made that show – but now, I don't know."
When The Naked City ended its run in 1963, it was described by the Los Angeles Times as, "television's finest weekly hour. It took the police show and gave it a dignity and compassion that at times approached high tragedy." Stirling Silliphant, later to win an Oscar for scripting In The Heat of the Night, was primary writer on the series, Billy May provided the jazzy theme music, and directors included John Brahm, Buzz Kulick, Arthur Hiller and Tay Garnett.
The New York location offered a pool of theatrical acting talent, some of them newcomers on the threshold of distinguished careers – they included Robert Redford, Tuesday Weld, Walter Matthau, Dustin Hoffman, Robert Duvall, Dennis Hopper, Peter Falk, Martin Sheen, Rip Torn, Jon Voight and Christopher Walken. The show's quality, and its tradition of building shows more around the guest stars than its regular cast, also prompted seasoned performers to seek out roles, among them Eli Wallach, Viveca Lindfors, Betty Field, Sylvia Sidney, Steve Cochran and Kim Hunter.
Burke had further success on television when he starred as a Second World War Air Force colonel in the series Twelve O'Clock High (1964-67). He played his first starring role in a movie when given the male lead (billed third to Barbara Parkin and Patty Duke) in Valley of the Dolls (1967), Mark Robson's screen version of Jacqueline Susann's best-selling novel about addiction to pills (the "dolls" of the title). Though Robson had made a splendid job of transferring a similarly exploitative novel, Peyton Place, to the screen in 1957, Valley of the Dolls was a tawdry effort which nevertheless made a fortune while doing little for Burke, whose role as a young lawyer who befriends the film's three heroines and has an affair with Parkin, was colourless.
Norman Jewison's The Thomas Crown Affair (1968), primarily a glossy vehicle for Steve McQueen and Faye Dunaway, gave Burke his best screen role, as a police detective partnering insurance investigator Dunaway to trap millionaire bank robber McQueen. He was a lawyer again in Mark Robson's Daddy's Gone A-Hunting (1969), a thriller in which his wife (Carol White) is terrorised by an ex-boyfriend who wants her to kill her own baby because she once concealed an abortion from him. Risibly melodramatic, it effectively ended the Hollywood careers of both Burke and White.
Burke returned to television, guest-starring in such shows as The Love Boat, Starsky and Hutch, Charlie's Angels and Murder, She Wrote. In the lavish soap opera Dynasty, he had a recurring role from 1982-88 as Congressman Neal McVane, who murders the ex-husband of Krystle Carrington, a crime for which Alexis Carrington (Joan Collins) is convicted. He also had a recurring role as Rear Admiral Hawkes in Magnum, P.I., starring Tom Selleck.
In 1990, after a role in Columbo, Burke retired to Palm Springs with his second wife, Lyn, whom he had married in 1979. "Acting is more exciting than living," he told TV Guide during the run of The Naked City. "It's more electric, more immediate. That's because life is full of random elements. In acting, you select, you choose the elements. This selection allows you to get to the essence of the character, the essence of an experience." He is survived by his wife, and three children from his first marriage.
Paul Burke, actor: born New Orleans 21 July 1926; twice married (two daughters, one son); died: Palm Springs, California 13 September 2009.
The above "Independent" obituary can also be accessed online here.