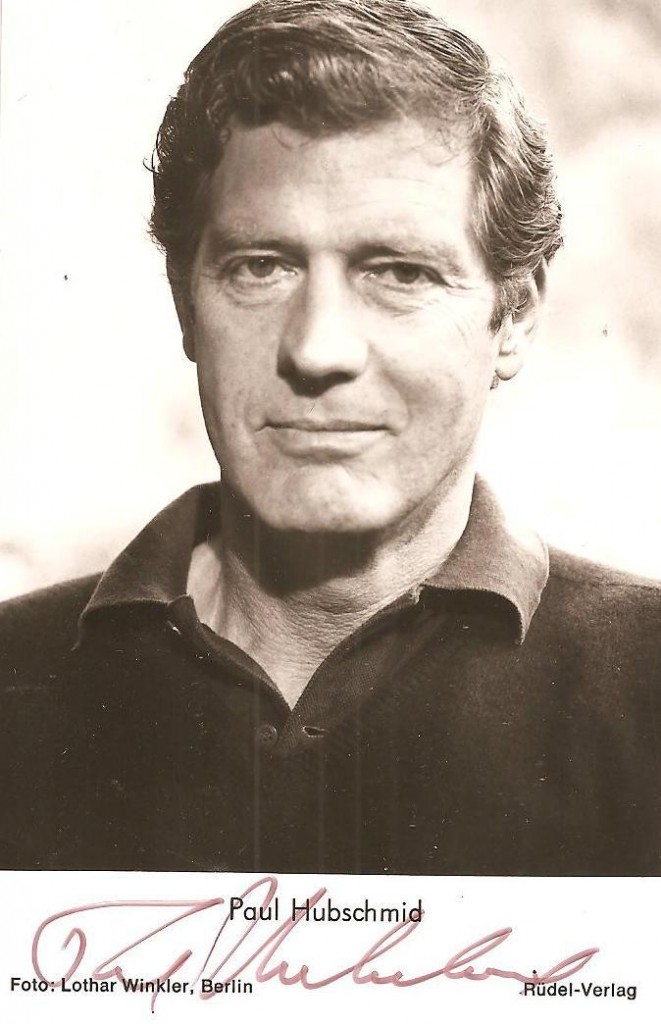 Paul Hubschmid was born in Switzerland in 1917.   His film debut came in the Swiss film "Fusiler Wipf" in 1938.   In 1949 he went to Hollywood, changed his name to Paul Christian and made "Bagdad" with Maureen O'Hara.   His other U.S. movies included "The Beast from 20.000 Fathoms".   He died in 2001 in Berlin.
IMDB entry:
The son of an accountant, Paul Hubschmid was born, raised and schooled in Schoenenwerd, Switzerland. He trained for an acting career at the Max Reinhardt Seminar of Dramatic Art in Vienna and first appeared on stage at the Vienna Volkstheater in 1937. His motion picture debut took place the following year. He was cast as the titular hero in the patriotic Swiss production Füsilier Wipf (1938), which was directed by that nation's pre-eminent film maker of the time, Leopold Lindtberg. The role opened the doors for the tall (1.92 m), wavy-haired and handsome actor and he soon moved on to a more lucrative career in Germany. After a stint with the Deutsches Theater in Berlin, he slipped effortlessly into a succession of romantic leads opposite established stars such as Luise Ullrich (Der Fall Rainer (1942)) and Hilde Krahl (Meine Freundin Josefine (1942)).
His presence in German films during the Nazi period (though mostly in light entertainments without significant political content) did not prove detrimental to his spell in Hollywood, which began with a seven-year contract in 1948. Having almost no perceptible trace of an accent, he fitted right into the role of 'Paul Christian', the stage name which was assigned to him for the handful of films he made in tinseltown. Some were outright stinkers, like No Time for Flowers (1952), which veered uneasily between silly comedy and fruity melodrama. Best of the bunch was the cult sci-fi The Beast from 20,000 Fathoms (1953), which started the cycle of giant monster films in the 1950's and featured the work of renowned special effects expert Ray Harryhausen. The film cost a mere $200,000 to make and grossed in excess of $ 5 million. With the audience attention firmly fixed on the dinosaur, the cast seemed at times redundant. Paul, in the leading role of scientist Tom Nesbitt, did the best he could with the clichéd script. Since no better parts were forthcoming, Paul dissolved his contract after just four years and returned home.
Back in Germany, he was considerably better served in the role of composer Franz Lisztin the Franco-German co-production Hungarian Rhapsody (1954); and in a trilogy of hugely popular escapist adventure films, exotically set in India: Tiger of Bengal (1959),The Tomb of Love (1959) and Tiger of Bengal (1960). Paul had aged remarkably well and was able to carry off his romantic leading man image into the 1960's. From the beginning of the decade, he also moved into character acting, playing Professor Higgins in "My Fair Lady" more than 2000 times on stage, most frequently at Berlin's Theater des Westens. On screen, he now appeared more frequently as bon vivants, reprobates or villains, most memorable as double agent Johnny Vulkan in Funeral in Berlin (1966), the second of Len Deighton's Harry Palmer trilogy. In 1980, he was awarded the German Filmband in Gold. During the 1980's he scaled down his workload, confining himself to guesting in made-for-television movies and series. He retired from acting in 1992 and died nine years later in Berlin at the age of 84 of a pulmonary embolism.
– IMDb Mini Biography By: I.S.Mowis
The above IMDB entry can also be accessed online here.
Paul Hugo Hubschmid, actor: born Schönenwerd, Switzerland 20 July 1917; married 1942 Ursula von Teubern (died 1963; one son), 1967 Eva Renzi (one adopted daughter; marriage dissolved 1980); 1985 Irene Schiesser; died Berlin 31 December 2001.
Billed in his English-speaking films as Paul Christian, the Swiss-born actor Paul Hubschmid was a popular leading man in European films in the years after the Second World War (despite having worked in German films during the war), his virile good looks compensating for a stiff acting style. Later he won praise as a fine character player in such films as Funeral in Berlin, and by the end of his 50-year acting career he had made over 120 films.
Extremely popular in Germany on both screen and stage (he played over 2,000 performances of My Fair Lady in Berlin), he was once dubbed "the most beautiful man in post-war German cinema". Between 1948 and 1953 he made several films in Hollywood, and will best be remembered by English-speaking audiences as the hero of the classic monster movie The Beast from 20,000 Fathoms (1953).
Born in Schönenwerd, Switzerland, in 1917, he went to Vienna in 1937 to train as an actor at the Max Reinhardt Academy. He made his screen début in the Swiss film Fusilier Wipf, released in 1938, and made his first German film, Maria Ilona, in 1939. During the war years he acted in the German theatre and appeared in a dozen more films including Meine Freundin Josefine (1942) and Liebesbriefe (1943).
Universal took him to Hollywood in 1949, renamed him Paul Christian, and gave him the star role opposite Maureen O'Hara in the Arabian Nights adventure Bagdad. As the leader of a desert group, "the Black Riders", he had a Valentino-like role, unmasking the villain (Vincent Price) who has kidnapped O'Hara's sheikh father and winning the heroine for himself. Critics were unimpressed by Christian's acting, but conceded that he had the dashing looks to suit the part.
Bagdad was the sort of film Universal had been making for several years with Maria Montez starring, and the formula was no longer proving as potent at the box office. Ironically, Christian's next film, The Thief of Venice(made in 1950 but not released until 1952), co-starred Montez in what was to be her last film before her sudden death. Directed by John Brahm in Venice on sets left over from Orson Welles's Othello, it took place in the Middle Ages, with Christian a naval officer who takes up thieving to acquire the funds to combat the evil Inquisitor (Massimo Serato), with Montez the tavern keeper who helps him.
Christian next starred in Don Siegel's No Time For Flowers (1952), a Ninotchka-like comedy made in Vienna (though set in Prague) in which Christian was a Czechoslovakian party official who tests the loyalty of his secretary by tempting her with such Western delights as bubble baths, cosmetics, champagne and nylons. The secretary was played by Viveca Lindfors (Mrs Siegel at the time), and inevitably (since the film was made at the height of the Cold War) both she and Christian succumb to temptation at the film's end and flee to Austria's US Zone.
Siegel, aware of the film's debt to Ninotchka, later blamed its failure on a budget-conscious producer, a dull script, the fact that he was admittedly no Lubitsch ("or Viveca would have given Greta Garbo a run for her money") and Christian, who "was much too stiff and without the charm and fun of Melvyn Douglas".
Despite having starred in three internationally distributed films, Christian was not yet an established name, but his next film was an enormous success, The Beast from 20,000 Fathoms. Based on Ray Bradbury's haunting short story "The Foghorn", the film spawned so many cheap imitations that is is surprising now to realise that it was the first film to deal with a prehistoric monster unearthed by an atomic explosion and going on a rampage through a major city. Christian was effective enough as the scientist who first realises the truth but is not believed, but it was Eugène Lourié's atmospheric direction and in particular the splendid special effects of Ray Harryhausen that turned the $250,000 film into a hit that grossed $5m.
Returning to live in Germany, Christian was leading man to the musical star Marika Roekk in Maske in Blau (1953), the first of many German and Italian films in which he starred, usually as a handsome charmer or a swashbuckling action hero. By the end of the decade he had won great acclaim for his stage portrayal of Professor Higgins in My Fair Lady and reverted to the name Paul Hubschmid, though for those films that obtained release in English-speaking countries he was billed as Paul Christian. These included Rommel's Treasure (Il Tesoro di Rommel, 1955), co-starring Dawn Addams, and The Day the Sky Exploded (La morte viene dallo spazio, 1958), photographed by Mario Bava, later a noted director, and described by The Monthly Film Bulletin as "the stock-shot film par excellence".
In 1958 he starred in the two-part Fritz Lang epic Der Tiger von Eschnapur/Das indische Grabmal, which Lang based on the pulp serial he and Joe May had scripted in 1921. In the comic-strip adventure Christian was an architect who rescues a young dancer from a tiger, falls in love with her, then has to flee with her when the Maharajah, who loves the dancer, threatens to bury her alive. Praised for its use of colour, decor and wide-screen photography, the (196-minute) two-part movie was shown complete in most European countries, but was dubbed and shown as one 94-minute film in Britain (as Tigress of Bengal) and the US (as Journey to the Lost City).
In 1965 the actor, billed as Hubschmid, supported Steve Cochran and Hildegarde Neff in a British adventure film, Mozambique, and the following year had a prime role as Johnny Vulkan, former black-market crony of spy Harry Palmer and now a British agent, in Funeral in Berlin, with critics noting that the ageing actor had gained authority and conviction with the years.
He returned to Universal Studios to play a German baron wed by a Parisian intelligence agent (Anjanette Comer) before the Second World War in the espionage adventure In Enemy Country (1968), and an evil Dutch scientist who wants to use for his own ends missing-link humanoids discovered in New Guinea by explorers Burt Reynolds and Susan Clark in the risible Skullduggery (1970).
The actor, whose last film was the German comedy Linda (1991), used to say that he wondered if his looks had not been detrimental to his acting career, and he entitled his 1994 autobiography Schöner Mann, was nun?("Beautiful Man, What Now?").
Tom Vallance. The Independent. 2001.