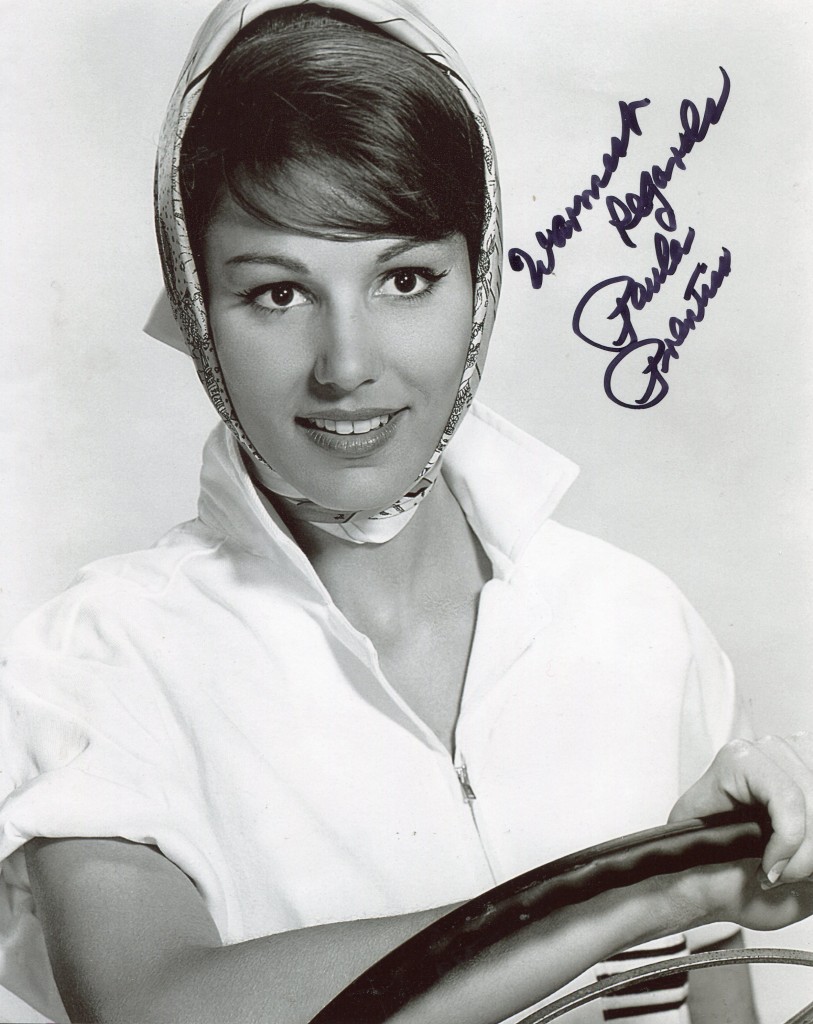 Paula Prentiss is a tall lanky comedy actor who graced American films of the 1960's.   She was born in 1938 in San Antonio, Texas.   In 1960 she made her movie debut with her often film partner Jim Hutton in "Where the Boys Are".   She went on to star in "The Honeymoon Machine", "The Horizontal Lieutenant" and "The World of Henry Orient" with Peter Sellers and Angela Lansbury.   She and her husband Richard Benjamin had their own television series "He & She" from 1967 for a season.
TCM Overview:
A vivacious brunette comic player, Paula Prentiss began in lightweight, coquettish roles in the 1960s and shifted to more meaty dramatic fare in the 70s before curtailing her career in favor of raising a family. The daughter of an Italian immigrant and his wife, Prentiss graduated from the famed acting program at Northwestern University. Spotted by talent scouts, she was put under contract at MGM, where she was frequently partnered onscreen with Jim Hutton, beginning with her debut feature "Where the Boys Are" (1960). Having conquered the teen audience, Prentiss offered what many feel is her best performance as Rock Hudson's overbearing girlfriend in Howard Hawks' "Man's Favorite Sport?" (1964) She continued to win the attention of adult moviegoers as Peter Sellers' married conquest in "The World of Henry Orient" (1964) and as a stripper chasing Peter O'Toole in "What's New Pussycat" (1965). She retired from features for five years, during which she co-starred with her husband Richard Benjamin in the CBS sitcom "He and She" (1967-68) as a scatterbrained social worker married to a cartoonist.
Prentiss resumed her film career as Elliot Gould's wife in the dismal "Move" (1970). She fared better as the sexy Nurse Duckett in "Catch-22" (also 1970), directed by Mike Nichols. In "The Parallax View" (1974), Prentiss shone in the brief role of a TV reporter who feared for her life after witnessing a political assassination. The following year, her natural, down-to-earth style was most apparent when she uttered her introductory line concerning her family's last name being "Marco. That's upward mobility for Markowitz" in "The Stepford Wives" (1975).
Prentiss curtailed her schedule for much of the late 70s into the early 90s to concentrate on child-rearing, although she accepted the occasional juicy role. In "The Black Marble" (1980), she was a cop romantically involved with her partner, played Jack Lemmon's wife in Billy Wilder's last feature "Buddy, Buddy" (1981) and acted opposite Benjamin in the horror spoof "Saturday the 14th" (1981). Her small screen credits include the TV-movies "Packin' It In" (CBS, 1983) and "M.A.D.D.: Mothers Against Drunk Driving" (NBC, 1983). With her children grown and in college, she began to resume her career in earnest with guest appearances on "Murder, She Wrote" and "Burke's Law", an uncredited bit as a nasty nurse in the Benjamin-directed "Mrs. Winterbourne" (1996) and an L.A. stage role as a dying woman in "Angel's Share" in 1997.
 The above TCM overview can also be accessed online
here.