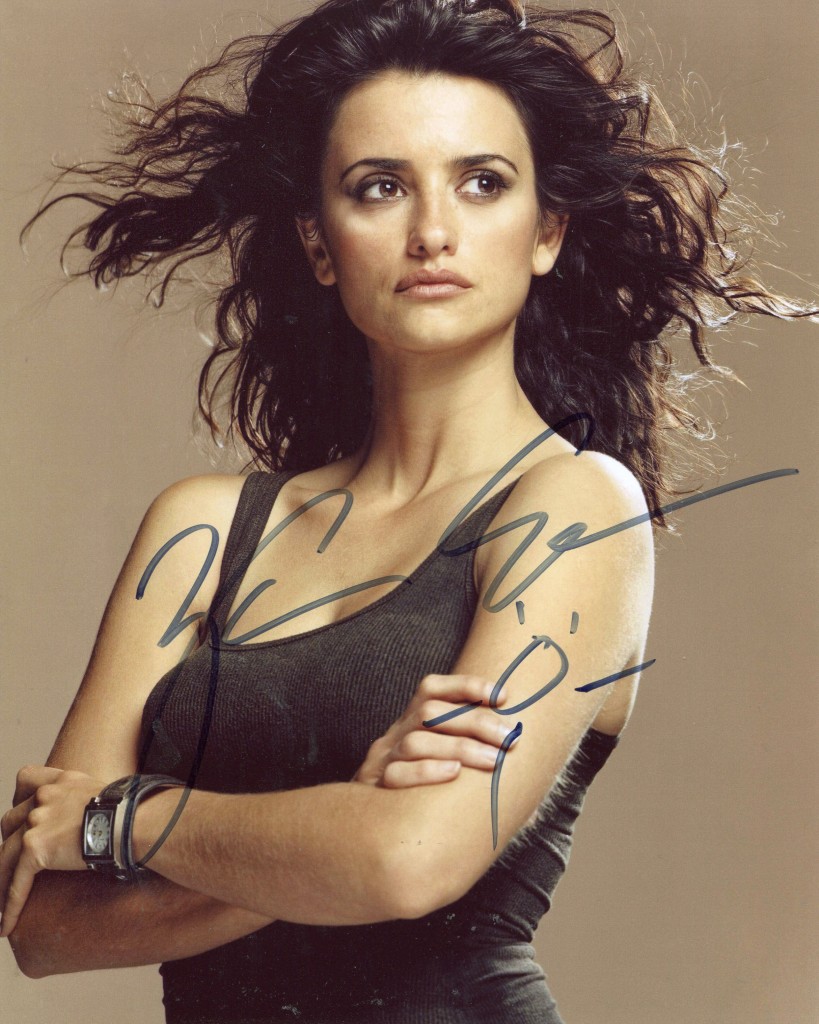 The beautiful Penelope Cruz was born in Madrid in 1974. She made her film debut in 1992 in "Jambon, jambon". Some of the early films include "Open Your Eyes" in 1997 and "The Hi-lo Country" in 1999. She has made many films with her fellow countryman Pedro Almodovar. Her international films include "Vanilla Sky" with Tom Cruise, "Captain Corelli's Mandolin" with Nicholas Cage and "Nine" with Daniel Day-Lewis.
IMDB entry:
Known outside her native country as the "Spanish enchantress", Penélope Cruz Sánchez was born in Madrid to Eduardo (a retailer) and Encarna (a hairdresser). As a toddler, she was already a compulsive performer, re-enacting TV commercials for her family's amusement, but she decided to focus her energies on dance. After studying classical ballet for nine years at Spain's National Conservatory, she continued her training under a series of prominent dancers. At 15, however, she heeded her true calling when she bested more than 300 other girls at a talent agency audition. The resulting contract landed her several roles in Spanish TV shows and music videos, which in turn paved the way for a career on the big screen. Cruz made her movie debut in The Greek Labyrinth(1993) (The Greek Labyrinth), then appeared briefly in the Timothy Dalton thriller Framed(1992). Her third film was the Oscar-winning Belle Epoque (1992), in which she played one of four sisters vying for the love of a handsome army deserter. The film also garnered several Goyas, the Spanish equivalent of the Academy Awards. Her resume continued to grow by three or four films each year, and soon Cruz was a leading lady of Spanish cinema. Live Flesh (1997) (Live Flesh) offered her the chance to work with renowned Spanish director Pedro Almodóvar (who would later be her ticket to international fame), and the same year she was the lead actress in the thriller/drama/mystery/sci-fi film Open Your Eyes (1997), a huge hit in Spain that earned eight Goyas (though none for Cruz). Her luck finally changed in 1998, when the movie-industry comedy The Girl of Your Dreams (1998) won her a Best Actress Goya. Cruz made a few more forays into English-language film, but her first big international hit was Almodóvar's All About My Mother (1999), in which she played an unchaste but well-meaning nun. As the film was showered with awards and accolades, Cruz suddenly found herself in demand on both sides of the Atlantic. Her next big project was Woman on Top(2000), an American comedy about a chef with bewitching culinary skills and a severe case of motion sickness. While in the US, she also signed up to star opposite Johnny Depp in the drug-trafficking drama Blow (2001) and opposite Matt Damon in Billy Bob Thornton's All the Pretty Horses (2000). Cruz says she's wary of being typecast as a beautiful young damsel, but it's hard to imagine disguising her wide-eyed charms and generous nature. Fortunately, with Cameron Crowe's Vanilla Sky (2001) (a remake ofOpen Your Eyes (1997)) and a John Madden collaboration looming in her future, Damsel Penelope isn't likely to disappear just yet.
– IMDb Mini Biography By: IMDb Editors
The above IMDB entry can also be accessed online here.