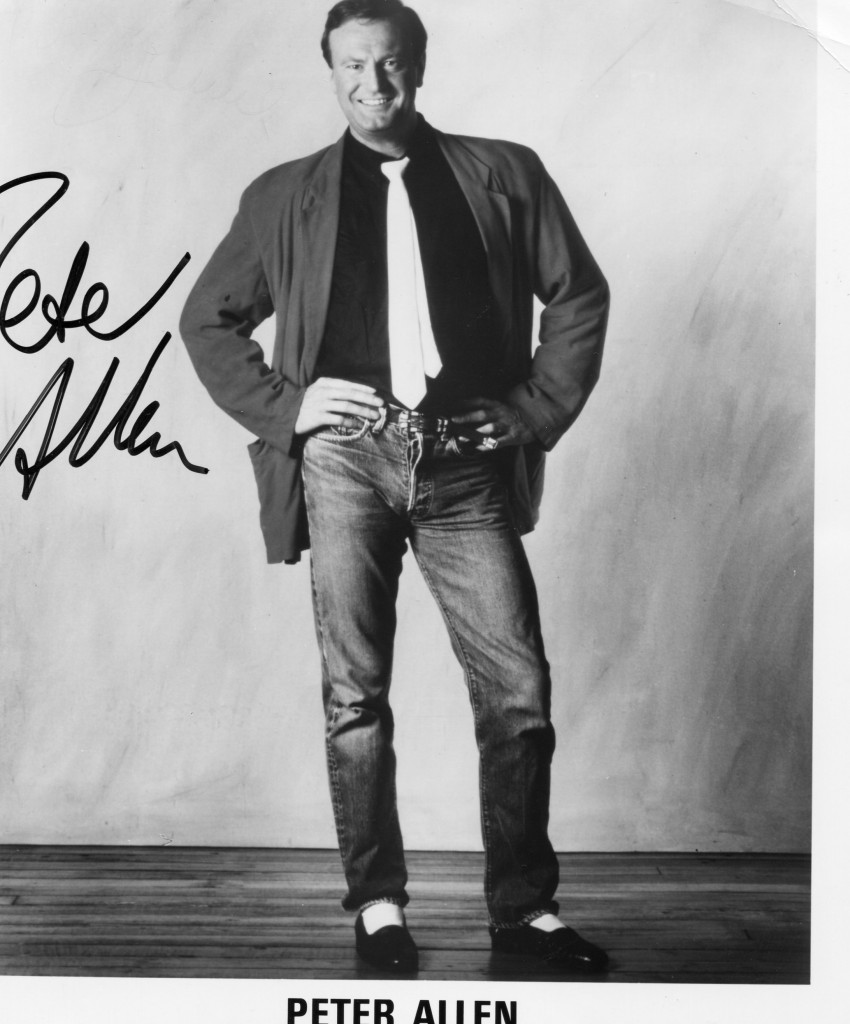 Peter Allen was born in 1944 in Tenterfield, New South Wales, Australia. He was a terrific singer and songwriter whose career was based mostly in the U.S. He did feature in some films including "Sgt Pepper's Lonely Heart's Club Band" in 1978 and "The Pirates of Penzance" in 1982. Peter Allen died in 1992 in San Diego, California at the age of 46.
Australian Dictionary of Irish Biography by Michelle Arrow:
Peter Allen (1944–1992), singer, songwriter, and entertainer, was born Peter Richard Woolnough on 10 February 1944 at Tenterfield, New South Wales, elder of two children of New South Wales-born parents Richard John Woolnough, soldier and grocer, and his wife Marion Bryden, née Davidson. His grandfather, George Woolnough, was a saddle maker, whom he later immortalised in the song 'Tenterfield Saddler' (1972). Raised in Armidale, Peter's performing career began when he was eleven, playing the piano in the ladies' lounge of the New England Hotel. Educated at Armidale High School, he left school after his violent and alcoholic father committed suicide in November 1958, and moved to Lismore with his mother and sister. In 1959 he went to Surfers Paradise to look for work and met Chris Bell, an English-born singer-guitarist of a similar age. Assisted by Bell's father, and inspired by the chart-topping Everly Brothers, they formed a singing duo called the 'Allen Brothers,' making their debut at the Grand Hotel in Coolangatta. Within a year they were based in Sydney, had signed a recording contract, and reached a national audience through the television program Bandstand.
The Allen Brothers toured Australia and Asia. In 1964 the American singer and actress Judy Garland saw them performing at the Hong Kong Hilton and invited them to be the opening act for her upcoming concert tour of the United States of America. Chris and Peter Allen, as they became known, performed in American nightclubs for the rest of the decade, releasing their only album in 1968. On 3 March 1967 in New York, Peter married Garland's daughter, the singer and actress Liza Minnelli. They separated in 1970 when Allen acknowledged his homosexuality, and were divorced in 1974.
In 1970 Allen also parted ways with Chris Bell and pursued a solo career. Initially performing at small clubs in New York and Los Angeles, he formed a song-writing partnership with Carole Bayer Sager that produced a number of enduring favourites, including 'Don't Cry Out Loud' (1976). His songs were increasingly performed by other artists: Olivia Newton-John's recording of 'I Honestly Love You,' which Allen co-wrote with Jeff Barry, topped the American charts and earned two Grammy awards in 1974, including Record of the Year. In 1977 'I Go To Rio,' from his successful album Taught by Experts (1976), was a hit in Australia, France, and Brazil.
Allen's biggest successes came in the early 1980s. He presented a series of concerts at New York's Radio City Music Hall in 1981, becoming the first male performer to dance with the venue's famous dance troupe, the Rockettes. In 1982 (with Burt Bacharach, Carole Bayer Sager, and Christopher Cross) he won an Academy award for best original song, for 'Arthur's Theme' (from the film Arthur, starring Dudley Moore and Minnelli). His fame and popularity also grew in Australia, which he visited frequently. During his 1980 tour, a Festival Records executive, Alan Hely, noticing that Allen closed his shows by saying 'I still call Australia home,' suggested it would make a good song title. Allen agreed and the song became his best loved. His greatest career disappointment was the failure of his musical, Legs Diamond, which was savaged by critics after its premiere on Broadway in 1988.
Allen was charismatic if not conventionally handsome: he had a prominent nose and chin and a receding hairline, but a warm smile and a lithe frame, which was often clad in his trademark Hawaiian shirts. A cheeky, exuberant performer, he was open about his homosexuality at a time when many of his contemporaries were not. From around 1970 he was in a relationship with Greg Connell, a male model from Texas who later worked as the sound and light designer on Allen's live shows. According to Allen's biographer, Connell was 'Peter's big love' (Maclean 1996, 166). Connell died from AIDS in 1984.
In 1990 Allen was appointed AM in recognition of his contribution to the performing arts. Diagnosed with throat cancer during a tour of Australia in January 1992, he died of AIDS-related Kaposi's sarcoma on 18 June 1992 in San Diego, California. The prime minister of Australia, Paul Keating, paid tribute to Allen's 'songs of sensitivity which struck an emotional chord with his fellow Australians' (Jones and Hallett 1992, 11). In 1993 he was posthumously inducted into the Australian Recording Industry Association (ARIA) Hall of Fame. His life was retold in a musical, The Boy From Oz (1998), written by Nick Enright and featuring Allen's greatest hits. The National Portrait Gallery, Canberra, holds a tender portrait (1980) of Allen by the photographer William Yang.
Research edited by Samuel Furphy