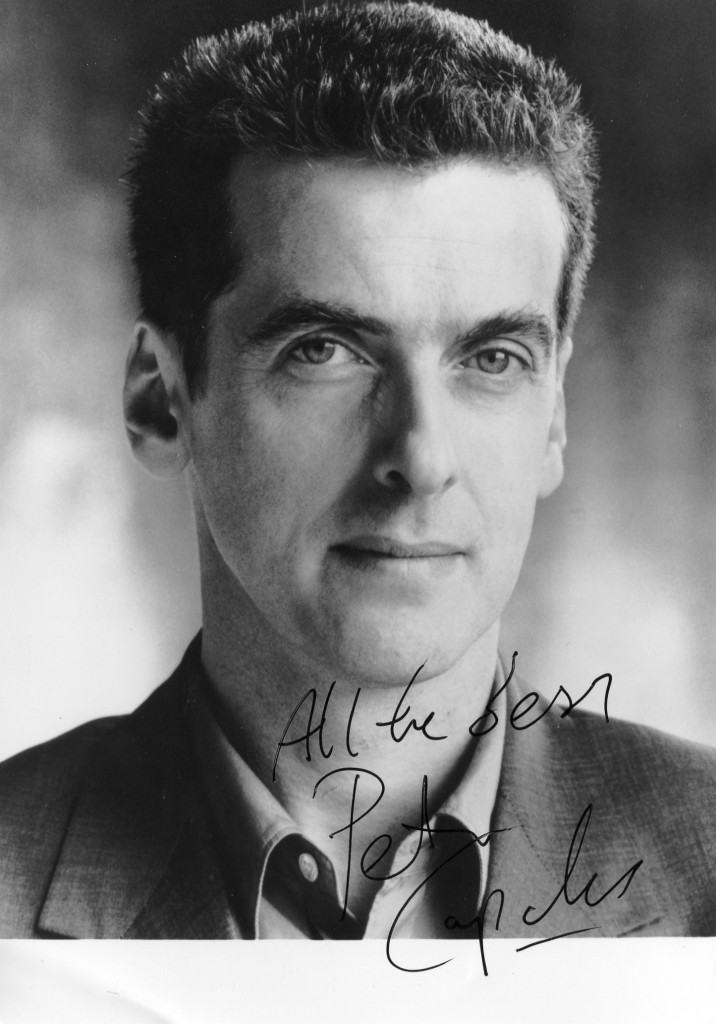 Peter Capaldi was born in Glasgow in 1958. He rose to prominence in 1983 with the success of the film "Local Hero". Other movie credits include "Turtle Diary", "Lair of the White Worm" and "December Bride" and of course "Dr Who".
TCM overview:
Scottish actor Peter Capaldi was one of the United Kingdom's best-kept secrets for decades until the summer of 2013, when he went from being "who?" to Doctor Who. A native Glaswegian, the wiry Capaldi gravitated towards performing in his youth, and initially gained notice for his supporting role in the beloved comedic drama "Local Hero" (1983). He went on to become a British television mainstay, while occasionally appearing in feature films. Following recurring roles or guest spots on various small-screen productions, he sidestepped into writing and directing with the short film "Franz Kafka's It's a Wonderful Life" (1995), which won both a BAFTA and Academy Award. Primarily sticking to on-screen work, Capaldi found his breakout role in 2005 as the fierce political mastermind Malcolm Tucker on the biting comedy "The Thick of It" (BBC, 2005-2012). In 2009, his international reputation grew when the series spun off into the acclaimed feature comedy "In the Loop" (2009), co-starring James Gandolfini. However, his profile was later raised considerably higher when it was announced that Capaldi would be the Twelfth Doctor on the venerable sci-fi series "Doctor Who" (BBC, 1963-1989, 1996, 2005- ), bringing him instant global attention.
Born in Glasgow and raised by a mother and father with Irish and Italian roots, respectively, Capaldi was naturally inclined to perform and appeared in theater productions as a teenager. While studying at the Glasgow School of Art, Capaldi fronted a punk band known as Dreamboys, which featured future comedian and talk-show host Craig Ferguson as its drummer. Capaldi turned to screen acting in the early 1980s, and landed a featured part in "Local Hero," a charming Scottish-set tale starring Burt Lancaster and Peter Riegert. Aside from a key role in Ken Russell's eccentric horror film "The Lair of the White Worm" (1988) and a small part in the period drama "Dangerous Liaisons" (1988), Capaldi mainly stuck to British TV gigs and became the epitome of the working England-based actor. In 1993, he had a memorable part in the Helen Mirren-starring TV movie "Prime Suspect 3" (ITV, 1993), but he soon won acclaim behind the camera for his own playfully witty short, "Franz Kafka's It's a Wonderful Life," starring Richard E. Grant, which won a 1995 Oscar, among other awards. After portraying an unlikely angel in the fantasy series "Neverwhere" (BBC, 1996), Capaldi once again donned his writer/director cap for the overlooked crime drama "Strictly Sinatra" (2001), featuring Ian Hart as a trouble-prone lounge singer.
Returning his focus to acting, Capaldi appeared opposite Hugh Laurie on the sitcom "Fortysomething" (ITV, 2003), and two years later, he joined the cast of Armando Iannucci's barbed comedy series "The Thick of It," a satirical and politically themed show that allowed the actor to cut loose as the tightly wound, profanity-spewing communications director Malcolm Tucker. Capaldi also turned up in guest spots on various popular British programs, including the police procedurals "Midsomer Murders" (ITV, 1997- ) and "Waking the Dead" (BBC, 2000-2011) and the teen-oriented drama "Skins" (Channel 4, 2007- ). In 2008, he had a one-off appearance on an episode of "Doctor Who," opposite the Tenth Doctor, David Tennant, and he remained on in the Whoverse for a 2009 stint on "Torchwood" (BBC, 2006-2011) as bureaucrat John Frobisher. Around this time, Capaldi was able to shift his unforgettably ruthless character of Malcolm from "The Thick of It" to the big screen as part of Iannucci's critically beloved feature "In the Loop," which brought Gandolfini into the mix as an American general.
Returning to the director's chair, Capaldi helmed numerous episodes of the hospital-set sitcom "Getting On" (BBC, 2009-2012) and appeared in a few installments as well. After bidding farewell to "The Thick of It" for its fourth and final season, he joined the ensemble of the period drama "The Hour" (BBC, 2011-12), only to help usher that series to its finale, too. After writing and directing the British mockumentary "The Cricklewood Greats" and playing a small role in the 2013 zombie epidemic epic "World War Z," it was announced that Capaldi was taking over the role of the time-traveling Doctor from Matt Smith, following months of speculation. A fan of the intergalactic adventure series from his childhood, Capaldi seemed a fine fit for the role, with sci-fi devotees eagerly awaiting his first episode as the always-eccentric Doctor.
The above TCM overview can also be accessed online here.