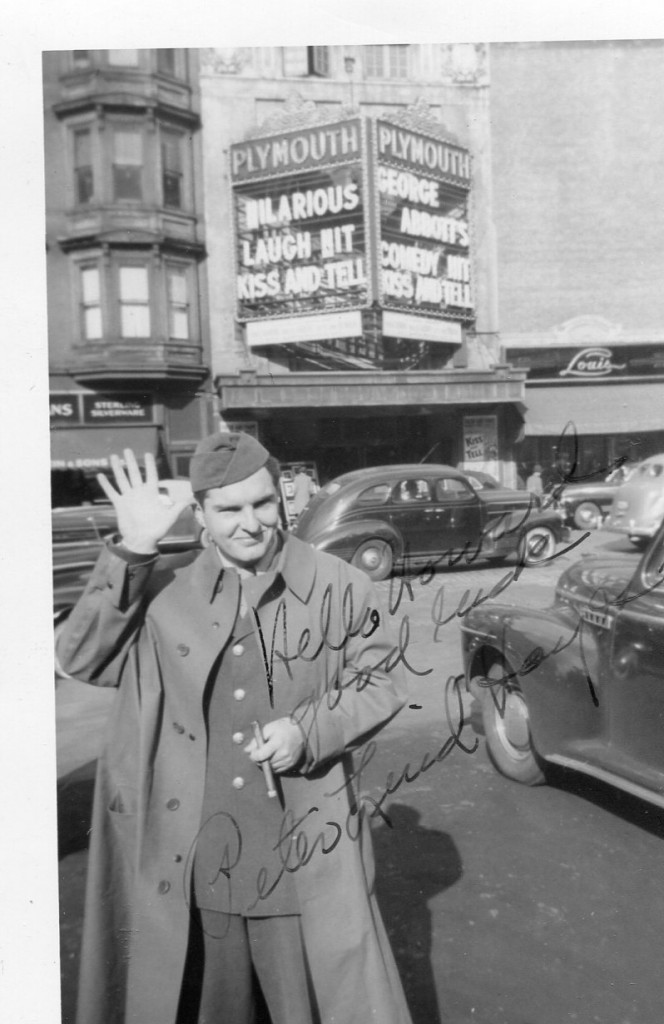 Peter Lind Hayes was born in 1915 in San Francisco. He was a popular broadcaster and entertainer who also acted in some films e.g. "The 5,000 Fingers of Dr T","The Senator Was Indiscreet" and "Once You Kiss A Stranger". He died in 1998.
Dick Vosburgh's obituary in "The Independent";
HE COW's gone dry and the hens won't lay, / The fish quit bitin' last Saturday, / Troubles pile up day by day, / And now I'm gettin' dandruff!" Those lugubrious words are from "Life Gets Tee-Jus, Don't It?", the 1948 hit recorded by Peter Lind Hayes, whose long career encompassed virtually all the media.
He was only two when his father, Joseph Conrad Lind Snr, a railroad man and amateur singer, died. Peter attended parochial school in Cairo, Illinois, but, from the age of nine, performed every summer with his mother, Grace Hayes, a vaudeville star. At 16, he wrote a new act for his mother and himself; they appeared in it at New York's legendary vaudeville theatre the Palace.
In 1939, while Peter was working as a film stand-in, his mother built the Grace Hayes Lodge, a night-club in the San Fernando Valley. An instant success, the club attracted a large film-business clientele, with mother and son starring in the floor-shows. Peter soon graduated from stand-in to film actor; in 1939 he appeared in These Glamour Girls, which starred (naturally) Lana Turner, and in Million Dollar Legs, which (equally naturally) starred Betty Grable.
Under contract to Paramount, he had just acted with Jackie Cooper in Seventeen (1940) when he met Mary Healy, who was under contract to 20th Century-Fox; they married the following year. Also in 1941, the newly weds appeared in Zis Boom Bah, a low-budget musical in which Grace Hayes also played, as a vaudeville star who buys her college student son (Peter) a cafe, which he turns into a successful night-club.
As Victor Mature's army buddy in Seven Days' Leave (1942), Hayes sang, danced and did impersonations of Ronald Colman, Lionel Barrymore and Charles Laughton. The day after completing the film, he enlisted in the US Army Air Corps, and was assigned to the corps's Radio Production Unit, which wrote and presented daily broadcasts. Private Frank Loesser, writer, was also in the unit, and he and Hayes collaborated on "Why Do They Call a Private a Private?", a song introduced on one of their shows by Ethel Merman. Hayes later joined the all- serviceman cast of Moss Hart's Air Force play Winged Victory (1943). The following year he appeared in the film version as well.
Hayes left the service in 1945 with a Bronze Star for having entertained more than a million troops in the South Pacific. His first post-war film was Universal's The Senator Was Indiscreet (1947), the only film directed by the celebrated playwright George S. Kaufman. Although Hayes had made at least a dozen previous screen appearances, his name on the opening credits was, curiously, preceded by "And Introducing". He played a political publicist, trying to sell the voters the pea-brained Senator Melvin Ashton (William Powell) as their next President. The film fired some witty barbs at American politics (Ashton came out flatly against assassination), but had the bad luck to emerge the same year as the House Un-American Activities Committee, and Universal promoted the satirical Senator very gingerly.
Hayes next played a lovable hansom cab driver in Heaven on Earth (1948), a 12-performance Broadway musical that the New York Star called "the biggest sleeping pill in town". His other stage work included Norma Krasna's farce Who Was That Lady I Saw You With? (1958) and Brian Friel's Lovers (1968).
After establishing themselves as a top night-club team, Hayes and Mary Healy appeared together in such television series as The Chevrolet Show (1949), The Stork Club (1950), Star of the Family (1951-52) and the sitcom Peter Loves Mary (1960-61). For the big screen, they co-starred in The Five Thousand Fingers of Dr T (1953), the Dr Seuss musical about a young boy (Tommy Rettig) who rescues his hypnotised mother (Mary Healy) from his wicked piano teacher (Hans Conreid), with the help of Mr Zabladowski, a friendly plumber (Hayes). A disaster on its first release, this surrealistic classic was successfully revived 20 years later and now enjoys cult status.
In 1952, while appearing with Mary Healy at the London Palladium, Hayes was asked the secret of a successful marriage. He replied, "All you have to do is get your wife in the act – and keep her there."
Dick Vosburgh
Joseph Conrad Lind (Peter Lind Hayes), actor, composer and writer: born San Francisco 25 June 1915; married 1940 Mary Healy (one son, one daughter); died Las Vegas 22 April 1998.
The above "Independent" obituary can also be accessed online here.