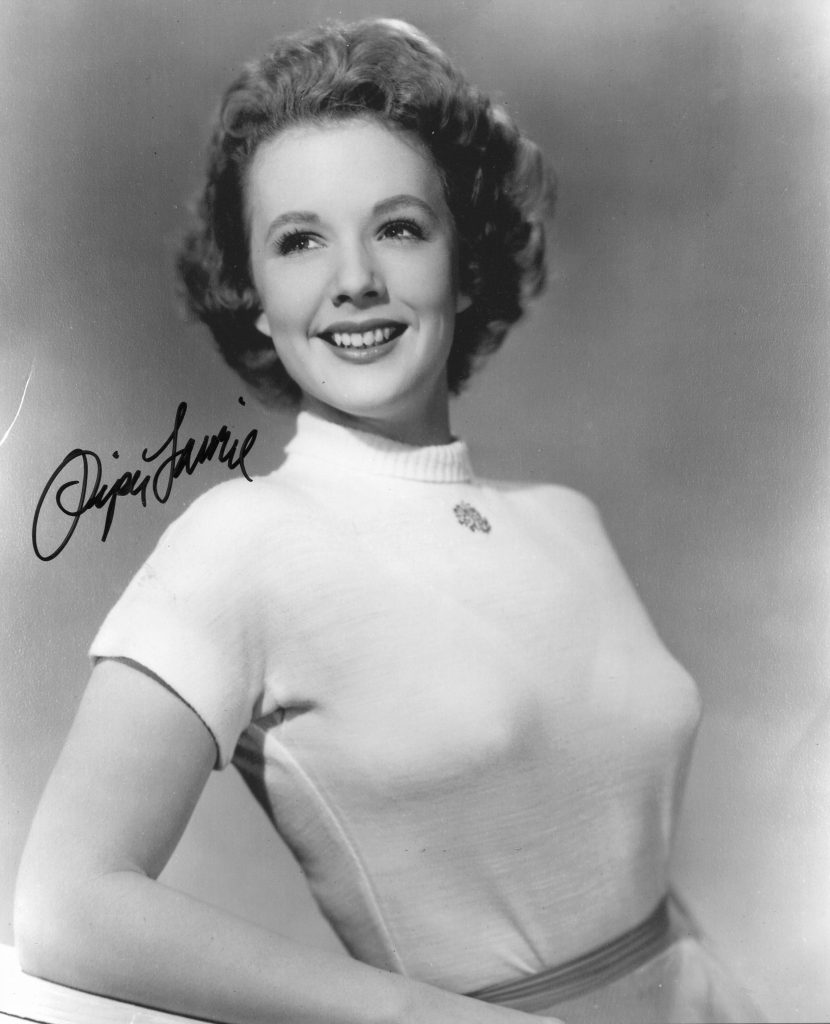 Piper Laurie was born in 1932 in Michigan.   She won a contract to Universal Studios in the early 1950's and made such films as "The Prince Who Was A Thief" with Tony Curtis, "Son if Ali Baba" also with Curtis in 1952.   She gave a wonderfully realised performance opposite Paul Newman in "The Hustler".   She retired for a number of years to raise her daughter and came back in force as a character actress to be reckoned with in the 1970's.   She played Sissy Spacek's mother in "Carrie".
IMDB entry:
Piper Laurie was born Rosetta Jacobs in Detroit, Michigan, on January 22, 1932, to Charlotte Sadie (Alperin) and Alfred Jacobs, a furniture dealer. Her father was a Polish Jewish immigrant and her mother was of Russian Jewish descent. Her father moved the family to Los Angeles, California, when she was 6-years-old. Rosetta was a pretty red-haired little girl, but very shy, so her parents sent her to weekly elocution lessons. In addition to her lessons in Hebrew school, she studied acting at a local acting school, and this eventually led to work at Universal Studios.
Universal had signed her as a contract player when she was only 17-years-old, and changed her screen name to Piper Laurie. She was cast in the movie, Louisa (1950), and became very close friends with her costar, Ronald Reagan. She was then cast in Francis Goes to the Races (1951) with Donald O'Connor, Son of Ali Baba (1952) with Tony Curtis, and Ain't Misbehavin' (1955) with Rory Calhoun. The studio tried to enhance her image as an ingénue with press releases stating that she took milk baths and ate gardenia petals for lunch. Although she was making $2,000 per week, her lack of any substantial roles discouraged her so much that by 1955 when she received another script for a Western and "another silly part in a silly movie", she dropped the script in the fireplace, called her agent and told him she didn't care if they fired her, jailed her or sued her.
From there, she went to New York City to study acting, and worked on live television, starring in The Hallmark Hall of Fame version of "Twelfth Night" (1957), "The Days of Wine and Roses" (1958) with Cliff Robertson, which debuted on Playhouse 90 on October 2, and as "Kirsten" in the Playhouse 90 version of "Winterset" (1959). In 1961, she got the part of Paul Newman's crippled girlfriend in the classic film, The Hustler (1961). She was nominated for an Academy Award for Best Actress for that role of "Sarah Packard". That same year, she was interviewed by a writer/reporter for the New York Herald Tribune, Joe Morgenstern. She liked his casual dress and lifestyle and, 9 months later, they were married. When she did not receive any substantial acting offers after The Hustler (1961), she retreated with her husband to Woodstock, New York, where she pursued domestic activities such as baking (her grandfather's trade) and raising her only daughter, Anne, born in 1971. In 1976, she accepted the role of "Margaret White", the eccentric religious zealot mother of a shy young psychic girl named Carrie (1976), played by Sissy Spacek. Piper received her second supporting Oscar nomination for this role. She and her husband divorced in 1981, she moved to Southern California and obtained many film and television roles.
She got a third Oscar nomination for her role as "Mrs. Norman" in Children of a Lesser God (1986), and won an Emmy that same year for her acting in Promise (1986), a television movie with James Garner and James Woods. She has appeared in more than 60 films, from 1950 to the present. Ms. Laurie has appeared in many outstanding television shows from "The Best of Broadway" in 1954, to roles on "Playhouse 90" in 1956, roles on St. Elsewhere (1982), Murder, She Wrote (1984), Matlock (1986), Beauty and the Beast (1987), ER (1994), Diagnosis Murder (1993) and Frasier (1993). Her daughter, Anne Grace, has made her a grandmother, and though she lives in Southern California, she frequently visits her daughter in New York.
– IMDb Mini Biography By: garyrick96@hotmail.com
The above iMDB entry can also be accessed online here.