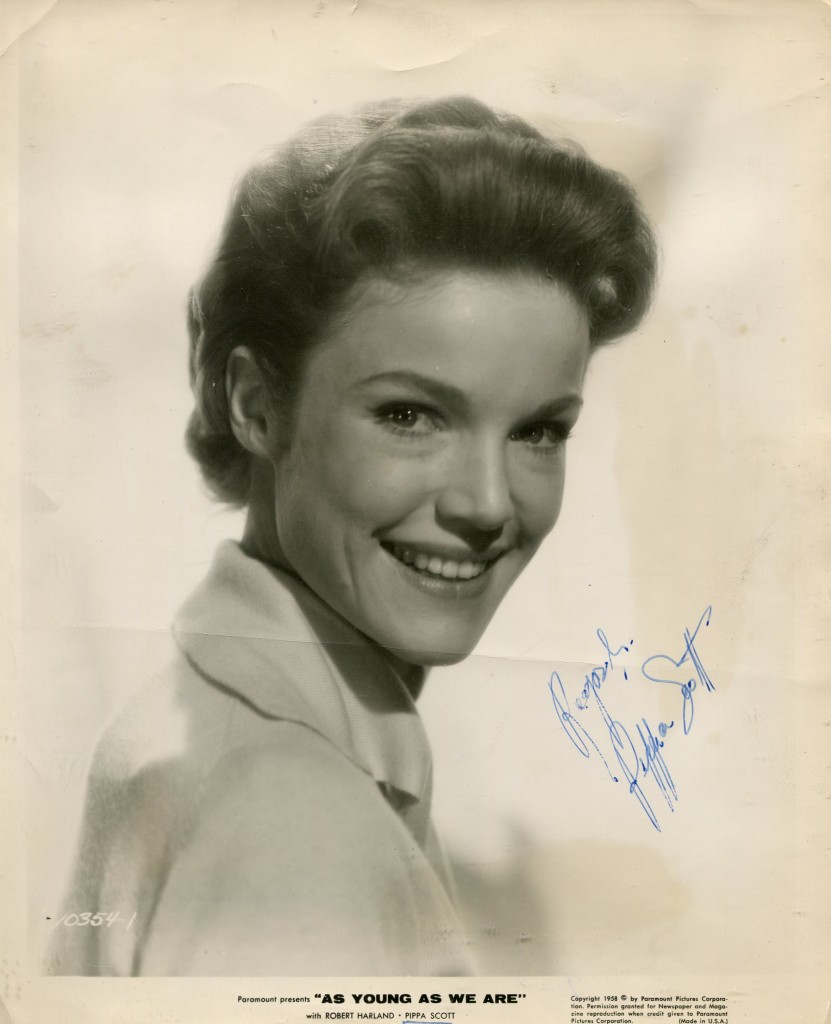 Pippa Scott was born in 1935 in New York City.   She is the daughter of screenwriter Alan Scott.   She made her movie debut in John Ford's classic "The Searchers" in 1956.   She has been a prolific television performer and guest starred in the first episoe of "The Virginian".
Gary Brumburgh's entry:
This smart-looking, reddish-haired actress with the unusual first name seemed bound for a career in the arts from the very start. The daughter of playwright/screenwriter Allan Scott and niece of writer/producer Adrian Scott, Pippa Scott attended Radcliffe and UCLA before traveling abroad to England and studying at the Royal Academy of Dramatic Art (RADA). Back in the United States, she made an auspicious Broadway debut in "Child of Fortune" in 1956 for which she won the Theatre World Award. This attention led to live television drama and a contract with Warner Bros. She made her first screen appearance in a minor role in the John Ford classic The Searchers (1956), had a co-lead in the little known melodrama As Young as We Are (1958) as a high school teacher caught up in scandal, and was featured in the very last scenes as Pegeen in the madcap movie Auntie Mame (1958) starring Rosalind Russell, but little else came about to further brighten her film star. Instead she alternated between Ttelevision and the stage over the years, tapping into a couple of series roles in the 1960s with the short-lived Mr. Lucky (1959) (1959-1960) and a season on The Virginian (1962) (1962-1963). As she matured she moved into sporadic character parts but little was seen of her by the late 1970s. She did play Dick Van Dyke's wife in the amusing film satire Cold Turkey (1971) and found steady work for a time as Jack Warden's lady pal on the Jigsaw John (1976) television series in the mid-1970s. In 1989, out of nowhere, she produced the film Meet the Hollowheads(1989).
– IMDb Mini Biography By: Gary Brumburgh / gr-home@pacbell.net