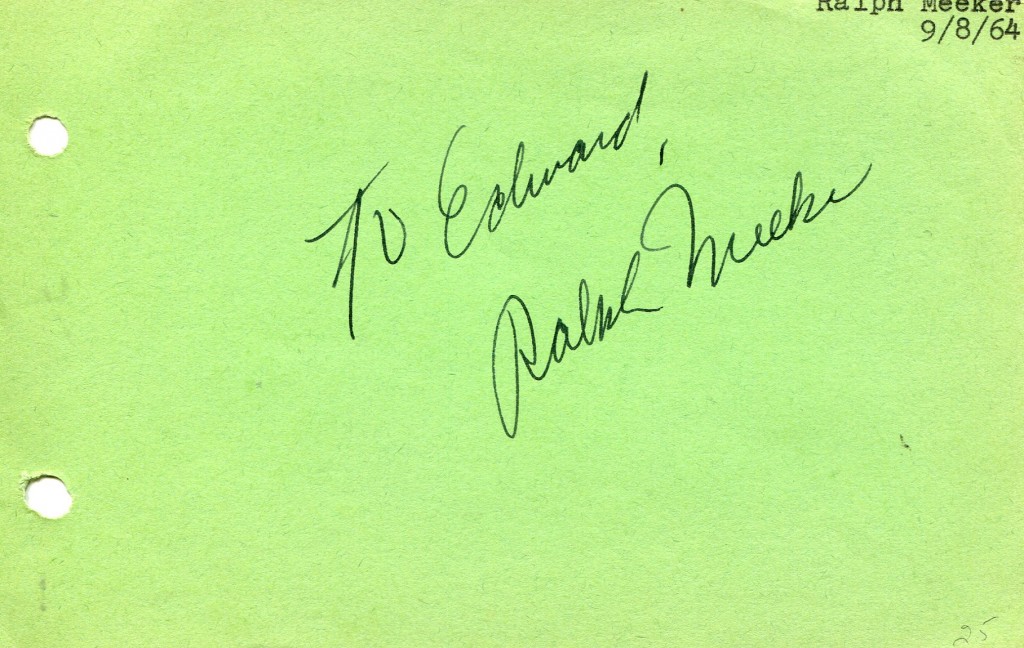 Ralph Meeker was born in Minnesota in 1920.   He won many awards on Broadyway for his lead performance in William Inge's "Picnic" in 1954.   He did not though go on to make the film.   His part was played by Paul Newman who was understudy for him on Broadway.   In 1955 Ralph Meeker starred as Mike Hammer in the film noir "Kiss Me Deadly".   His other films include "Paths of Glory" and "The Dirty Dozen".   Ralph Meeker died in 1988.
IMDB entry:
Burly American character actor Ralph Meeker first acted on stage at his Alma mater, Northwestern University, alongside other budding performers Charlton Heston andPatricia Neal. He graduated as a music major, because his dean had discouraged him from pursuing a theatrical career. Ignoring that advice, Meeker nevertheless moved to New York to study method acting and performing in local stock companies. After being injured during a brief wartime stint with the navy and consequently discharged from active duty, Meeker went overseas to play his part in entertaining the troops as a member of the USO. He finally 'arrived' on Broadway in 1945 and was given small roles in two plays produced by 'Jose Ferrer (I)', making his debut in "Strange Fruit". He was still relatively unknown in 1947 when he replaced Marlon Brando as Stanley Kowalski in "A Streetcar Named Desire" two years later, giving a commanding and critically acclaimed performance. After playing Kowalski in the touring company of 'Streetcar', Meeker was further noticed for his part in the original production of "Mister Roberts" . As a result, he had several European motion picture offers and selected to play the role of an army sergeant in Teresa (1951), co-starring Pier Angeli. That same year, he was in another continental drama, shot on location in Switzerland, Four in a Jeep (1951). After a two-year sojourn at MGM, Meeker returned to Broadway to star as the swaggering, likeable, larger-than-life rogue Hal Carter, in William Inge's play "Picnic" on Broadway. His performance was not only highly praised by reviewers like Brooks Atkinson, but also won him the New York Critics Circle Award. In later years, Meeker claimed to have spurned Columbia's offer of reprising his role on screen because he disdained being shackled by a studio contract. In any case, the prize role went to William Holden and Meeker was consigned (with the odd exception) to playing hard- nosed guys on either side of the law – or bullies with a yellow streak – as a supporting actor over the next thirty years. He did, however, leave his mark with several top-notch performances.
One of his best early screen roles was that of the disgraced ex-Union officer Roy Anderson in Anthony Mann's brilliant revenge western The Naked Spur (1953). As one of four men stripped of humanity by greed and hatred (the others were James Stewart,Robert Ryan and Millard Mitchell), Ralph Meeker gave a convincing portrayal of a cynical and callous opportunist.
Meeker's defining role was that of Mike Hammer in Kiss Me Deadly (1955). The film was unusual, in that Hammer was played, unlike any private detectives of previous films noir, as a basically unsavoury character – one of the first of the anti-heroes which began to appear in films of the 1960's. Under the direction of Robert Aldrich, Meeker's characterisation as Mike Hammer effectively contrasted a smooth, handsome facade with an undercurrent of arrogance, unmitigated ruthlessness and greed. When the film was released, it ran into censorship trouble, the Kefauver Commission labelling it the Number One Menace to American Youth for 1955. While "Kiss Me Deadly" acquired a cult following over the years, it certainly failed to advance the career of Ralph Meeker.
He did, however, manage to get second billing for the part of Corporal Paris, one of three World War I French infantry men randomly selected for execution (because their regiment had refused a suicidal mission), in Stanley Kubrick's harrowing anti-war drama Paths of Glory (1957). He gave another finely etched performance through his character's gradual deterioration from swaggering bravado to abject fear. Also that year, Meeker played a snarling, Indian-hating Yankee officer in Run of the Arrow (1957) and co-starred as Jane Russells unlikely kidnapper in the failed Norman Taurog comedy The Fuzzy Pink Nightgown (1957).
In between numerous television appearances during the 1960's, Meeker returned to the stage as member of the Lincoln Centre Repertory Theatre, where he was reunited withElia Kazan (who had directed him in 'Streetcar') to act in Arthur Miller's play "After the Fall" (1964-65). He also worked with Robert Aldrich again, playing George 'Bugs' Moran (who Meeker allegedly resembled), the Chicago mobster whose gang was wiped out by 'Al Capone (I)' in The St. Valentine's Day Massacre (1967).
After the decline of the studio system, Meeker found much gainful employment in television and even had his own syndicated series, Not for Hire (1959), playing a tough Honolulu investigator. However, the show came up against the similarly themedHawaiian Eye (1959) and only ran to 39 episodes. Meeker then guest-starred on numerous other shows and had noteworthy roles as, among others, a boorish tycoon who discovers a prehistoric amphibious creature in The Outer Limits (1963) episode "The Tourist Attraction"; an ex-cop turned derelict in Ironside (1967) ('Price Tag: Death Details'); and FBI agent Bernie Jenks in the TV pilot of The Night Stalker (1972). Add to that a gallery of snarling or harassed law enforcers from The Girl on the Late, Late Show(1974) to Brannigan (1975) and episodes of Harry O (1973), The Rookies (1972) andPolice Story (1973). Ralph Meeker remained a much- in-demand character actor until his death of a heart attack in August 1988.
– IMDb Mini Biography By: I.S.Mowis
The above IMDB entry can also be accessed online here.