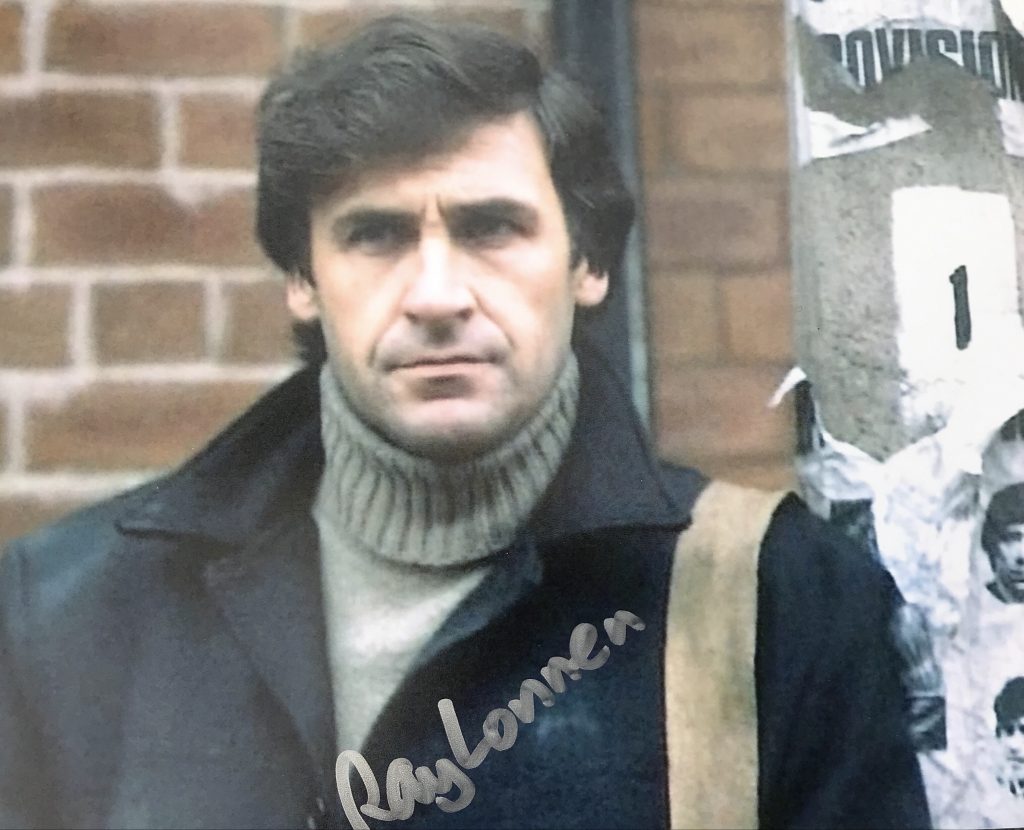 Ray Lonnen obituary in "The Guardian".
Ray Lonnen was born in Bournemouth in 1940. He is best known for his roles in two classic television series, "The Sandbaggers which ran from 1978 until 1980 and "Harry's Game" in 1982. His films include "Zeppelin" with Michael York in 1971 and "Treasure of Albion". He died in July 2014.
Tony Hadike's obituary in "The Guardian":
The actor Ray Lonnen, who has died of cancer aged 74, was a familiar face on British television whose unshowy versatility brought him a number of leading roles, most notably as the eponymous hero of the acclaimed IRA drama Harry's Game (1982), a hugely successful political thriller by Gerald Seymour (based on his own 1975 novel). The British agent Harry Brown is sent on a dangerous undercover mission in Belfast to find the assassin (played by Derek Thompson) of a prominent British politician. The evocative theme tune by Clannad gave the group their first taste of international exposure and a top 5 chart hit.
Born in Bournemouth, the middle of three children, Lonnen trained at the Hampshire School of Acting and was rarely out of work after making his professional stage debut in 1959. When he appeared alongside John Alderton at York Repertory Theatre in 1962, both men were spotted by a casting director and offered roles in the hospital soap Emergency Ward 10 – Lonnen ruefully recalled that while Alderton became a regular, "they gave me about six lines".
He graduated from guest spots in Love Story (1965) and The Power Game (1966) to become one of the ensemble in the early soap opera Market on Honey Lane (1967-69, though latterly it dropped the "Market On …" from the title). Lonnen played the cockney market trader Dave Sampson throughout this popular but now largely forgotten series. Better remembered is Z-Cars, in which he played Detective Sergeant (later Detective Inspector) Moffat between 1972 and 1977.
The Sandbaggers (1978-80) was a cerebral spy series often more concerned with political machinations than action and adventure. It has become regarded as one of the finest examples of its genre, largely due to the authenticity of the scripts by Ian Mackintosh, a former naval officer who may himself have been involved in covert operations (he was always somewhat evasive when Lonnen probed him about this). Lonnen played "Sandbagger One", Willie Caine, MI6's best operative, often working in the field while his boss Neil Burnside (Roy Marsden) locked horns with his Whitehall superiors.
Caine was shot in the cliffhanger ending to the final episode of the third series. The plan had been for the character to return – as a wheelchair user directing operations from an office – but Mackintosh went missing, presumed dead, when his plane disappeared over Alaska and so the show was not renewed. Lonnen eventually did get the desk job as a senior officer in Yellowthread Street, a 1990 drama series about Hong Kong detectives.
He had recurring roles in the legal drama The Brief (1984), Rich Tea and Sympathy by David Nobbs (1991), the Canadian science-fiction series Starhunter (2001), The Bill (2001) as the father of the troubled police officer Nick Klein (René Zagger) and the ill-fated revival of Crossroads (2002). He was in constant demand for TV parts and so appeared in most of the popular dramas produced in the last 50 years, including The Rivals of Sherlock Holmes (1971), Coronation Street (1975), Hammer House of Horror (1980), Tales of the Unexpected (1983), Heartbeat (1993), and Midsomer Murders (2007). Film work was less frequent, but included Zeppelin (1971) and the lead opposite Ali McGraw in Murder Elite (1985).
He found regular employment as a voiceover artist, lending his tones to audiobooks, commercials and the animated children's series Budgie the Little Helicopter (1994-96), as well as a number of stints reading for the popular storytelling series Jackanory (1970). He was valuable to the producers of the Indiana Jones and James Bond franchises, standing in as the lead characters for the screen tests of prospective leading ladies. Kim Basinger wrote him a personal letter of thanks for being so supportive when she successfully auditioned for Never Say Never Again (1983). Indeed, he was well known in the business for being encouraging to young actors.
Although his preference was to act on television he made frequent forays on to the stage (his love of travel meant he was always keen to tour abroad), including a West End run as the male lead opposite Maureen Lipman in the first London revival of Leonard Bernstein's musical Wonderful Town (Queen's theatre, 1986), Bells are Ringing (Greenwich 1988), Having a Ball (Comedy theatre, 1990), a tour of Misery (1993), Misfits (Manchester Royal Exchange, 1996, as Clark Gable), and as the bumbling policeman Blore in And Then There Were None, on tour for Bill Kenwright (2008).
He was diagnosed with cancer three years ago but was still keen to work: his final role was in the short film Extended Rest (2014) alongside his friends and fellow Z-Cars alumni Ian Cullen and Bernard Holley, and his wife of 20 years, the actor and writer Tara Ward.
Tara survives him, as do two sons, a daughter, and two sisters.
• Raymond Stanley Lonnen, actor, born 18 May 1940; died 11 July 2014
The above "Guardian" obituary can also be accessed online here.