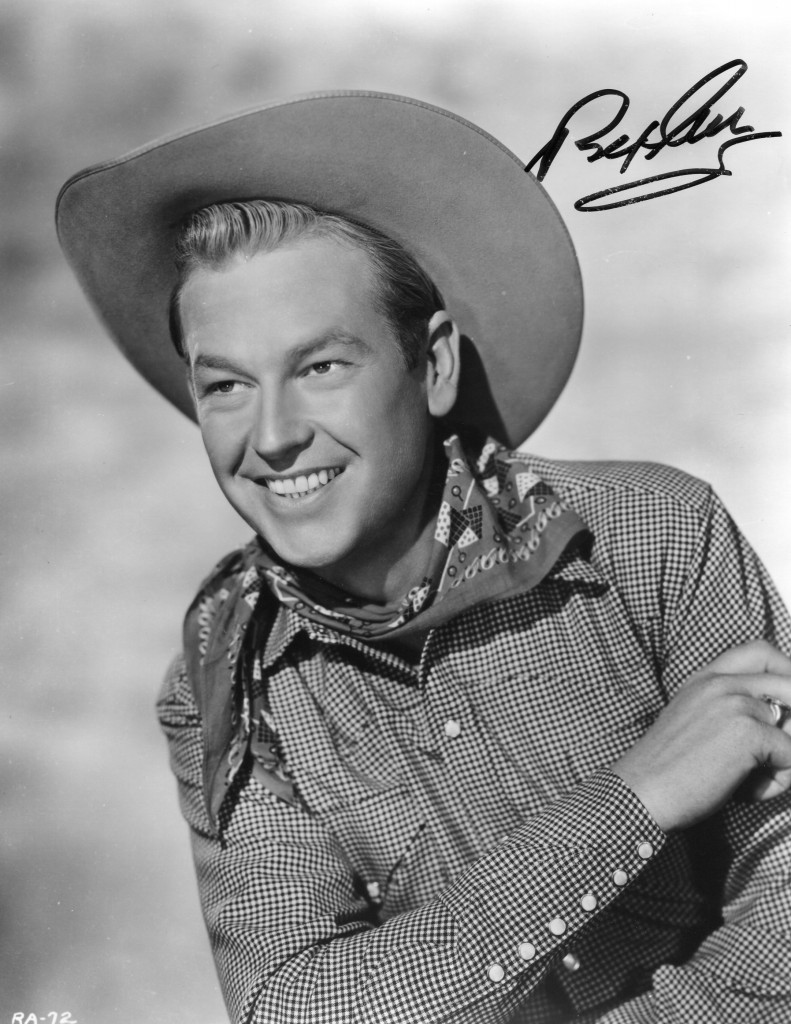 Rex Allen was, after Roy Rogers, the most popular cowboy actor on film in the 1950's. His movies were a staple diet for baby boomers at Saturday morning screenings. He was born in Wilcox, Arizona in 1920. His films include "Under Mexican Stars" in 1950, "Utah Wagon Train", "Old Overland Trail" and "Down Laredo Way". Rex Allen died in 1999.
Tom Vallance's "Independent" obituary:
REX ALLEN was the last of the "singing cowboys", a genre of western hero unique to the Hollywood cinema from the Thirties to the Fifties. The most famous were Gene Autry and Roy Rogers, and Allen carried on in their tradition after his film debut in The Arizona Cowboy in 1950. He made more than 30 films for Republic Studios, who had made stars of Autry and Rogers, and had a regular sidekick, played by Buddy Ebsen or Slim Pickens, in many of them.
He had a second career as narrator of a series of Walt Disney wildlife films in the Sixties, his affable manner and soft tones a perfect match for the stunning nature shots of the movies. He also toured live venues, billed as "The Arizona Cowboy" and partnered by his stallion, "Koko, the Wonder Horse", and had a successful recording career.
One of the best western singers, Allen was one of the few western stars who actually was a cowboy, having been a ranch hand and a bronco rider on the rodeo circuit in his younger days. He also became a musician while in his teens, playing guitar and singing with his fiddle-playing father at local dances.
He was born in Willcox, Arizona, in 1921, and entered show business professionally when he won a state-wide talent contest in 1939, which led to a singing job on the radio. In 1946 he became a regular on the National Barn Dance, one of the top country-and-western radio shows in the country, and this led to a recording contract with Mercury and his own CBS radio show in Hollywood. Republic signed him in 1949, released his first film, The Arizona Cowboy, in 1950, and the following year Allen was the fifth biggest money- maker of western stars (after Roy Rogers, Gene Autry, Tim Holt and Charles Starrett). From 1952 to 1954 he was third only to Rogers and Autry.
His trick pony, Koko the Wonder Horse, made his debut in Allen's second film, The Hills of Oklahoma, and was to be in all his other films and later became an integral part of Allen's touring live act, billed as "The Miracle Horse of the Movies", until he died in 1968 at the age of 28.
Allen's Republic films, 31 in five years, included Under Mexicali Stars (1950, the first in which he had Buddy Ebsen as a comic sidekick, and one of Allen's best roles, as a singing Treasury agent who catches a gang of smugglers who are using a helicopter to get stolen gold across the border), Rodeo King and the Senorita (1951, a remake of an earlier John Wayne film, The Cowboy and the Lady, and one of Allen's personal favourites), and Colorado Sundown (1952, with Slim Pickens replacing Ebsen).
Like many of Allen's films, Colorado Sundown was directed by Republic's veteran William Witney, one of the great serial directors noted for his energetic style. "Witney was my favourite director," said Allen. "He could get more on the screen for a dollar than any director I've ever known." That skill was put to good use on Down Laredo Way (1953), made with a noticeably lower budget than the earlier films and a sign that the genre was fading. Allen's last western for Republic was The Phantom Stallion, made in 1954, the year the B western officially died.
Allen already had a thriving record career, his hit records for the Mercury label including Streets of Laredo (1947) and Crying in the Chapel (1953), and in 1958 he appeared in his first television series, Frontier Doctor. He also made personal appearances, did television commercials, and in 1961 was one of five stars who appeared on a rotating basis in the television show Five Star Jubilee, the others being Snooky Lanson, Tex Ritter, Jimmy Wakely and Carl Smith. (The show was never telecast in New York because of its primarily rural appeal.)
In 1962 Allen narrated Walt Disney's live-action feature about the life of a wolf, The Legend of Lobo, "a tale of the old West told in story and song", for which he also provided music with the Sons of the Pioneers, and his warm approach was greatly admired. The critic Bosley Crowther commented, "The theme and the drama, what little of the latter there is, is carried in the narration, which cheerily endows the wolf with a great deal more charm and character than is evidenced on the screen", while the historian Leonard Maltin recently wrote: "Lobo's biggest asset, aside from the always first-rate raw footage, is the soundtrack . . . Allen, a former cowboy star, became a Disney favourite in the 1960s, and with good reason. His friendly, easy-going approach to the script brings a great deal of life to any subject."
Allen ultimately narrated more than 80 Disney films and television shows, including The Incredible Journey (1963) and Charlie the Lonesome Cougar (1967), and in 1973 narrated the Hanna-Barbera animated feature Charlotte's Web. He also made guest appearances on television variety shows such as The Red Skelton Show.
In the 1970s, though retired from film and television, he still led an active life. He owned a 20-acre ranch, the Diamond X, in Malibu Canyon, and spent over half the year on personal appearance tours – after Koko died, he would be accompanied by Koko junior, a chocolate-coloured stallion with a honey mane exactly like his famous sire. (The original Koko is commemorated by a life-size statue looking down from the highest hill in the valley.)
One of his children, Rex Allen Jnr, followed him into show business, and had a successful career as a Nashville recording artist.
Tom Vallance
Rex Allen, actor: born Willcox, Arizona 31 December 1921; married (three sons); died Tucson, Arizona 17 December 1999.
The above "Independent" obituary can also be accessed online here.