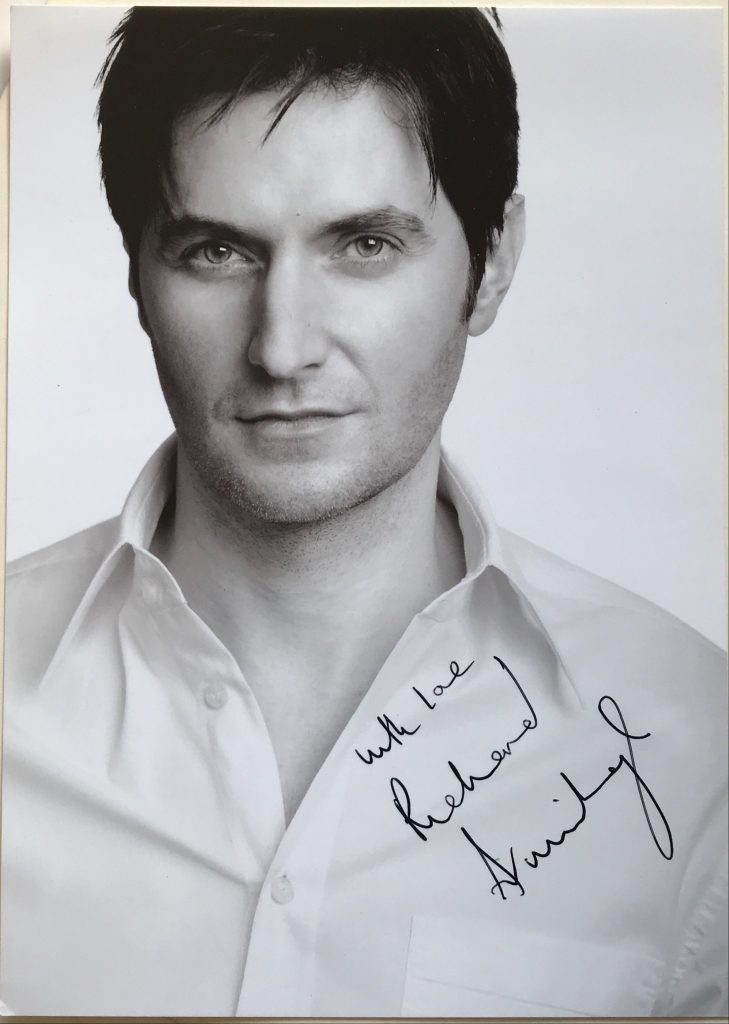 Richard Armitage has had some very prominent roles on British television including Guy of Gisborne in "Robin Hood", John Thornton in "North and South" and is now cast in the film "The Hobbit". He was born in 1971 in Leicester.
TCM Overview:
British actor Richard Armitage was a television star in his native country, playing complicated men of action on series like "Spooks" (BBC One/Three, 2001-2011) and "Strike Back" "(Sky 1/Cinemax, 2010- ) before leaping to international attention in Peter Jackson's "The Hobbit" (2012-2014) film trilogy. Like Hugh Jackman before him, Armitage began his career in musical theater before finding fame on British television, playing dark, dashing anti-heroes on "North and South" (BBC, 2004) and "Robin Hood" (BBC One, 2007-09). His growing popularity, especially among female viewers, led to a starring role on "Spooks" as a one-time terrorist masquerading as a spy, as well as voiceover work on numerous TV commercials and in documentaries. He then segued into another action series, "Strike Back," before landing a central role in "The Hobbit," which necessitated his leaving the series for what would most likely be a star-making turn not unlike Viggo Mortensen's career-transforming appearance in Jackson's "Lord of the Rings" (2001-2003) trilogy. Having already conquered British television, Richard Armitage's ascension to worldwide stardom in films seemed a foregone conclusion.
Born Richard Crispin Armitage in the village of Huncote, in Leicestershire, England on Aug. 22, 1971, he was the second son of engineer John Armitage and his wife, Margaret, a secretary. Armitage led a largely solitary childhood in which he found great solace in both reading and music. The latter, which encompassed playing the flute and cello at Brockington College and with a local orchestra, led him to Pattison College, where a school visit to see a production at the Royal Shakespeare Theatre inspired him to pursue acting as well. Armitage began appearing in school productions before leaving Pattinson at the age of 17 to join a theater group, The Second Generation, at a circus in Budapest, Hungary. The experience earned him his Equity card, which allowed him to work professionally as an actor in the U.K. Upon his return to his native country, Armitage worked in musical theater before enrolling at the London Academy of Music and Dramatic Art to hone his acting skills. Following his completion of the school's three-year program in 1998, he made his screen acting debut with a one-line role in "Star Wars: The Phantom Menace" (1999). Armitage soon found steady work in theater while balancing bit and supporting roles in features and television.
In 2002, Armitage won his first substantive television role in "Sparkhouse" (BBC, 2002) a modern take on Wuthering Heights. More work on television soon led to his first starring turn in "North and South" as a mill owner who fell in love with Daniela Denby-Ashe's plucky working class heroine. Armitage's sensitive performance was praised by critics and fans alike, both of which minted him as a romantic leading man on the rise. He further cemented his fan base as Guy of Gisborne on "Robin Hood" (BBC One, 2007-09). At first glimpse, Gisborn was a world-class rogue in league with the series' main villain, the Sheriff of Notthingham, but over the course of the season, viewers received a glimpse of the character's conflicted loyalties, especially in regard to Marian (Lucy Griffiths) and his sister (Lara Pulver), who fell in love with Jonas Armstrong's Robin of Locksley. The program was a sizable hit on both sides of the Atlantic, which increased Armitage's profile even further.
While working on "Robin Hood," Armitage also kept up a steady schedule of guest appearances on other series, while adding voiceover and radio work to his list of accomplishments, including a 2007 stint reading the letters of former poet laureate Ted Hughes on BBC Radio 4. The following year, he joined the cast of the popular espionage series "Spooks" as Lucas North, a British operative whose eight-year stint in a Russian prison left him a damaged, compromised figure upon his return to spy work. North remained the series' leading role until its ninth season, when it was revealed that he had participated in the bombing of the British Embassy in Senegal and murdered a friend, a spy in training whom he then impersonated to gain entry into the government secret service. North's suicide in the finale of the show's ninth season marked the end of another critically acclaimed run for the actor, who had also performed his own stunts throughout the action-packed series, including a sequence in which he was briefly put through waterboarding.
Armitage quickly moved into another action series, "Strike Back," playing a former special forces operative who reluctantly returned to duty after a mission that claimed the lives of two fellow soldiers. While working on the series, Armitage's voiceover career soon encompassed advertisements for Alfa Romeo, Sky Television and the BBC's coverage of the Winter Olympics in Vancouver, as well as numerous documentaries, radio programs and audio books. He also found time to make his Hollywood feature debut as Nazi spy Heinz Kruger in "Captain America: The First Avenger" (2011). But when production commenced on the second season of "Strike Back," Armitage was forced to drop out due to a commitment for what would be his biggest project to date: Peter Jackson's three-part film trilogy "The Hobbit," in which he starred as Thorin Oakenshield, leader of a company of 13 dwarves who enlisted Bilbo Baggins (Martin Freeman) in a quest to reclaim their home from a monstrous dragon. Following completion of the film's 18-month shoot, Armitage was cast in the action-thriller "Black Sky" (2013) as a widowed father protecting his son in the aftermath of a tornado.
By Paul Gaita
The above TCM overview can also be accessed online here.